This bahama mama tropical smoothie copycat recipe has only four ingredients and comes together in under five minutes. Indulge in sweet and creamy flavors of frozen fruit, coconut milk, and white chocolate. Perfect as a refreshing summer snack or quick breakfast, this delicious smoothie recipe is a must-try!
You'll love the sweet tropical flavors that whisk you away to a far-off island without ever needing to pack a bag. The best part is that this recipe is naturally gluten-free and vegetarian. Plus, a simple dairy-free and vegan option is included, too, so everyone can enjoy a glass of tropical paradise.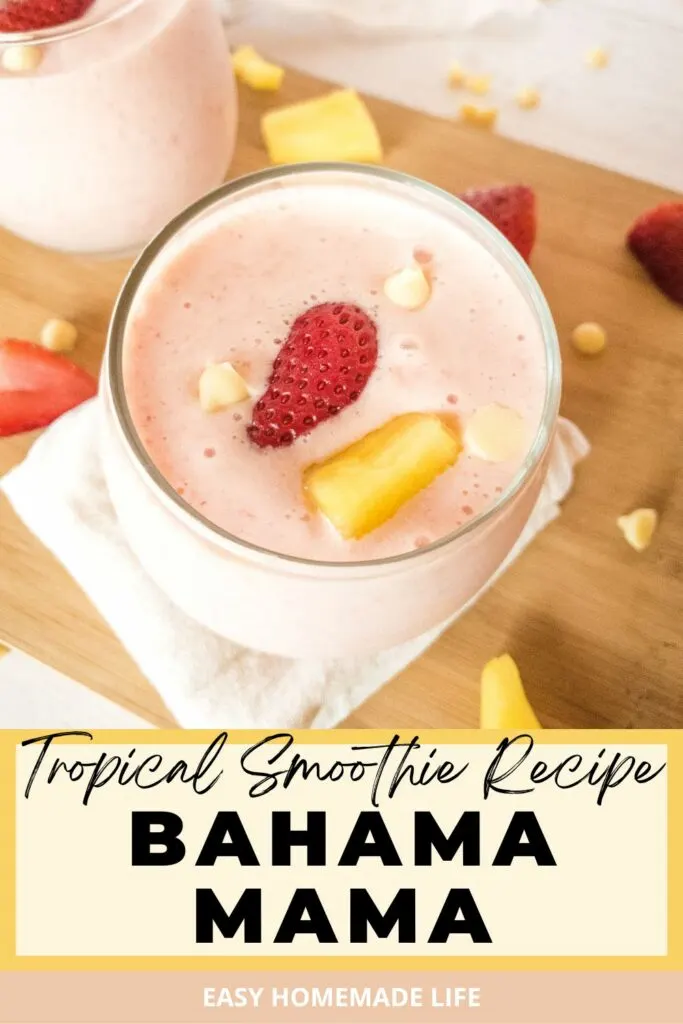 What is a Bahama Mama Smoothie?
More than just a fun name to say while you picture yourself on the beach, this is a top fan favorite from the popular Tropical Smoothie Cafe restaurant chain.
With just a few simple ingredients, you can make a simple Tropical Smoothie Café copycat recipe and bring familiar flavors to the comfort of your home. Not to mention, save money too! Making food from scratch is always cheaper than ordering to-go or eating out.
But back to this delicious drink. The refreshing blend of coconut milk, tropical pineapple, and sweet strawberries, and hints of white chocolate, is an excellent choice on a hot summer day. No wonder it's one of the most popular drinks on the Tropical Smoothie Cafe menu.
The great benefit of this recipe is that there is no need for added sugar because there is plenty of natural sweetness between real fruit, coconut milk, and chocolate chips. It's the perfect drink to cool off without feeling sick from all the sugar.
You might also know a cocktail of the same name, Bahama Mama, with the addition of coconut rum. It's an adult beverage with a fun tropical twist similar to this healthy smoothie recipe.
This refreshing smoothie is sure to give relief from the heat on hot days. Enjoy it poolside, dipping your favorite tortilla chips into this Lawson's Chip Dip Recipe. And if you're looking for more snack ideas? Give one of these easy snacks to make in 5 minutes at home a try!
How to Make the Bahama Mama Smoothie From Tropical Smoothie
Gather four ingredients and blend a delicious pineapple strawberry coconut smoothie in just five minutes or less!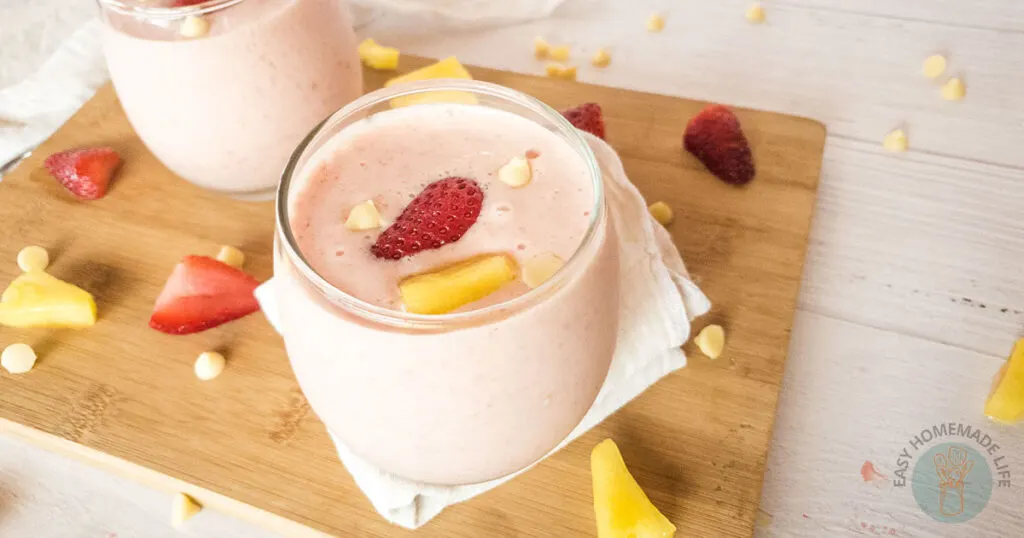 Ingredients
Coconut milk – This creamy liquid helps blend the smoothie into a cold treat you can sip through a straw. Coconut milk is a thick, dairy-free option with a delicious coconut flavor!
White chocolate – White chocolate is the secret ingredient to making this creamy and sweet! Small white chocolate chips blend best, but you can also finely chop a white chocolate bar. Make this recipe dairy-free or vegan by substituting it with a dairy-free or vegan white chocolate bar.
Strawberries – Frozen sliced, halved, or whole strawberries are best for this smoothie. If you add fresh strawberries, I suggest balancing the juicy fruit with ice cubes.
Pineapple – Frozen chunks of pineapple are best. If you use fresh pineapple, you'll want to add ice cubes until you get the thick icy smoothie texture you like best.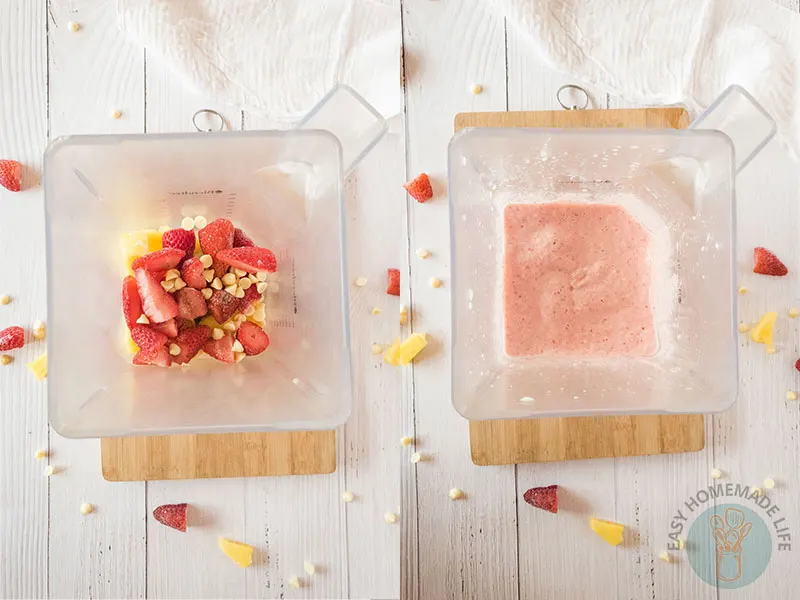 Step-By-Step Directions
Follow these easy directions, and you can't go wrong.
Step 1: Blend the base
Combine the coconut milk and white chocolate in a high-powered blender and blend until smooth.
If you're breaking a large piece of white chocolate down to size, this Spruce Eats tutorial provides some helpful tips on chopping chocolate. Remember your favorite technique next time you need to use a portion of a whole bar for melting.
Step 2: Add the fruit
Add the frozen fruit and continue blending for 30-60 seconds until combined well.
Step 3: Serve
Divide the smoothie evenly between two glasses and serve immediately. Could this tropical Bahama Mama Smoothie recipe be any easier?
A great way to achieve a smooth texture is to use a high-speed blender to help you break down the frozen fruits and chocolate chips. Your blending time may be slightly longer if you use a different blender. You may also need to pause, scrape the sides, and continue blending before all the chunks of fruit combine.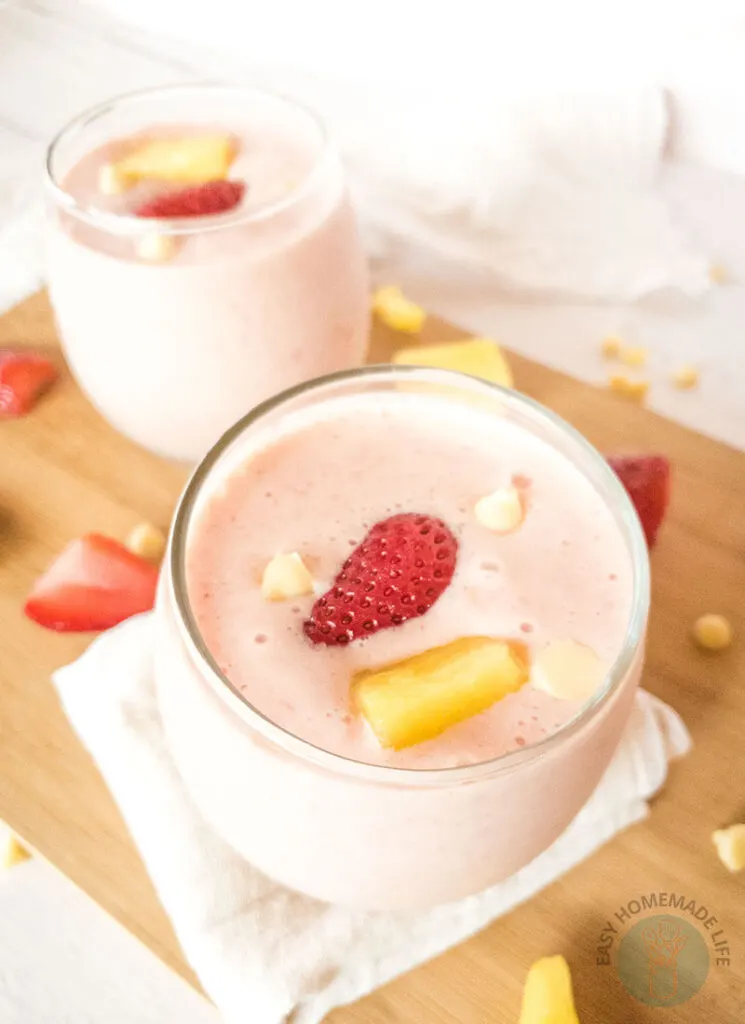 Serving Suggestions
This creamy coconut drink is best served fresh. If you do have leftovers, store them in an airtight container like a mason jar in the refrigerator for up to one to two days. I suggest giving it a quick whirl in the blender before drinking.
Garnish the tropical smoothie with coconut flakes and a wedge of fresh pineapple, mango, or papaya. But it's also an excellent option for a refreshing post-workout drink or a healthy snack in the afternoon. Lastly, add a splash of rum to make a tropical cocktail. Serve it in a festive tiki glass with an umbrella, and pretend you're on a tropical vacation.
A perfect way to enjoy a smoothie if you don't care to sip on it is to make a smoothie bowl. Instead of pouring into a glass, use a bowl and add more toppings like diced fresh fruit, toasted coconut flakes, slivered almonds, and additional white chocolate chips. Enjoy with a spoon.
My favorite way to enjoy this refreshing drink is in the afternoon heat of any summer month, along with other best summer recipes like 4-ingredient guacamole and pineapple teriyaki pork chops.
Bahama Mama Tropical Smoothie Calories
When you follow this copycat recipe and make it at home:
333 calories
41 g carb
3 g protein
20 g fat
3 g fiber
38 g net carb
If you use white chocolate powder or other substitutions, the end result will have a different nutrient profile. You can use a nutrition app of your choice to recalculate and reflect any adjustments you make.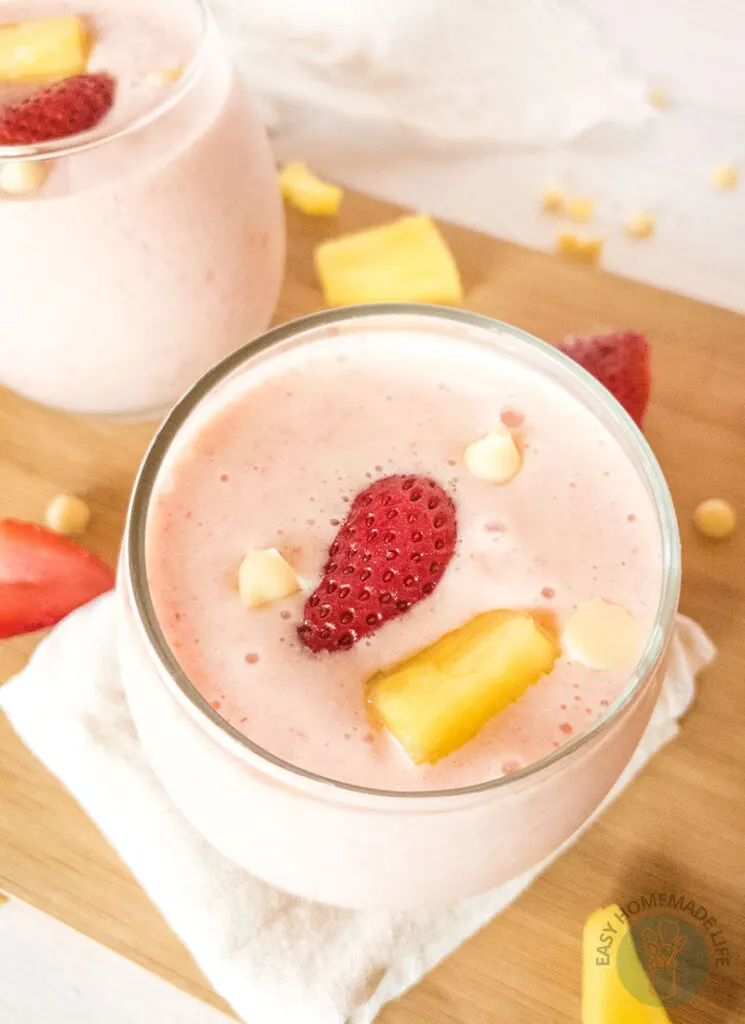 Tropical Smoothie Bahama Mama Recipe FAQ
What's in a Bahama mama tropical smoothie?
My Bahama Mama smoothie is a naturally gluten-free strawberry smoothie blend of four simple ingredients: strawberry, pineapple, coconut milk, and white chocolate chips. I've seen other copycat versions with agave nectar, protein powder, orange juice, or white chocolate syrup, but I prefer to keep the recipe as simple as possible without sacrificing any flavor.
How much is a Bahama Mama at Tropical Smoothie?
A regular 24-oz Bahama Mama smoothie from Tropical Smoothie Cafe is $4.99, a competitive price with other similar restaurants. However, when you make this copycat recipe at home, it only costs an estimated $2 per serving or less, and you'll have leftover ingredients for other recipes too!
What kind of white chocolate is good for smoothies?
Semi-sweetened chocolate is the best choice for smoothies and white chocolate is a great choice for tropical drinks like Bahama Mama. I prefer chips or discs (wafers) because the small pieces blend easily and quickly. Alternatively, you can also chop or shave a white chocolate bar. Make this recipe entirely sugar-free by using low-carb chocolate like Lily's white chocolate chips or unsweetened cacao butter.
What white chocolate powder does Tropical Smoothie use?
Tropical Smoothie Cafe does not disclose the specific ingredient on its website. I suggest avoiding white chocolate powder when you make this yourself because it's an unnecessary ingredient. Instead, why not choose one of the above options since they are easier to find and less processed too?
More Easy Summer Recipes
Summer is the perfect time to enjoy refreshing and easy-to-make recipes. If you love this tropical smoothie recipe, you will love this Electric Lemonade.
If you want something to snack on, make this 3 Ingredient Easy Onion Dip. Use lavender lotion to repel mosquitos if you notice you're being bitten while outside on a picnic or snacking poolside.
For a sweet treat, homemade ice cream is always a hit. One of my favorites is this Chocolate Sage Ice Cream. But if that doesn't speak to you, you'll find something in this 3-Ingredient Ice Cream Recipes roundup.
More Easy Copycat Recipes
Love restaurant food but not the prices or highly processed ingredients?
These copycat recipes are a great way to satisfy your cravings from the comfort of your own home.
Start your day with McDonald's Pancakes (Hotcakes), or top your favorite breakfast with this easy McDonald's Breakfast Sauce.
And if you're looking for how to make an iced americano at home, we have that too!
Lastly, this Copycat Popeye's Coleslaw Recipe is excellent with your favorite protein.