This Bahama Mama Tropical Smoothie copycat recipe only takes four ingredients and five minutes or less to make. It's a great summer snack or breakfast with frozen fruit, coconut milk, and white chocolate. You'll love the sweet tropical flavors that whisk you away to a far-off island without ever needing to pack a bag.
The recipe is naturally gluten-free and vegetarian. Plus, there's a simple dairy-free and vegan option included too.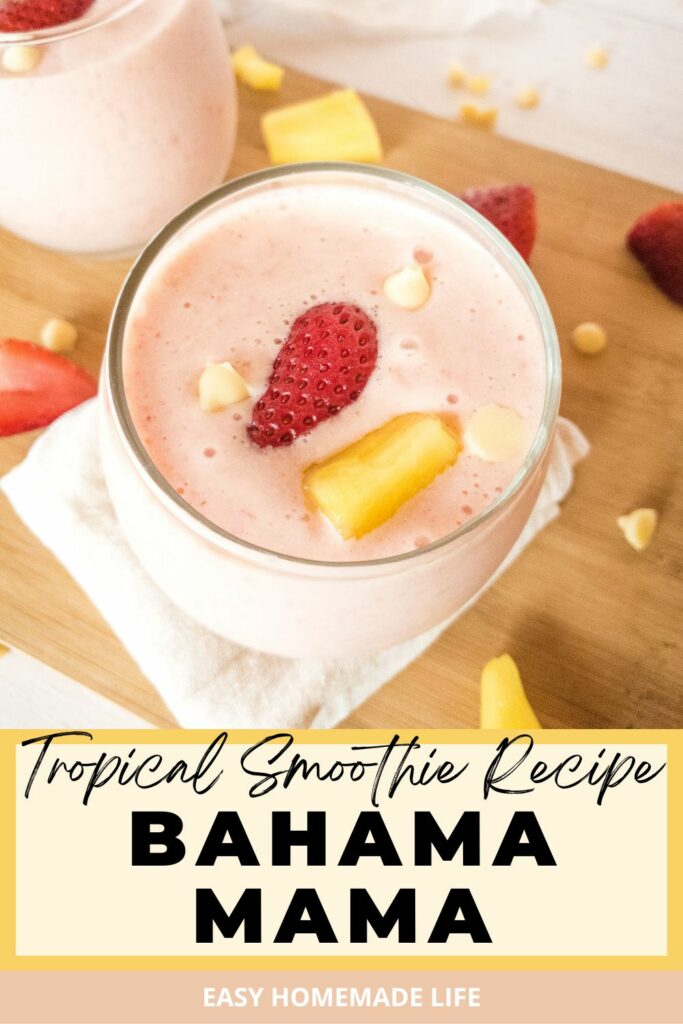 What is a Bahama Mama Smoothie?
More than just a fun name to say while you picture yourself on the beach, this is a top fan favorite from the popular Tropical Smoothie Cafe restaurant chain.
Now you can make a simple Tropical Smoothie Cafe copycat recipe and bring familiar flavors to the comfort of home. Not to mention, save money with homemade recipes too! Making food from scratch is always cheaper than ordering to-go or eating out.
You might also know a cocktail of the same name, Bahama Mama, with a fun tropical twist similar to this healthy strawberry pineapple smoothie with coconut.
I hope you enjoy this super quick snack! It's sure to give relief from the heat on any hot summer day. To really top off the "eating-out-vibe", try a Bahama Mama with this 4-Ingredient Guacamole Recipe.
Looking for more snack ideas? Give one of these easy snacks to make in 5 minutes at home a try!
How to Make the Bahama Mama Smoothie From Tropical Smoothie
Gather four ingredients and blend a delicious pineapple strawberry coconut smoothie in just 5 minutes or less!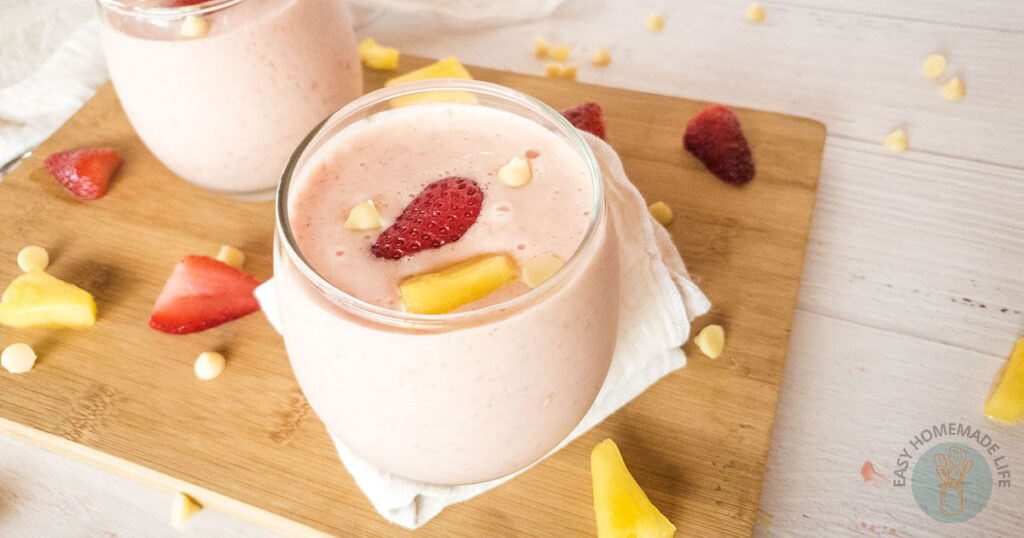 Ingredients
Coconut milk – Liquid helps blend the smoothie into a cold treat you can sip through a straw. Coconut milk is a thick, dairy-free milk option with a delicious coconut flavor!
White chocolate – White chocolate is the secret ingredient to making this creamy and sweet! Small white chocolate chips bend best, but you can also finely chop a white chocolate bar. Make this recipe dairy-free or vegan by substituting with a dairy-free or vegan white chocolate bar.
Strawberries – Frozen sliced, halved, or whole strawberries are best for this smoothie. If you add fresh berries, I suggest balancing the juicy fruit with ice cubes.
Pineapple – Frozen chunks of pineapple are best. If you use fresh pineapple, you'll want to add ice cubes until you get the thick icy smoothie texture you like best.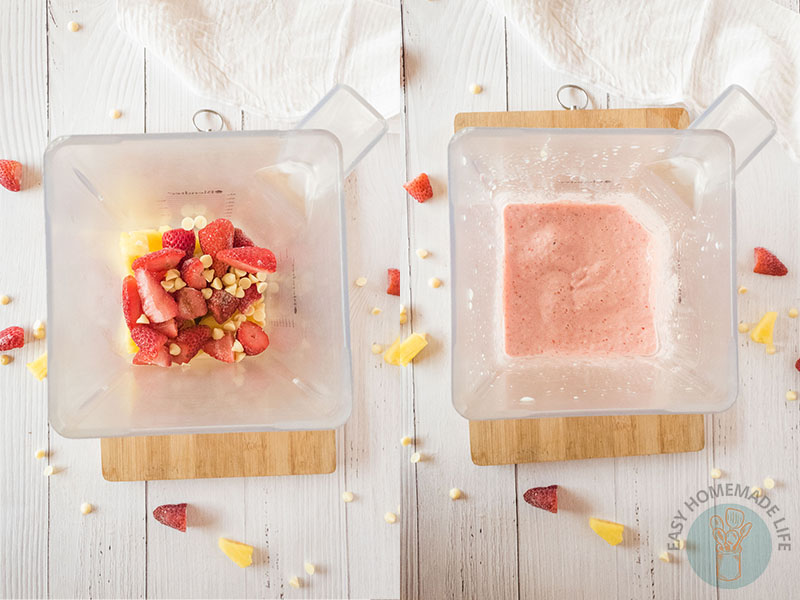 Step-By-Step Directions
Blend the base. Combine the coconut milk and white chocolate in a high-powered blender and blend until smooth.
If you're breaking a large piece of white chocolate down to size, this Spruce Eats tutorial provides some helpful tips on chopping chocolate. Remember your favorite technique next time you need to use a portion of a whole bar for melting.
Add the fruit. Add the frozen fruit and continue blending for 30-60 seconds until combined well.
Serve. Could it be any easier? Divide the smoothie evenly between two glasses and serve immediately.
Your blending time may be slightly longer if you don't have a high-speed blender. You may also need to pause, scrape the sides and continue blending before all the chunks of fruit combine.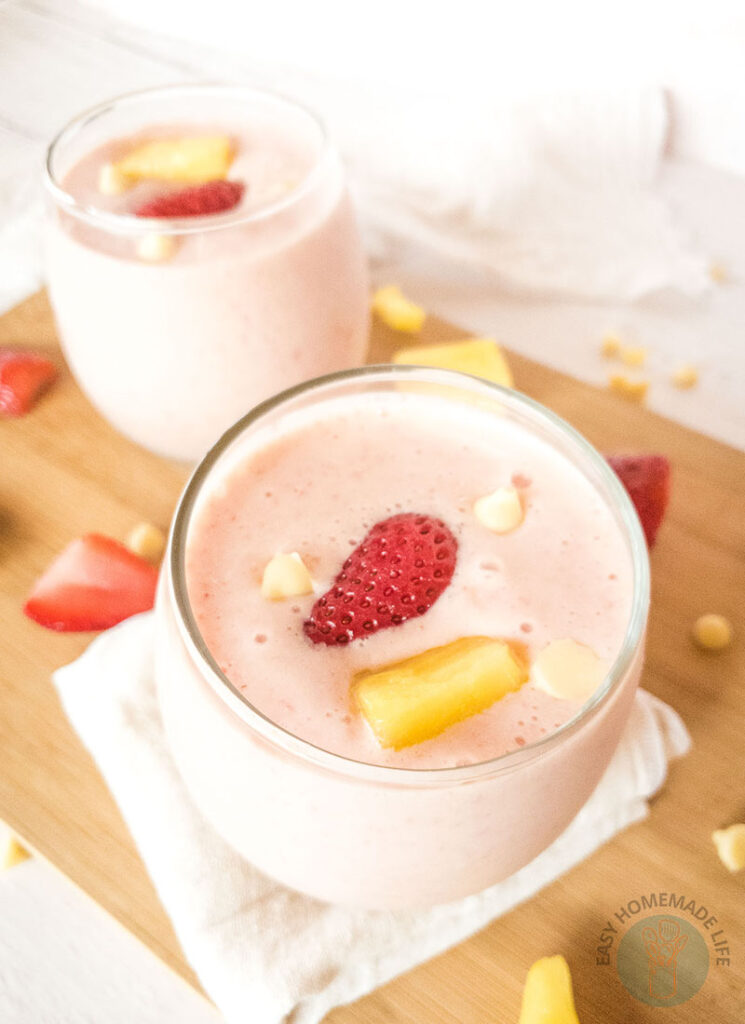 Bahama Mama Tropical Smoothie Calories
When you follow this copycat recipe and make it at home:
333 calories
41 g carb
3 g protein
20 g fat
3 g fiber
38 g net carb
The original Tropical Smoothie Cafe menu item lists "white chocolate powder" in their formula, which I don't use here because I prefer simpler, unprocessed ingredients.
If you use white chocolate powder or other substitutions, the end result will have a different nutrient profile. You can use a nutrition app like My Fitness Pal to recalculate and reflect any adjustments you choose to make.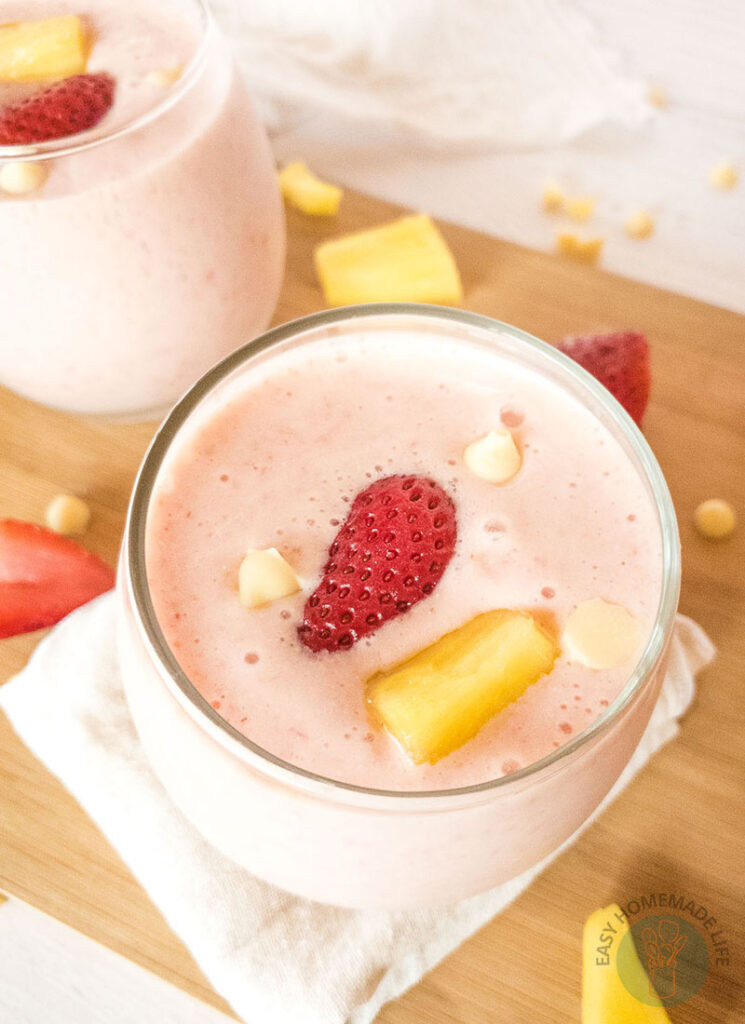 Tropical Smoothie Bahama Mama Recipe FAQ
What's in a Bahama mama tropical smoothie?
My Bahama Mama smoothie is a naturally gluten-free strawberry smoothie blend of just four ingredients: strawberry, pineapple, coconut milk, and white chocolate chips. I've seen other copycat versions with agave nectar, protein powder, orange juice, or white chocolate syrup, but I prefer to keep the recipe as simple as possible without sacrificing any flavor.
How much is a Bahama Mama at Tropical Smoothie?
A regular 24-oz Bahama Mama smoothie from Tropic Smoothie is $4.99, which is a competitive price with other similar restaurants. However, when you make this copycat recipe at home, it only costs an estimated $2 per serving or less, and you'll have leftover ingredients for other recipes too!
What kind of white chocolate is good for smoothies?
Semi-sweetened white chocolate is the best choice for smoothies. I like white chocolate chips or discs (wafers) because the small pieces blend easily and quickly. Alternatively, you can also chop or shave a white chocolate bar. Make this recipe entirely sugar-free by using unsweetened cacao butter.
What white chocolate powder does Tropical Smoothie use?
Tropic Smoothie Cafe does not disclose the specific ingredient on their website. I suggest avoiding white chocolate powder when you make this yourself because it's an unnecessary ingredient. Instead, why not choose one of the options listed above since they are easier to find and less-processed too?
More Easy Summer Recipes
More Easy Copycat Recipes