This McDonald's pancake recipe brings a beloved fast food breakfast menu item into your own kitchen. Make a copycat version with healthier ingredients and save your money (and gas!) with a homemade alternative to the drive-through. These hotcakes are light and fluffy, with a buttery flavor you'll love.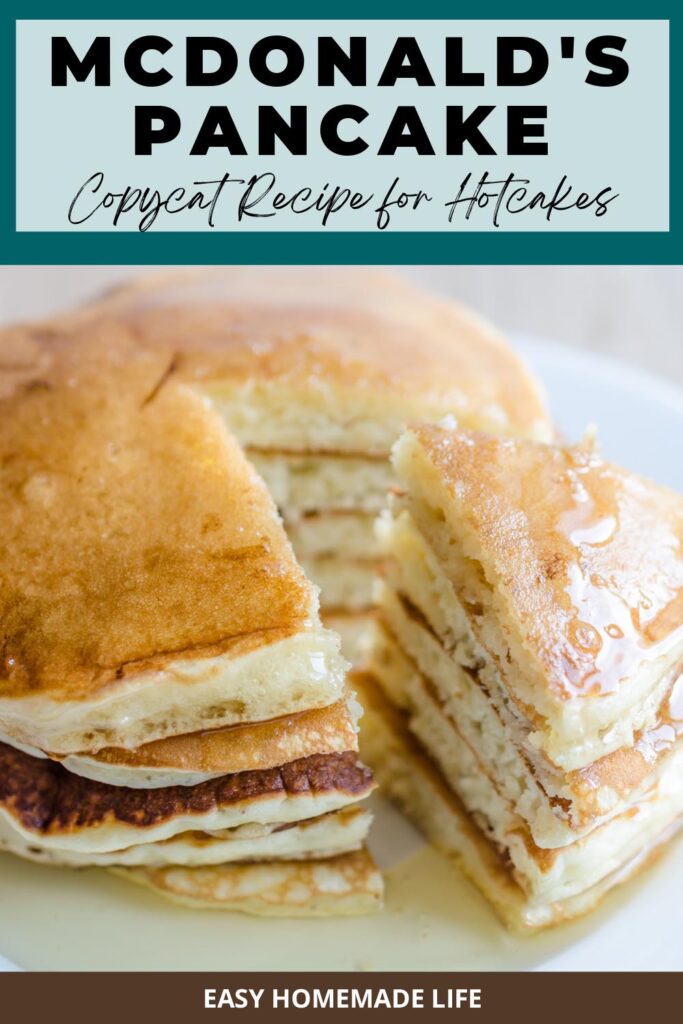 What is the difference between pancakes and hotcakes?
Are pancakes and hotcakes the same? Both words describe a popular breakfast dish and are often used interchangeably.
While there may be a subtle culinary distinction between the two, in McDonald's view they are the same.
There is no difference. We just prefer to call them 'hotcakes' instead of 'pancakes.' Still round, fluffy and topped with real butter. Simple as that.

McDonald's
McDonald's has undoubtedly influenced common usage of the terms, but others cling to recognizing the differences.
According to The Kitchen Community, hotcakes is a broader term that can encompass any small (sweet or savory) griddle-fried cake, while pancakes are specifically considered a sweet breakfast food. Furthermore, hotcakes are thicker and denser with a narrower diameter than pancakes which cook in a larger shape with a light texture.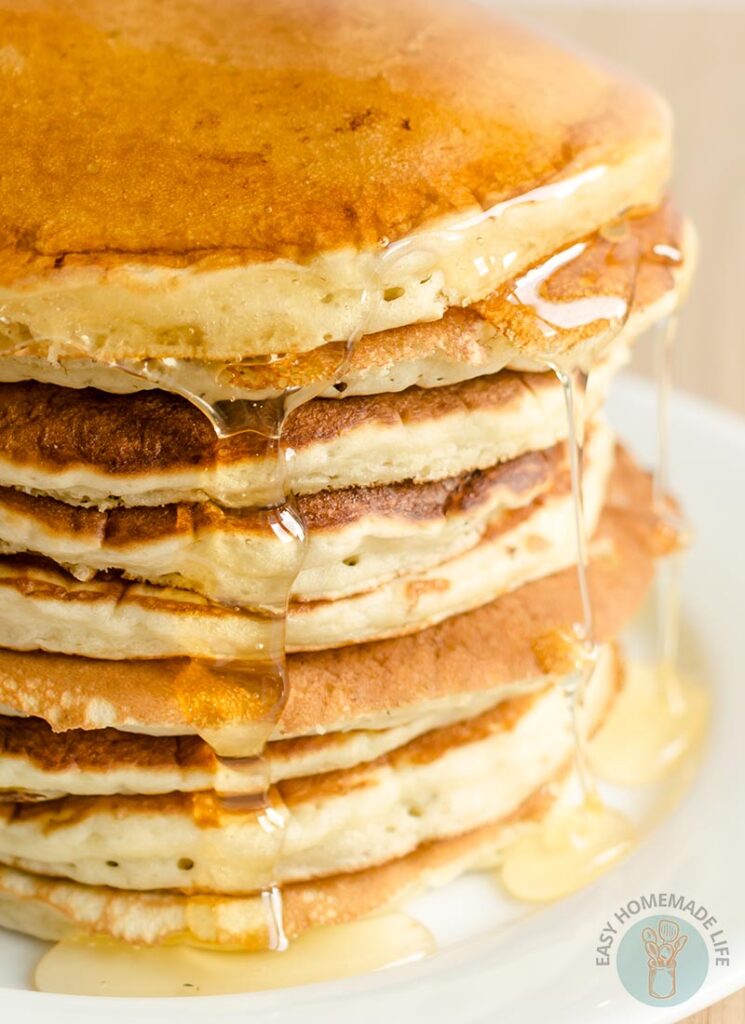 How to Make McDonald's Pancakes Recipe
Gather a few everyday ingredients, follow the simple step-by-step directions, and soon you'll know exactly how to make McDonald's pancakes at home. It's easy, I promise!
As of Oct 2022, the ingredient list for McDonald's pancakes includes wheat flour, water, eggs, whey powder, vegetable oil, salt, and vinegar. The list sounds pretty standard for a pancake recipe, but then they add in raising agents, an emulsifier, preservatives, and artificial flavoring.
Personally, I prefer the cleaner and higher-quality ingredient list of this homemade McDonald's copycat pancake recipe. We get all the same texture and flavor but with real food ingredients while still on a budget.
Ingredients
I bet you already have these ingredients in your pantry and fridge. Like all the best family-friendly recipes, copycat McDonald's pancakes use everyday ingredients you'll recognize as common staples.
Flour – all-purpose white flour is best
Sugar – granulated white sugar (the everyday kind you're used to)
Baking powder – a leavening that helps the pancakes rise nicely. Baking powder is key for a light and fluffy texture.
Salt – a pinch of sea salt is delicious!
Milk – use any milk you like or substitute it with buttermilk for a tangy treat
Eggs – Use large eggs. I was surprised to learn about McD's goal of using 100% cage-free and free-range eggs by 2025. Currently, most, if not all US and Canadian locations are already serving free-range eggs. That's pretty cool!
Butter – the best fat for cooking pancakes in my opinion. The butter is for frying only, don't add it to the batter.
McDonald's serves their hotcakes with maple syrup and a pat of butter, but since you're making these in the comfort of your own home, you can dress them up even more.
Best pancake toppings:
Maple syrup
Butter
Applesauce
Fresh berries
Sliced bananas
Toasted chopped almonds or walnuts
Sautéed apples and cinnamon
Chocolate sauce and marshmallows
Honey
Chocolate chips
Peanut butter
Jam or jelly
Whipped cream
Nutella
Bacon
Mix and match the toppings you like most.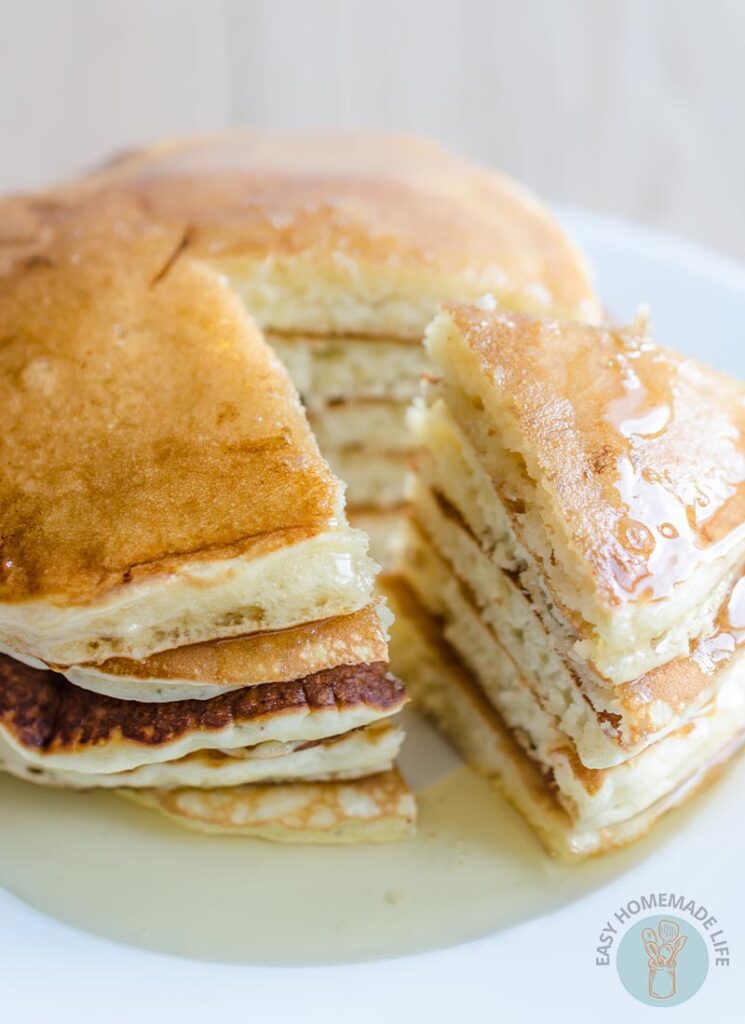 Step-By-Step Directions
My recipe for McDonalds hotcakes is so simple to make. You can cook them any day of the week without much preparation or forethought.
Preheat
Preheat a griddle or frying pan over medium heat.
Mix ingredients
Whisk all ingredients in a large mixing bowl. You only need to whisk the eggs together in a separate bowl first before adding everything together in one single bowl. It's so easy!
Combine well until there are no lumps in the batter, but don't over mix or the gluten in the wheat flour will get too stiff and you risk losing the light and fluffy pancake texture we all love so much.
Cook
Add ½ tbsp butter to the hot griddle or pan. Then, scoop the batter with a ⅓ cup measuring cup and carefully pour it into the hot butter. Using a measuring cup will make each pancake the same size, and look perfectly uniform.
Wait until the edges rise away from the pan and the bubbles on top begin to pop before flipping over. Your spatula should slide under the first side easily, if it sticks or the pancake starts to crumple, the batter is still undercooked. Wait a little longer before trying to flip again.
The second side only needs to cook for about 60 seconds.
Repeat (butter, batter, look for bubbles, then flip) until the batter cooks. You'll get a nice stack of pancakes at the end of this!
It's nice if you can cook three pancakes at a time because each serving will be ready at once and you can pass them around while they are piping hot off the griddle.
Serve
Serve hot with maple and butter or any optional toppings listed above in the ingredients section.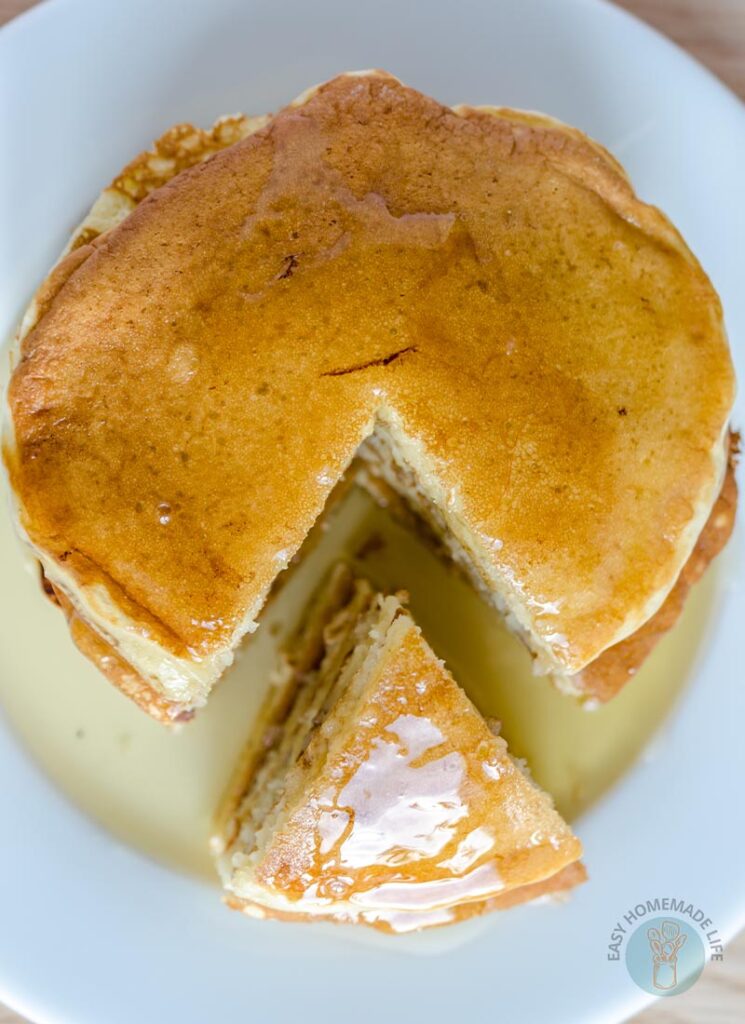 McDonald's Pancake Nutrition Facts
Are you wondering how many calories in McDonald's pancakes? The restaurant states that their item of three McDonald's hotcakes has 580 calories. This includes butter and maple-flavored syrup.
This homemade McDonalds pancake copycat recipe yields 12 pancakes or 4 servings.
Each serving contains the following nutrition profile (plus toppings):
427 calories
14 g protein
11 g fat
68 g total carbs
2 g fiber
66 net carbs
Please note that the nutritional value will change if you substitute ingredients. Use a nutrition app like My Fitness Pal to recalculate and reflect your changes.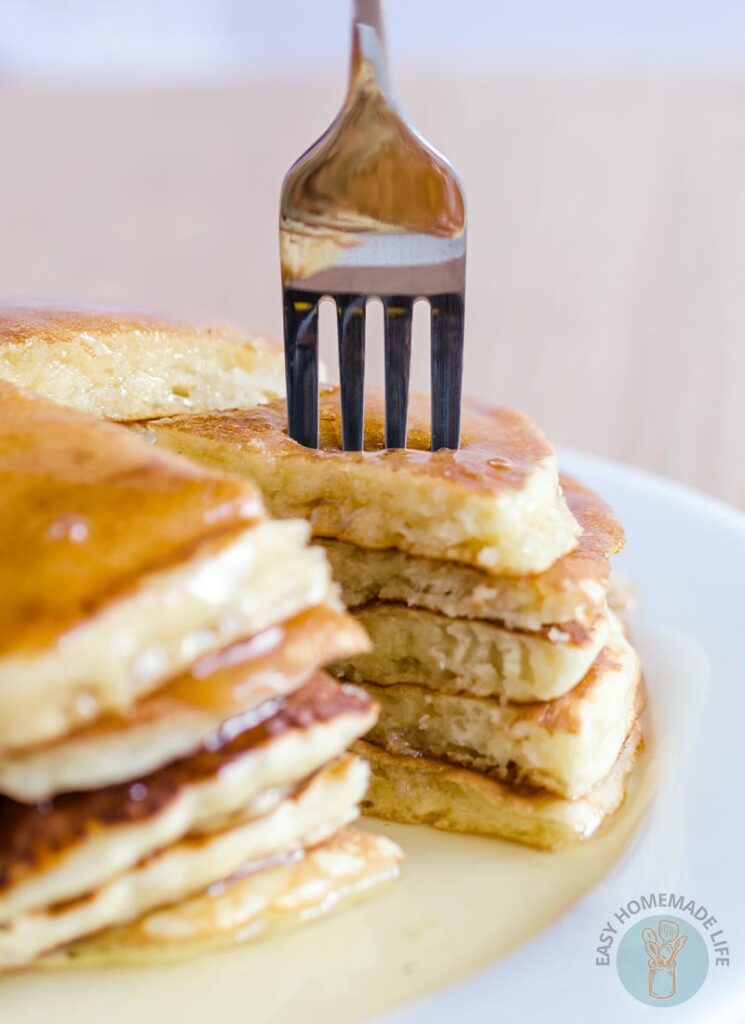 More Easy Breakfast Recipes
More Easy Copycat Recipes