Make a quick 4 ingredient banana bread in one bowl, then bake in the oven until done! This is a great way to use ripe bananas, and your family will surely enjoy it for breakfast or as an after-school snack.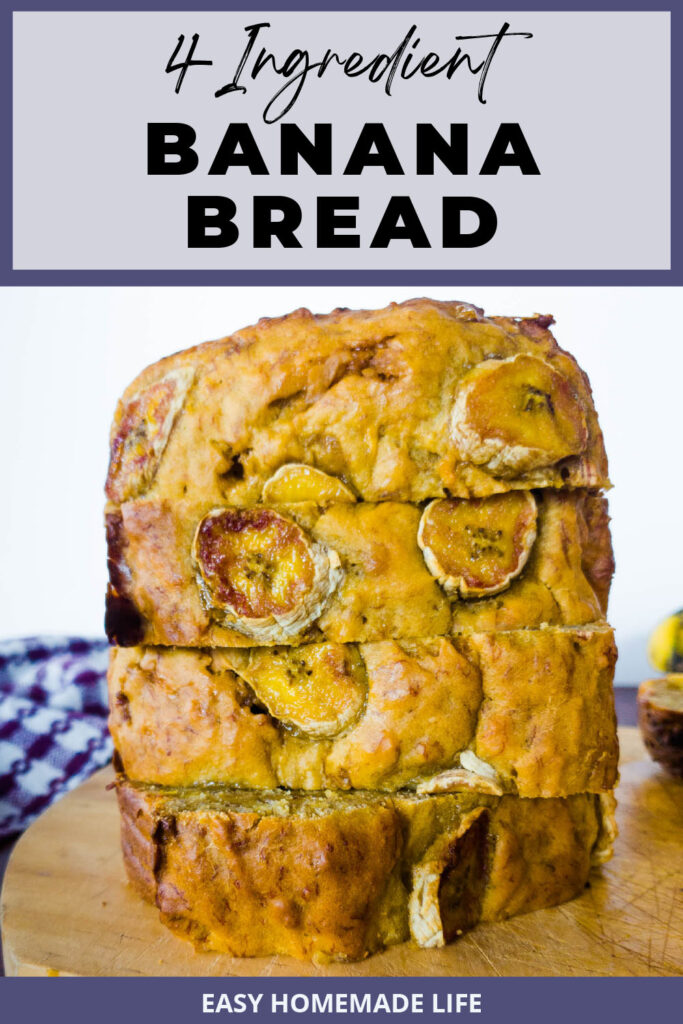 How to Make Four Ingredient Banana Bread
My kids like a slight banana texture over a strong bread finish, so I went heavy with the banana. But, of course, you can use a little less if you prefer.
Start by gathering the ingredients, and you can make a 4 ingredient banana bread without cake mix in just a few minutes! Many people rely on cake mix as a shortcut, but I prefer to use self-rising flour instead.
Easy recipes like this are such a wonder! I think you'll also like 5 Super Easy 3-Ingredient Bread Recipes.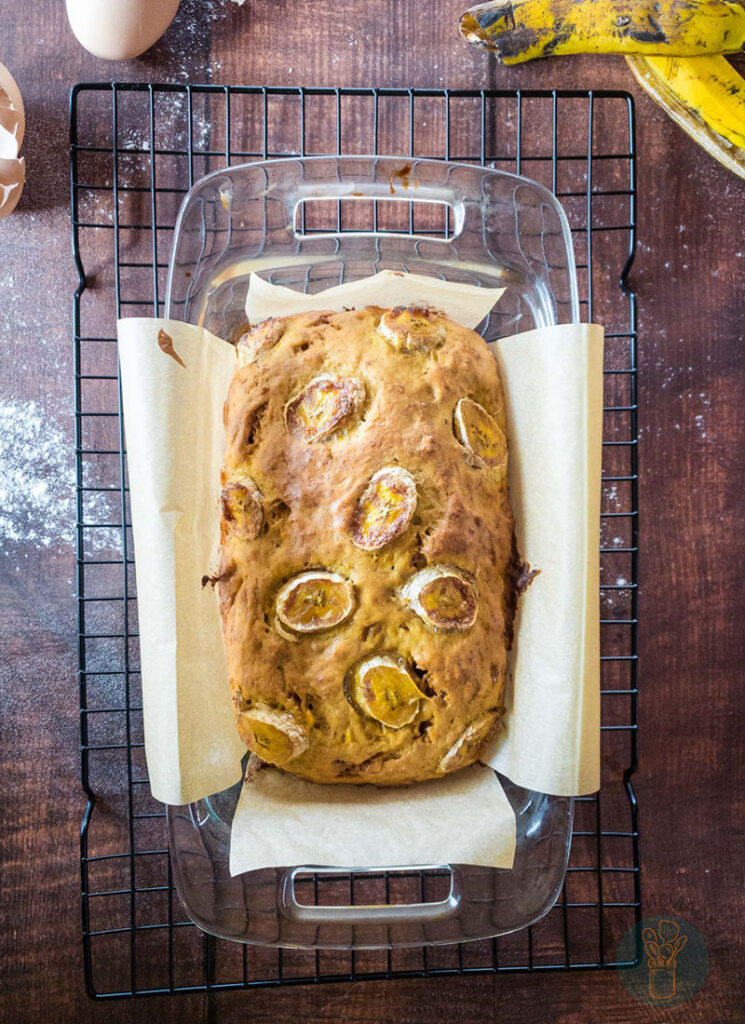 Ingredients
Bananas – You must use very ripe bananas. If they are underripe, the fruit will be too firm to mash and create a very heavy batter that is hard to rise in the oven. Choose bananas with plenty of brown spots or one that's already gone completely black. You can force the ripening process in an oven if necessary. Add one extra banana for decorating the top if you want.
Sweetener – brown sugar sweetens the recipes while adding a delicious depth of flavor. You can substitute it with regular white sugar.
Eggs – 2 whole eggs
Flour – Self-raising flour contains added baking powder and salt. This saves you from needing to consider two additional ingredients in the recipes. Baking powder is an important evening agent and shouldn't be omitted. Substitute with 1 ½ cups all-purpose flour, 2 ¼ tsp baking powder, and ½ tsp salt.
That's all you need for the basic banana bread, and it's just right as it is!
But if you're the kind of person who likes expanding on a single recipe and trying all the variations, think about these optional add-ins. Pick one, mix and match, or add all of these yummy (completely optional!) ingredients to your bread batter for a fun twist on flavor.
¾ cup semisweet chocolate chips
½ cup chopped walnuts
½ cup shredded coconut
1 tsp ground cinnamon
In addition to these, Taste of Home has even more ways to upgrade your banana bread with some pretty drool-worthy ideas.
This recipe is naturally dairy-free and vegetarian.
Step-By-Step Directions
Follow the simple directions, and you can't go wrong!
Preheat and prepare
Preheat the oven to 350 degrees F (175 degrees C). Line a loaf pan with parchment paper. Watch this sixteen second tutorial by Baker Bettie if you don't already know how.
Mash and mix
Mash the bananas with a fork in a medium mixing bowl.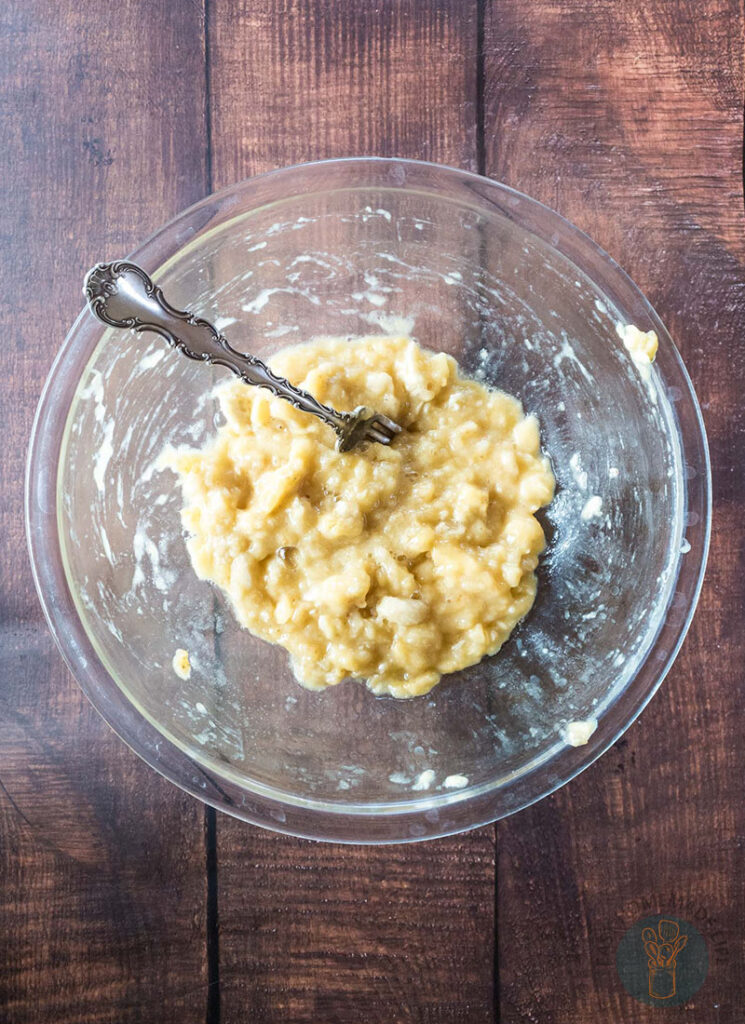 Add the eggs and sugar; mix well.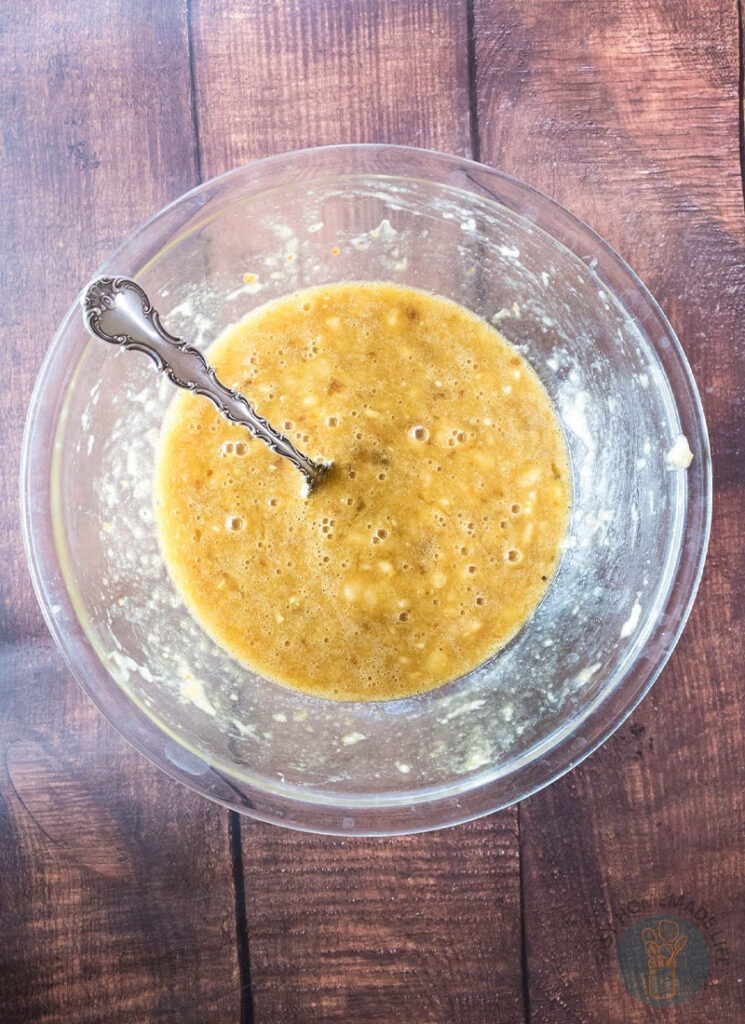 Finally, mix in the flour and continue stirring until the ingredients look evenly combined. Don't over-mix because that can lead to gummy banana bread. Instead, give just as many stirs as it takes to combine well.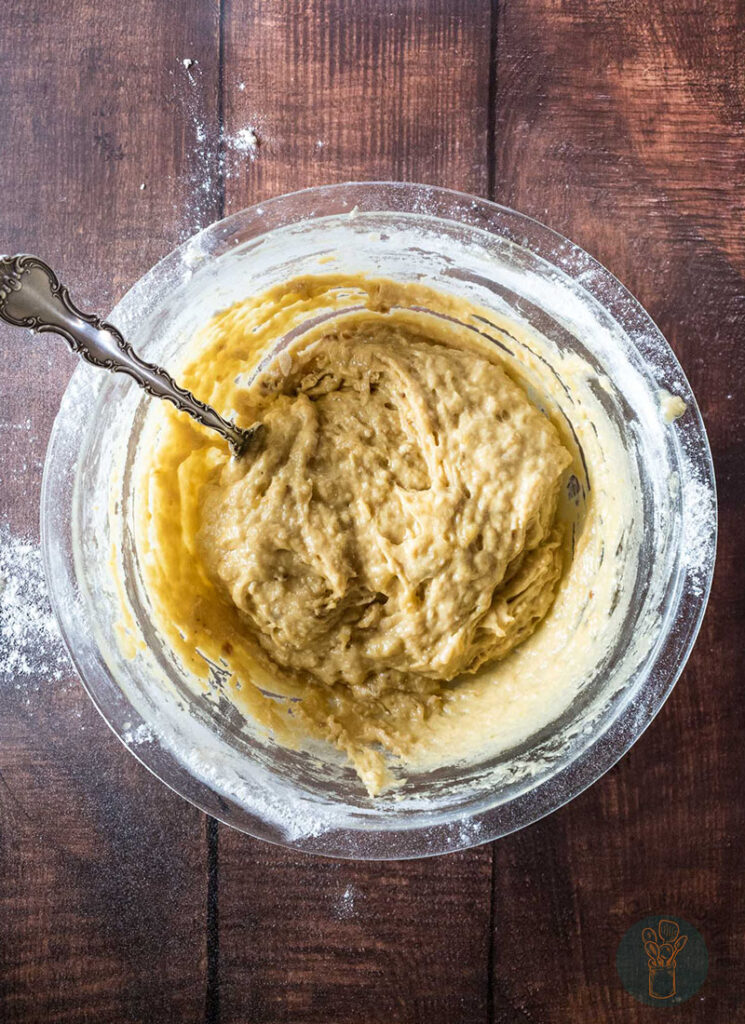 Getting the right texture is important. It should be thick yet pourable. It should pile up but not roll into a ball. If you think it's too thick, add a splash of water to soften it. Conversely, if you see it too runny, add a small spoonful of flour to thicken it. Bananas vary and can sometimes produce differing results.
Bake
Transfer the batter to the loaf pan.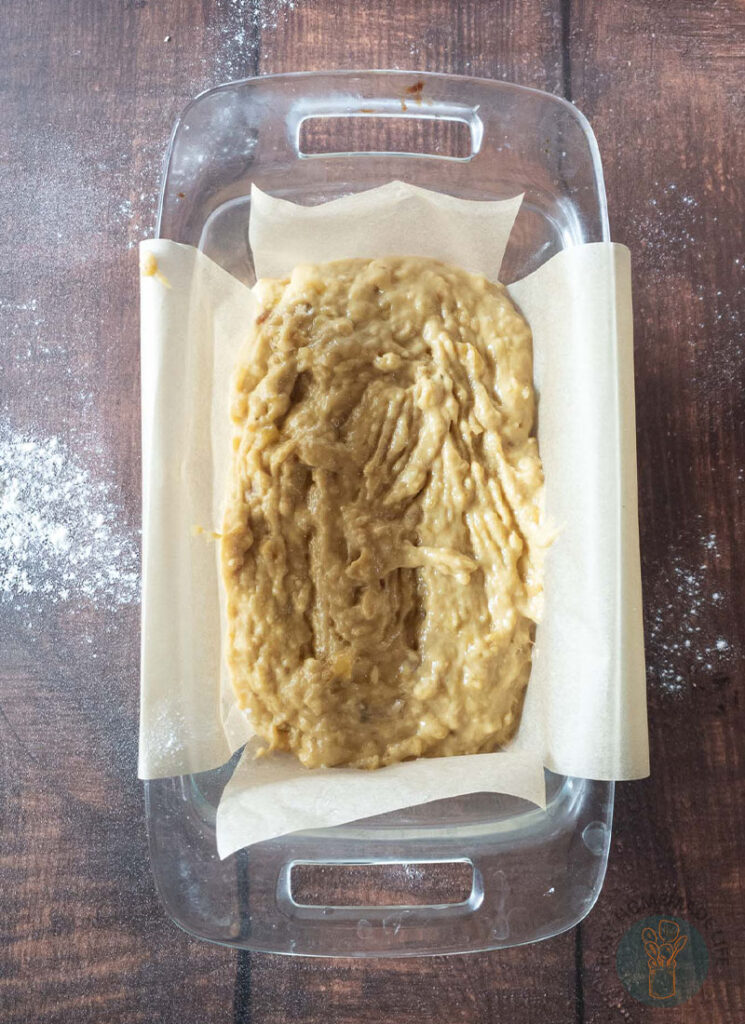 Slice the extra, optional banana crosswise into small circles, and arrange them on top of the batter.
Bake for 60 minutes until the cake tester (or toothpick) comes out clean.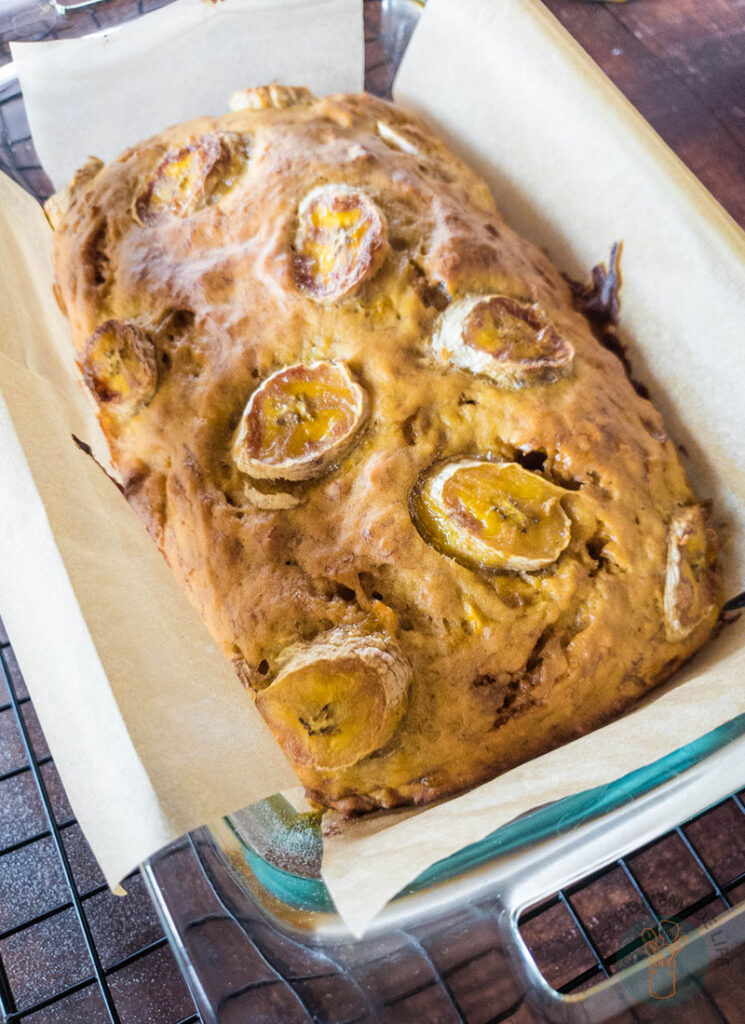 Cool and serve
Remove the bread from the oven and place it on a wire rack. Let it sit for 10 minutes before pulling up the parchment paper, removing from the pan, and placing it on a wire rack to cool for about 10 more minutes. Then, slice into approximately 9 1-inch pieces.
Store leftovers in an airtight container in the refrigerator. Alternatively, freeze for up to three months. I suggest pre-slicing the bread and adding parchment paper between the slices to avoid them sticking together. Store in a freezer-safe bag or container.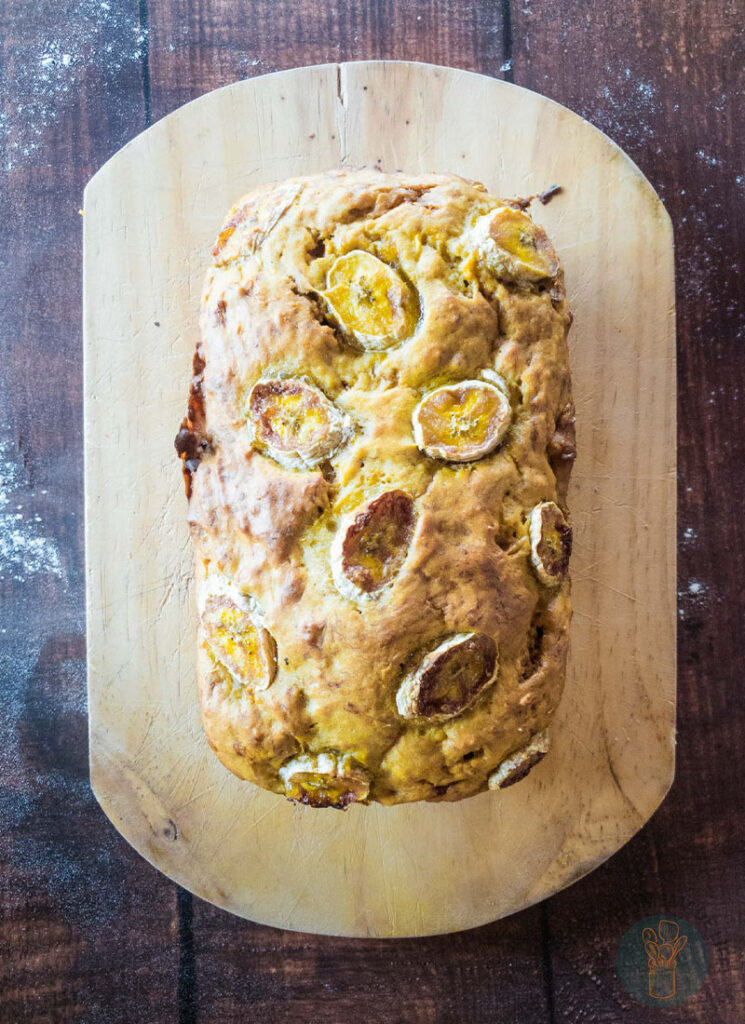 Banana Bread Nutrition Facts
This easy 4 ingredient banana bread recipe yields 9 (1-inch) slices.
Each slice of banana bread contains:
187 calories
4 g protein
1 g fat
40 g total carbs
2 g fiber
38 net carbs
Please note that the nutritional value will change if you substitute ingredients. Use a nutrition app like My Fitness Pal to recalculate and reflect your changes.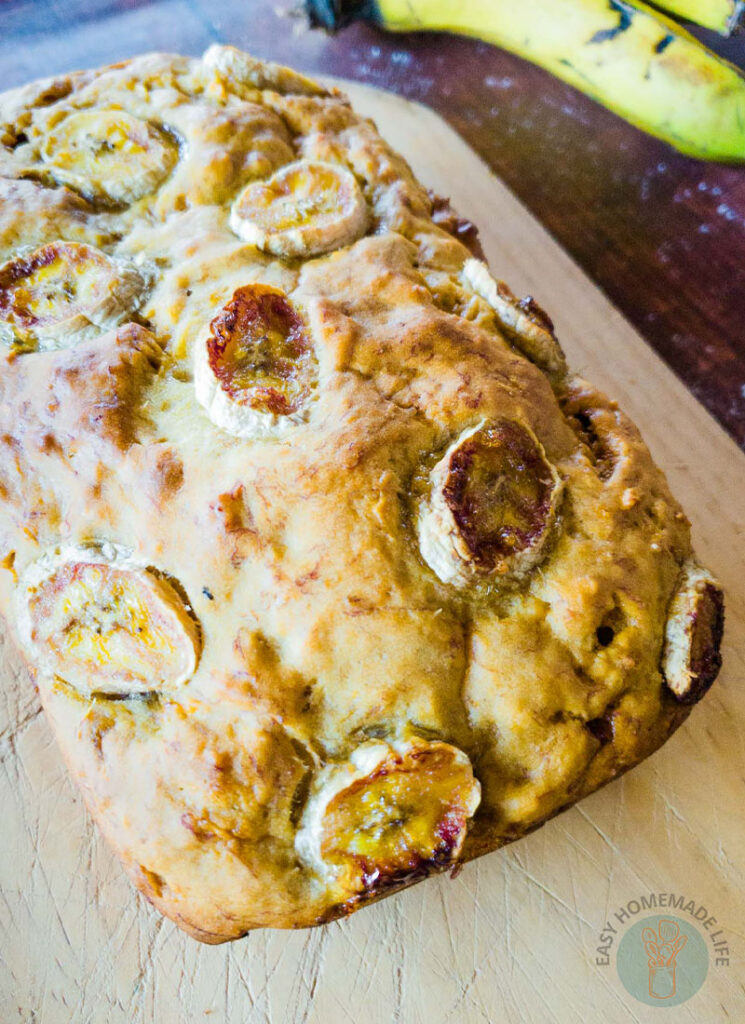 Easy 4 Ingredient Banana Bread FAQ
Can you make banana bread without baking soda?
Baking soda creates a leaving effect by reacting with acid in a recipe. You can make banana bread without baking soda; we do it here in the recipe below. You may notice it's slightly denser and more compact than other recipes.
Chemist turned baker, Janice at Bake School has an interesting analysis on this question, and Baking Baron goes even deeper into the technical ins and outs of baking with or without baking soda.
What oven rack do I use for banana bread?
Cook the bread in the middle of the oven, on the middle rack. The air will circulate nicely, and the bread won't be too close or too far from the heat source.
How long to let banana bread cool on wire rack?
I cool this bread in the baking pan for about 10 minutes before lifting up the parchment paper and transferring it from the pan to the rack. It sits an additional 10 minutes from there before I slice and serve it. If you want to store the bread immediately, wait until it cools completely. This may take up to 60 minutes.
Why is my banana bread gummy?
The most common reason banana bread gets gummy is due to over-mixing. The gluten in wheat flour thickens as you mix it, so go gently and stir just enough to combine the ingredients.
Baking How has a great reference article on this question and goes through the top three reasons for gummy bread (over mixing is first) as well as eight tips on how to avoid it from happening again.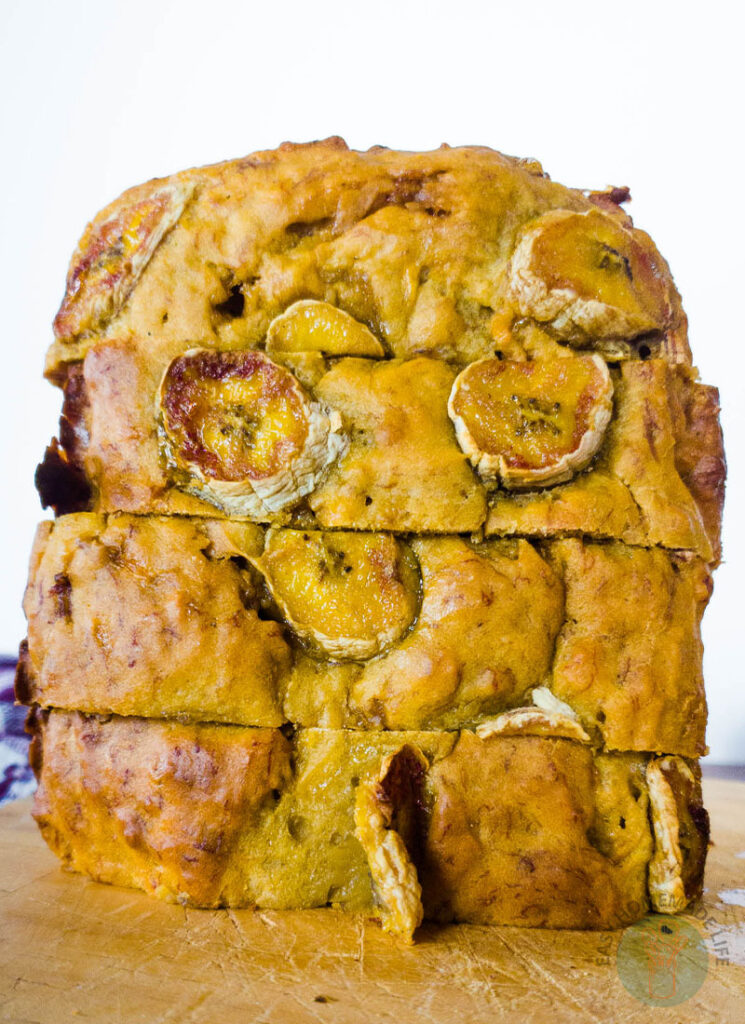 More Easy Breakfast Recipes