Longhorn Steakhouse rice recipe is a quick and easy side dish made with onions, bell peppers, and rice simmered in chicken broth. It's simple yet delicious, offering a mix of savory and slightly sweet flavors with tender, fluffy rice and a subtle crunch from veggies. This copycat recipe is a perfect weeknight meal that comes together quickly but has big flavors.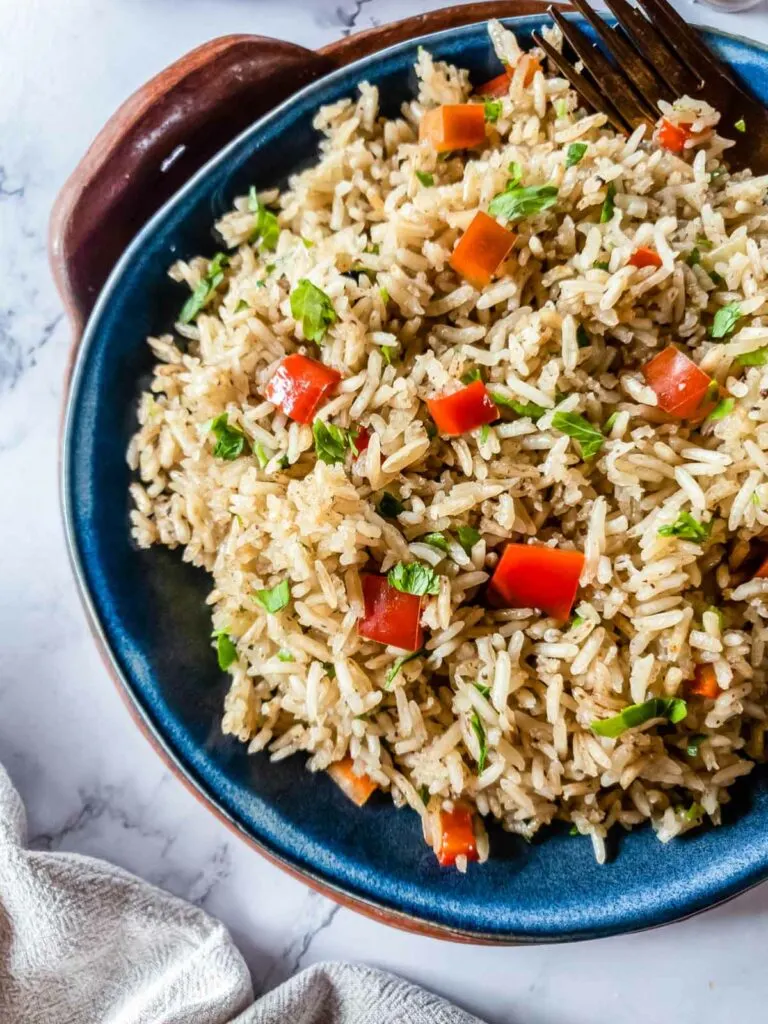 If you're looking for a hassle-free everyday rice dish, look no further. This versatile pilaf recipe goes well with a delicious steak for special occasions or roasted chicken breasts for a simple weeknight meal. With its golden brown rice and bursts of color in red bell peppers and fresh parsley garnish, this dish tastes amazing and is visually appealing.
And the best part? It's all done in one pan on the stovetop. That means less cleanup and more time for what really matters.
Everyday Simple Approach
We are transforming lives with the Everyday Simple Approach, which promises to help you find joy in homemaking with quick, easy, and affordable recipes and tutorials. Let's see how this recipe stacks up.
Simple ingredients – The main ingredient is rice cooked in chicken broth, which offers so much flexibility with the rest of the ingredients.
Short prep and cooking time – This dish is a good choice on a busy weeknight with only 10 minutes of hands-on time needed.
Family-friendly and kid-approved – With simple comfort food flavors, this everyday rice dish is one the whole family will love!
Customizable – Work with what you have on hand or follow the substitution tips below to make this tasty recipe work for you.
Minimal cleanup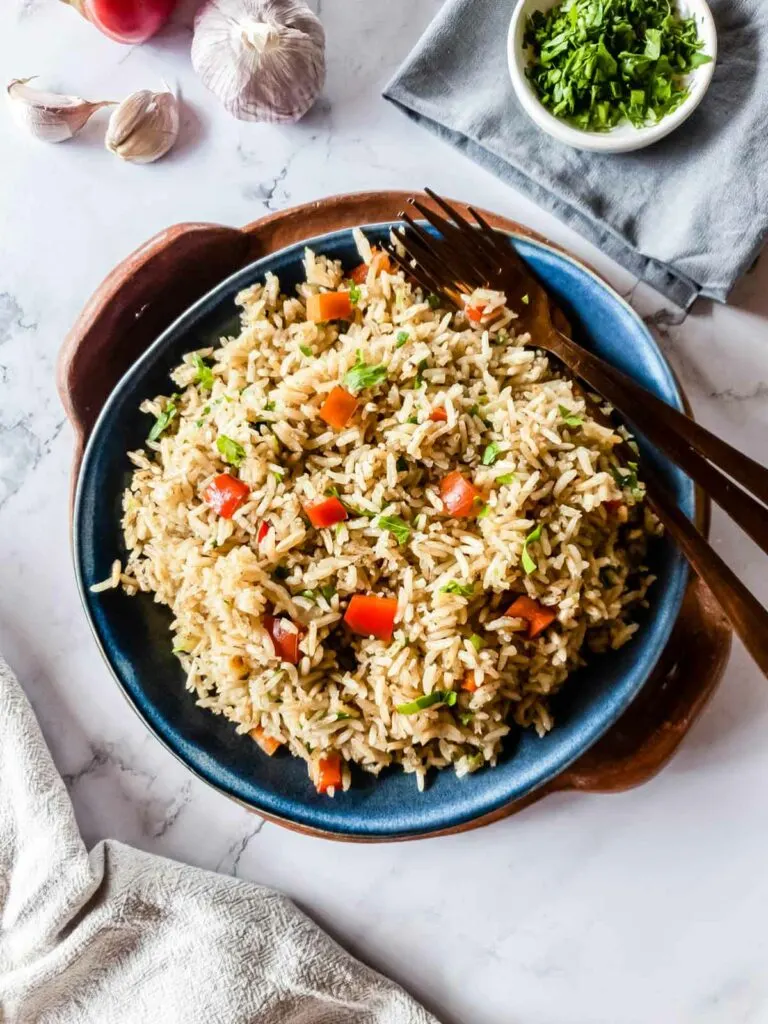 How to Make Longhorn Steakhouse Rice Recipe
This delicious side dish comes together with just a handful of ingredients from your local grocery store. A tasty rice pilaf will be on your dinner table in under 40 minutes with minimal prep time and basic cooking techniques.
Ingredients You Need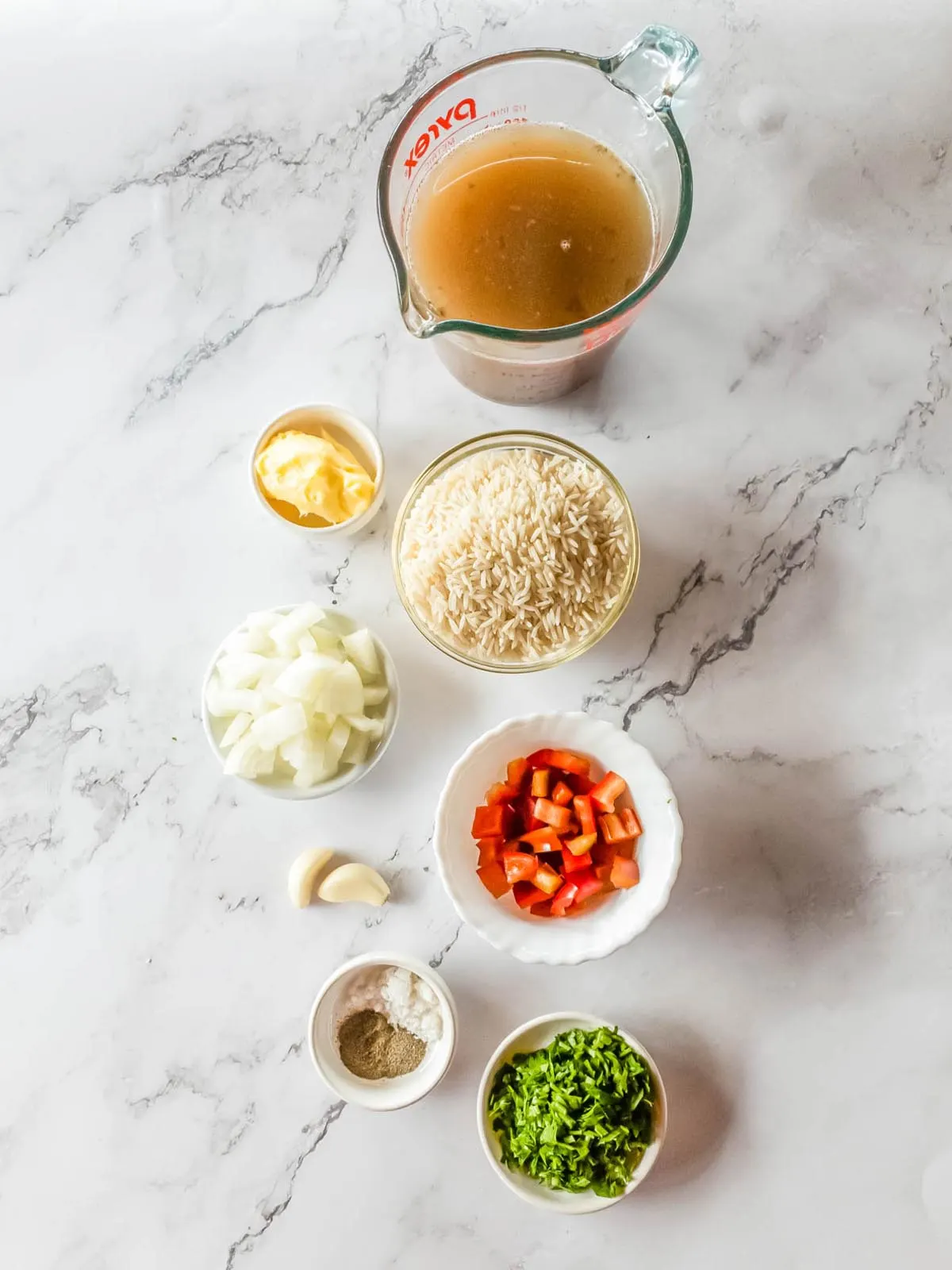 Butter – Unsalted butter adds richness and flavor to the pilaf as it is used to saute the onions and bell peppers.
Onion – Adds a sweet and savory flavor to the dish that complements the rice well.
Red bell pepper – Diced red bell pepper adds a pop of color, crunchy texture, and sweet depth of flavor.
White rice – Use long-grain rice to recreate this restaurant recipe with the same texture and taste.
Garlic – Adds a wonderful aromatic and savory note to the dish.
Chicken broth – The rice and sauteed vegetables are cooked in chicken stock to add great flavor to the overall dish.
Salt and pepper – A simple seasoning blend of salt and black pepper is sufficient to tie all the flavors together.
Fresh parsley – Used as a garnish, adding a burst of herbaceous freshness and a pop of color.
Step-By-Step Instructions
The easy stovetop pilaf comes together so quickly. The recipe flows effortlessly.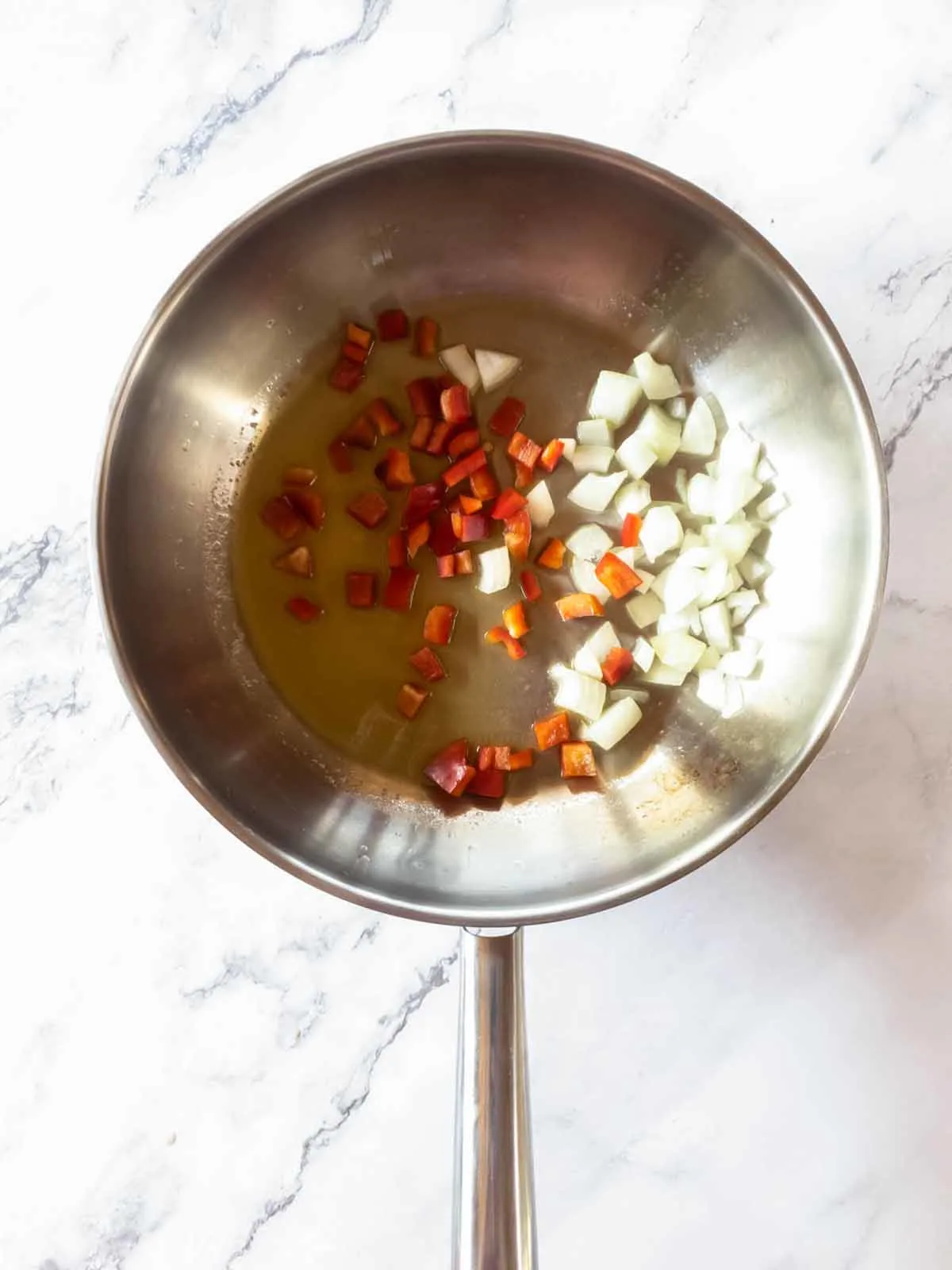 Follow these simple directions, and you can't go wrong!
Rinse the rice under cold water and drain well.
Melt the butter in a medium skillet over medium-high heat. Add the chopped onions and bell pepper to the pan and saute for 2 minutes, until tender.
Add rice to the pan and toss to coat thoroughly with butter. Continue sauteeing for 5 minutes.
Add minced garlic to the rice and season with salt and pepper. Pour in the chicken broth and bring to a boil. Reduce heat to medium-low and cover the pan with a lid. Simmer for 15-20 minutes or until the rice absorbs all the liquid and finishes cooking through.
Fluff the rice with a spatula or fork and garnish with chopped parsley. Serve warm.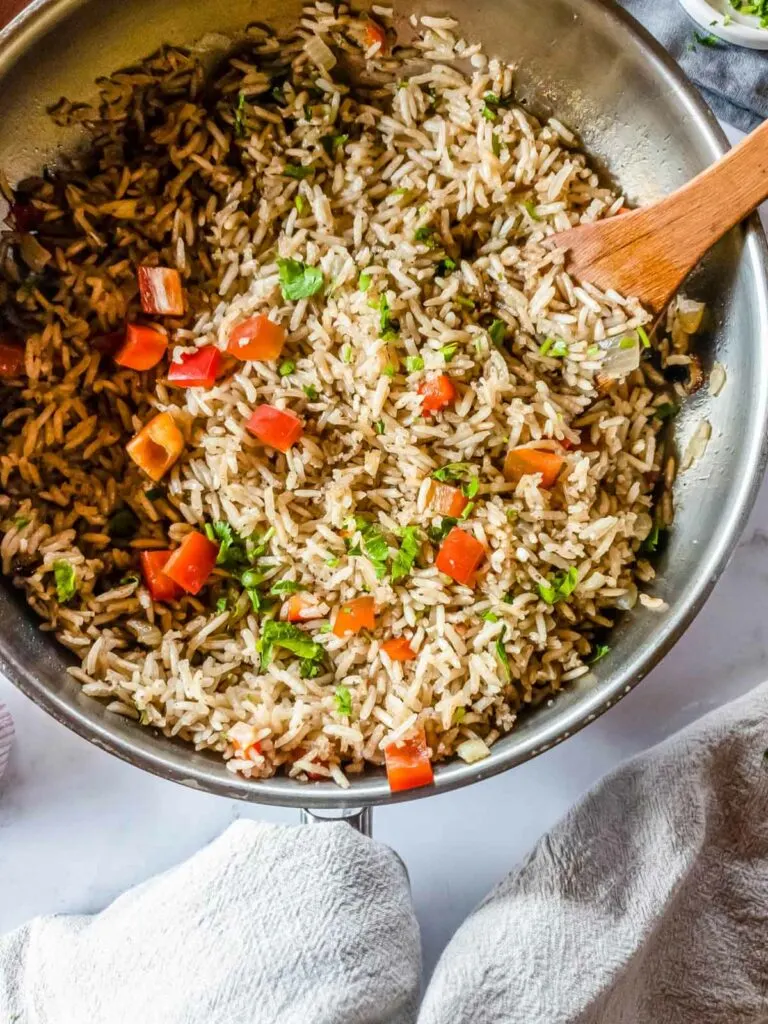 Ingredient Substitutions
Even though this is such a simple recipe, you might be missing one of the key ingredients. Review the recommendations here for quick and clever substitutions.
Here are suggested substitutions:
Swap butter with oil. If you're dairy-free or just want to avoid using butter, swap it with a neutral oil like avocado or olive oil.
Try another rice. I prefer plain white rice for this copycat recipe, but you can try brown rice and add a few extra minutes of cooking time.
Out of fresh garlic? Sub in garlic powder to keep the recipe simple and still flavorful.
Variations
Want to add your own spin? Make these fun variations and stretch this delicious side dish recipe into more delightful renditions.
Try these Longhorn Steakhouse Rice Pilaf variations:
Try other seasonings – I like to keep it simple with salt and pepper, but you can use your favorite delicious blend of seasonings. Try dried herbs like basil, oregano, and rosemary if you're going with Italian cuisine, or add spicy flavors with a pinch of chili powder, cayenne pepper, or garnish with red pepper flakes.
Bump up the vegetables – Cruciferous vegetables like fresh steamed broccoli florets or quartered Brussels sprouts would be terrific in this rice side dish. Or consider sauteeing mushrooms, bite-size asparagus, green beans, or diced zucchini before adding the rice. Incorporating veggies into your favorite family meal is an easy way to get more healthy foods on the table.
Give it a delicious topping – Sprinkle your favorite cheese blend on top and broil for a few minutes to give this dish a nice cheesy crust. Or add some buttery panko crumbs to really take it to the next level of deliciousness.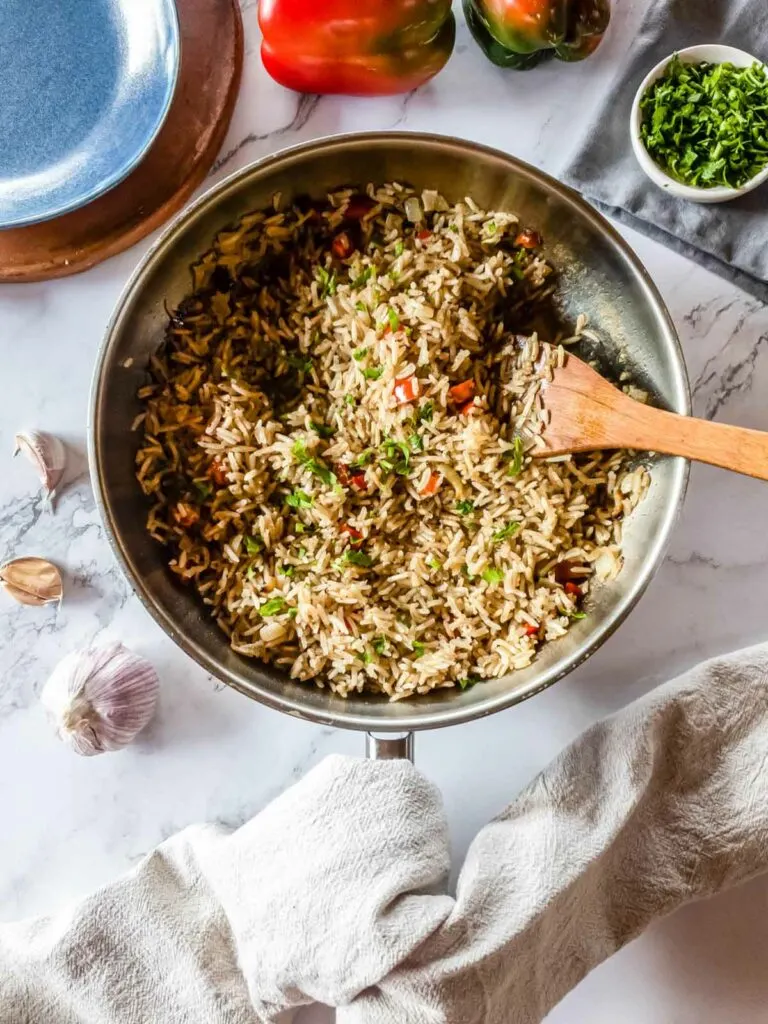 Expert Tips
Taste and adjust! I always recommend tasting while cooking so you can get to know the dish and adjust the seasoning as you like best.
Rinse the rice well. To get fluffy rice, it's important that you remove excess starch. The best way to achieve that is to place rice in a sieve and rinse it under cold running water until the water runs clear. Then, let the rice sit to drain well and remove excess moisture. Set it aside over a bowl while working on sauteeing the veggies.
Cut into uniform size. Chop the onion and bell pepper into similar-size pieces to ensure even cooking and distribution of flavor.
Toast the rice. When you add the dry white rice to the hot skillet with butter and veggies, toast it until it is slightly golden brown. This will help produce delicious nutty flavor. Make sure to stir frequently during this step to prevent burning.
Patience is key. Letting the steam out while the rice is simmering can disrupt the cooking process. Resist the temptation to lift the lid until the cooking time is done. Then, give the rice a few minutes to rest before fluffing to allow any residual moisture to redistribute.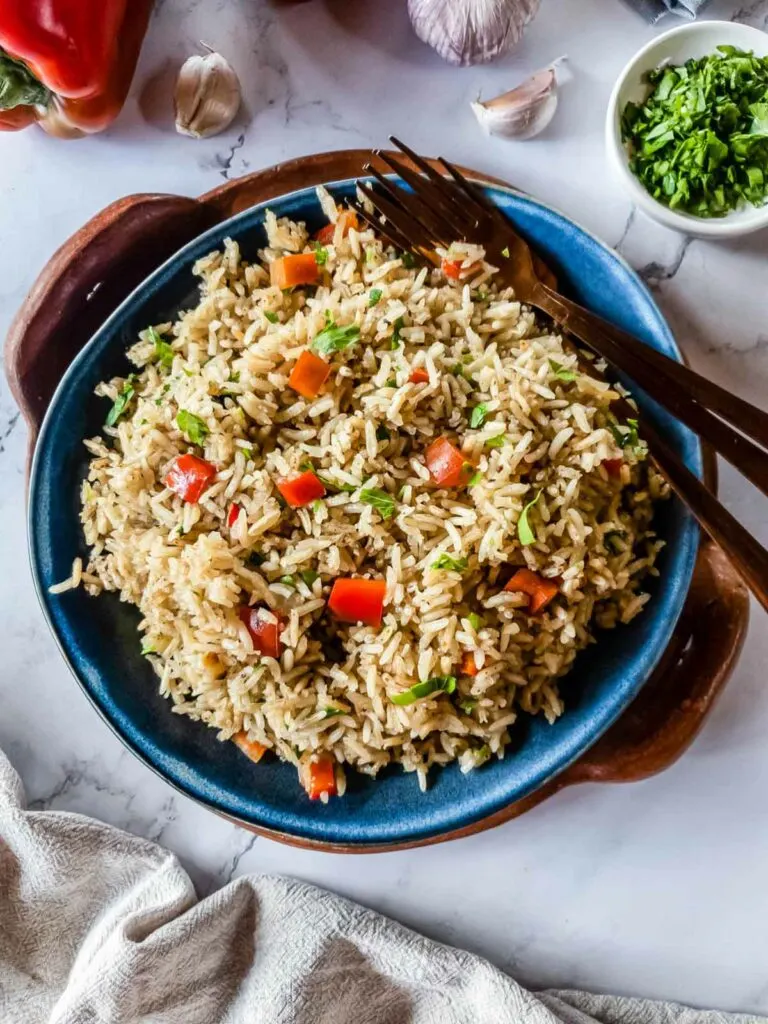 How to Store this Recipe
Store leftover rice pilaf in an airtight container in the refrigerator for up to four days.
To reheat, you can warm it in the microwave in 30-second increments, stirring in between until it's warmed through. Or you can heat a small amount of butter or oil in the bottom of a skillet over medium-high heat. Add the rice pilaf and stir-fry until heated through. You may need to add a splash of water or broth to prevent it from drying out.
Can I make Longhorn Steakhouse Rice ahead of time?
Yes, you can make this rice pilaf in advance. Prepare the recipe as written in the recipe card, minus the parsley garnish, and allow it to cool to room temperature. Then store in an airtight container in the refrigerator until ready to serve. Reheat per the instructions above.
Can I freeze Longhorn Steakhouse rice recipe?
Yes, you can freeze this rice side dish for longer storage. Transfer it to freezer-safe bags or containers and squeeze out excess air to prevent freezer burn. Freeze for up to three months. Thaw overnight in the refrigerator and reheat per instructions.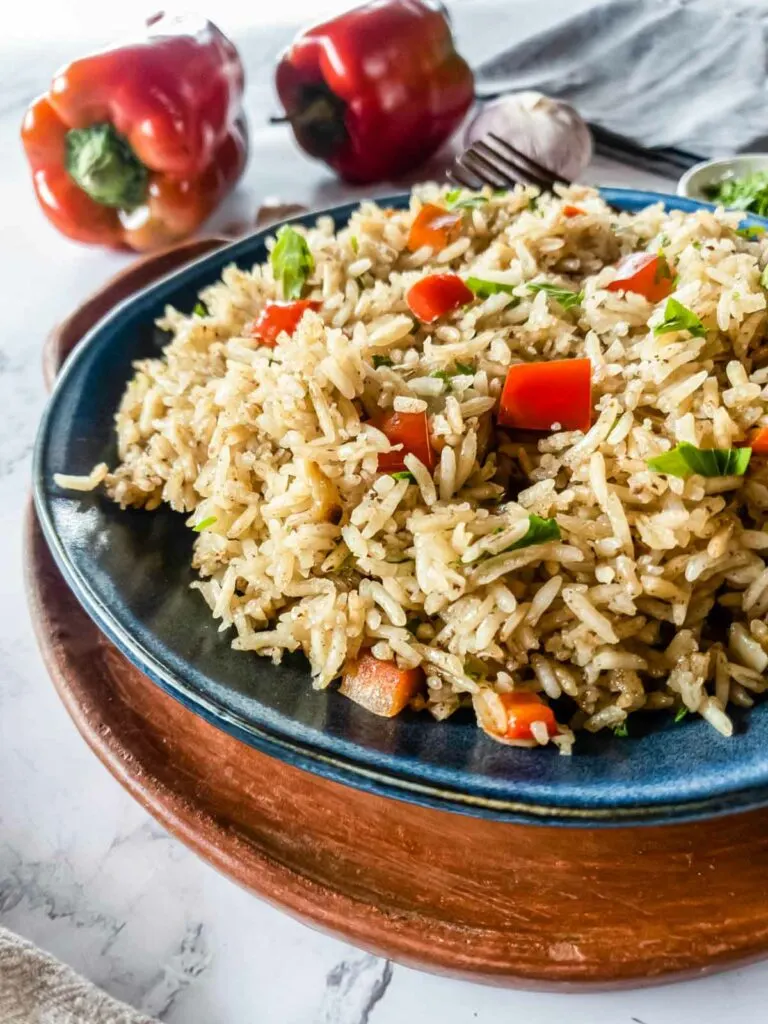 What to serve with Longhorn Steakhouse Rice
This quick and easy side dish boasts savory flavors that complement a wide variety of entrees, like herb-crusted Texas Roadhouse chicken or pineapple teriyaki pork chop.
Pair rice with your favorite grilled meats or pan-seared steak, chicken, or pork. It's also excellent with white fish or shrimp and fresh steamed asparagus.
More Easy Copycat Recipes To Try
If you make this Longhorn Steakhouse recipe, please leave a review. I appreciate each 5-star rating and review comment!