Herb-crusted Texas Roadhouse chicken is a copycat recipe of succulent, juicy, tender chicken breasts packed with a ton of flavor from dried herbs and black pepper. It is a quick family dinner recipe for busy weeknights and meal planning.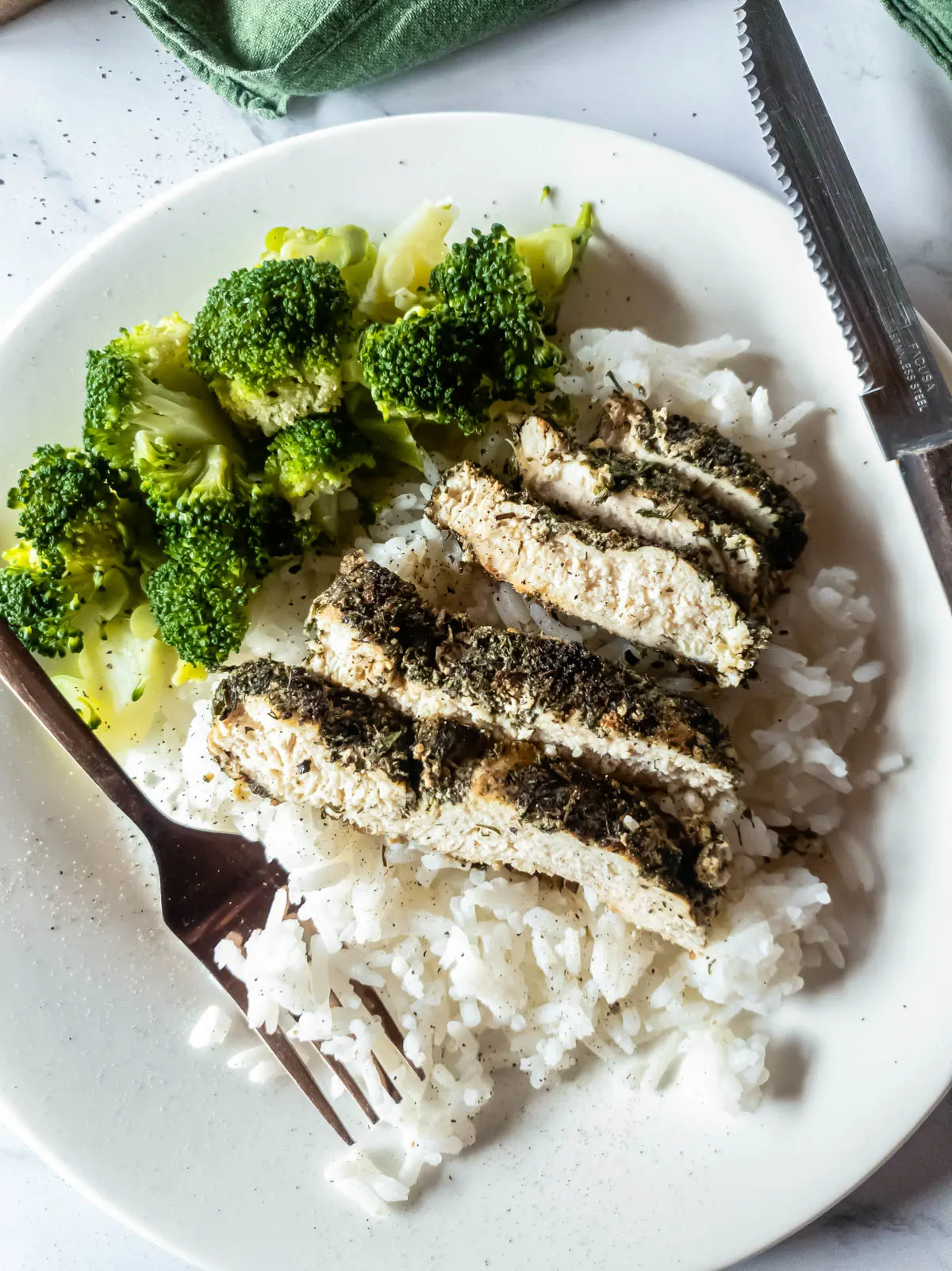 Did you ever think you could make your favorite restaurant recipe in minutes? In your own kitchen with just pantry staples?
With this recipe, you can make a restaurant-quality meal at home, even on a tight budget.
Whether you are cooking for a large family or yourself, this is quite a versatile chicken recipe. And can be a fantastic addition to your weekly rotation, offering a quick and fuss-free dinner option that is ready in under 15 minutes.
You can serve it over buttered noodles, salad, or roasted vegetables like broccoli, beans, or asparagus. Herb chicken is a great low-carb meal with healthy sides like mashed cauliflower or a simple salad.
This recipe is also a great option for meal prepping. You can double or triple the recipe, slice the chicken, and store it in an airtight container with steamed veggies and brown rice.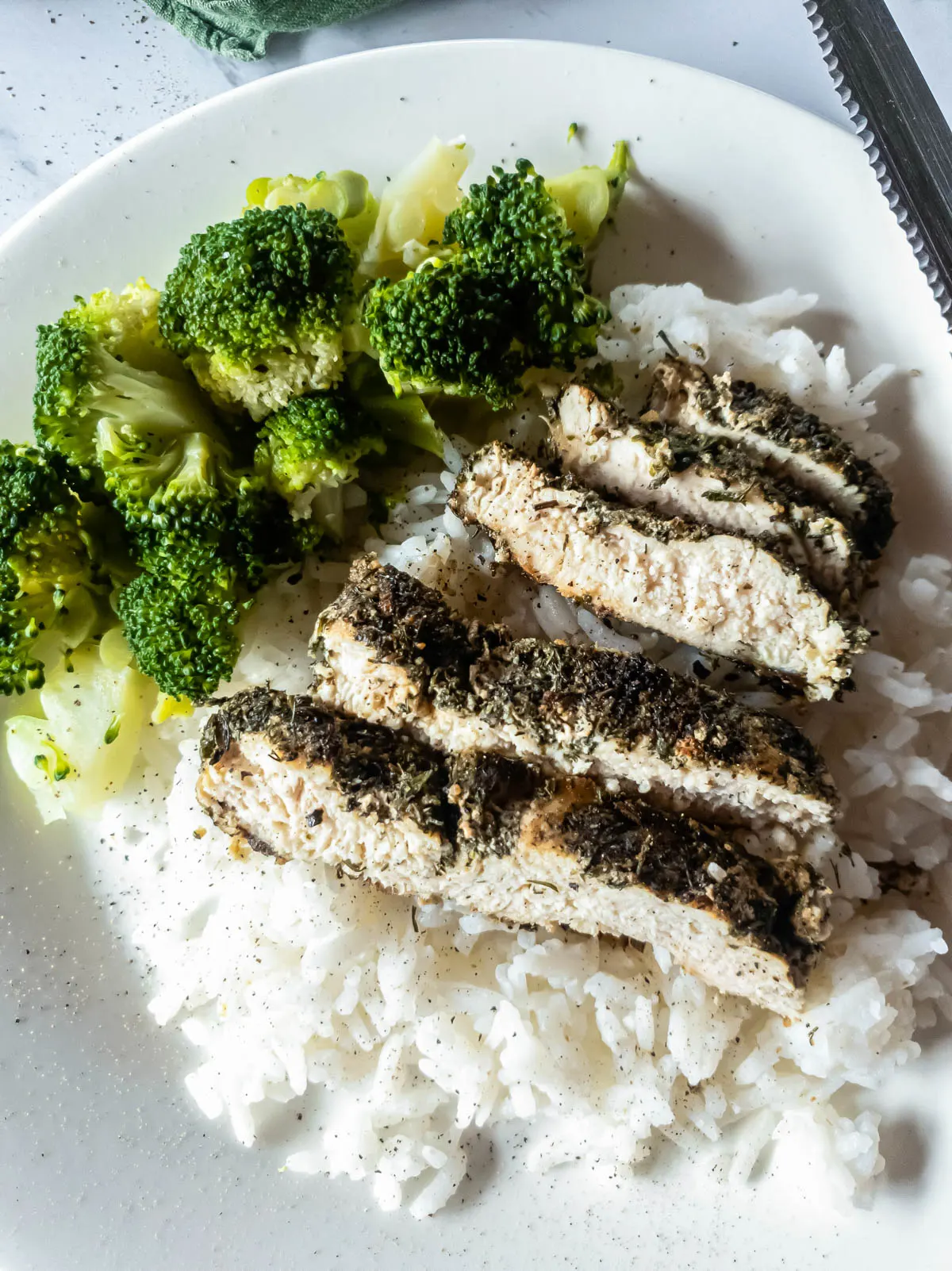 What is Texas Roadhouse Chicken?
Herb-crusted chicken is a popular chicken dish served at the Texas Roadhouse restaurant. The chicken breast is coated with dried herbs and pan-fried until it becomes juicy and tender. The herb coating on the outside becomes crispy, adding more flavor and depth to this chicken dish.
Texas Roadhouse's herb-crusted chicken is usually served with steamed vegetables like broccoli and carrots, a wedge of lemon, and mashed potatoes with gravy.
Everyday Simple Approach
We are transforming lives with the Everyday Simple Approach that promises to help you find joy in homemaking with quick, easy, and affordable recipes and tutorials. Let's see how this recipe stacks up.
Simple ingredients – Most ingredients are dry pantry staples that are readily available and versatile.
Short prep and cooking time – You can make this recipe in 15 minutes, from start to finish, following the simple steps given in the recipe.
Amazing flavor – The combination of herbs gives this chicken a delicious flavor.
Family-friendly and kid-approved – You can serve this in numerous ways, over noodles, macaroni and cheese, or in wraps.
Budget-friendly – You can make the whole recipe in less than $7 per serving.
Basic kitchen equipment – All you need is a cast iron or a nonstick skillet.
Easy-to-follow directions
Freezer-friendly – You can meal prep ahead of time or freeze leftovers for later.
How to Make Texas Herb-Crusted Chicken
You can make this healthy herby chicken breast recipe in under 15 minutes. Most ingredients are already in your pantry.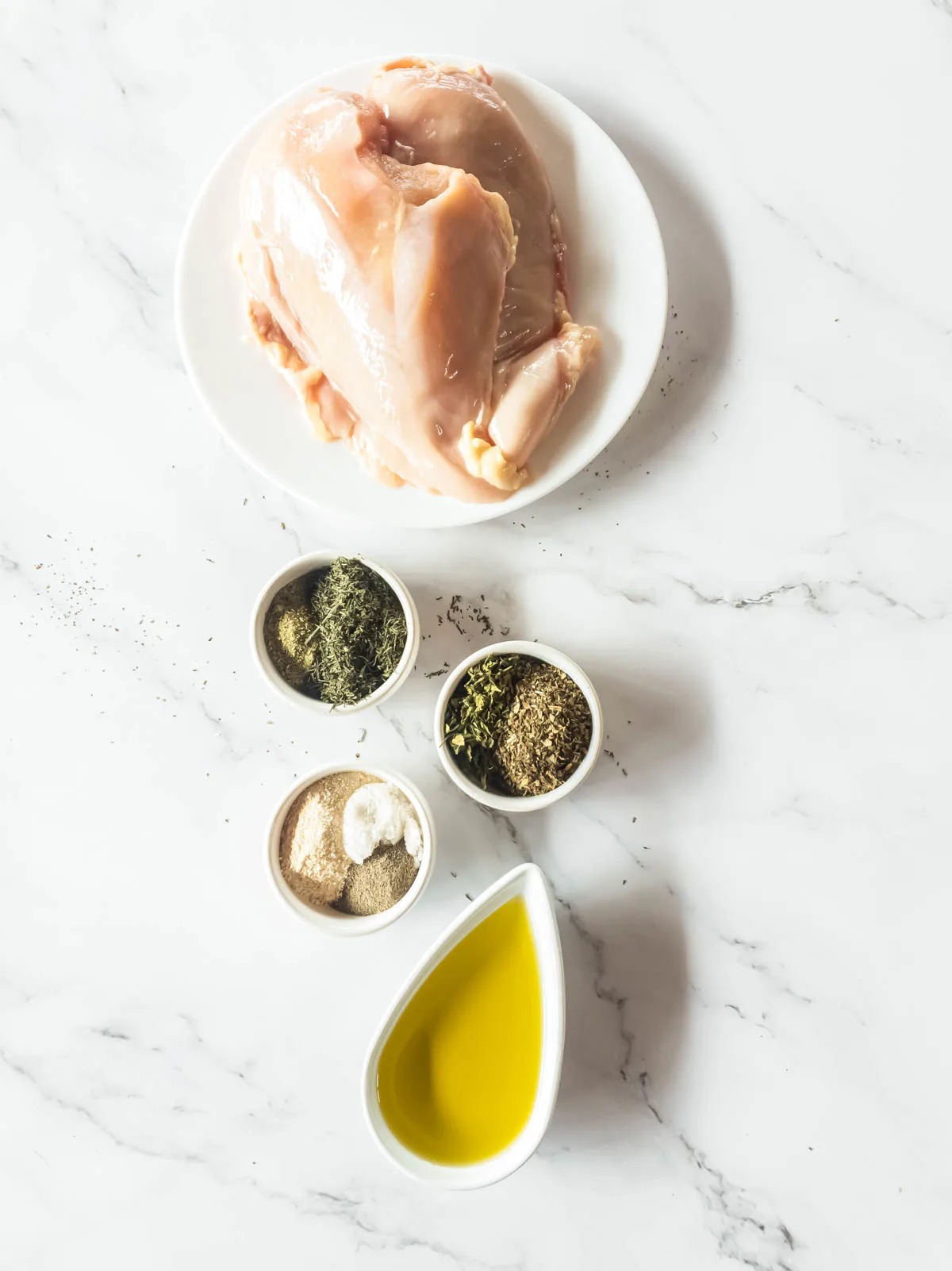 Ingredients You Need
Chicken breast – about 8 ounces each
Whole-leaf herbs are preferred over powdered ones because they give the best final texture and signature look.
I buy organic herbs in bulk from Mountain Rose Herbs because they have great selection, quality, and customer service. They have been a favorite resource of mine for herbs, tea, DIY bath and body ingredients, and essential oils for over a decade.
Ingredient Substitutions
Even though this is such a simple recipe, you might be missing one of the key ingredients. Review the recommendations here for quick and clever substitutions.
Here are suggested substitutions:
Chicken breast – You can replace boneless chicken breasts with skinless, boneless chicken thighs or white fish fillets.
Dried herbs – Use half the amount of powdered dried dill or the same amount of minced fresh dill instead. For example, substitute half a tablespoon of dried dill or one tablespoon of fresh, chopped dill.
Garlic powder – You can substitute garlic powder with an equal amount of dry garlic flakes or two minced garlic cloves.
Ground black pepper – Season with white pepper or a small pinch of smoked or sweet paprika instead.
Extra virgin olive oil – Avocado oil, butter, and coconut oil are great substitutes.
You can also substitute the individual measurements of dried dill, basil, parsley, oregano, and garlic powder with five tablespoons of your preferred Italian seasoning.
Variations
Want to add your spin? Make these fun variations and stretch this recipe into more delightful renditions.
Baked herb-crusted chicken – Bake the prepared chicken in a preheated oven at 365 F or 180 C for 25-30 minutes.
Parmesan and herb-crusted chicken – Add two tablespoons of grated parmesan cheese to the herb mix.
Overnight buttermilk marinated herb chicken – Soak the chicken in buttermilk overnight before crusting it in the herby mix. Then proceed with the recipe.
Spicy herb-crusted chicken – Add half a teaspoon of cayenne pepper to amp up the heat.
Zesty herb chicken – Add one-fourth teaspoon of lemon zest to the herb mixture. Add a few slices of lemon while cooking the chicken to add extra flavor.
Nut-crusted chicken – Add two to three tablespoons of crushed nuts like pistachios or walnuts to the herb mixture.
Step-By-Step Instructions
Follow these simple directions, and you can't go wrong!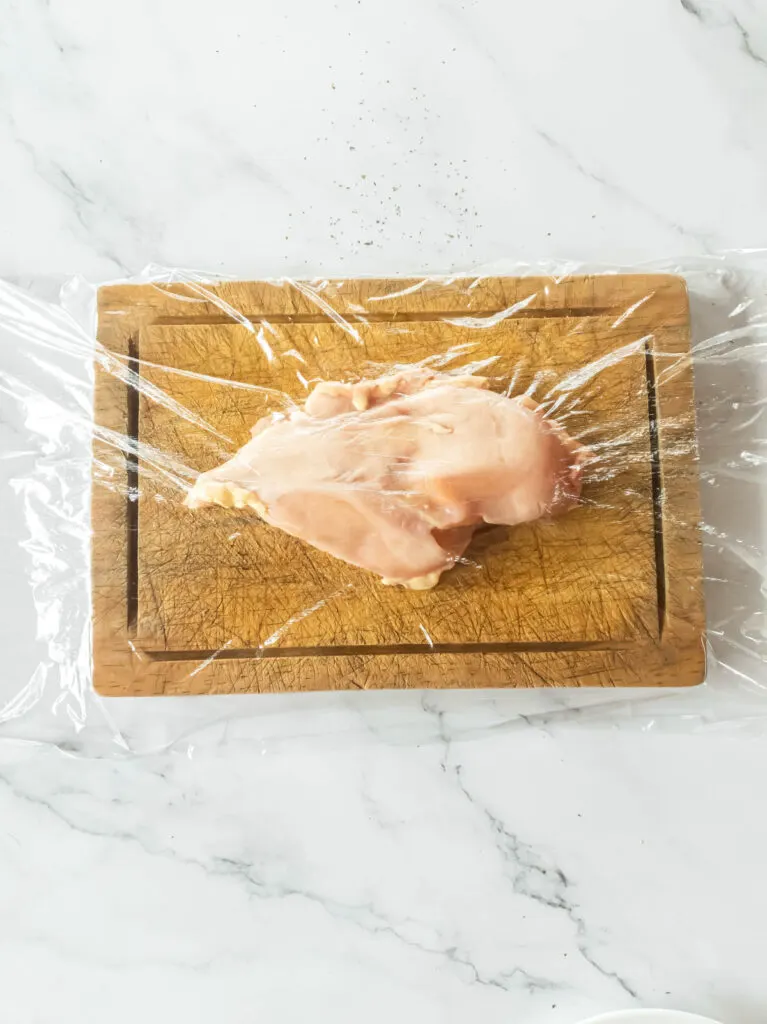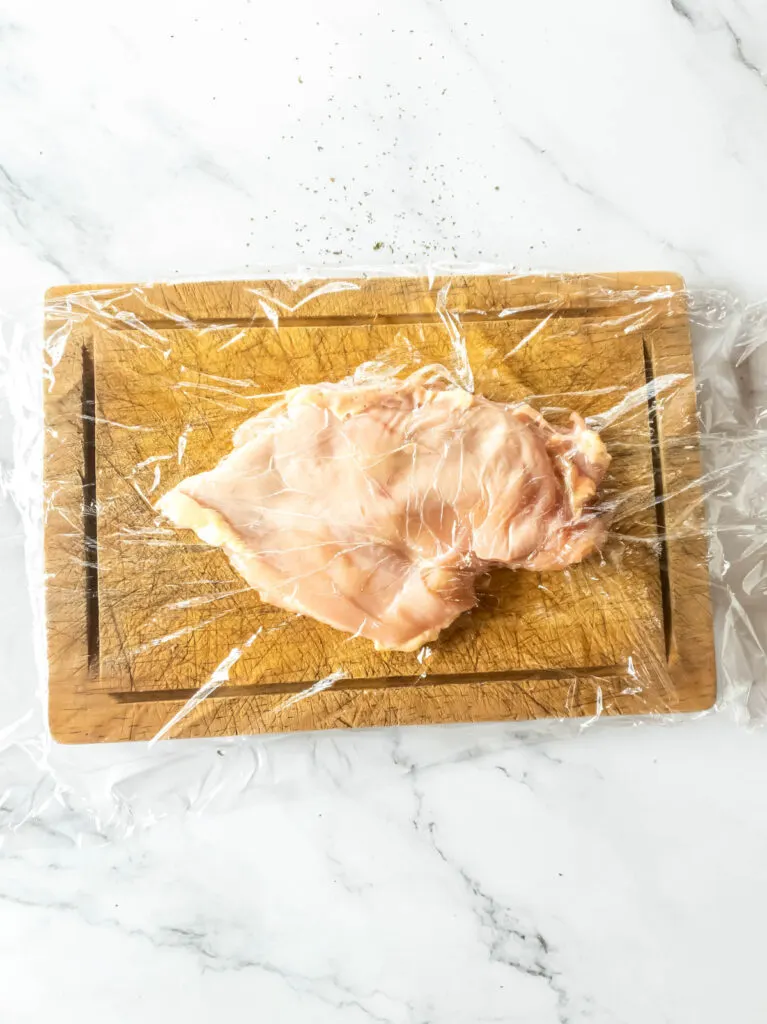 Step 1: Pound the chicken
Cover the cutting board with plastic wrap so that it stays clean and hygienic while you prep the chicken.
Arrange one chicken breast on a cutting board at a time. Cover with another layer of plastic wrap.
Use a meat mallet or the bottom of a saucepot to flatter the meat into an even layer. Start from the center and work out with a slight angle towards the edge of the meat. This helps so the meat will cook evenly and simultaneously. Otherwise, one side of the chicken breast tends to be much thicker than the other and therefore takes longer to cook.
Watch this Blue Apron tutorial to see the process visually.
Repeat for the second breast.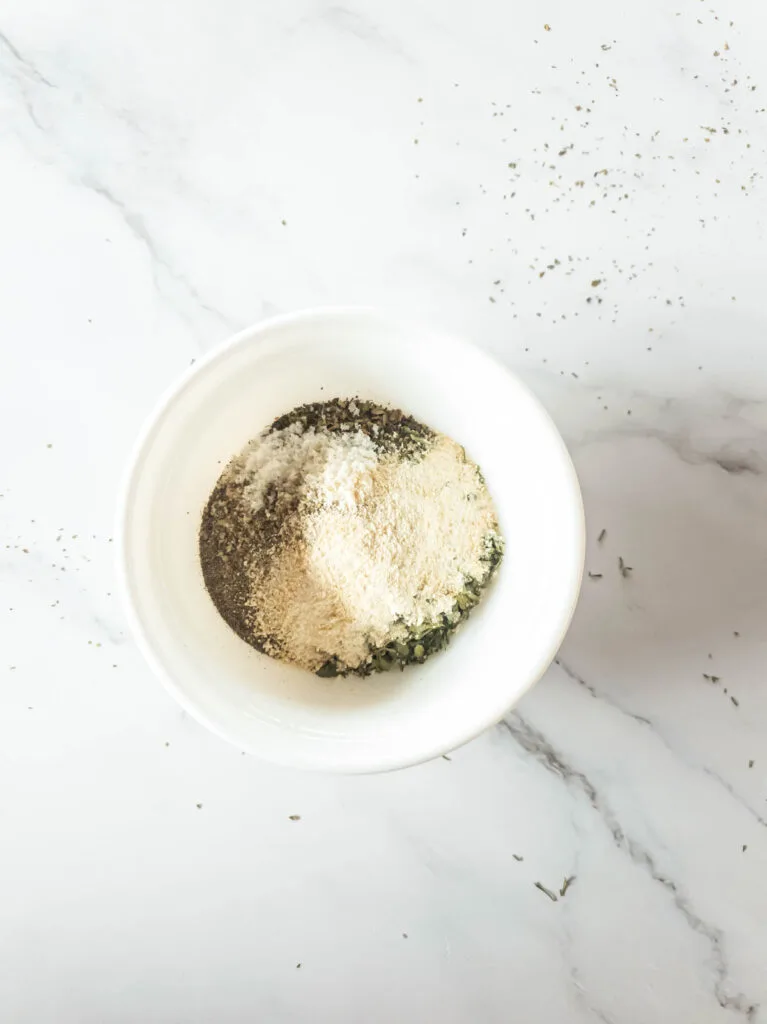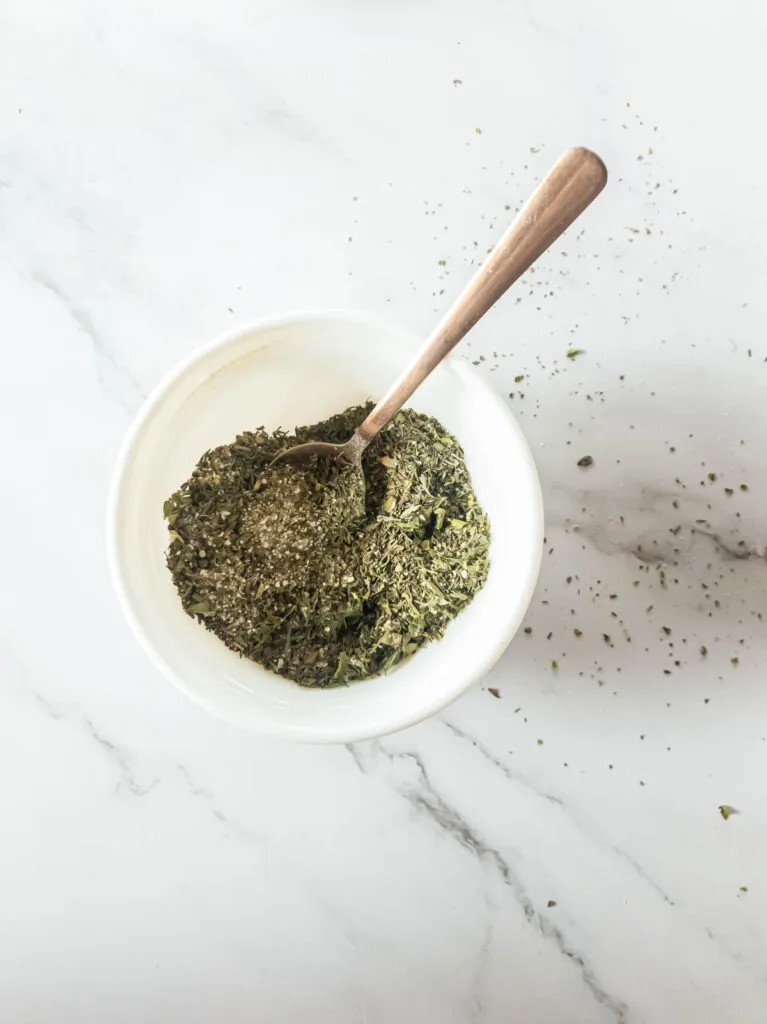 Step 2: Coat the chicken with herbs
Mix the dried herbs, garlic powder, salt, and pepper in a shallow dish or bowl.
Dredge the chicken in it until herbs thoroughly coat each side. Use your hands to sprinkle, press the herb mixture in, and fill any open gaps.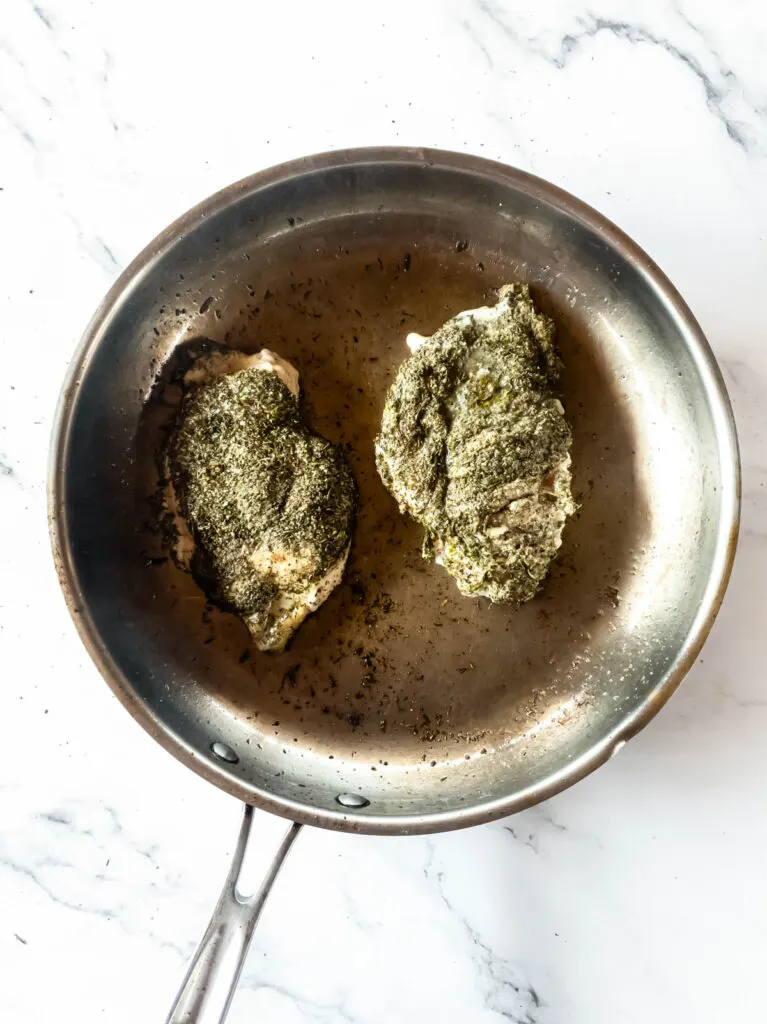 Step 3: Cook the chicken
Heat the oil over medium-high heat in a skillet pan.
Add the chicken steaks once the oil is hot and cook for three to five minutes per side until a crust forms. An instant-read thermometer should show an internal temperature of 165 F once done.
The time it takes to cook the chicken will depend on the thickness of your chicken breast.
If needed, lower the heat and continue cooking until the chicken cooks through. My chicken breasts were thin enough that about four minutes on each side was all I needed.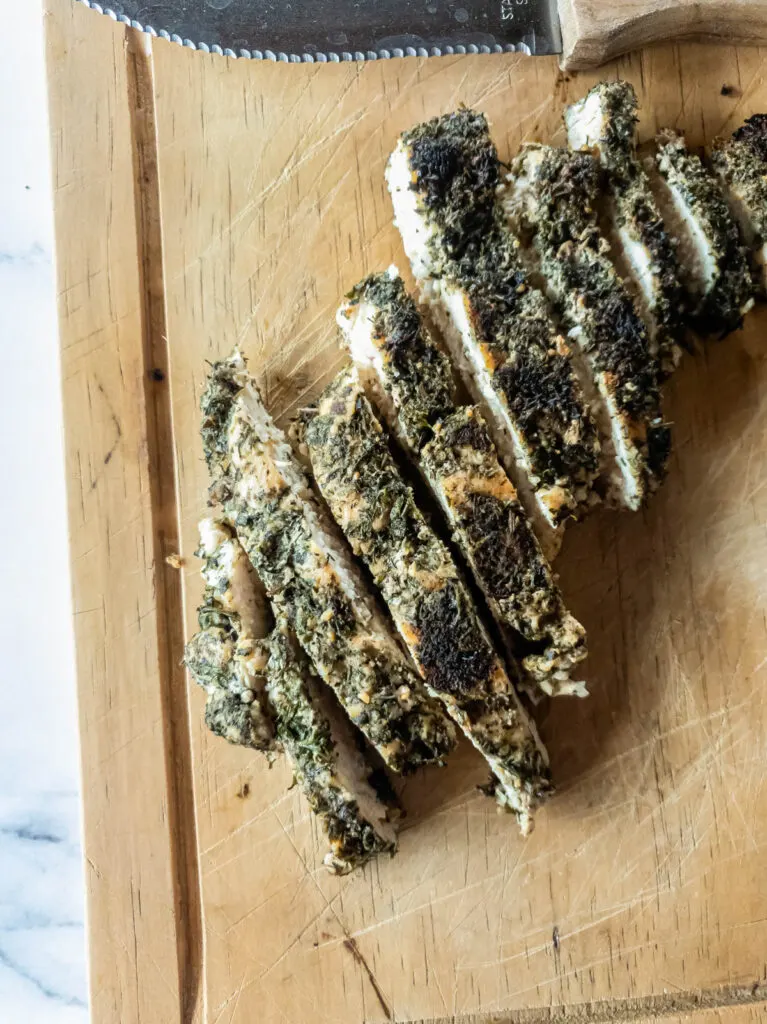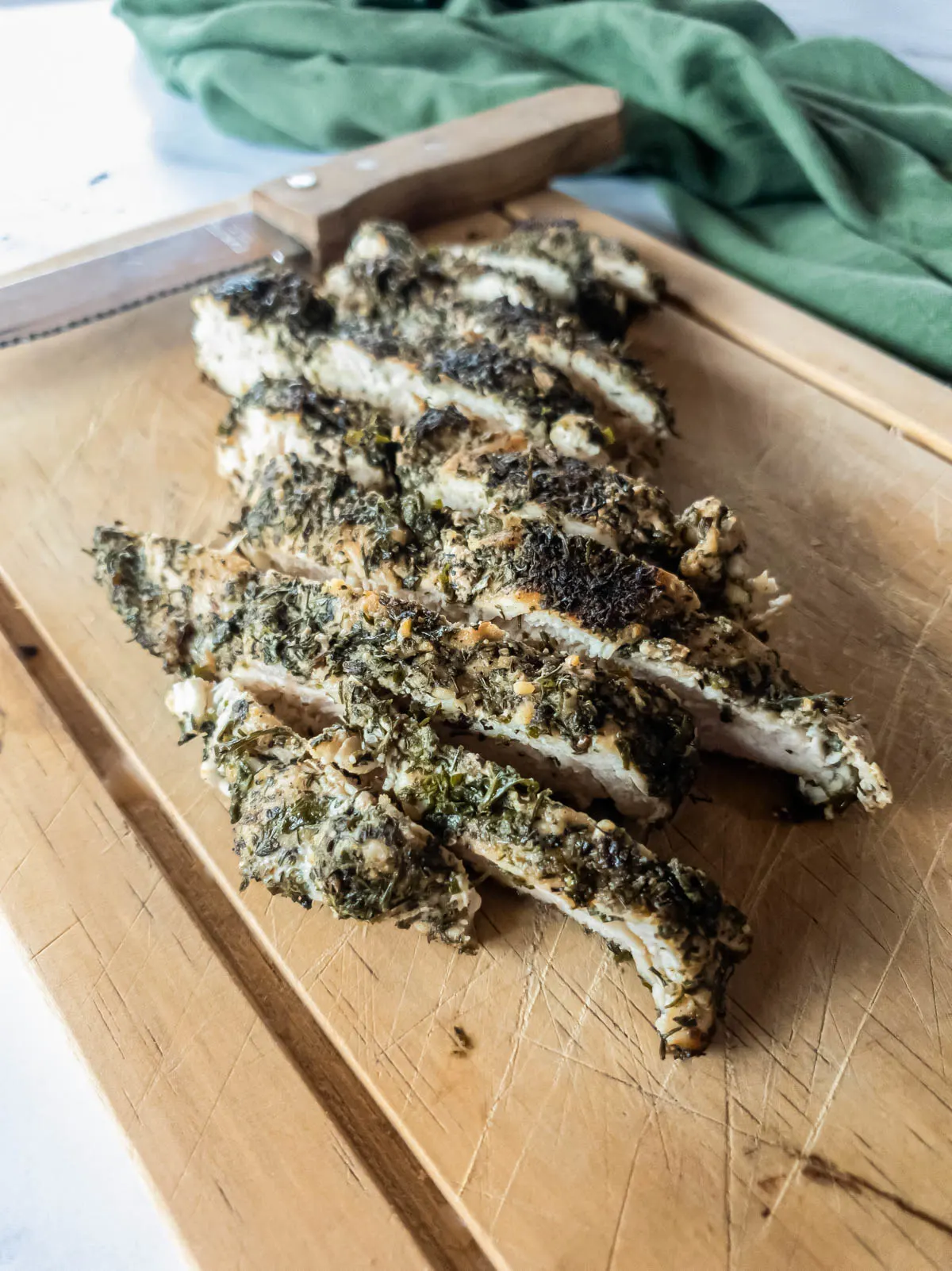 Step 4: Prepare to serve
Remove from heat to a cutting board and let rest for 5 minutes before cutting into four servings.
Resting the meat helps keep it juicy and moist from the inside. I highly recommend you spend that extra five minutes.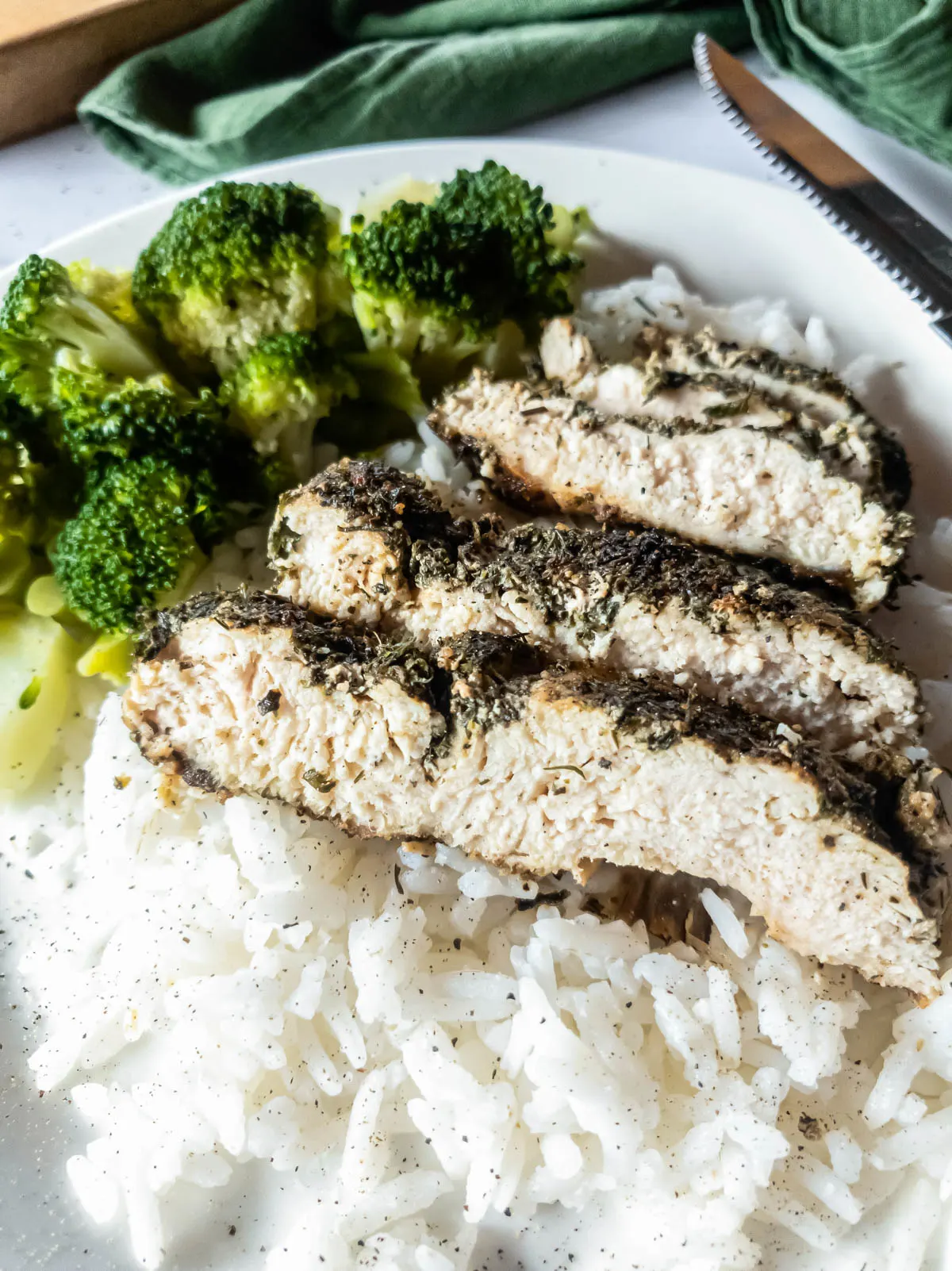 Expert Tips
Taste and adjust! I always recommend tasting while cooking so you can get to know the dish and adjust the seasoning as you like best.
Instant-read thermometer – I highly recommend buying a quality instant-read thermometer. This has saved so many dinners of mine because it can tell me the internal temperature with just a simple poke and save me the trouble of cutting the meat open early and seeing it's still undercooked (or worse, already overcooked!).
Invest in a meat mallet – If you cook meat often, I suggest you invest in a meal mallet. It helps tenderize tougher cuts of meat while creating consistent thickness throughout.
Cast iron pan – It is cheaper than a nonstick pan( in the long run) and gives a gorgeous sear on meats. Plus, it's a free source of iron in your diet.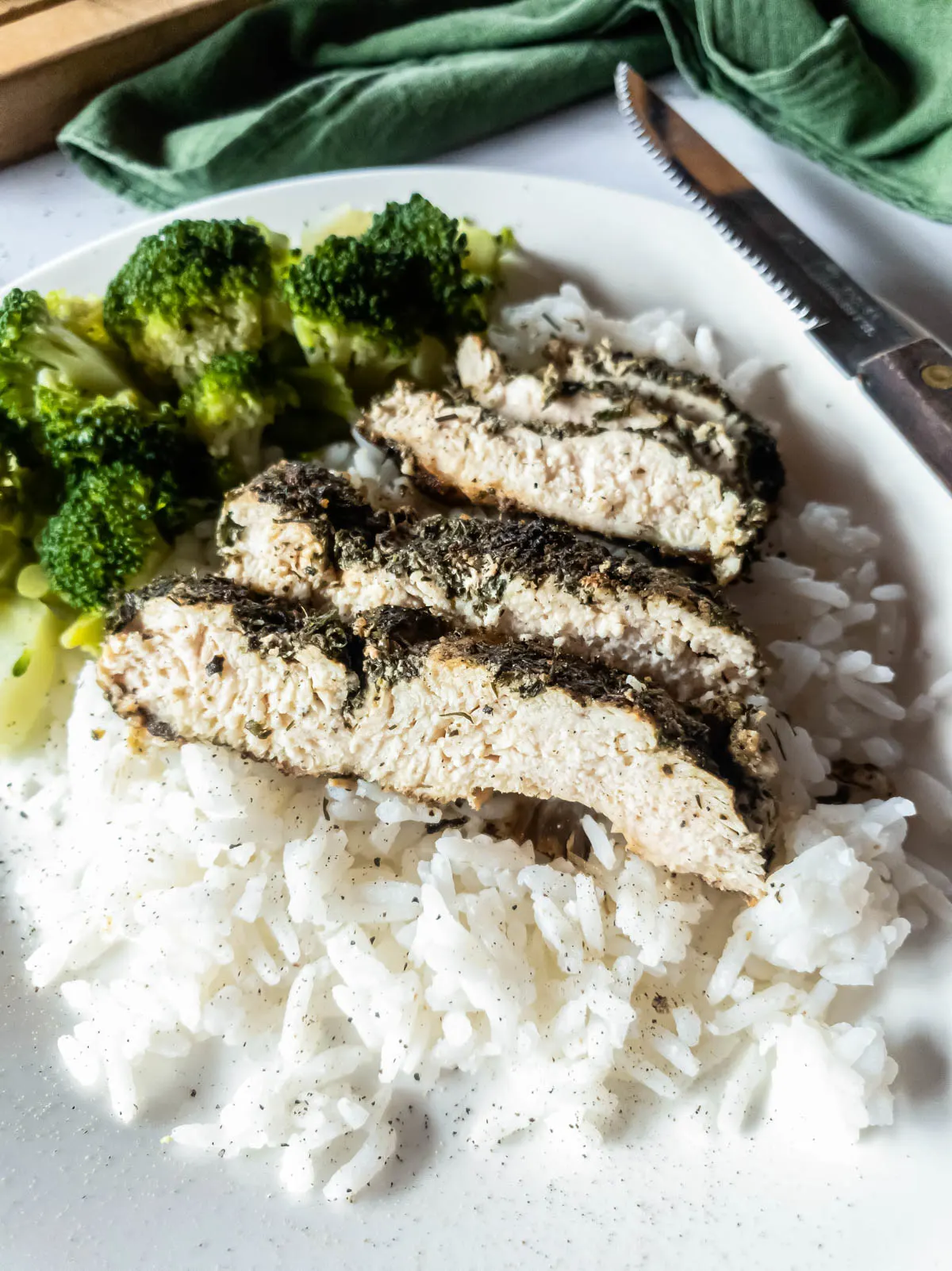 How to Store Herb-Crusted Chicken
Leftover herby chicken can be stored in an airtight container in the refrigerator for five to six days. I like using transparent glass boxes so that I can see exactly what I have in my refrigerator.
To reheat, microwave for one to two minutes till it's heated through. Alternatively, you can heat it in a covered pan over low heat.
Can I make Texas Roadhouse chicken ahead of time?
Absolutely. This is a great recipe for meal prep. Make it on your free day, portion it out, and enjoy a nutritious protein-packed meal throughout the week.
Can I freeze herb chicken?
You can freeze this herby chicken two ways. First, prepped raw chicken breasts, crusted with the delicious herb mixture, or second, as cooked herb-crusted chicken. Either way, use within three months.
If you freeze the cooked herb-crusted chicken, you can reheat it in the microwave or thaw it overnight and refresh it in a covered pan over medium heat.
To cook raw, prepped chicken steaks, thaw the chicken, and proceed as per the recipe instructions.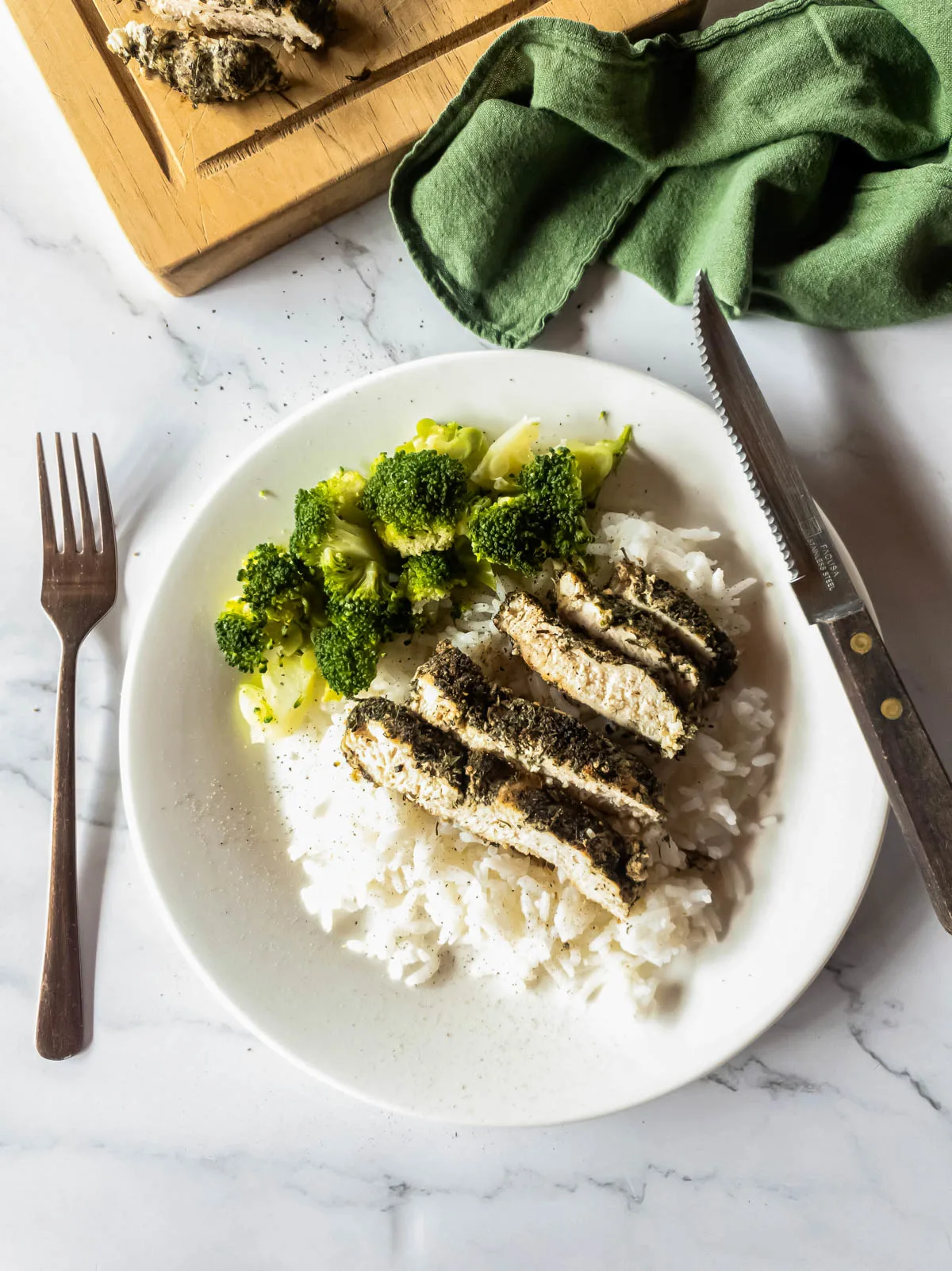 What to Serve with Herb-Crusted Chicken
You can serve this flavorful herby chicken in multiple ways, pairing it with various sides that suit different preferences, including low-carb options and simple, family-friendly meals.
Here are my suggestions
Rice and vegetables – Serve with white or brown rice and roasted vegetables like broccoli, radish, green beans, or asparagus.
Serve with a side of potatoes – You can pick your favorite: mashed potatoes, crispy roast potatoes, or baked potatoes.
Salad – Chop it up and serve it on top of a salad.
Low carb or keto option – Pair the chicken with a creamy cauliflower mash.
Over pasta or noodles – This is an amazing dinner idea. Top your pasta, veggie noodles, or slow cooker mac and cheese with sliced juicy chicken breast.
More Copycat Recipes To Try
Here are more flavorful copycat recipes for you to try:
If you make this Texas Roadhouse chicken recipe, please leave a review. I appreciate each 5-star rating and review comment!