Do you have dry, rough skin? This Epsom salt scrub recipe is exactly what the doctor ordered! Combine the floral scents of lavender and the citrusy notes of lemons into a simple and quick scrub. It's guaranteed to make your skin soft even if the winter weather has dried it out. Make this for yourself, or make a batch to give as gifts to a special woman in your life. You only need 5 ingredients and five minutes!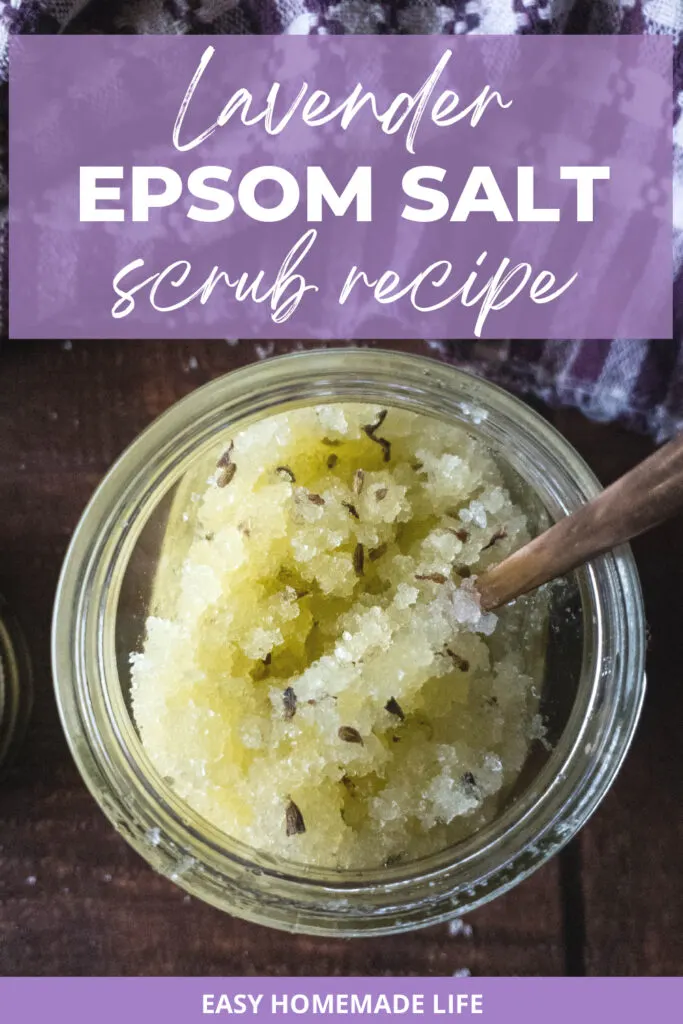 Homemade Epsom Salt Scrub
Itchy, flaky, dry skin is no fun. This Epsom salt body scrub recipe produces a scrub with a great texture and acts as a gentle exfoliator. According to top skin authorities such as the American Academy of Dermatology, exfoliating your skin can make your skin look brighter (get a natural glow!) and improve the ability of your skin to absorb skin care products, which makes them work even better.
And if you make exfoliation part of your regular skincare routine, you'll have fewer clogged pores and fewer breakouts. Over time, exfoliation helps you produce more collagen, so you have fewer fine lines and less sagging as you age.
What makes this Epsom salt scrub recipe extra special is that it uses all-natural ingredients. So it's not only good for your skin, but it's also toxin-free and safe. It also doesn't hurt that it's cheaper than commercial body scrubs as well!
If you're looking for a great homemade gift idea for spring and summer, just whip up a batch of this lavender salt scrub recipe and portion it into pretty Mason jars. Then, decorate the jars with twine bows. They'll look so pretty, and those who receive them will feel so special. The scent instantly makes you think of lying in a sunny bed of French lavender. It's so relaxing!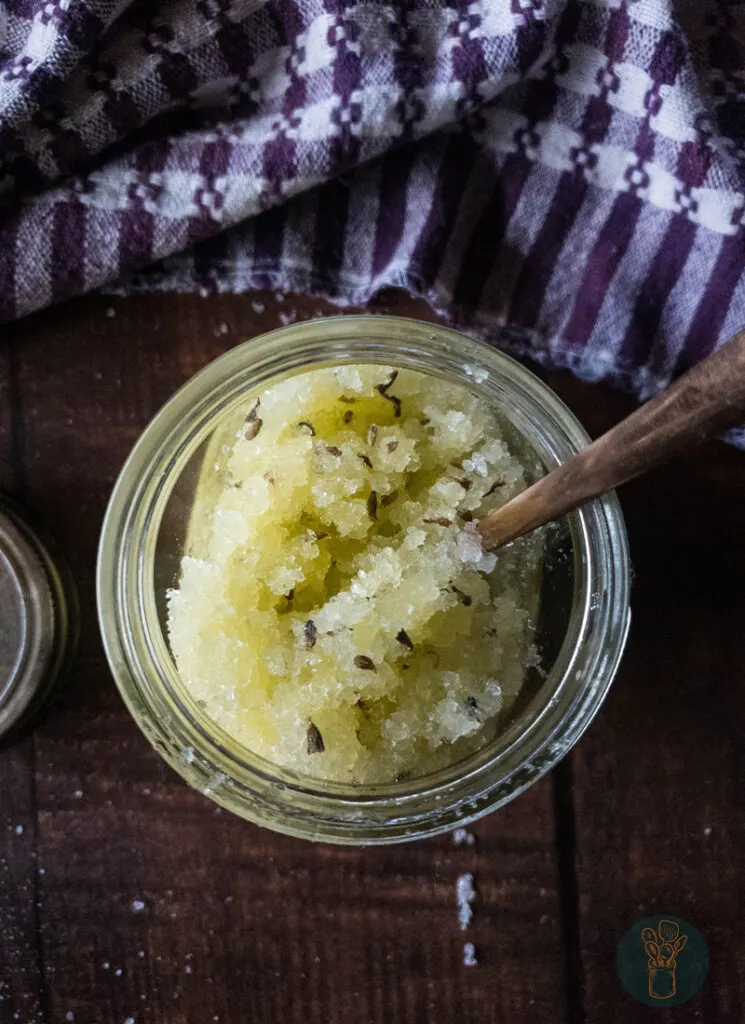 How to Make Body Scrub with Epsom Salt
All you need to do is gather 5 ingredients, and you're halfway to making an Epsom salt body scrub recipe in just 5 minutes!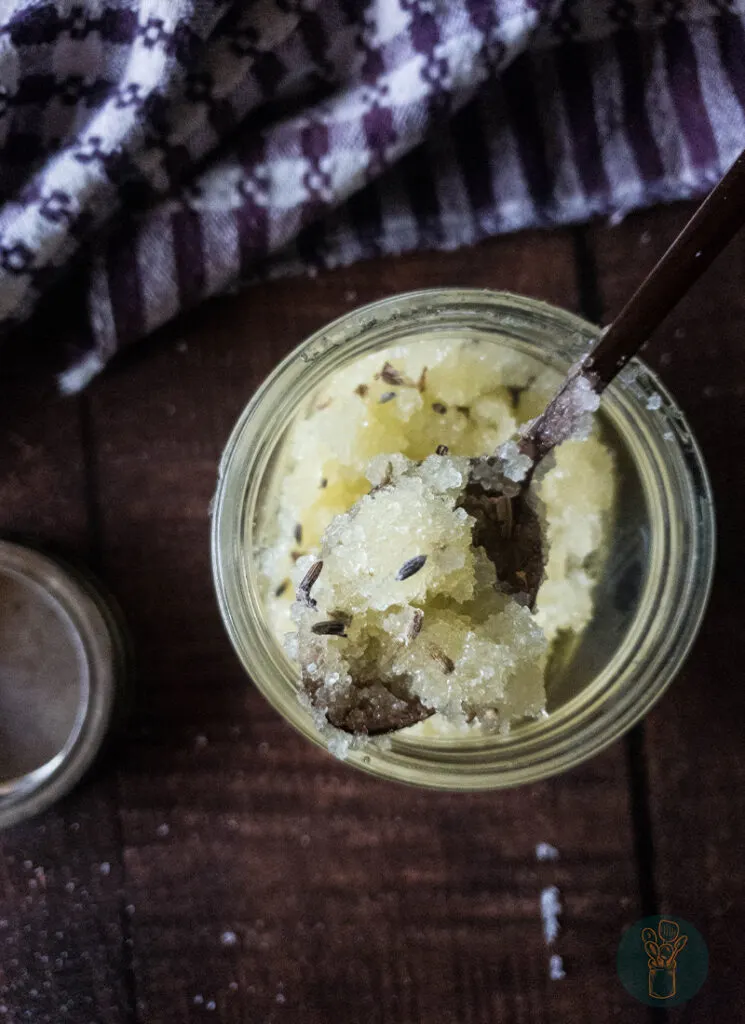 Tools
Materials
Epsom salt – Epsom salt helps to exfoliate dead skin and has other benefits as well. It's also good for acne because it reduces skin inflammation, loosens blackheads, and reduces swelling. [1] Soaking in Epsom salts may also relax your muscles. [2] If you don't have Epsom salt, you can use sea salt instead. Just make sure you use sea salt that has a finer grain, as coarser grains will be harsher on the skin.
Extra virgin olive oil – Extra virgin olive oil moisturizes and hydrates the skin. It may even help with acne by killing acne-causing bacteria. [3] Extra virgin olive oil also gives this lavender salt scrub recipe a yellow hue that pairs wonderfully with the lemon scent of this scrub. However, if you prefer a white finish, you can use coconut oil instead. Just make sure to melt the coconut oil first.
Lavender essential oil – Lavender oil gives this lavender salt scrub recipe its delicate, floral notes. It also soothes dry skin, kills acne-producing bacteria, and reduces skin redness and inflammation. [4]
Lemon essential oil – Lemon essential oil gives this lavender salt scrub recipe its lemony notes. It also kills acne-producing bacteria and brightens your skin. [5, 6]
Dried Lavender flowers – These add a lovely splash of color and make this lavender salt scrub recipe smell even nicer. So much so, you'll feel like you're lying in a field of French lavender!
Wondering where to find the ingredients? You can find them at natural health food stores or, to save time, you can shop for them online using the affiliate links I provided above for your convenience.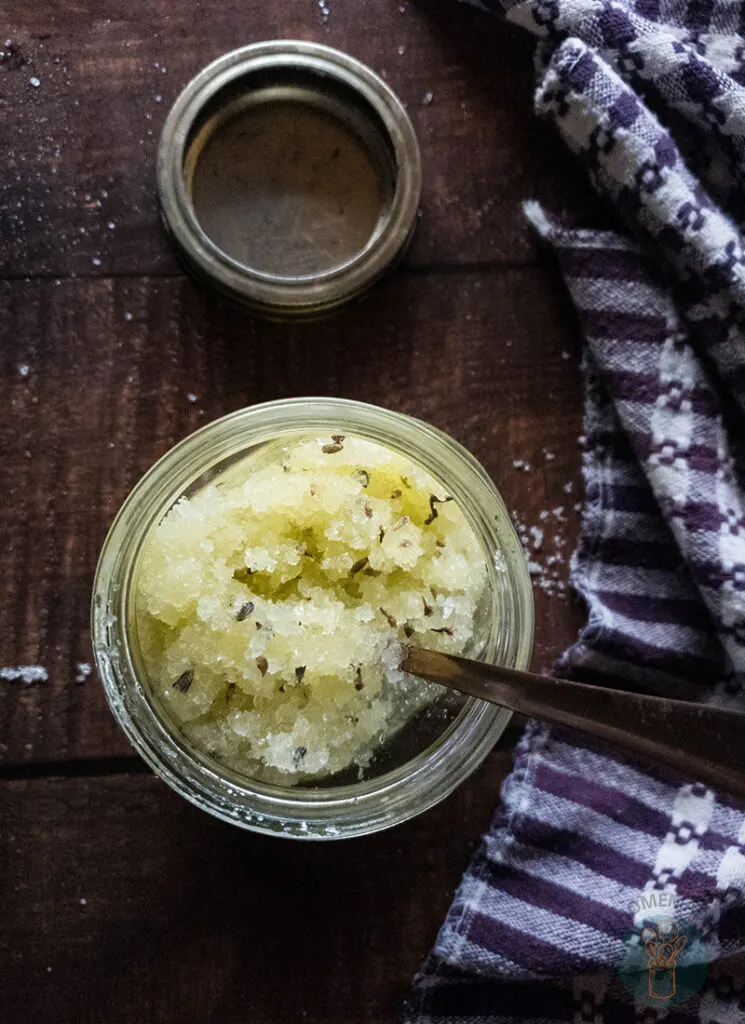 Step-By-Step Directions
Follow these simple directions, and you can't go wrong!
In order to make this a lavender salt scrub, simply add your ingredients to a mixing bowl, and mix well until everything is well combined. Then, use a scoop to transfer the scrub to storage jars, tighten the lid, and store them in a cool, dry place.
You can use this salt scrub in many ways.
Foot scrub – exfoliate the dry, rough skin on the soles of your feet.
Hand scrub – for hands that have been dried out by endless dishwashing.
Whole body scrub – use it all over when you're taking a shower.
Or if you're tired and drained at the end of the day, simply add it to the bath and soothe your muscles while you relax your mind.
To use this Epsom salt body scrub:
Apply a small amount (about 1-2 tablespoons) to dry or damp skin.
Massage the scrub gently into your skin using circular motions.
Then rinse with warm water.
For best results, you'll want to use the scrub regularly, about 2 to 3 times a week.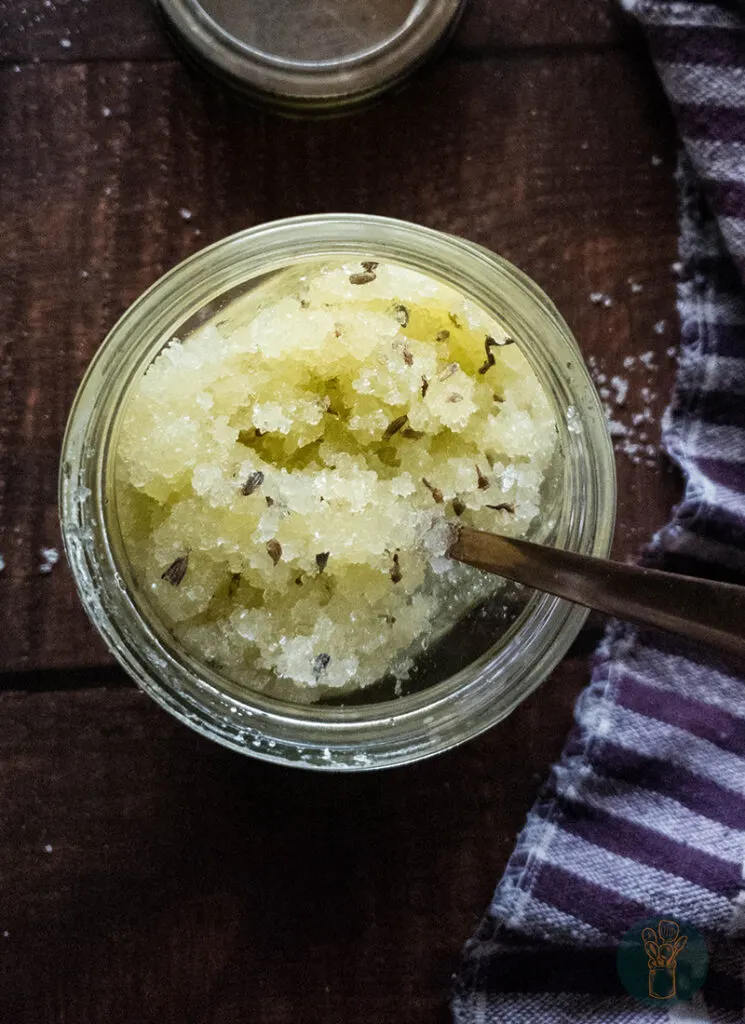 More DIY Body Scrub Recipes