Lawson's Chip Dip is an easy 3-ingredient sour cream dip perfect for serving with potato chips, veggie sticks, or crackers. This copycat recipe includes cream cheese, sour cream, and Ranch seasoning. It's a great party dip made in 5 minutes.
Best Dip for Potato Chips
What's better than a chip dip with cream cheese? A chip dip with cream cheese and sour cream, of course! Add in a favorite like Ranch seasoning, and you have the best veggies and chips dip at your fingertips.
Serving chips with dip is a classic appetizer at parties and other get-togethers. It's especially a favored appetizer during Super Bowl, and for a good reason. What's not to love about digging into a creamy, flavorful dip with carb-heavy potato chips?
And guess what? You can still enjoy this 3-ingredient sour cream dip even if you skip the potato chips. It is just as delicious with veggie dippers. Cut up some celery sticks, carrots, bell peppers, broccoli, or cauliflower florets and serve them alongside the chips. You'd be surprised to see the veggies disappear thanks to the dip!
The original Lawson's French Onion Dip recipe is probably disguised somewhere in a secret vault. But this copycat version comes close. It's packed with great flavor from the chives and onion cream cheese plus Ranch dry seasoning. Mix these in with succulent sour cream – it's a rich and savory dip.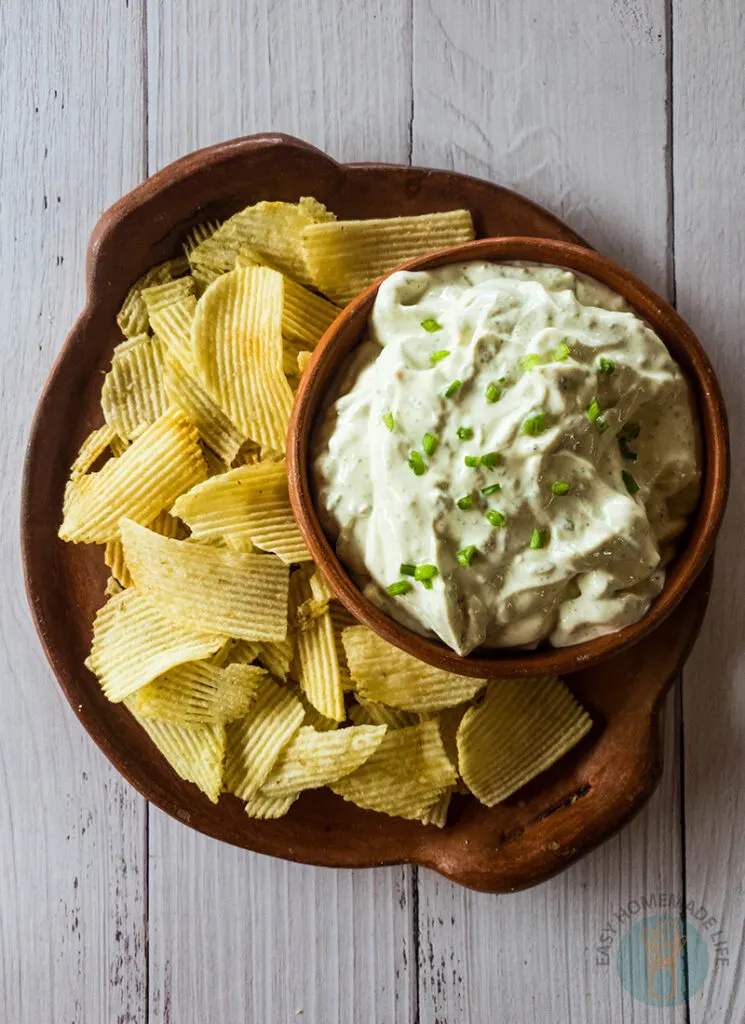 How to Make Lawson's Chip Dip at Home
Gather three main ingredients, and you're halfway to making a Lawson's Chip Dip in just 5 minutes!
Don't you love easy copycat recipes? This one does not disappoint! This is the best dip for chips because it comes together quickly and tastes excellent with any dipper. Ruffles chips are, of course, a classic, but try celery sticks, sliced bell peppers, or cauliflower florets for a healthy snack.
The recipe for Lawson's chip dip is quite simple as it is made with just two easy steps. When you mix it directly in the serving bowl, you won't even have a dish to wash after prepping.
I suggest using softened cream cheese because it's easy enough to combine by hand with a spoon. But if you feel fancy with a few minutes to spare, why not use an electric mixer and whip the ingredients into a light and fluffy texture? It's a dreamy finish, but not necessary if you prefer to keep it simple.
Lawson's Chip Dip Ingredients
Sour cream
Chive and onion cream cheese – softened for easy mixing; just 30 minutes at room temperature will make it much easier to blend with the other ingredients
Dry Ranch seasoning mix – use a 1-ounce packet (28 g) or the DIY mix listed below
Fresh chives – minced for garnish; optional but adds a nice finishing touch
Note on dry Ranch seasoning mix: Making a batch of homemade Ranch seasoning is very easy once you have all the ingredients. This also ensures that you will always have Ranch on hand. YUM!
The DIY seasoning mix below yields 3 ounces. You only need ⅓ of the total yield (1 ounce or 28 g) for this recipe. Store leftovers in an airtight container for up to 3 months while using it on chicken, salad, and in other dips.
DIY Ranch Seasoning Mix:
Use store-bought dried herbs or grow a herb garden and preserve your own.
Step-by-Step Directions
I'm convinced this is the best chip dip. Follow these simple directions, and you can't go wrong!
There's not much to this recipe for Lawson's chip dip. All you need is a small bowl and a spoon to stir everything together. You can use a handheld mixer for a lighter and fluffier texture, but that involves more dishes to wash. You choose!
Step one: Mix sour cream and cream cheese
Mix sour cream and cream cheese in a medium mixing bowl. I combine them by hand with a spoon, but you can mix them with an electric mixer if you prefer a whipped texture.
Step two: Add seasonings
Add 1 ounce of the Ranch seasoning mix and stir it into the mixing bowl. Combine well.
Step three: Serve
Serve immediately with chips or vegetable sticks. Or chill in the refrigerator for an hour or longer to let the flavors meld. This is a fine choice to make ahead and serve later.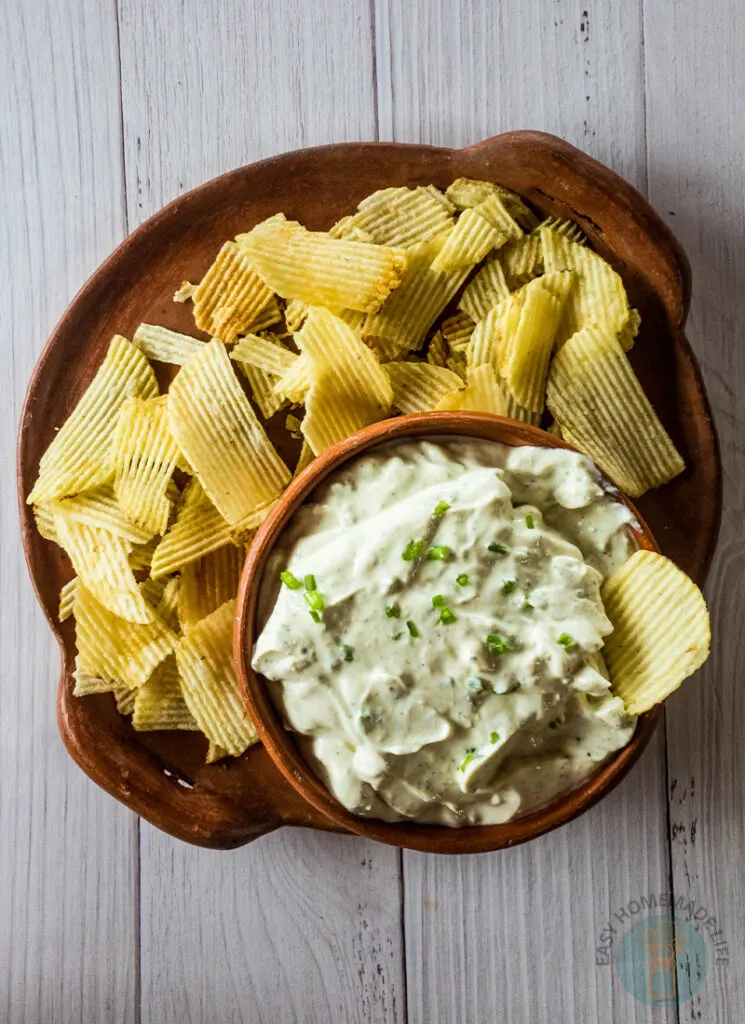 Homemade Lawson's Chip Dip Nutritional Info
This recipe makes approximately 1-½ cups of Lawson's Chip Dip or 12 servings.
Each serving contains:
119 calories
4 g protein
9 g fat
6 g total carbs
Please note that the nutritional value will change if you substitute ingredients. Use a nutrition app like My Fitness Pal to recalculate and reflect your changes.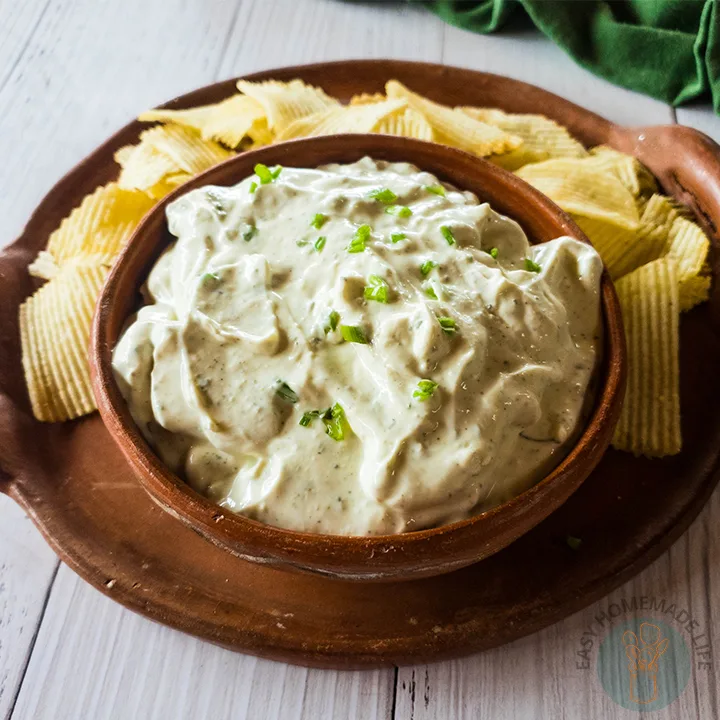 Chip Dip Recipe FAQ
Who makes Lawson's chip dip?
Lawson's chip dip was first made on an Ohio dairy farm, Lawson's Milk Company. The milk company eventually grew to a chain of stores and was bought out by Consolidated Foods in 1959, followed by Sara Lee Corp. The chain was sold to Dairy Mart in 1985, eventually becoming what is known today as Circle K stores.
Where to buy Lawson's chip dip?
Lawson's chip dip originated on a small dairy farm in Ohio and was sold in Lawson's convenience stores in the midwest. Although Lawson's stores have been closed for years in the United States, Circle K stores still sell this popular chip dip.
Is Lawson's chip dip gluten-free?
This copycat Lawson's chip dip is gluten-free, grain-free, and egg-free. Make sure you check the ingredient label of store-bought Lawson's chip dip to avoid gluten.
More Easy Chip Dip Recipes
There's no doubt if you like this recipe, you'll fall head over heels for another of the best chip dip recipes, namely the 3-Ingredient Onion Dip.
But watch out, a 4-Ingredient Guacamole has never been easier or tastier!
You'll have to try both and pick your favorite.
If you're looking for an easy dinner recipe that uses a favorite seasoning mix, try our Copycat Ruth Chris Stuffed Chicken to bring restaurant tastes home.