Make this 3-ingredient onion dip as a family-friendly snack for your next holiday party or summer pool party. Not only is it flavorful and easy to make with budget-friendly ingredients, but it is versatile enough for all occasions during the year.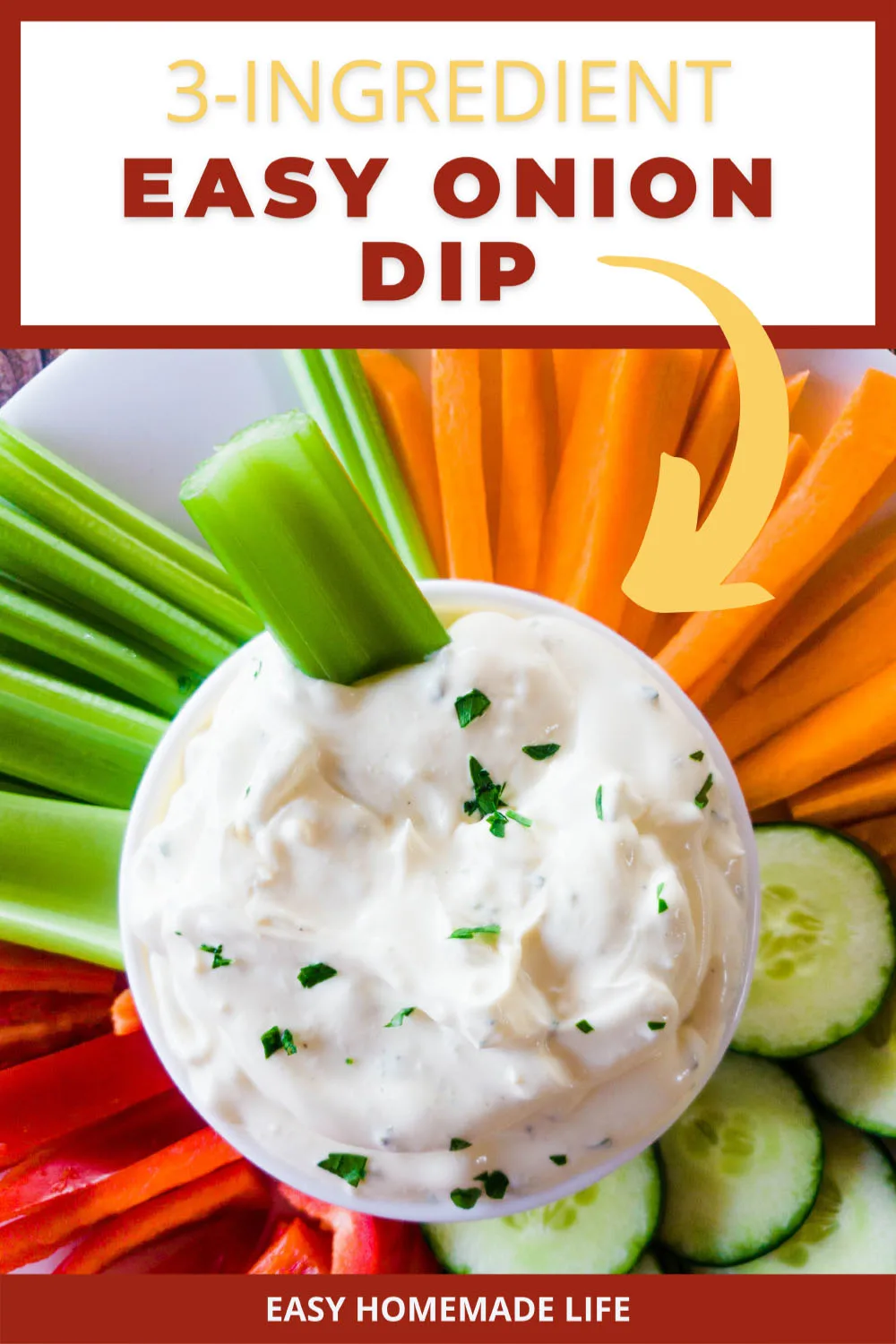 3-Ingredient Chip Dip
With only three simple ingredients, this easy chip dip makes a great last-minute appetizer or snack.
This dip will become your new favorite easy appetizer for any event! It's always been a success on my table, and I hope it brings you many happy moments too.
Serve this easy sour cream dip on game day, an evening of summer grilling, at a birthday party, or anytime you want an easy snack for a crowd. Serve it with various dippers and let your guests choose their favorites. The options are endless when serving the best sour cream dip.
The final recipe is egg-free, gluten-free, keto, refined sugar-free, and vegetarian – so everyone can partake in this tasty appetizer!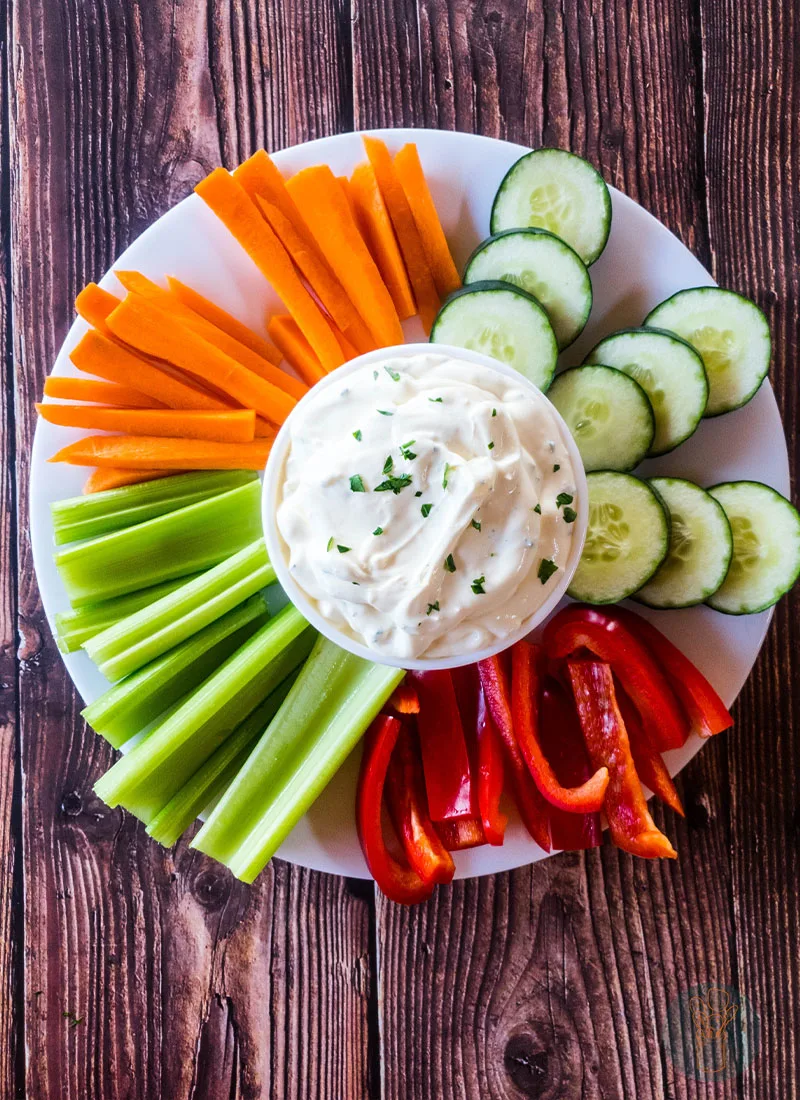 How to Make Creamy Onion Dip
Gather three ingredients and make this easy dip recipe with sour cream in just five minutes.
There are no hidden ingredients here; what you see is what you get. This is a tried and true three-ingredient recipe for a delicious homemade onion dip that works all the time, every time.
Ingredients you Need
Sour cream – serves as the base of the dip, providing a tangy and creamy foundation. The smooth texture and slightly acidic taste complement the French onion soup mix well. Use full-fat sour cream for the best flavor and texture. If you are adventurous, use homemade sour cream for an ultra-rich and delicious creamy dip.
Cream cheese – adds a velvety texture to the classic onion dip, making it thick and scoopable. It adds a layer of richness and depth to the flavor profile. For easier mixing, pull the cream cheese out of the refrigerator for 30 minutes and have it come to room temperature before combining.
French onion soup mix – this is the star ingredient and will alter the overall flavor of this dip. Use your favorite store-bought onion dip mix to infuse the sour cream chip dip with robust onion flavor. One packet will give you all the rich flavor you need, or make a DIY seasoning mix with dry pantry goods you probably already have on hand. The onion soup mix can be found in your local grocery store next to the store-bought spice packets
If you want to try making a homemade French onion soup mix, here's a simple recipe you can whip up in minutes. It's also included in the printable recipe card below.
DIY French Onion Soup Mix
Combine all the seasonings and store them in a small airtight container. If using this recipe for the sour cream dip, use it in its entirety.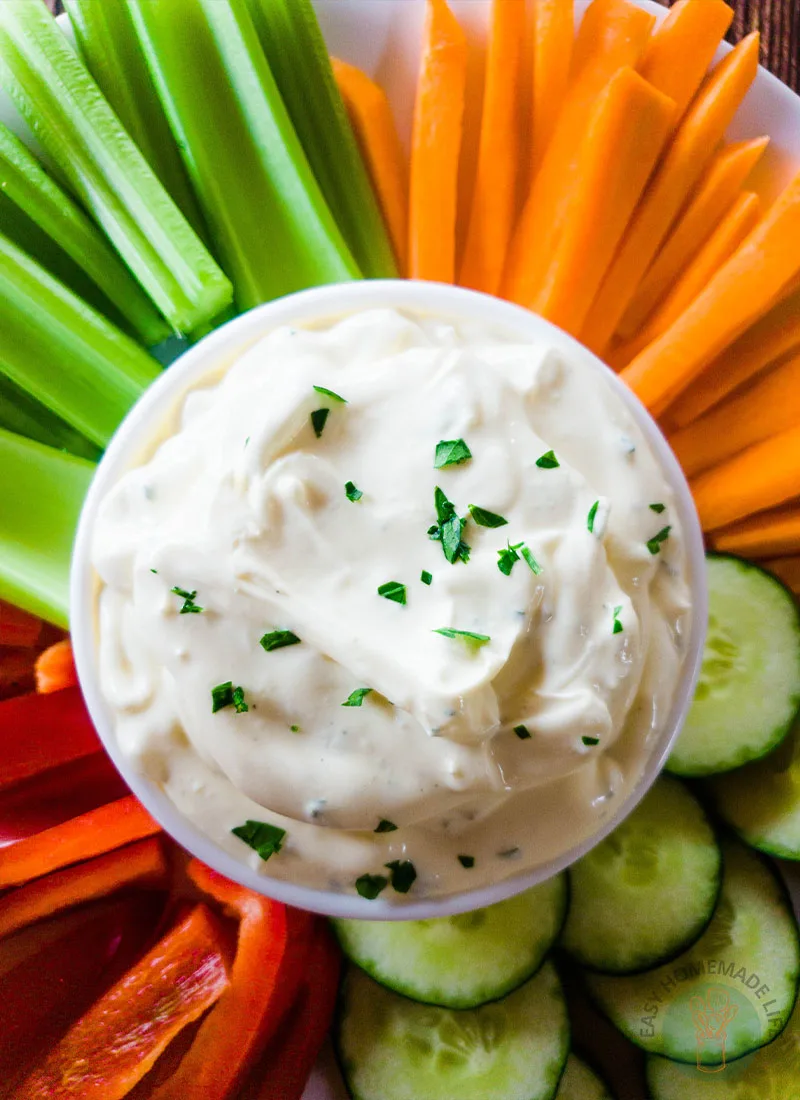 Step-By-Step Instructions
Follow these simple, fool-proof directions, and you can't go wrong!
This recipe takes five minutes flat when using a pre-made packet of seasoning. So go ahead and set your timer! I thought it sounded too good to be true, but no. Five minutes is all you need.
It only costs you a minute or two more if you use homemade French onion soup seasoning blend. Either way, this sour cream onion dip is super quick!
Step one: Combine
In a medium bowl, combine the sour cream and cream cheese together.
Step two: Add seasoning
Open the seasoning mix or quickly make your own DIY French onion soup mix. Stir it into the sour cream base and combine well.
Step three: Serve
You can serve this immediately or transfer it to a covered container and store it in the refrigerator for the flavors to meld together. This homemade French onion dip recipe doesn't disappoint. It's great when just freshly made and just as delicious when chilled.
Serving Suggestions
I like to serve this with fresh veggies or plain potato chips. But the serving possibilities are endless. Serve it with crackers, pita chips, tortilla chips, or a loaf of French bread. If you need more ideas, check out these additional sides to serve with onion dip.
You can also jazz it up by topping this dip with caramelized onions and garnish with fresh herbs. Simply saute sliced sweet onions in a large skillet over medium heat until translucent, slightly caramelized, and golden brown.
Then add to the top of the dip for an elegant visual appeal.
To keep things simple yet still fancy, my favorite way to dress up onion dip is to garnish it with fresh green onions. It adds a pop of color and a simple way to impress your guests.
If you are hosting a party, why not serve with a basil cocktail and make a second dip that pairs well with all these snacks? Try our Copycat Lawson's Chip Dip Recipe for another easy option.
If there's any leftover (I doubt there will be), spread either one on sandwiches or wraps the next day for an easy lunch.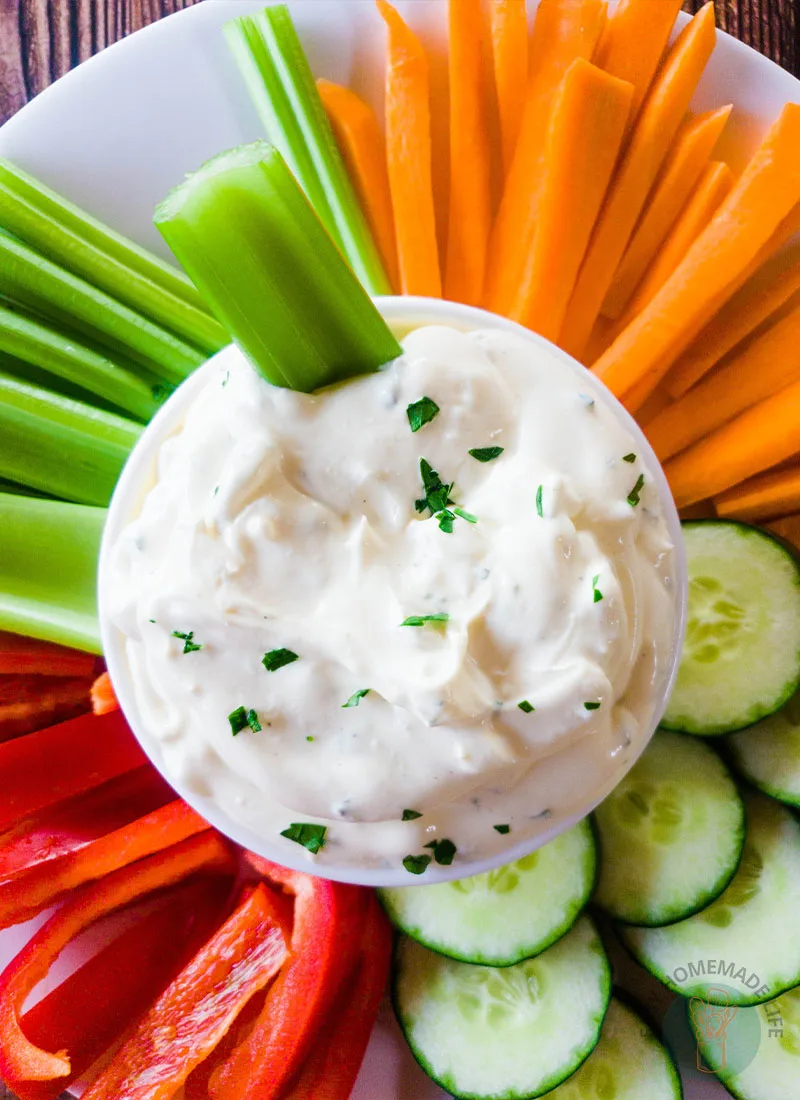 Nutritional Info for 3-Ingredient Onion Dip
This recipe yields 12 (1-ounce) servings.
Need to know about French onion dip calories? There are 118 calories per serving.
Each serving also includes:
3 g protein
9 g fat
6 g total carbs
0 g fiber
6 g net carbs
Please note that the nutritional value will change if you substitute ingredients. Use a nutrition app to recalculate and reflect your changes.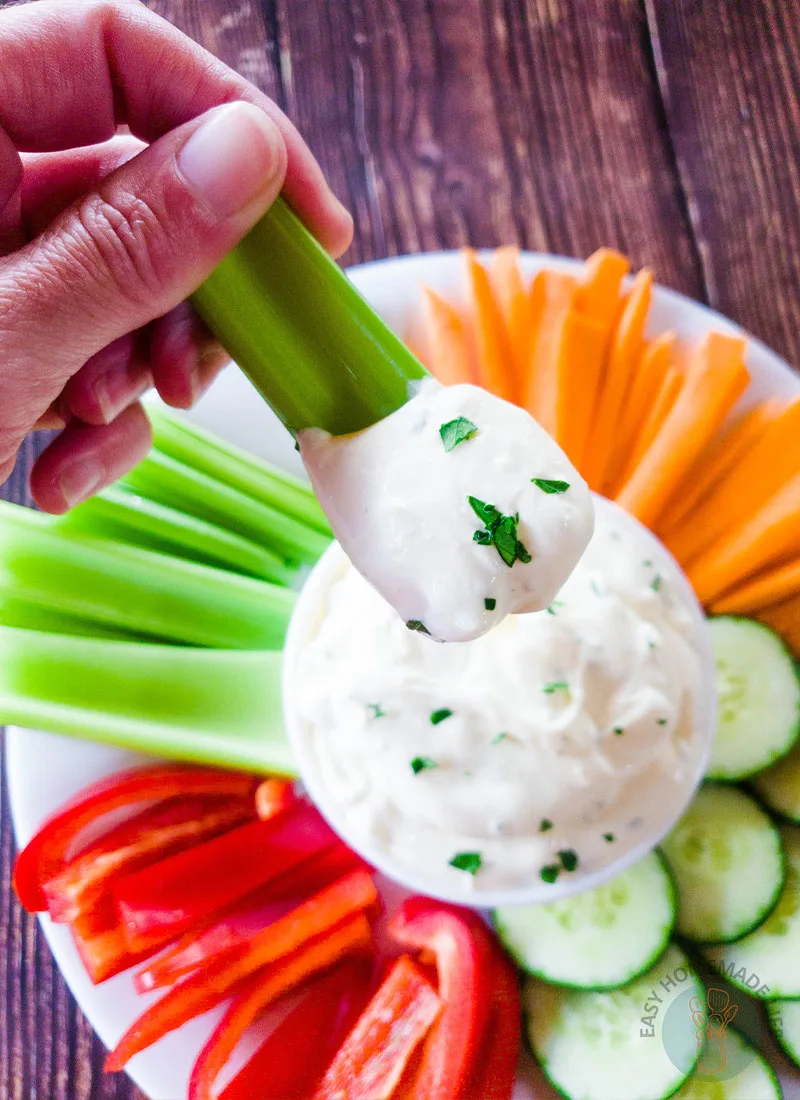 Healthy French Onion Dip FAQ
How long does French onion dip last?
Once made and stored in an airtight container, French onion dip will last three to five days in the fridge. I don't recommend freezing it because dairy-based dips generally don't freeze well.
Is French onion dip gluten-free?
This homemade French onion dip is completely gluten-free! You get a great gluten-free snack when you serve it with veggie sticks. Since most chips have gluten, read the labels carefully before buying and confirm the product is made with ingredients suitable for your preferences.
Can you freeze French onion dip?
I usually don't recommend freezing sour cream because doing so negatively affects the quality. Even though it's safe to do and can store for up to three months in an airtight, freezer-safe container, the texture changes when you thaw it out. Therefore, this dip is best eaten fresh.
More Easy Homemade Dips and Snacks
Add a boost of protein to your snack with chicken and cream cheese dip, there are a few more ingredients but the process is simple and straightforward.