Make blue electric lemonade with only 4 ingredients – vodka, blue curaçao, lemonade, and a splash of lemon lime soda. This easy summer cocktail has a tropical flavor with a carbonated spritz. It's perfect for the 4th of July, summer BBQs, and pool parties! You can escape to the beach without leaving the backyard.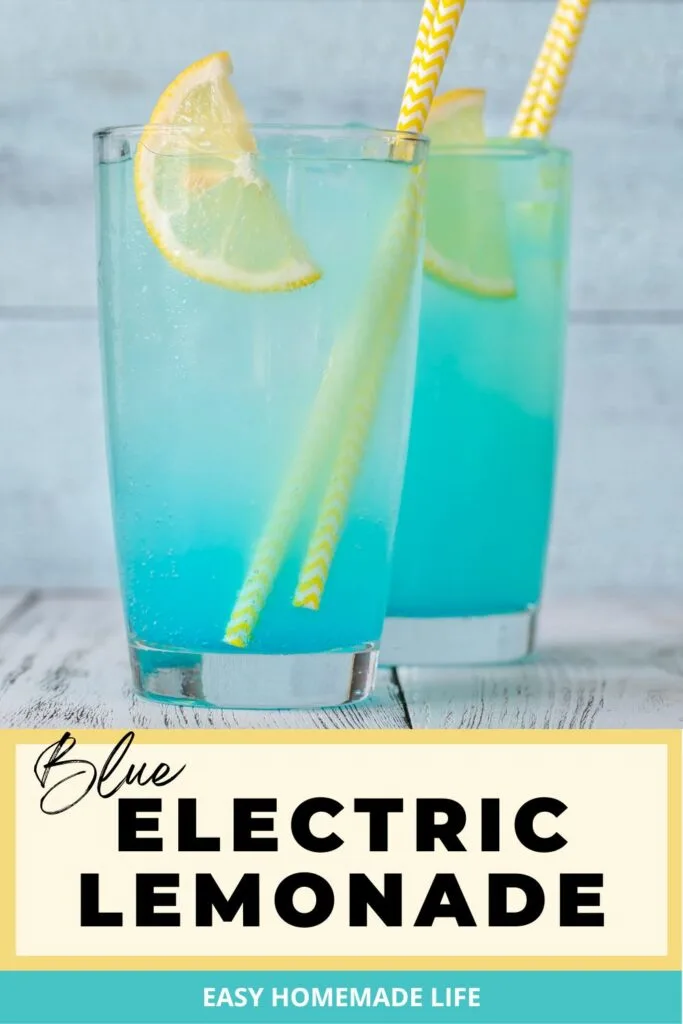 How to Make Electric Lemonade
Mix four ingredients and make an electric lemonade drink in 5 minutes or less.
This recipe is so quick and easy!
Serve this refreshing cocktail to anyone 21 years old or older. Please drink responsibly.
Electric Lemonade Ingredients
What's in an electric lemonade?
Vodka – Start with 1-ounce vodka per serving and adjust as needed.
Blue curaçao – Distinct with a sweet yet tart citrus flavor, blue curaçao is one of the best liqueurs for fruity mixed drinks. Plus, it puts the blue in this blue electric lemonade.
Lemonade – Lemonade is another key ingredient with a sweet and sour flavor. Make it fresh or from concentrate, or buy a premade mix. Also, you can serve a separate batch for anyone who might want an alcohol-free option.
Lemon lime soda – Any brand will do. Sprite, 7-Up, and Sierra Mist are popular options. Alternatively, substitute with plain club soda.
Lemon slice – Citrus slices look fabulous and are super quick! Garnish with a lemon slice or substitute with lime.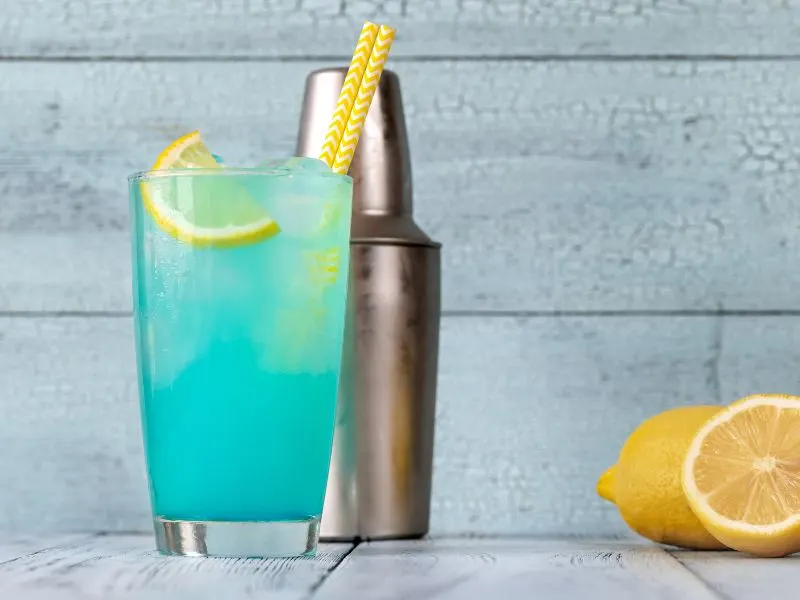 Step-By-Step Directions
Follow these four simple steps from start to finish.
Shake ingredients. Begin by adding vodka, blue curaçao, and lemonade to a cocktail shaker filled with ice. Then, shake well. If you don't have a cocktail shaker, stir the ingredients in a pitcher instead.
Pour over ice. Next, fill two tall glasses halfway with ice. Then, strain the cocktail and divide evenly between each glass.
Add soda. Top it off with lemon-lime soda. You can taste and adjust to your personal preference or just fill the remaining space in your glass.
Garnish. Finally, add a bright yellow finish with a lemon slice or wheel!
If you've never made a lemon wheel, don't worry because it's easy. First, take a lemon and cut off the ends. Then, thinly slice two rounds. Next, lay them flat on the cutting board and make a slit from the edge to the center. Lastly, slide each piece perpendicularly down the glass rim.
Watch this video tutorial if you need a visual aid on how to cut a lemon wheel.
There are many other cocktail garnish ideas. I like number 2! Fruit cut-outs would be a great addition to a pitcher or single serve cocktail.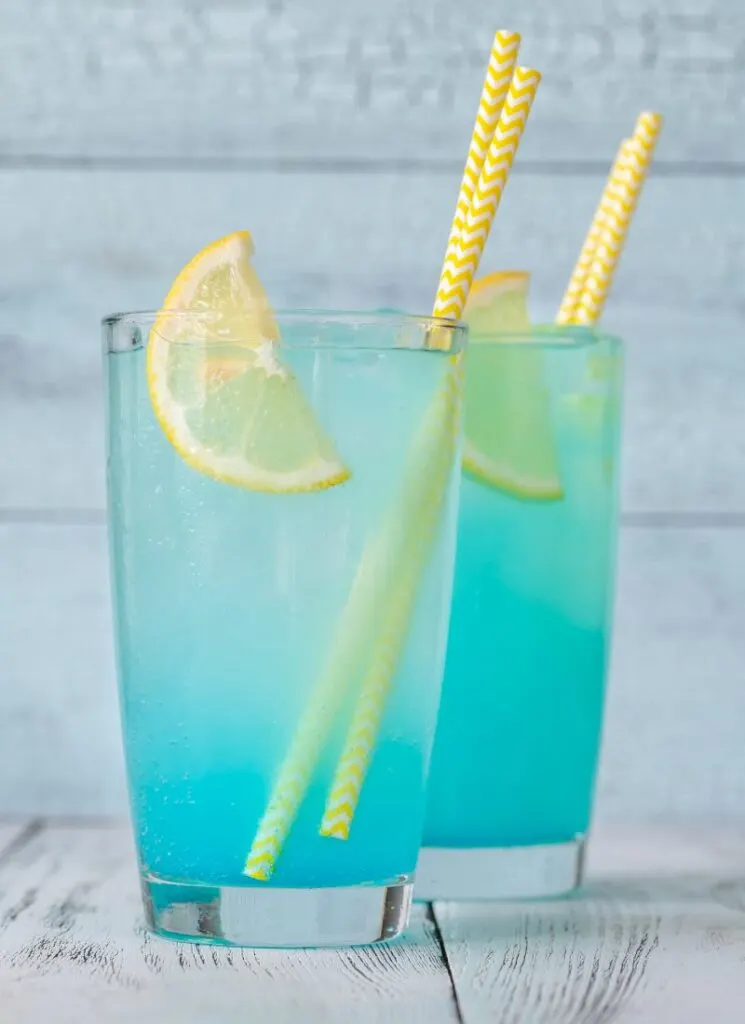 Can I make an electric blue lemonade cocktail ahead?
This electric blue lemonade drink is best made and served immediately because the soda will go flat if it's all premixed ahead of time and stored in the fridge.
However, you can combine the vodka, curaçao, and lemonade in advance. Then, top it all off with the soda and garnish just before serving.
If you have a crowd to serve, make a pitcher of electric lemonade by quadrupling the recipe below. As it is, there are two servings per batch. If you 4x, there will be 8 servings.
Nutritional Info for an Electric Lemonade Cocktail
Per serving:
103 calories
10 g carbohydrates
0 g protein
0 g fat
Please note that the nutritional value will change if you substitute ingredients. Use a nutrition app to recalculate and reflect your changes.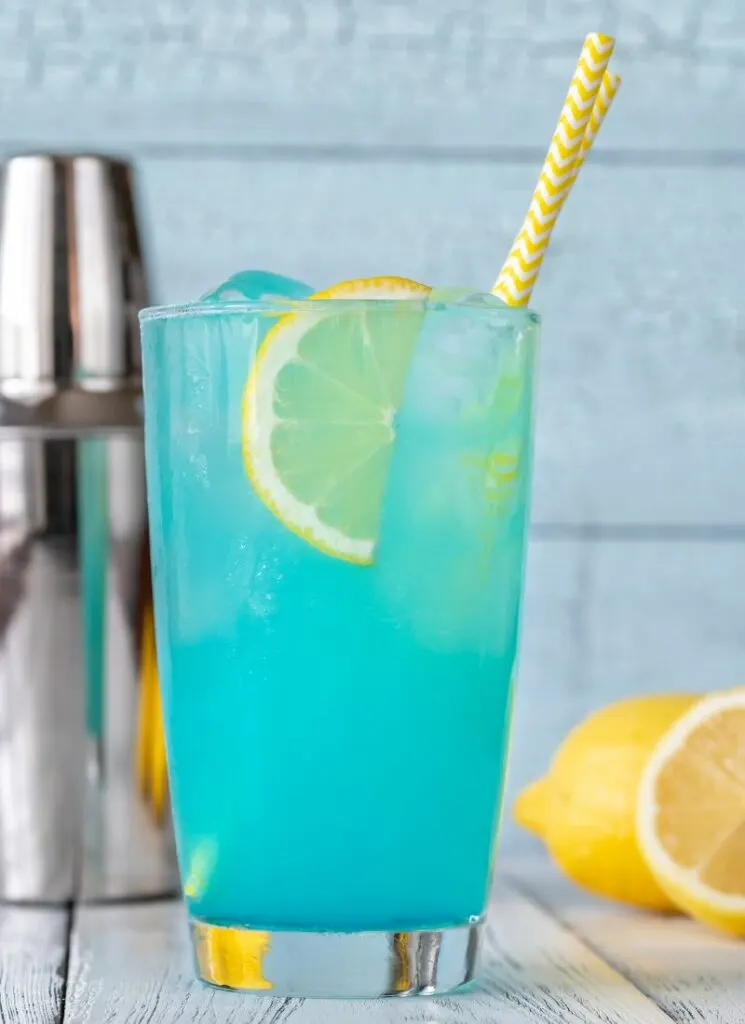 Frozen Electric Lemonade
Want to make a frozen electric lemonade recipe instead?
Adapt this recipe by mixing the alcohol and lemonade. Then pour the liquid into an ice cube tray and freeze for at least one hour.
Once semi-frozen or completely frozen, transfer to the blender cup, pour in approximately 8 ounces of lemon lime soda and blend into a slushy. Finally, garnish with lemon slices, just like the details suggested above.
Now, enjoy a frozen electric blue lemonade!
More Easy Summer Recipes
Use lavender lotion to repel mosquitos if you notice you're being bitten while outside on a picnic or snacking poolside.
Here are some tasty ideas for summer: