Simple and cozy, these from-scratch easy slow cooker soup recipes are sure to warm you up when the weather turns cold! Enjoy seasonal favorites like Potato Soup and Chicken Soup cooked in just one pot. Clean-up is quick! These are classic comfort food dishes everyone will love.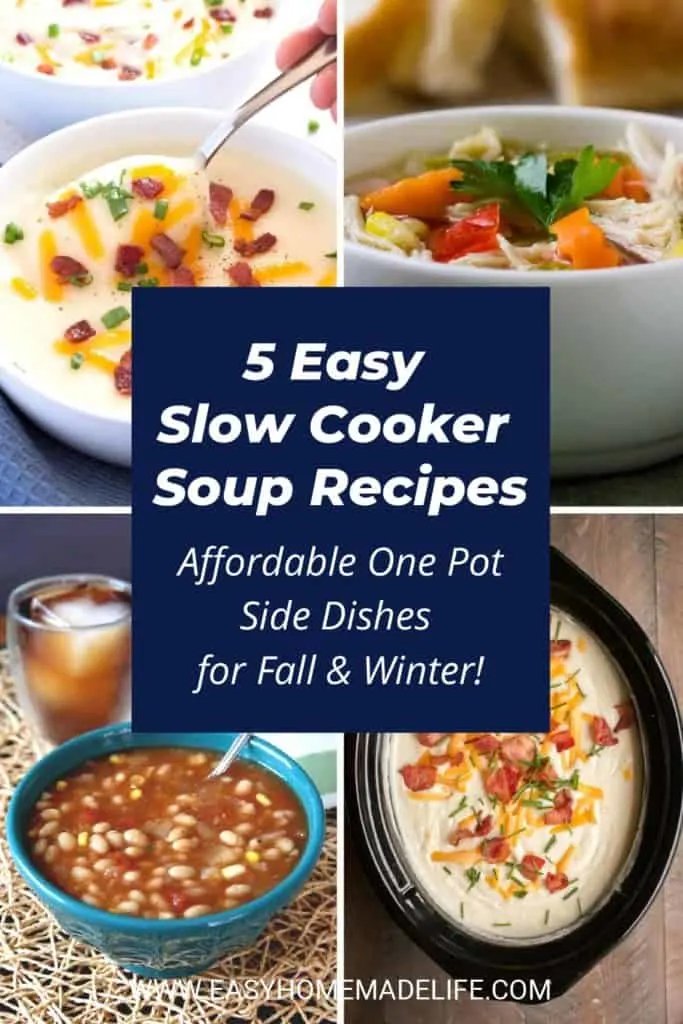 Affordable One Pot Side Dishes
Slow cooker soups are a huge time saver.
Dump everything in the pot, cover it with the lid, turn it on, and walk away. You might already be making crock pot dinners like this, but it's a great way to make soups too.
The soup will simmer while you're out and about. There's very little actual hands-on input you need to give. You can make delicious side dishes while only using one pot.
Save these recipes and add them to your meal plan app today!
Slow cooking is ideal for starchy root vegetables and beans, which both happen to be budget-friendly ingredients. Other cheap ingredients like oatmeal and noodles make really great slow cooker oatmeal recipes and no-boil Mac and cheese dishes. You can eat good home cooked meals, even on a budget.
Another benefit of owning a slow cooker is that like many crock pot recipes, most of these one pot soups make many servings at one time. That means… leftovers! Hurray!
How to Make Slow Cooker Soup Recipes
Cooking soup in a slow cooker is super easy!
You don't have to worry about the pot boiling over, burning vegetables, or overcooking.
Usually, the vegetables are chopped and added to the bottom of the crock-pot. Root vegetables like potatoes, carrots, turnips are always great choices. Fibrous greens like kale and cabbage are nice too.
Next comes any meat you want to add. Think chicken breast, browned ground beef, or cubed meat.
Then, sprinkle herbs and seasonings over the top of the last layer. Culinary favorites like thyme, parsley, and rosemary give a delicious flavor!
Finally, add liquid like water, milk, or broth to transform all these great ingredients into a good soup!
Flick the slow cooker on and leave it to simmer for a few hours until it's all cooked up and done.
Save leftovers in the fridge for 3-5 days. Or transfer to freezer-safe containers and store for up to 3 months in the freezer.