Make a 4-ingredient guacamole recipe with ripe avocados, a splash of lime juice, a pinch of salt, and your favorite salsa for an impressively quick, easy, and totally delicious summer snack or topping. You only need the ingredients, a spoon, and one bowl before the chunky avocado dip is ready to enjoy.
Easy Guacamole Recipe with Salsa
In general, homemade guacamole is pretty easy to make. However, if you want to expedite the prep time and avoid all the chopping – you'll love this easy salsa guacamole recipe.
Mixing salsa with mashed avocado is a shortcut that avoids you needing to chop (or buy) tomatoes, onion, garlic, and cilantro individually. Plus, you can easily customize it to your favorite flavors. What's your favorite salsa? Mild, sweet, smoky, or spicy? Any type will work here.
Serve guacamole with a full taco bar, Instant Pot chicken fajitas dinner, veggie sticks, or tortilla chips. This is one of the best things for summer snacking and poolside afternoons. Guacamole is also great with omelets, burgers, tacos, burritos, and fajitas. It pairs well with fish, chicken, pork, and beef. You can't go wrong!
This is also an easy guacamole recipe for nachos. Since you'll already have the salsa for nachos, just add a spoon or two to the avocado, and you'll have guacamole ready instantly.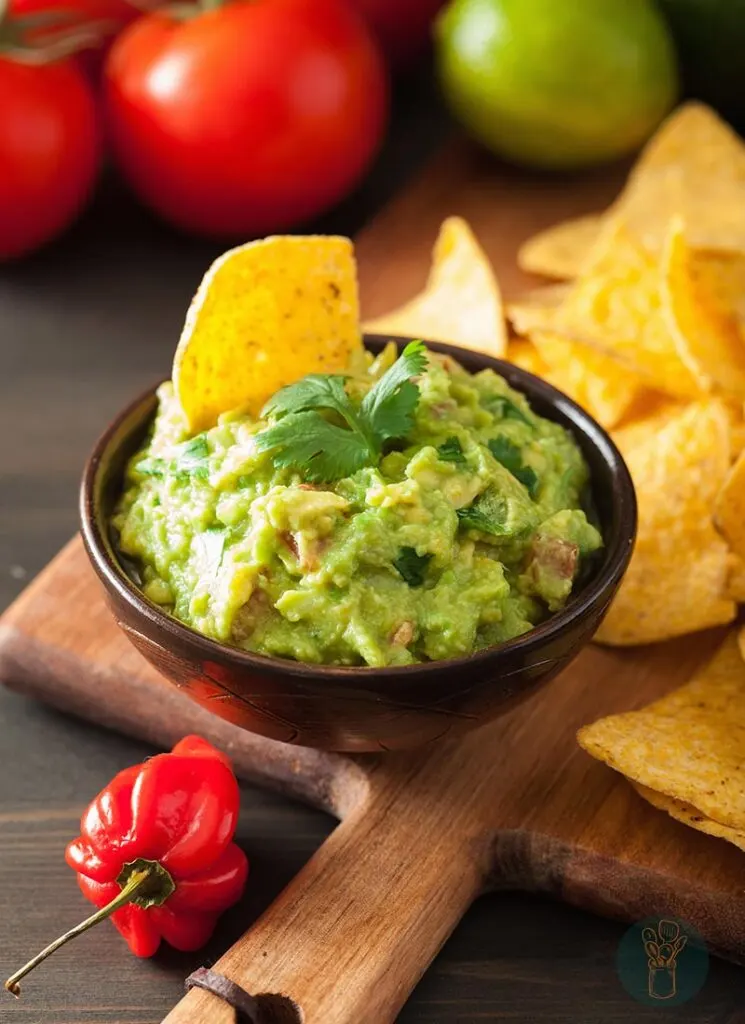 How to Make Guacamole with Salsa
Gather four ingredients and mix a healthy guacamole recipe in 10 minutes or less!
Ingredients in Guacamole
Avocado – Choose ripe, buttery avocados like the Hass variety. Four avocados weigh roughly 2 pounds.
Lime juice – You only need the juice from one-half of one lime.
Salt – A pinch of sea salt is perfect.
Salsa – In my opinion, a chunky fresh salsa like pico de Gallo is ideal. Drain the juices as you scoop out the salsa, leaving as much as possible in the jar. For a mild guacamole recipe, use mild salsa. Pretty easy, right? If you like hot and spicy flavors, use a hot and spicy salsa instead. Temper the heat of spicy peppers and easily adjust for your preference.
Step-By-Step Directions
Guacamole is a very forgiving recipe which makes it great for people who don't like to follow directions and children just learning their way around in the kitchen. It's usually fine to eyeball the ingredients once you've made it a few times and have a general idea of how it should turn out. Then, feel free to taste test as often as you need and adjust the salt, lime juice, or salsa as you like best.
Mash the avocado base
Half each avocado and remove the pits. Scoop the meat out and place in a medium-sized mixing bowl. Discard the pits and skins (or save to use in a dye bath for a beautiful mauve color).
Add salt and lime juice. If you don't already know how to properly juice a lime, learn how to squeeze the most juice with one simple must-know process.
Mash with a fork or pastry cutter (also called a pastry blender) until chunky.
Add the salsa
Add the salsa. Stir gently to combine.
Taste and adjust as you see fit.
Guacamole will oxidize quickly once the avocado gets exposed to air. If you see the top start to turn brow, you can scoop it off and discard it. If there is only a little bit, mix the brownish parts back into the bottom layers.
I recommend following this food storage tip for completely pushing out all the air from the container, and you'll completely avoid having the guac turn brown.
Nutritional Info
This recipe yields 8 servings. Each serving contains the following nutrient profile.
166 calories
2 protein
15 fat
10 total carbs
7 fiber
3 net carbs
Please note that the nutritional value will change if you substitute ingredients. Use a nutrition app to recalculate and reflect your changes.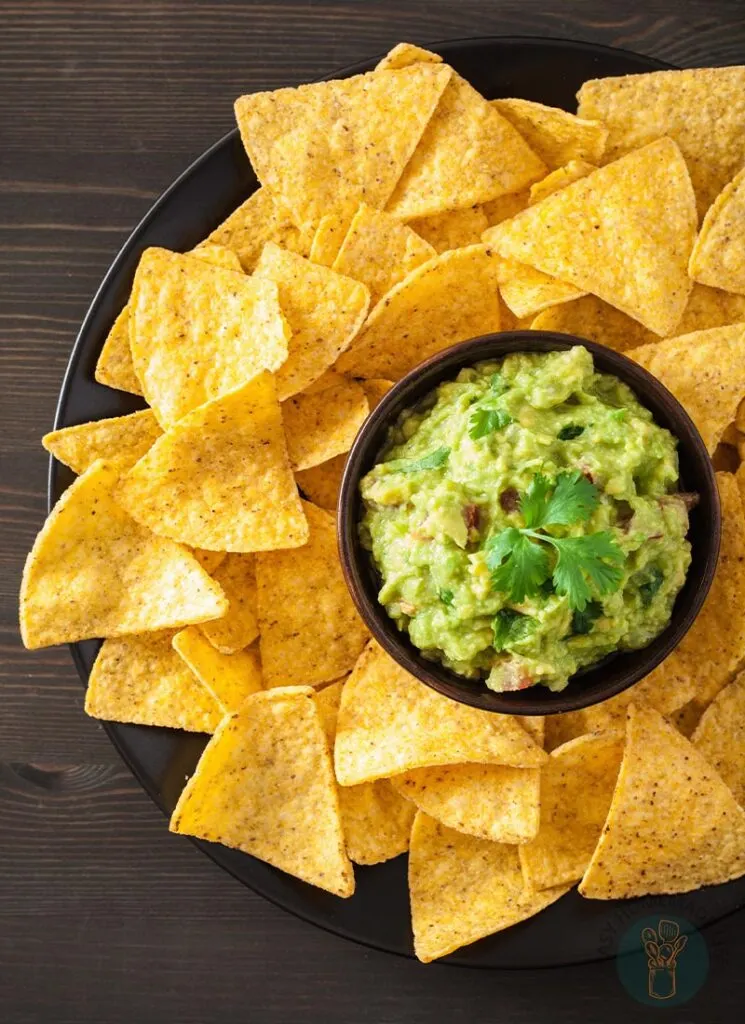 Guacamole with Salsa Recipe FAQ
What does guacamole taste like?
Guacamole tastes like ripe, buttery avocado with accents from add-ins: lime juice, salt, and salsa. Salsa has a variety of formulations, from sweet and mild to smoky and spicy hot. Pick your favorite, and all those flavors will transfer to the guacamole also.
Is guacamole gluten-free?
Yes, guacamole is naturally gluten-free, and homemade versions are always 100% gluten-free. However, it's always a good idea to review the ingredient list if you're buying ready-made guac from the grocery store. Confirming there aren't any hidden ingredients you would rather avoid only takes a few seconds. And then you know you're in the clear.
Does guacamole have dairy?
No, guacamole is traditionally dairy-free. An exception could be if cheese is added, but that only happens on a rare occasion. This recipe is dairy-free and a great choice for people with dairy sensitivity but love Mexican food.
How much guacamole per person?
Generally, one-half an avocado per person is a suitable serving of guacamole. For that reason, this recipe with four ripe avocados yields eight servings of guacamole.
How long can guacamole sit out?
Typical guidelines indicate guacamole is best at room temperature for up to two hours before it should be refrigerated. The hotter (higher) the temperature, the more quickly the food can spoil.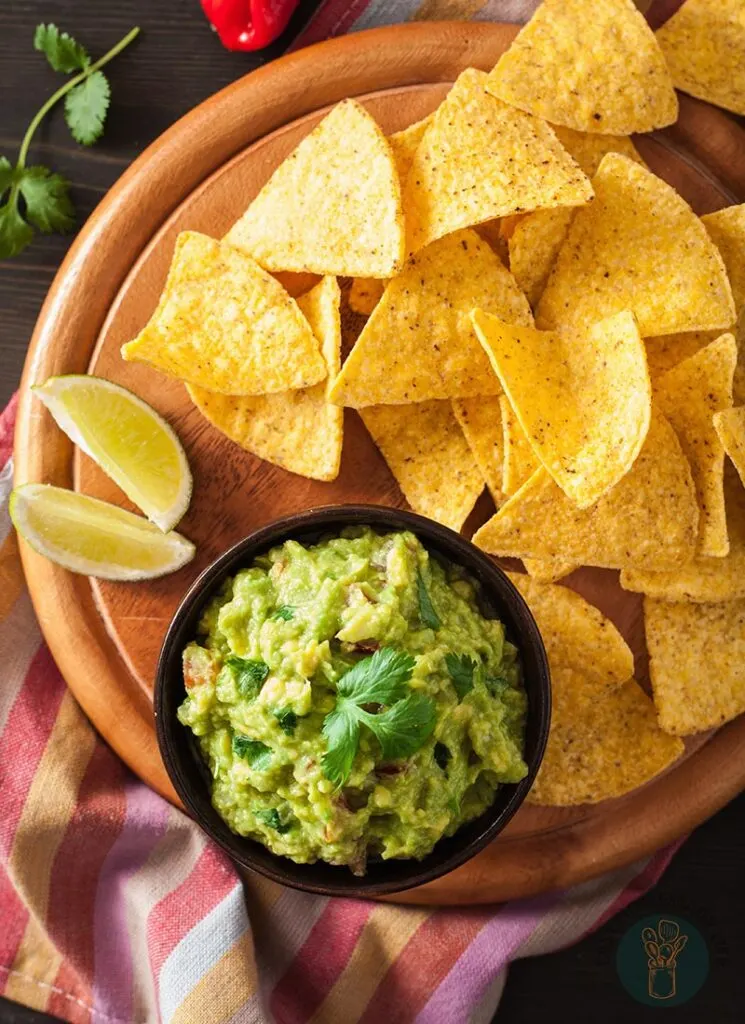 More Summer Snack Recipes