This chocolate sage ice cream is a creative, fresh sage recipe sure to delight your taste buds. First, make a custard with Dutch-process cocoa powder, dark chocolate, and a few classic homemade ice cream ingredients, then finish it off in an ice cream maker and enjoy.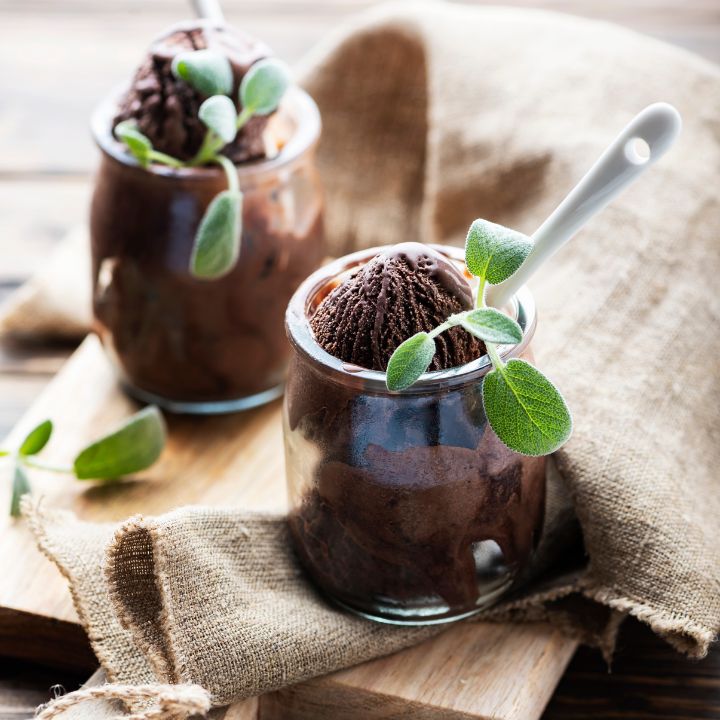 How to Make Sage Ice Cream
Have you ever thought about sweet Recipes that use sage? Maybe not until now, but adding a savory herb like sage to a sweet treat like ice cream is quite exquisite! Both earthy and slightly peppery, sage also has hints of mint and lemon.
Plus, once you add cocoa powder, dark chocolate, and lots of sugar to the mix, you know you have a good thing! Sage and chocolate is a sophisticated flavor combination that really delights the mouth.
I recommend making this sage chocolate ice cream anytime during the summer when fresh sage is in season.
This recipe was adapted from The Perfect Scoop by David Lebovitz.
Equipment
Ideally, you cook the ingredients into a custard and transfer it to an ice cream maker. Other than that, all you need are some basic kitchen tools.
Ice cream maker
Small saucepan
Fine mesh strainer
Mixing bowls
Whisk
Spoon
Ingredients
Sage leaves – Prepare two small bunches or about 20 large leaves by bundling them together with cotton kitchen string. Tying the leaves together ahead of time makes removing them from the liquid later on all the easier. Fresh leaves are best.
Heavy cream – We use two total cups but divide the amount in half and add each separately. First, use one cup in step one, then the second cup in step five.
Milk – Whole milk will be best since it has the most fat content.
Sugar – Standard white baking sugar will be the perfect sweetener in this sage recipe.
Dutch-process cocoa powder – Intense and fully flavored, Dutch-process cocoa is different from regular cocoa because alkalizing agents reduce the normal bitterness and acidity. However, substituting with regular cocoa powder will be fine, too, since they are often interchangeable.
Salt – Believe it or not, salt accents the sugar and enhances the sweet flavor! It's a secret ingredient that no ice cream should be without.
Dark chocolate – Finely chop a few ounces of your favorite dark chocolate bar. The finer, the better, so it melts and mixes evenly. Adding double chocolate ingredients makes this homemade ice cream recipe every chocolate lover's dream!
Egg yolks – Yolks are key for a perfect custard texture. Do not use whole eggs. You'll want to temper them carefully, so read the directions and avoid scrambling.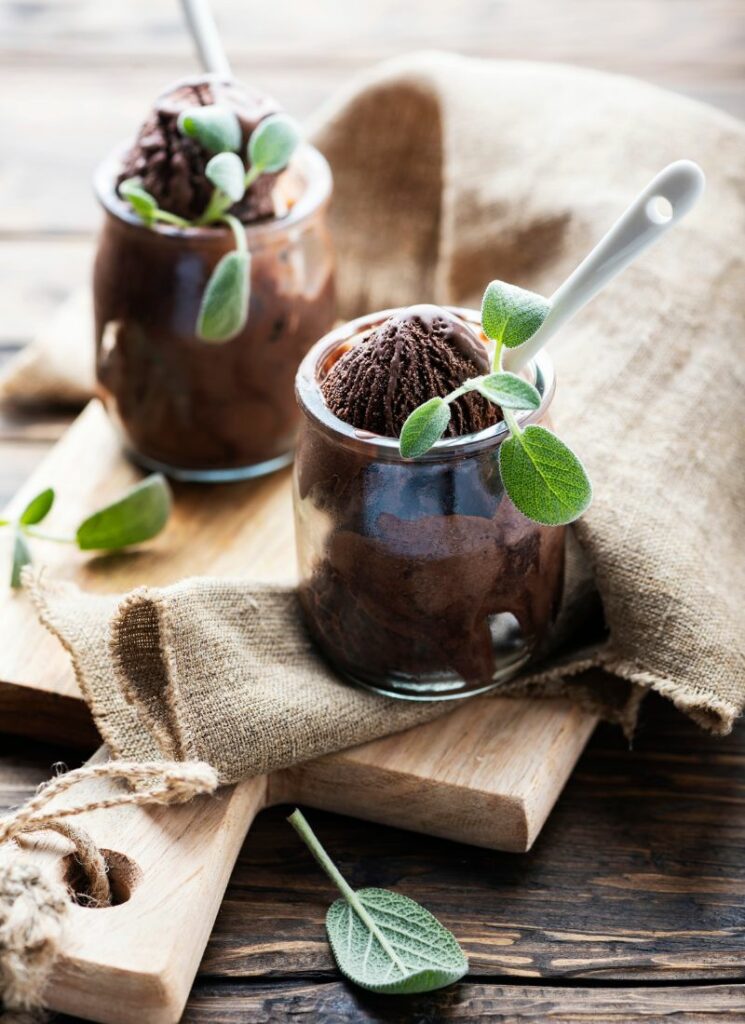 Step-By-Step Directions
At first glance, it might look like a long recipe, but each step is very easy and straightforward. If you need convincing, look at the result! It's worth it!
Step 1
Infuse the sage in the milk and cream over low heat. Tie fresh sage leaves in two small bunches with cotton kitchen string. Whisk 1 cup of cream, milk, sugar, and salt in a small saucepan over medium heat. Sift the cocoa powder into the pan also and mix well. Add the sage leaves and stir. Heat, but do not boil. Remove from heat when the mixture starts to steam and bubbles first appear around the edges.
Step 2
Melt chocolate into the cream. Stir the chopped chocolate in the pot of cream, and continue mixing until smooth. Let it stand for one hour. Then, strain the liquid through a fine-mesh strainer. Discard the sage leaves. Return liquid to the stove over medium heat until it's warm again.
Step 3
Pour sage chocolate mixture into the egg yolks. Whisk the egg yolks in a medium bowl. Next, temper the eggs by slowly pouring the warm liquid into the yolks while stirring gently yet continuously. The idea is to slowly bring the temperature of the eggs up, so they cook but don't scramble. Then, transfer the milk egg mixture back to the saucepan.
Step 4
Cook custard and prepare an ice bath. Continue stirring over low heat while scraping the sides and bottom frequently. Cook until a custard forms, about 5 to 7 minutes. An instant-read thermometer will read 170 degrees F. Otherwise, you'll know it's thick enough when the mixture coats the back of your spoon.
While the custard cooks, make an ice bath by filling the bottom of a large bowl with ice and placing a medium bowl inside, over the ice. Add the remaining 1 cup of cream to the empty medium bowl. Arrange a fine mesh strainer over it.
Step 5
Strain, cover, and chill the custard. Once the custard is ready, pour it through the strainer into the cream. Straining again ensures a uniform, creamy finish by removing any egg solids that may have inadvertently formed while cooking. Mix cream and custard thoroughly; continue stirring until cooled. Cover with plastic wrap and refrigerate for at least 4 hours or overnight.
Step 6
Churn in an ice cream maker. Finally, transfer to an ice cream maker and freeze according to the manufacturer's instructions.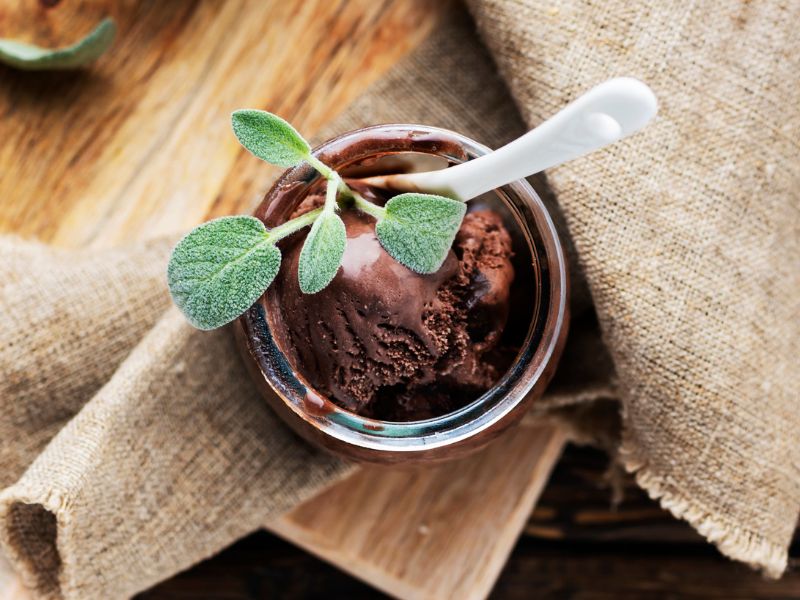 When is National Chocolate Ice Cream Day?
Mark your calendar for June 7 because that's National Chocolate Ice Cream Day in the United States! The day has a fascinating history (1, 2) and is just one of the fun ice cream-themed days of summer.
Follow the June celebration with National Ice Cream month in July and National Ice Cream day on July 17 (2022). Did you know Ronald Reagan established these holidays for the first time in July 1984 and July 15, 1984? He signed H. J. Rex 543, a joint proclamation sponsored by a Texas representative and made it official.
There's a fun fact to share!
What better way to celebrate than with this unique chocolate ice cream recipe? It will be great!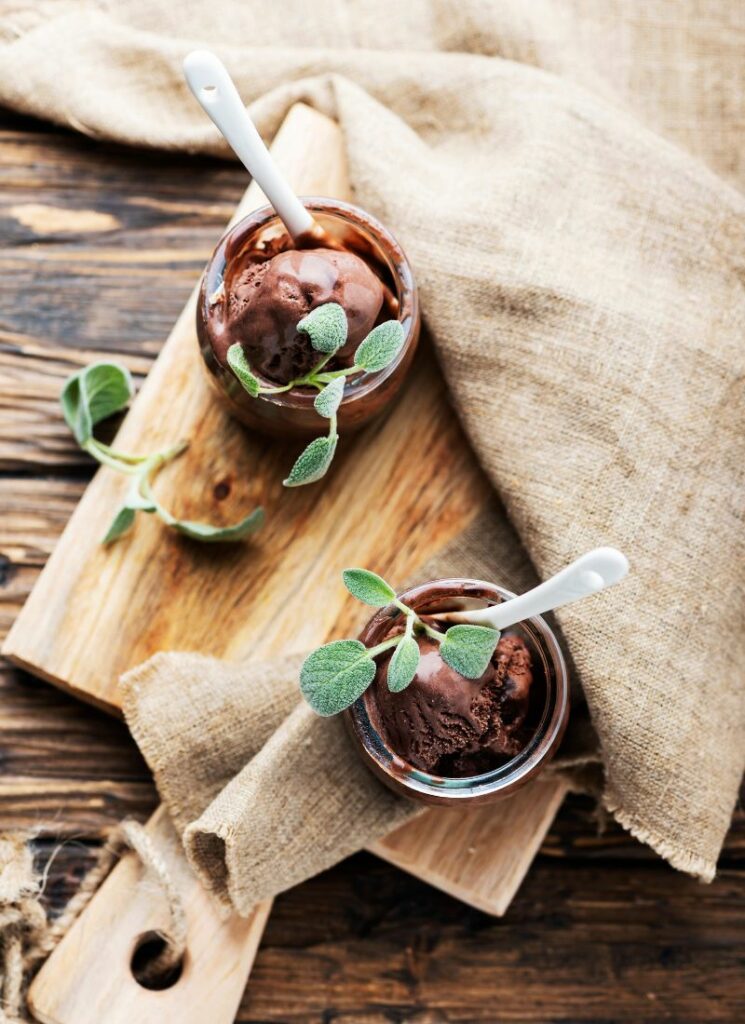 More Creative Dessert Recipes
More Easy Summer Recipes