This no milk waffle recipe is just as light, fluffy, and delicious as its regular dairy counterpart. So never fear, if you have food sensitivities and eat dairy-free or forgot to get milk from the store, make this easy waffle recipe for breakfast instead! It's light, crispy, and everything you love about a waffle.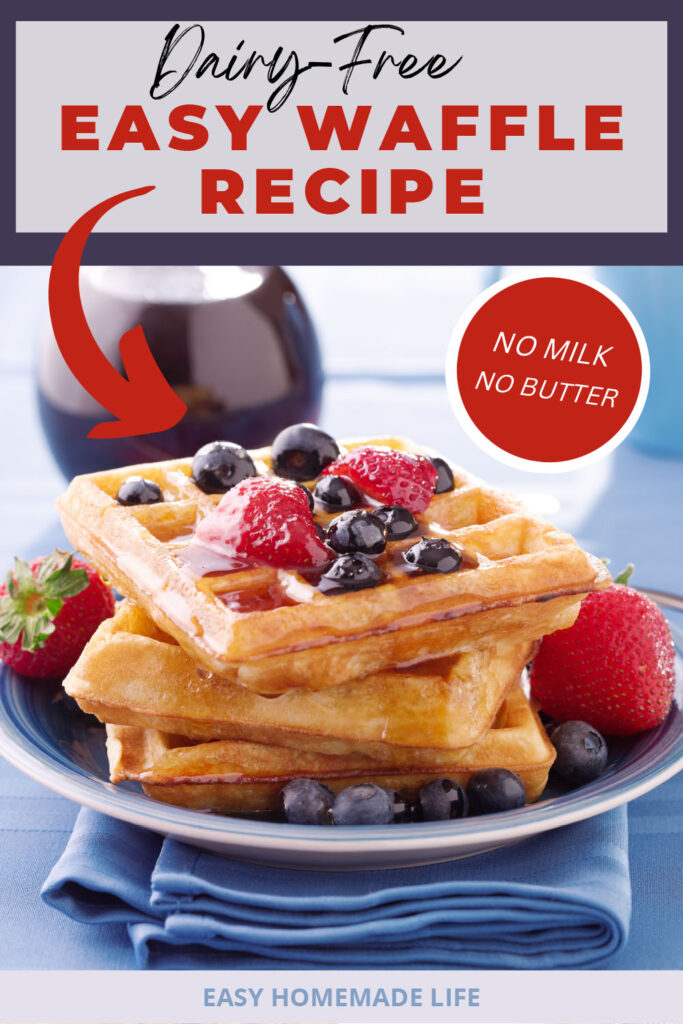 Can you make waffles without milk?
Usually, waffles have dairy-based ingredients, and more often than not, it's milk. So what will you do if you can't eat milk or don't have any at home?
You could drive to the nearest diner and eat out, but that's expensive and not as pajama-friendly as staying home.
Various ingredients can substitute milk in waffles and still taste just as good with a great texture.
It's possible to substitute milk with another dairy item like heavy cream, sour cream, or buttermilk. Pantry and Larder posted an epic experiment with eleven different milk substitutes for waffles. She takes the challenge seriously and details her observations, thoughts, and reviews on each ingredient. It is a fascinating story to read, and I know you'll love it if you're a food nerd like me. But don't visit her yet because we have a great recipe to share here.
I want more than just a milk substitute in this recipe. I'm looking for a dairy-free waffle recipe from head to toe. No milk, no butter, nada.
Instead of another dairy food, you could substitute it with plant-based options like coconut milk or almond milk. Almond milk waffles are becoming popular. But that also assumes you have some in the pantry or fridge.
Are you ready for the easiest choice?
Make your normal the waffle recipe with water instead of milk. Are you surprised the solution could be so easy?
Water doesn't affect the waffle flavor, but it will produce a crispier, more flaky edge. Dairy thickens the batter and gives a rich flavor, but there's no significant loss by using water instead. Especially when you compare no waffles at all to waffles with water. I think that's a clear choice, don't you? Waffles with water wins.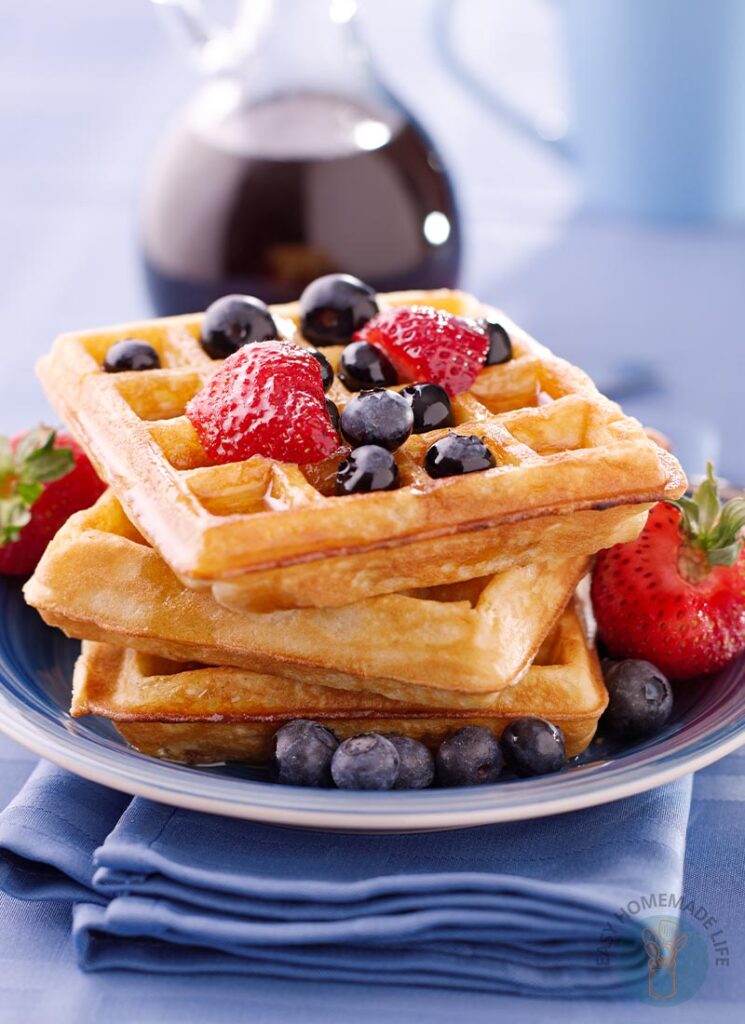 How to Make Waffles Without Milk
Gather the eight ingredients (including water), preheat the waffle iron, and mix the batter up in a bowl. Prep and cook this waffle recipe without milk from start to finish in 30 minutes or less. I bet the kids will still be in bed by the time you're done.
Ingredients
They are guaranteed to be light and airy since they have less fat than traditional waffles, but they are still just as good! These are 100% dairy-free with no milk or butter.
You only need two mixing bowls, a whisk, measuring cups and spoons, and a waffle iron. Once you have everything ready to go, gather the ingredients.
Here's what you need:
Water – yes, that's right. Stay with me
Eggs – only two for the whole recipe
Vanilla extract – gives a splash of flavor
Flour – All-purpose flour will be perfect
Sugar – for sweetness, of course!
Baking powder – helps with waffles rise as they cook
Salt – a pinch!
Oil – I use coconut oil, but you can use any neutral oil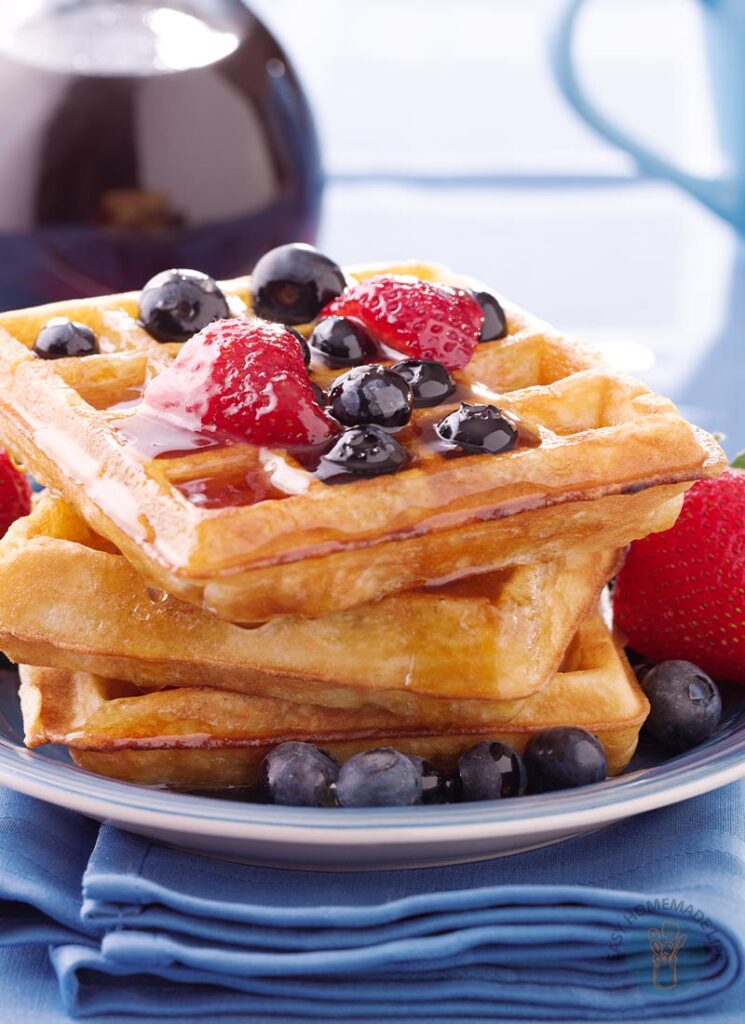 Step-By-Step Directions
You'll spend about 10 minutes making homemade waffles from scratch and another 20 minutes cooking all the batter. That's a pretty good investment of 30 minutes, wouldn't you say?
Start by preheating the waffle iron and lightly grease it with cooking spray if needed. It's nice to start this early, so the iron is nice and hot by the time the batter is mixed.
Next, whisk water, eggs, and vanilla extract together in a medium mixing bowl and set aside.
Then, combine the flour, sugar, baking powder, and salt in a separate bowl and mix well.
Pour the wet ingredients into the dry ingredients and stir just enough until combined and there aren't any lumps of flour remaining.
Add the batter to the waffle iron and cook according to the manufacturer's directions. Although I expect your portion will be about ¼ to ½ cup of batter, it's hard to say precisely because the size of a waffle maker varies by brand.
I know you can make this recipe in any waffle maker; the brand doesn't matter. Additionally, the shape also doesn't matter either, from a classic square to a circle or heart, any shape will cook this dairy-free batter well. Furthermore, this recipe is also suitable for a mini-waffle iron or Belgian waffle maker. There are so many options!
You take care of picking the waffle maker. I'll keep you covered with an easy homemade recipe for any choices.
Finally, serve waffles hot and fresh with berries and maple syrup.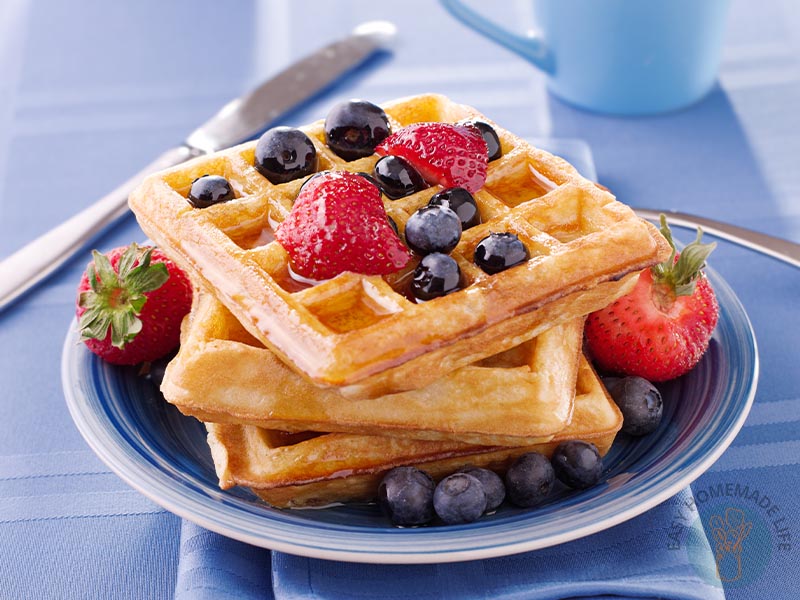 Nutrition Facts for Waffles Without Milk
You'll yield eight waffles from this recipe. There are a total of four servings, each with two waffles.
Per serving, there are:
530 calories
10 g protein
27 g fat
62 g total carbs
2 g fiber
49 g net carbs
Please note that the nutritional value will change if you substitute ingredients. Use a nutrition app like My Fitness Pal to recalculate and reflect your changes.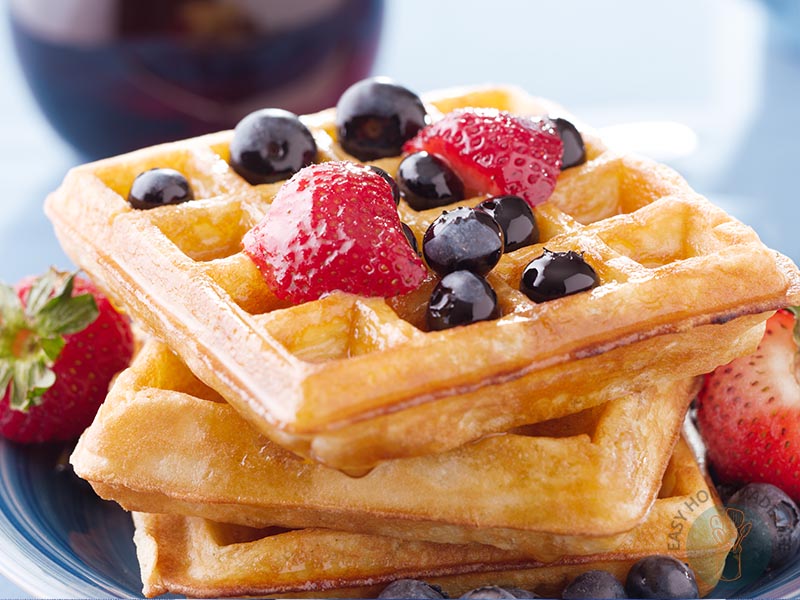 More Easy Homemade Breakfast Recipes