Perfect your weeknight meal prep routine with these healthy slow cooker dinner recipes! Using a slow cooker to do your heavy lifting in the kitchen is ideal for busy weeks and cold weather. It's such a pleasure to walk into the kitchen and be greeted by a bubbling pot of hot, homemade comfort food!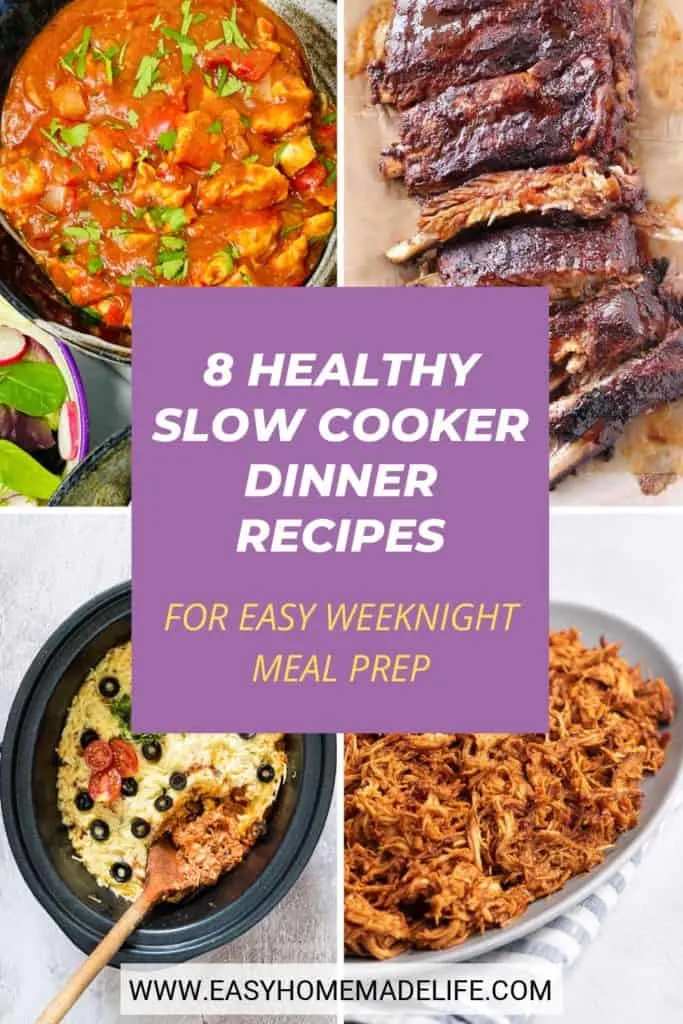 Easy and Healthy Dinner With Minimal Work!
If you want to optimize your cooking routine while still making healthy, from-scratch recipes, it's time to embrace your slow cooker!
With these 8 recipes, you can prep a whole recipe in less than 10 minutes by dumping the ingredients in the pot, turning the machine on, and walking away.
This will save a ton of time and money. In addition, all the recipes here create a big batch, you can freeze portions for future meals down the road. Just thaw, reheat, and serve!
In addition to being really easy, these recipes also happen to be healthy too. That means they're made with REAL food and simple from-scratch ingredients. Each recipe is full of good things like meat, vegetables, and lots of spices.
Meal prep is easy all week long when you have healthy options already made in the fridge!
If you're anything like me, you'll love slow cooker recipes because they are:
Frugal meals
Easy meal prep
Weeknight Meal Prep Ideas
Slow cooker and crockpot recipes are made for fall. There's no doubt about that! Between back-to-school, holidays, and the general hustle, dinner doesn't always get first priority.
On second thought, these meals are pretty great in winter too. And spring. And summer! I'm always up for meals that cook themselves.
The hands-off approach to dinner (without sacrificing health or flavor) is something truly valuable.
If you like to meal prep on Sunday and get ahead for the week ahead or make the recipe fresh in the morning, so it cooks all day, it doesn't matter because either choice works!
Serve these meaty entrees with yeast-free dinner rolls, no-knead bread, or a big pot of rice.
You can also turn the recipe into a one-pot meal by adding peeled, cubed potatoes to the crockpot and cooking everything together.
These easy slow cooker recipes are dinner staples you can serve all year long. There's no wrong time for a slow cooked from-scratch meal.
Add the eight recipes with beef or chicken to your meal plan app and stay on track with your planning!