Pineapple Teriyaki Pork Chops are incredibly delicious, simple to make, and loaded with flavor. Marinate pork chops in a sweet and salty blend of pineapple juice and teriyaki sauce, then baked in the oven to tender perfection. It's a perfect meal for a fancy weekend dinner or to serve on a busy weeknight. The best part is it calls for very basic ingredients and a few simple steps.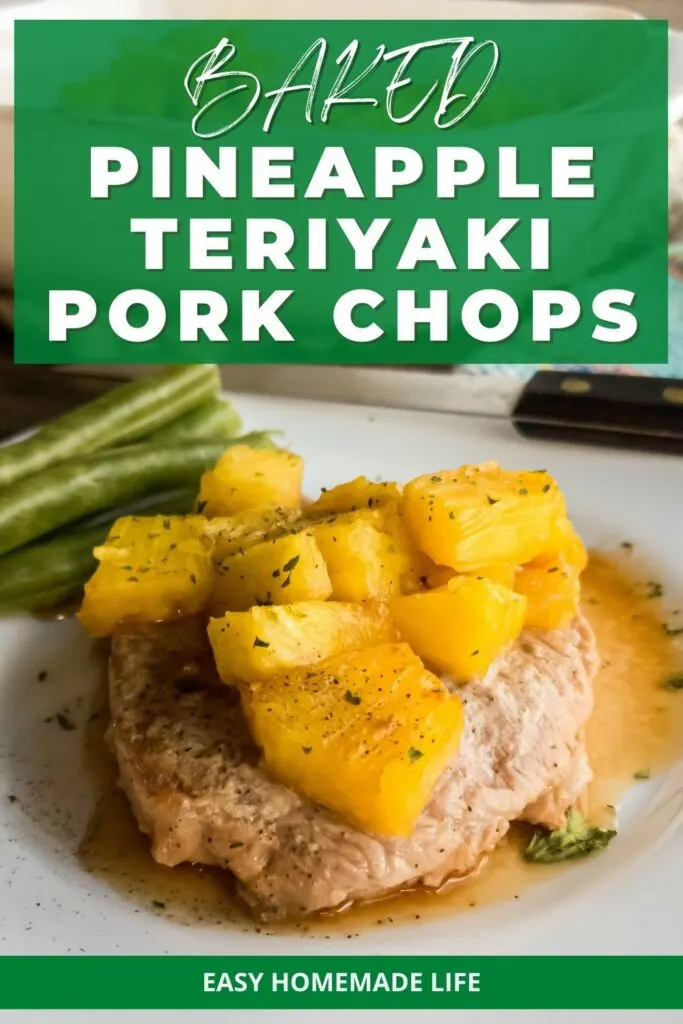 Teriyaki Pineapple Pork Chops
These baked pineapple teriyaki pork chops will become one of your favorite family meals.
Everyone will love the combination of sweet pineapple paired with salty teriyaki sauce. And you will love that it takes very little hands-on time to prepare. With just 6 basic ingredients and a few simple steps, you can have a healthy and delicious dinner on the table in no time.
For the best flavor, give the pork chops time to absorb all those umami flavors, so marinade it for at least 30 minutes but ideally close to two hours. From there, the recipe comes together quickly after that initial marinating time.
The best part is you can enjoy this flavorful dish any time of the year. The summer beckons all things pineapple, but don't limit this to the sweltering months only. You can easily make this dinner when you don't have fresh pineapple by using frozen or even canned pineapple.
The convenience of baking these pork chops in the oven makes dinner all the easier and faster than takeout. And the teriyaki pork chops come out tender and delicious every time. Serve this hearty meal over rice and a side of green beans or asparagus for a well-balanced meal.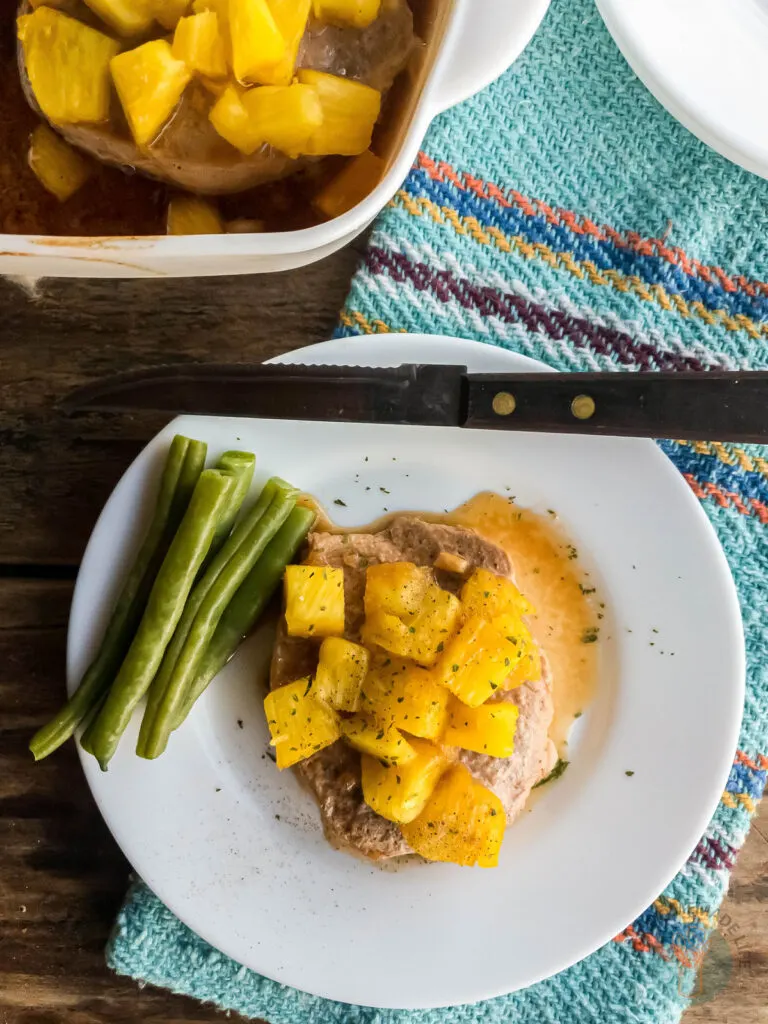 How to Make Hawaiian Pork Chops in the Oven
Gather 6 basic ingredients, and you're halfway to making a delicious Hawaiian pork chop recipe in under 35 minutes.
To start, we'll marinate the pork chops in a richly flavored blend of pineapple juice and teriyaki sauce. Then transfer the pork chops to a baking dish and reduce that marinade to a velvety sauce over medium-high heat. Finally, we'll pour that sauce over pineapple-topped pork chops and pop the entire baking dish in the oven to bake.
Serve this dish over a bed of white rice and your favorite veggie side to soak up all those umami flavors. It's truly an easy dinner, packed with flavor that the whole family will love.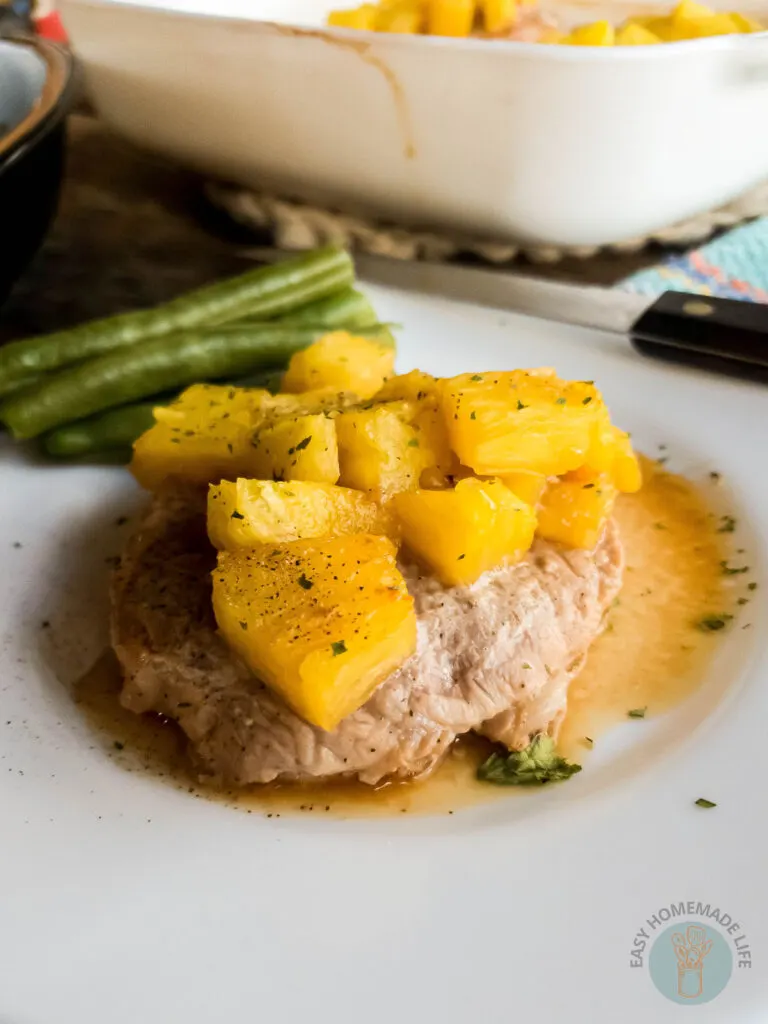 Ingredients
Pork chops – look for 4 boneless pork chops weighing approximately 4 ounces each; when buying pork chops, look for similar sized ones, so they cook evenly.
Pineapple juice – an important ingredient in the marinade that is then gently simmered
Teriyaki sauce – for a quick homemade teriyaki sauce, whisk soy sauce with two tablespoons of brown sugar
Pineapple – fresh diced pineapple is best; may use frozen pineapple but thaw first; you can also use canned pineapple but drain first to remove excess liquid
Aromatics and seasonings – fresh garlic, ground ginger, salt, and black pepper add rich flavor to the finished dish
Cilantro – for optional garnish to add on top of baked pork chops
I buy herbs and spices in bulk from Mountain Rose Herbs. They have a wide variety to choose from and excellent quality.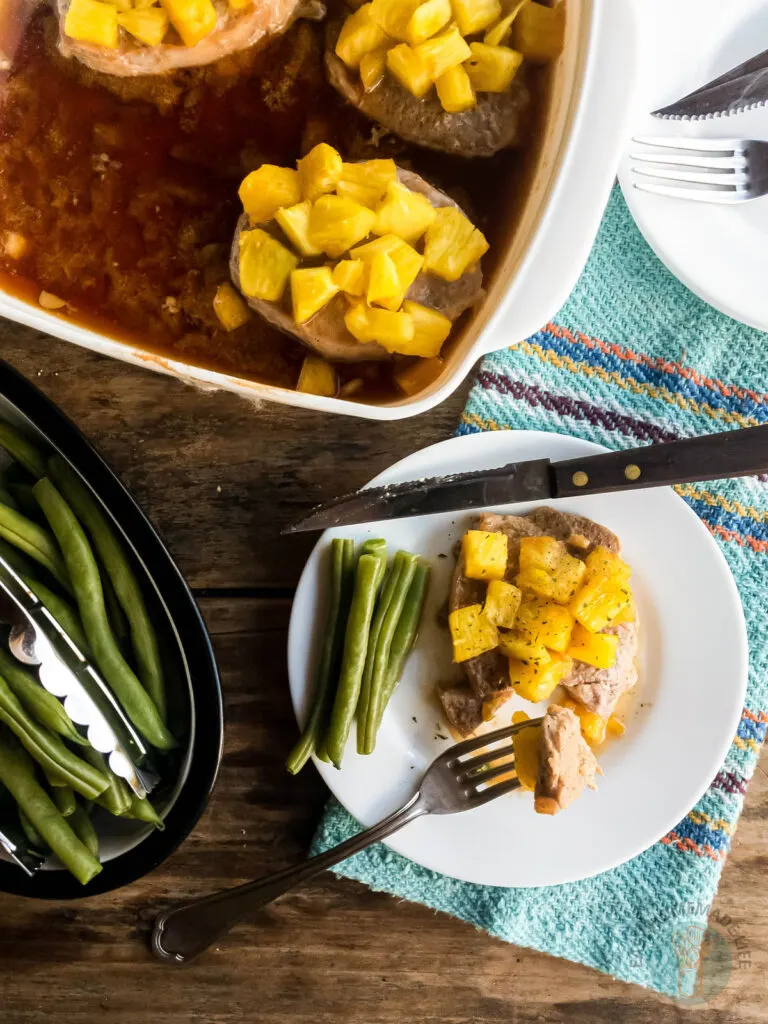 Step-By-Step Directions
Follow these simple directions, and you can't go wrong! This easy dinner recipe comes together in 3 simple steps: marinate, simmer, and bake until perfectly and deliciously tender.
Allow the pork chops to marinate for at least 30 minutes, but 2 hours is better. This recipe is excellent for dinner parties because it's mostly made in the oven. You can easily double it with no extra effort other than increasing the number of ingredients and using a bigger baking dish.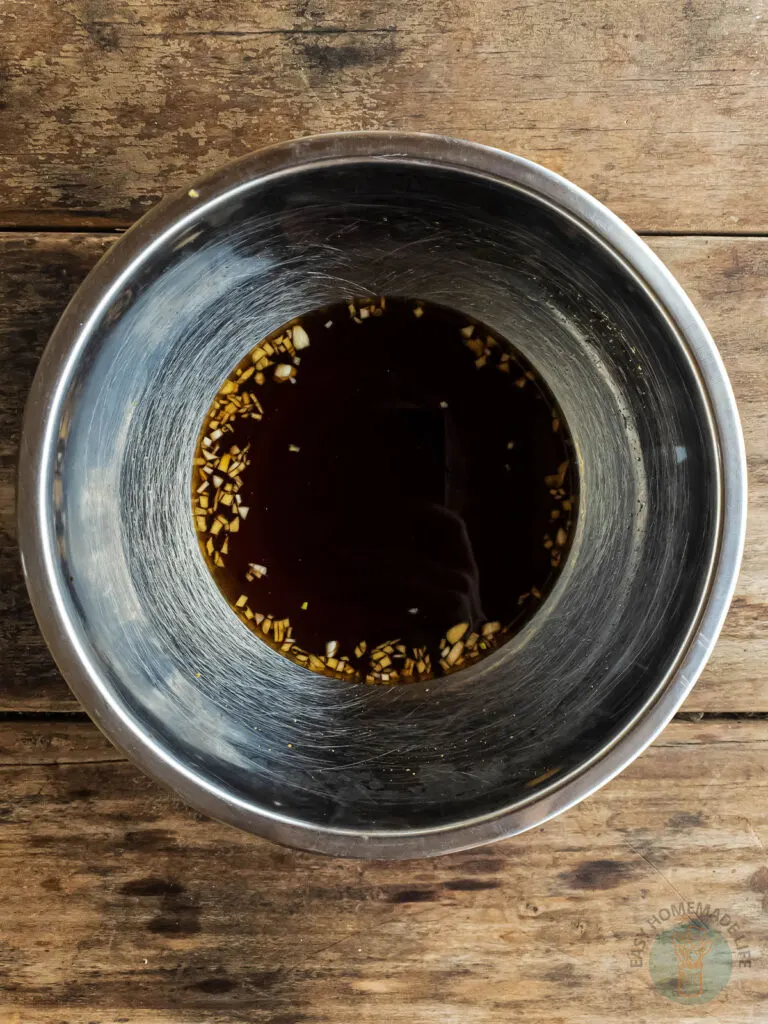 Step one: Prepare the marinade
Place the pork chops in a large resealable bag. Set aside.
Make the pineapple teriyaki marinade for pork chops by mixing the pineapple juice, teriyaki sauce, garlic, and ginger in a small bowl. Pour over the pork chops in the bag, seal well, and toss to coat evenly.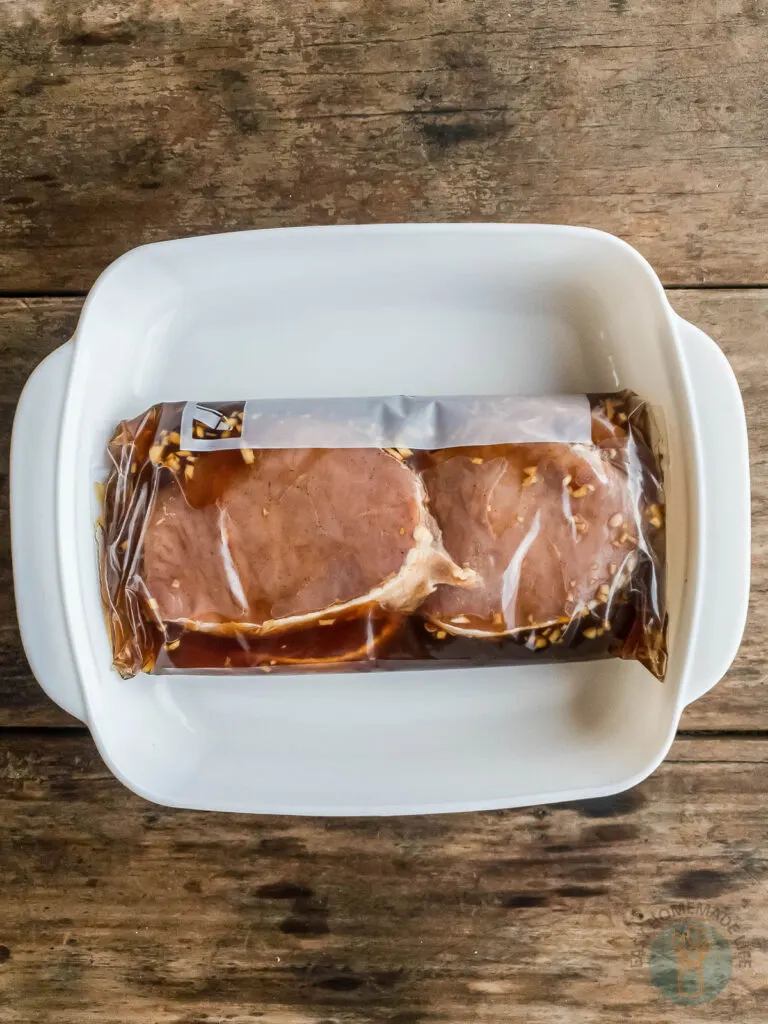 Step two: Marinate
Marinate in the refrigerator for at least 30 minutes or up to 2 hours.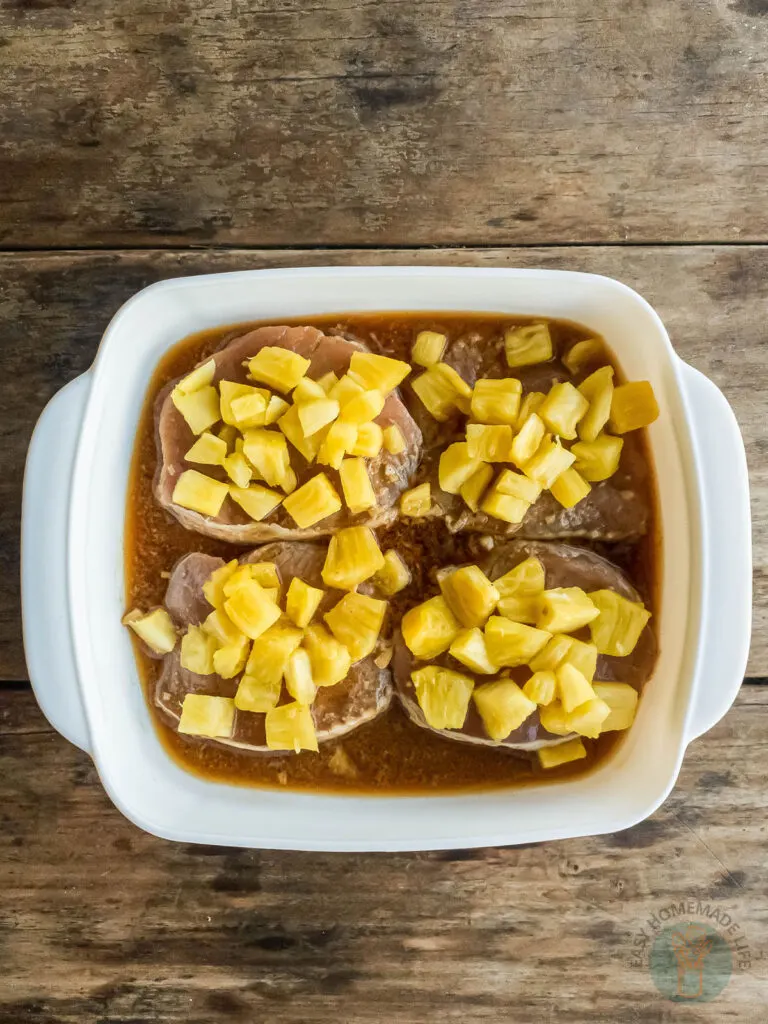 Step three: Assemble
Preheat the oven to 375 degrees F (190 degrees C).
Remove the pork chops from the marinade and arrange them in an 8×8-inch baking dish. Set aside.
In a small saucepan, bring the used marinade to a boil over medium heat. Reduce the heat and let it simmer for 5 minutes to reduce slightly.
Meanwhile, top the pork chops with diced fresh pineapple. If using frozen pineapple, thaw it first and drain the excess liquid. You may also use canned pineapple but drain first.
Pour the simmered marinade over the pork chops and pineapple.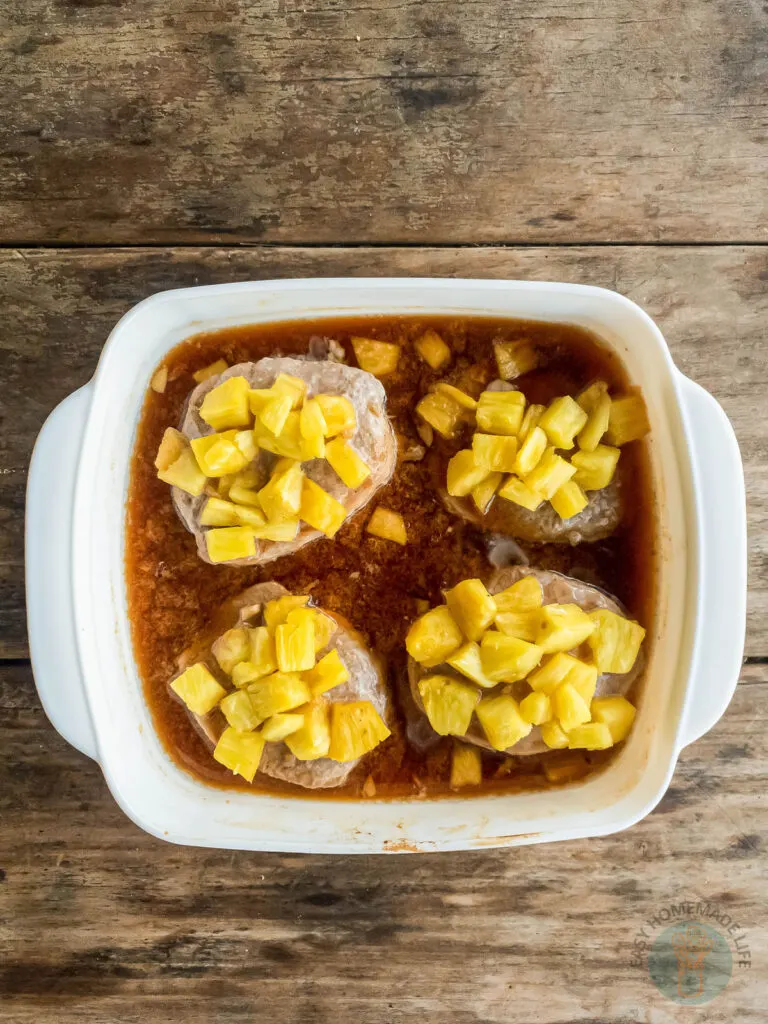 Step four: Bake
Bake the pork chops in the oven for 25 minutes or until cooked through. Check for doneness with an instant-read meat thermometer inserted into the thickest part of the pork chop. The chops are cooked through when the temperature registers an internal temperature of 145 degrees F (63 degrees C) for a medium-rare finish.
Serve the baked teriyaki pork chops hot with the pineapple chunks. Spoon some of the sweet and savory sauce over the top. Garnish with fresh or dried cilantro for extra flavor and zest.
Pair these delicious pork chops with a nice side of rice to soak up that delightful sauce. Add in some roast vegetables like green beans for a complete meal.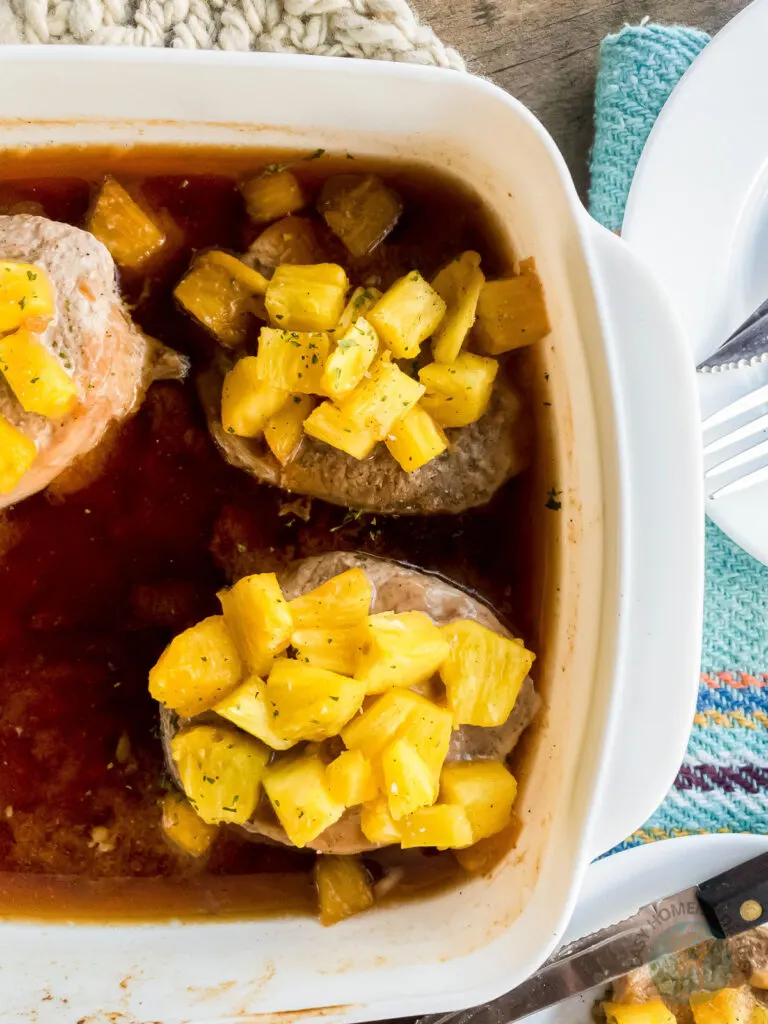 Hawaiian Pork Chop Nutritional Info
There are four (4-ounce) servings of this Pineapple Teriyaki Pork Chops.
Each serving contains:
386 calories
42 g protein
18 g fat
13 g total carbs
1 g fiber
12 g net carbs
Please note that the nutritional value will change if you substitute ingredients. Use a nutrition app like My Fitness Pal to recalculate and reflect your changes.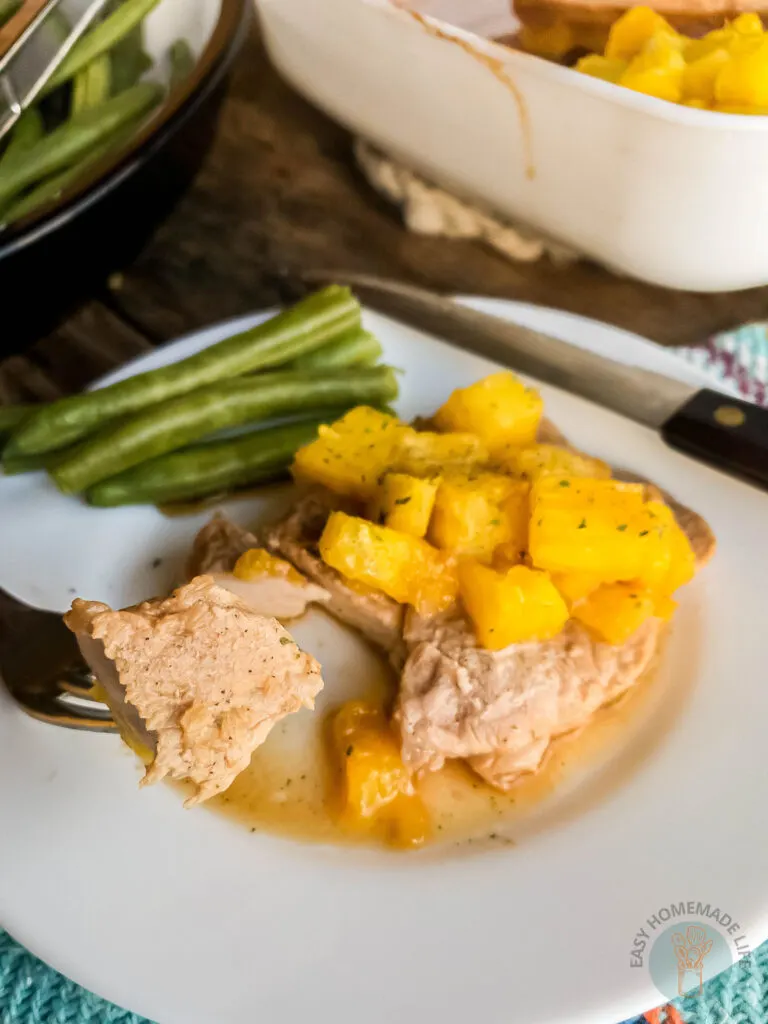 More Easy Homemade Dinners