If you love spicy chai tea, you will love this Chai Ice Cream Recipe that is perfect for any time of the year. It's a delicious combination of cream, milk, and tempered eggs, along with warm spices like cinnamon, ground ginger, star anise, and cloves. With just 20 minutes of active time, the hardest part is waiting for it to chill.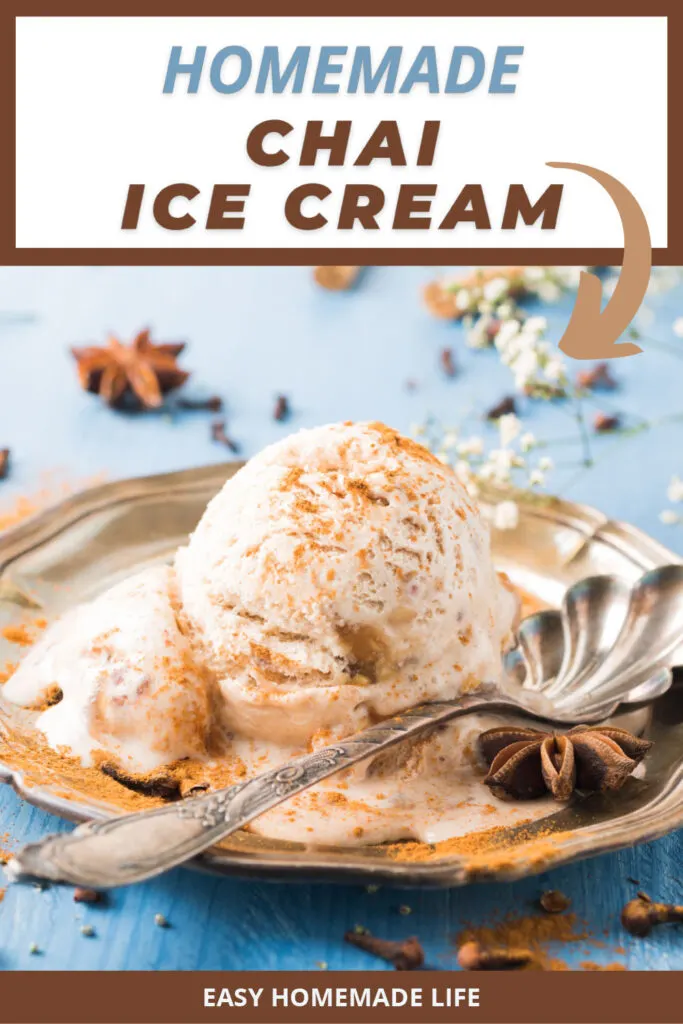 Homemade Chai Ice Cream
Chai is a spicy and fragrant tea often enjoyed with cream or steamed milk. It is more appropriately called masala chai, which implies a tea with spices.
The trademark flavor of chai is a combination of warm spices like cinnamon, ginger, star anise, and clove. Even though the intensity and flavors vary, they all have that spicy signature astringency.
Now think of this chai ice cream as a cross between your favorite chai drink and rich vanilla ice cream.
It boasts that same signature spicy flavor, but you serve scoops in a bowl. What could be better?
This chai spice ice cream has warming spices that are appropriate in the fall and winter but being that it's ice cream, it also makes a great summer dessert. If you want to stick with the warmth of a traditional chai flavor, try this Chocolate Chai Latte or a pleasing Pumpkin Chai Latte.
Indeed, this homemade chai ice cream is great any time of the year. You can make it in the comfort of your home whenever a sweet tooth craving strikes.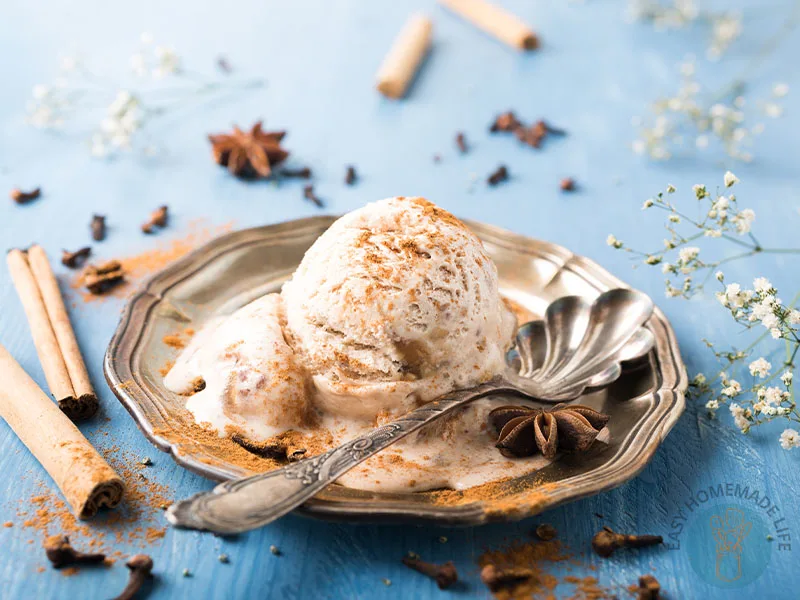 How to Make Chai Ice Cream
Gather 4 main ingredients, plus spices, and you're halfway to making a chai flavored ice cream in just 20 minutes of hands-on time!
You'll start with gently simmering the milk and cream along with the chai spices, followed by tempering the eggs and finally chilling this delicious dessert, thereby giving all the flavors a chance to meld together.
If you're loving these chai spices, try our Dirty Chai Earthquake Cookie recipe for another winter favorite.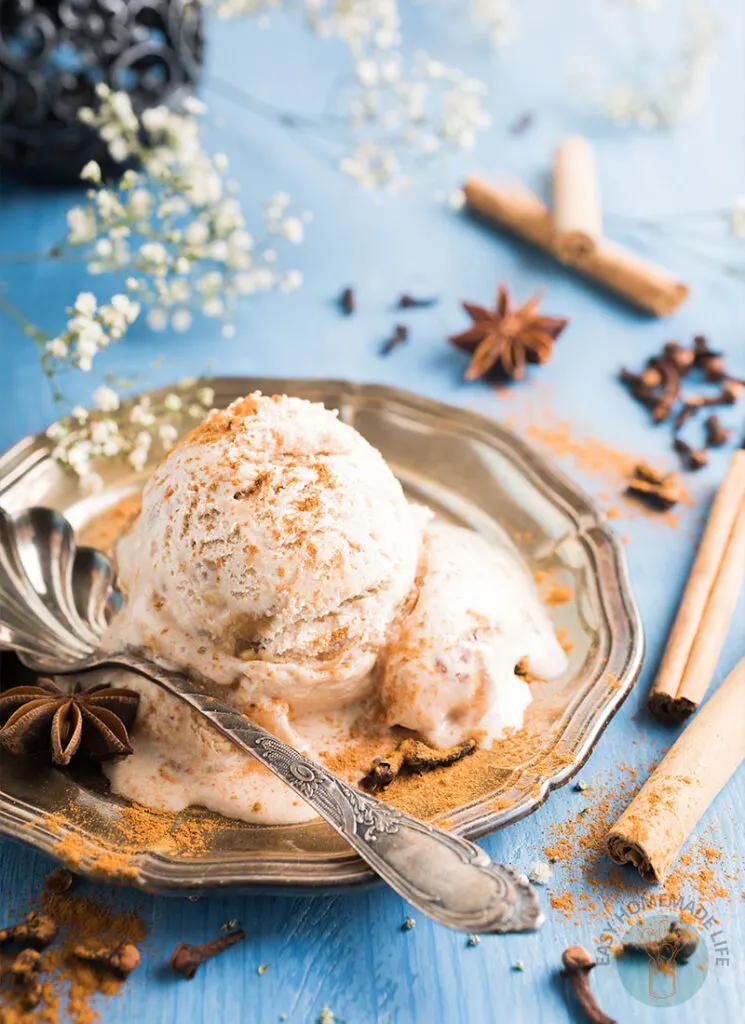 Ingredients
Heavy cream – this is the base of the ice cream
Milk – thins the texture, so it isn't too rich
Ground cinnamon – this, with the following 3 ingredients, are classic chai spices.
Vanilla extract – just a splash for vanilla flavor
Salt – this is important to enhance all the flavors, so don't be tempted to skip the salt.
Egg yolks – whisked egg yolks with the sugar will then be tempered with the hot creamy mixture to create a custard-like consistency.
White granulated sugar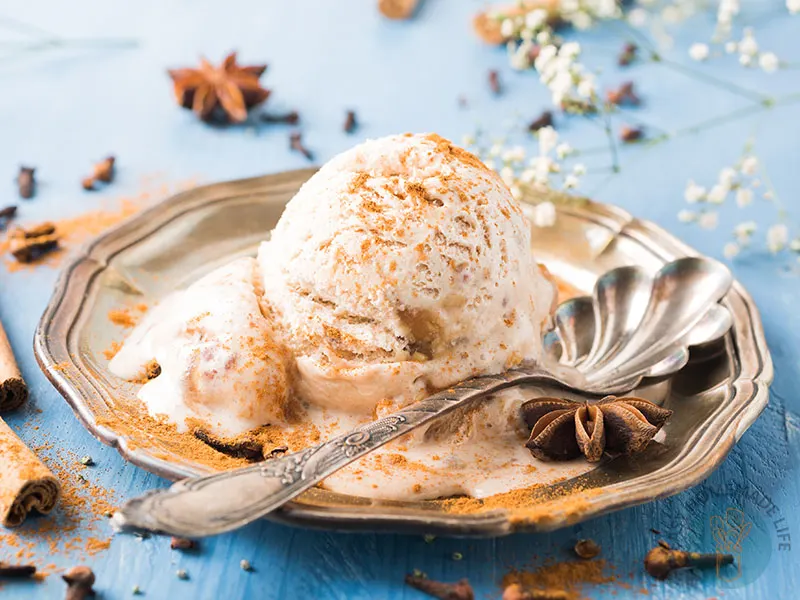 Step-By-Step Directions
Follow these simple directions, and you'll have a batch of rich and delicious chai ice cream in no time.
There are only 20 minutes of active, hands-on time, but the chilling time takes several hours.
Step one: Simmer milk
Combine the cream and milk in a small pot and add the chai spices (ground cinnamon, ginger powder, star anise powder, and clove powder), vanilla extract, and salt. Bring to a simmer, then remove from heat.
Step two: Temper egg yolks
Mix egg yolks and sugar in a mixing bowl and stir until it turns pale yellow. Slowly add one-third of the hot cream mixture into the eggs and sugar while whisking continuously. It's important that you add the cream slowly, so the eggs don't scramble as you add heat. By tempering the eggs, we are forming that thick creamy texture.
Then, return the pot to medium-low heat and whisk the yolk mixture back into the pot with the cream.
Step three: Cook custard
Continue stirring frequently and cook gently, about 5-7 minutes, until a custard forms. An instant-read thermometer will read 170 degrees Fahrenheit. You'll know it's thick enough when the mixture coats the back of your spoon, and a clean line remains in the custard after swiping a finger across the top.
Step four: Strain custard
Strain the hot custard through a fine-mesh sieve into a bowl. Let it cool to room temperature before covering it with plastic wrap and setting it in the freezer to chill for at least 4 hours or overnight.
While waiting for the custard to cool, this would be a great time to clean up. Then, return to the custard and proceed with the next step.
Step five: Freeze ice cream
Finally, transfer it to an ice cream maker and freeze it according to the manufacturer's instructions.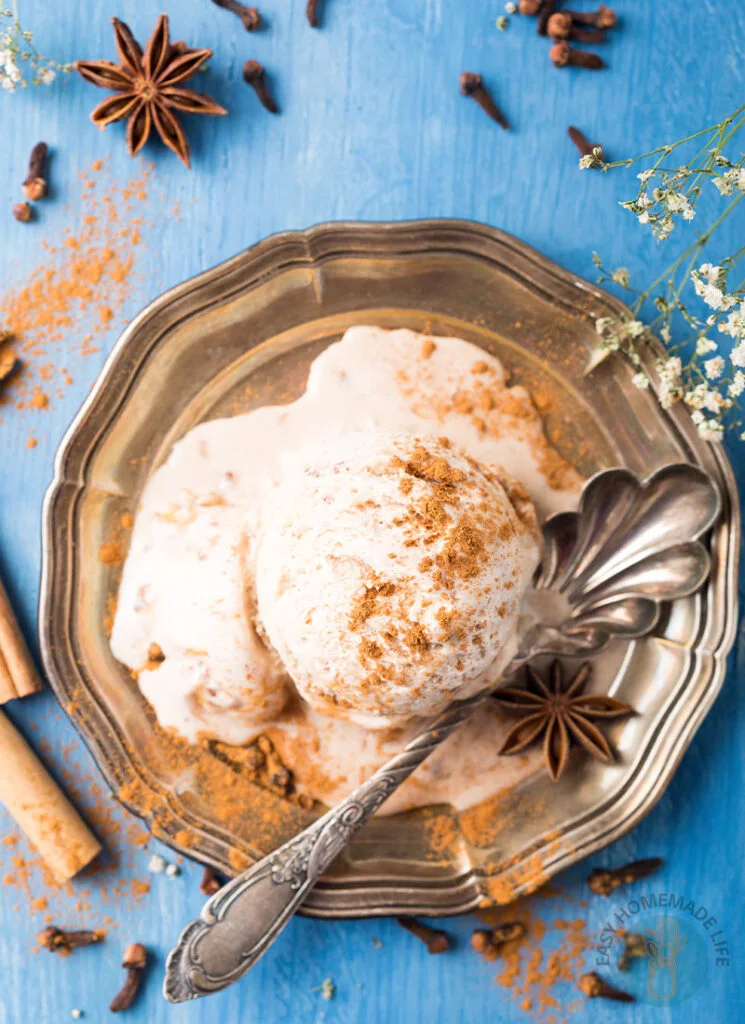 Chia Ice Cream Nutrition
This homemade Chai Ice Cream recipe makes about 1 quart. There are 8 (½ cup) servings.
Each serving contains
333 calories
5 g protein
25 g fat
23 g total carbs
Please note that the nutritional value will change if you substitute ingredients. Use a nutrition app like My Fitness Pal to recalculate and reflect your changes.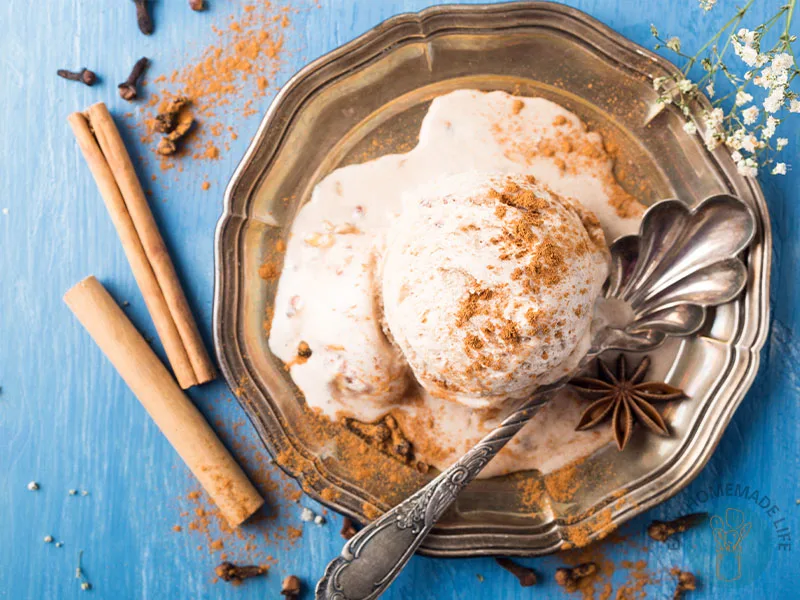 More Easy Homemade Ice Cream Recipes