Make a whipped beard butter recipe so deep-conditioning becomes an effortless part of your or your special man's natural beard care routine. This DIY version is quick and easy, plus you'll save a bunch of money by not buying expensive beard butter from the store.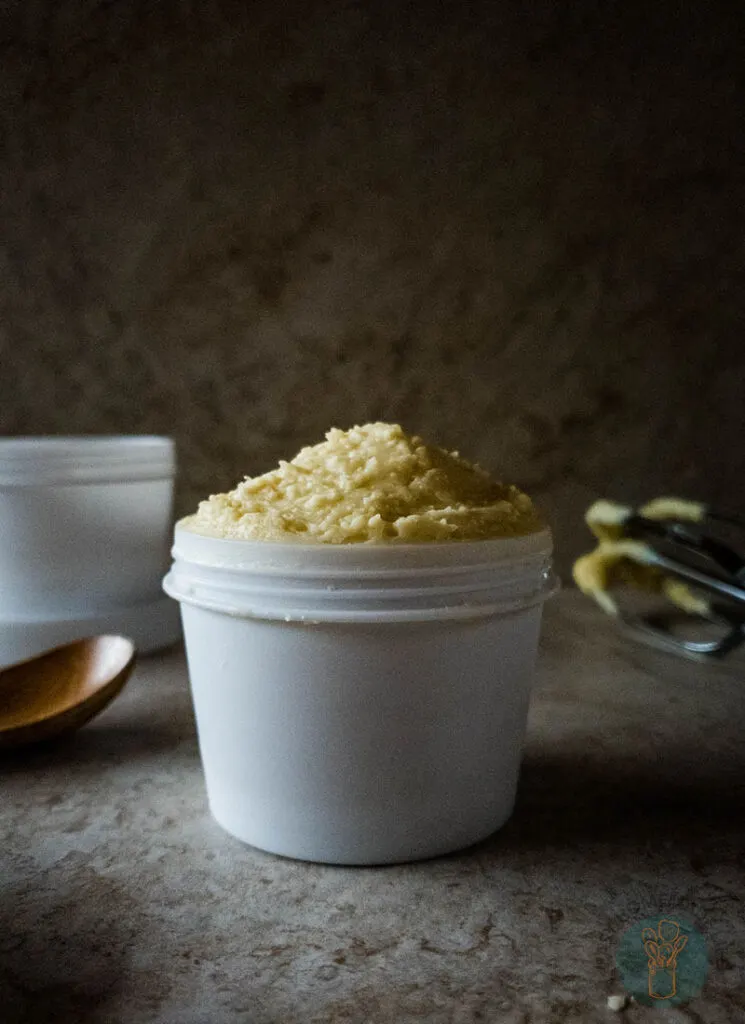 What is Beard Butter?
Beard butter gets its name from using "butter" as the main ingredient. Plant-based butters like cocoa, shea, and ucuuba combine with carrier oils and various essential oils into a topical treatment for beard hair. Typically, this personal care product is wax-free and focuses on deeply moisturizing hair and skin rather than styling. Our recipe here features cocoa butter with coconut and olive oil.
So, why use beard butter? Well, beard butter is best for moisturizing hair and preventing facial skin from becoming dry and itchy. It's not a styling balm, per se, although you can add some significant volume to beard hair by running your fingers through the beard and massaging the butter into the hair.
You'll see there is no beeswax in this recipe. That's because the wax would make this too thick and gummy. Wax is needed for shaping and holding the beard in place, but not for conditioning. This Beard Balm recipe is the way to go if you're looking for a styling option.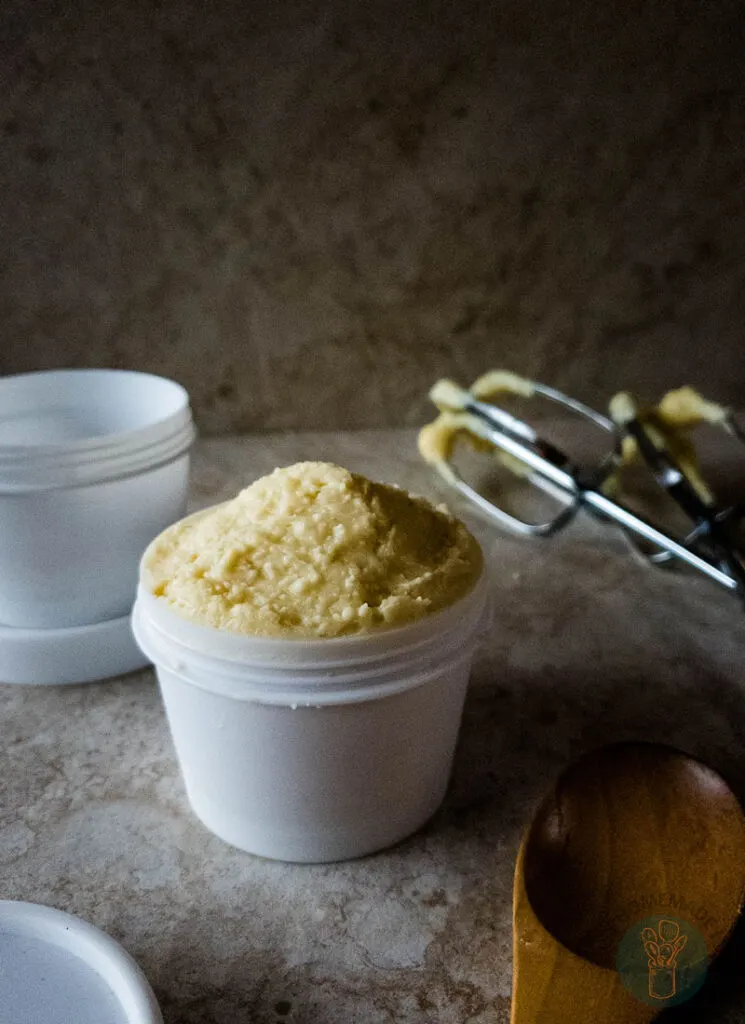 How to Make Beard Butter
Gather five ingredients, and you can make homemade whipped beard butter minutes. This is a nice addition to your routine and also makes a great gift for any beaded boyfriend, husband, father, grandfather, or friend in your life.
Tools
Double boiler
Glass mixing bowl
Spoon
Electric mixer
4-ounce cosmetic container with lid
Ingredients
Cocoa butter – Cocoa butter makes the base of our beard balm because it is a rich source of fatty acids and vitamins that protect the skin from moisture loss and promote smooth, shiny hair (1, 2)
Coconut oil – You'll see coconut oil in many DIY hair care recipes. That's because it's extremely versatile, vitamin-rich, and moisturizing. Perhaps due to the concentration of fatty acids, this oil is a safe and effective way of protecting hair proteins from damage and detangling matted strands. (3, 4)
Extra virgin olive oil – In addition to its own health-promoting properties, a small splash of olive oil softens the texture and makes spreading the beard butter easier.
Essential oil – Cedarwood essential oil is great for men and has a complex woodsy scent. I also add lemon essential oil, which has a bright, citrus scent that invigorates and uplifts the mind.
These woodsy essential oil blends are other manly scents you can use.
Step-By-Step Directions
Melt ingredients. Melt cocoa butter and coconut oil over low heat in a double boiler.
Combine. Add the olive oil and essential oil to the melted mixture in a glass mixing bowl.
Cool. Let cool to a semi-solid state. Cooling may take up to 20 minutes, depending on how hot the liquid is.
Whip. Beat the mixture for 60 seconds on high with an electric mixer.
Store. Transfer to a 4-ounce cosmetic jar with an airtight lid and store out of direct sunlight.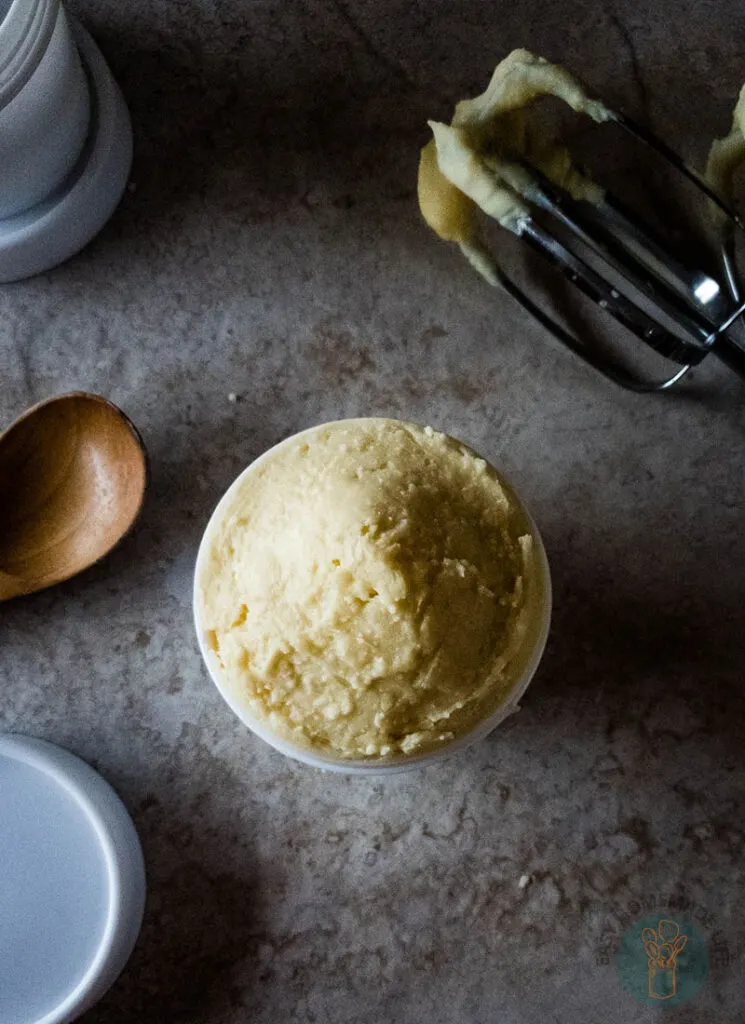 How to Use Beard Butter
How to apply beard butter? Use beard butter in the morning or at night after a hot shower. It is important to pat the beard dry before applying it because otherwise, water will repel the natural oils. Warm the butter by rubbing it between the palms of your hands, then gently brush it into your hair and rub on the skin beneath. See a live demonstration in this YouTube video by Live Bearded.
How much beard butter to use? Start with a small, dime-sized amount of beard butter and adjust from there. Keep in mind a little goes a long way. It's easy to scoop out more or rub the extra onto other parts of your skin. Adjust the amount you need depending on how big your beard is.
Since this recipe uses natural, organic ingredients, most men don't notice adverse effects and are fine with daily use. However, you can overdo it and end up with an oily mess on your hands (and face).
Too much beard butter or applying it too often can cause irritations like red spots, infected follicles, and minor breakouts. If you notice these side effects, take a break until the skin heals.
You are using too much beard butter anytime you notice your beard feeling greasy or wet after application. Use your judgment and scale back the amount used, frequency of use, or both until you find the balance point.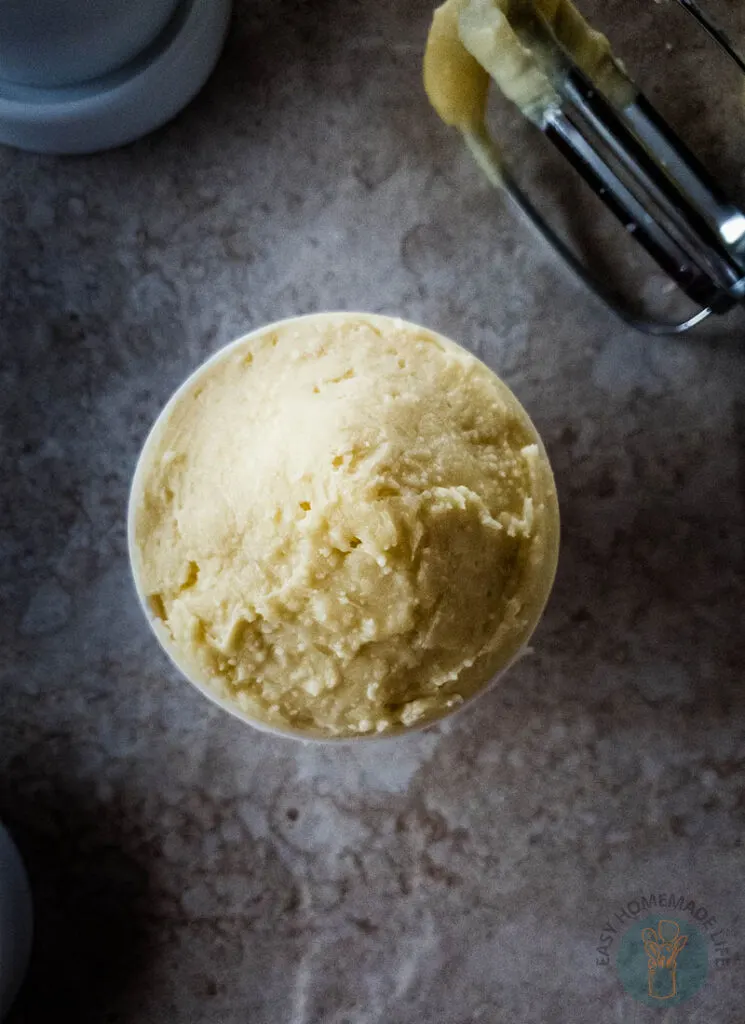 DIY Beard Butter Recipe FAQ
What does beard butter do?
Beard butter will hydrate and volumize facial hair while also nourishing the skin around and under the beard.
What is beard butter used for?
Beard butter deep conditionings facial hair. It will soften and moisturize the beard hair and the skin underneath, keeping everything soft and supple.
When to use beard butter?
Apply beard butter after a hot shower in the morning or evening when your skin is most receptive to being moisturized. You can also apply after just washing your face.
Does beard butter help beard growth?
The natural ingredients in this beard butter recipe will moisturize your hair and skin, thereby creating a healthy environment to encourage optimal hair growth. While the actual growth rate depends on the individual, styling with beard butter will add volume to the beard so you can make it look full and filled in.
Can I use beard oil and beard butter together?
Using multiple beard products in tandem is fine. The combined force of bead oil and beard butter will deep condition hair and leave it extra soft and silky.
You might also like to learn about 7 Natural DIY Hairspray Recipes.