Try making these salt scrub recipes with essential oils for deeply nourishing and exfoliating your skin. Create the spa experience at home at a tiny fraction of the cost. You and your skin deserve a little beauty treatment once in a while.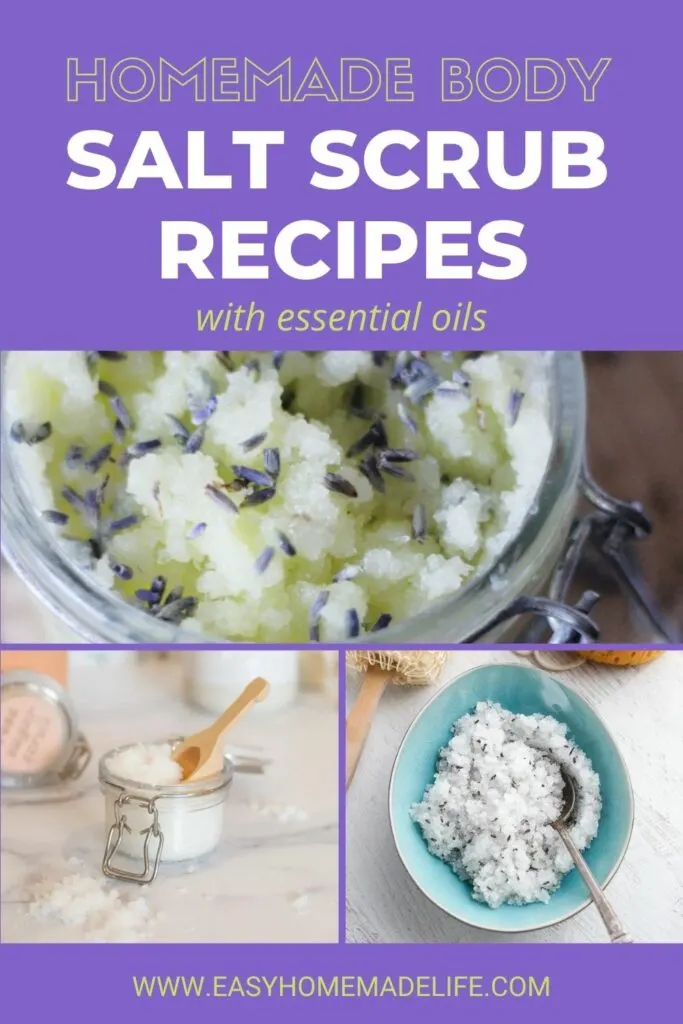 What is Salt Scrub?
Salt scrubs help our body's natural ability to exfoliate due to the coarse nature of salt. By rubbing it on our skin in circular motions, we help slough off the build-up of dead skin cells.
Salt generally contains many minerals, but in particular, Epsom, Himalayan, and sea salt are good choices. These minerals plump up your skin and help with hydration.
Furthermore, salt scrubs detoxify the skin. Salt cleanses deeply and draws out impurities. The exfoliation process also stimulates the lymphatic system, which helps us by flushing out toxins. (1, 2, 3)
Plus, salt scrubs will leave your skin soft and supple!
The essential oils have added benefits, too. For example, lavender can help repel mosquitos and other pesky insects. Look at each post to learn more about the possible benefits of different scents.
How to Make Salt Scrub
Caring for your skin with homemade body salt scrub recipes is surprisingly simple.
In general, it's a process of combining oil with salt. Olive oil and coconut oil are typical. Salts could be Himalayan, Epsom, or sea salt.
Essential oils add another dimension of enjoyment. Rose, lavender, lemon, and thyme are sweet aromas in your home spa. You can even consider using a unique woodsy essential oil blend.
Store your scrub in an air-tight container so it will last for about a year! Then, label it with a Cricut machine or just your favorite pen.
Don't happen to have salt on hand? Give our Lavender Sugar Scrub a try instead, and your skin will still thank you!
How to Use Salt Scrub
Turn your shower on as hot as you like. The steam from your shower will help open the pores in your skin.
Scoop a small handful of salt scrub with your fingers or a small spoon, then rub it on your skin. Encourage circulation by working in large or small circles, scrubbing toward your heart.
Give yourself a little foot rub while you're at it. You could even try rubbing it into your scalp and removing dandruff.
Rinse off in the shower, finish by applying your favorite lotion bar or moisturizer and enjoy the satin feel of your skin.
DIY Salt Scrub FAQ
Can you use sea salt scrub on your face?
The sharp edges of salt can be abrasive, so it's best not to use it regularly on the face. Sugar scrubs are a better, gentler choice for the face.

Which is better, sugar or salt scrub?
Salt scrubs are great for exfoliating and smoothing rough skin. But, if you have sensitive skin, you may find the sugar scrub to be a sweeter choice. Usually, salt scrubs are best for the body, while sugar scrubs are an occasional exfoliant for the face. For example, sugar scrubs are great for your lips!

How often should I use salt scrub?
If you are new to exfoliating with salt scrubs, begin using them once a week. If your skin feels fantastic and does not show signs of irritation, increase use to two or three times a week.
How long do homemade salt scrubs last?
Salt is a preservative. If no water gets in your scrub, a typical salt scrub will last anywhere from one to two years without going bad. Make sure to store your salt scrub properly in a sealed container like a mason jar.
More Easy Homemade Beauty Ideas
If you love the "spa experience" these homemade beauty treatments provide, I know you'll also like this DIY bath confetti.