Check out these great kitchen organization hacks for how to organize a small kitchen without a pantry. If that's your house, you'll love our list of simple and cheap tips. It's much easier to whip up meals when the heart of the home is neat and tidy.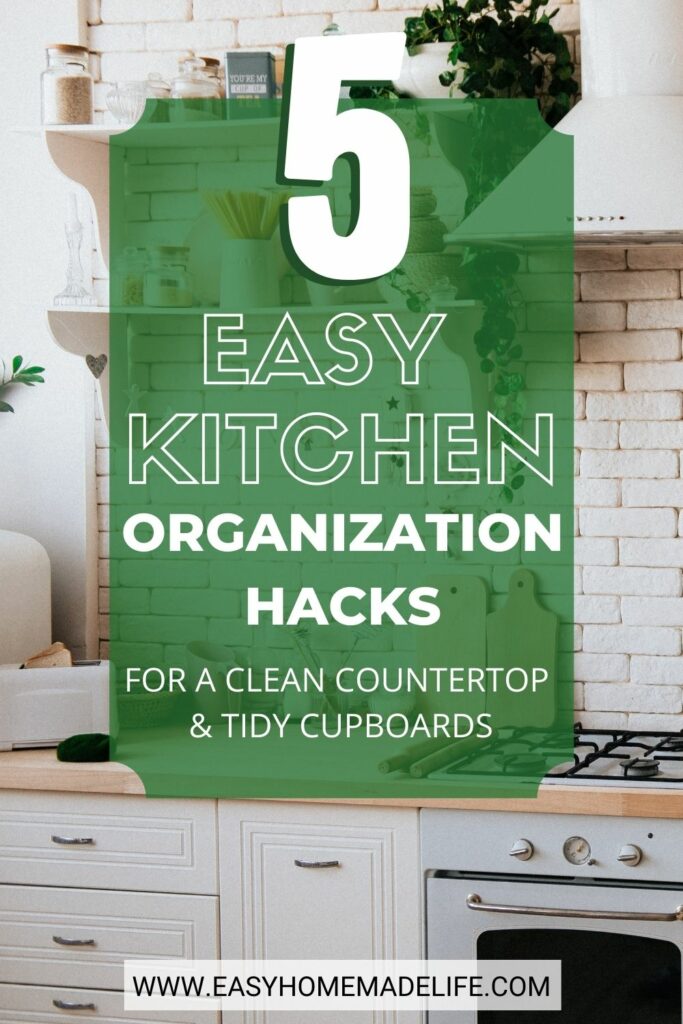 Simple DIY Kitchen Organization Ideas
I practically live in my tiny kitchen and often stand there doing dishes while dreaming of the remodel we'll do "one day." On that fine day, I'll have a mega pantry with sliding drawers in sliding drawers. Until then, I have to make the best out of what I've got, which means taking the kitchen by the horns and keeping that beast organized.
These organization hacks and DIY kitchen decor projects are quite handy for making the most out of your kitchen. Ultimately, they will save you time and money, which means less time searching for the baking soda and more money saved from happily eating at home.
From rethinking the space above your cabinets to organizing what is inside them, you'll feel inspired and see your kitchen with new eyes. This roundup provides inspiration from organizing the large scale down to the nook and crannies. You'll definitely get some AHA moments as in, "I never thought of storing my reusable bags like that. Brilliant!"
After a quick trip to JOANN! or your local craft store, bring home essential items for revolutionizing your kitchen experience. For example, adding command hooks inside your cabinet door or lining the back wall of your cabinets with bright paper are just two cheap transformative hacks! You can also bring light and beauty to unused crevices by thoughtfully placing mirrors, wall stickers, or twinkling lights in strategic areas.
Take some ideas and run with them. It's your kitchen, lady. I want you to have the best experience in it possible.
More Easy Home Organization Ideas