Make DIY bath confetti at home with rice paper by brushing on liquid soap with some color and essential oils. Add a handful to a bath and delight adults and children alike. It's a great homemade gift idea and a thoughtful touch to add to any handmade spa gift basket, baby or wedding shower favors, and more!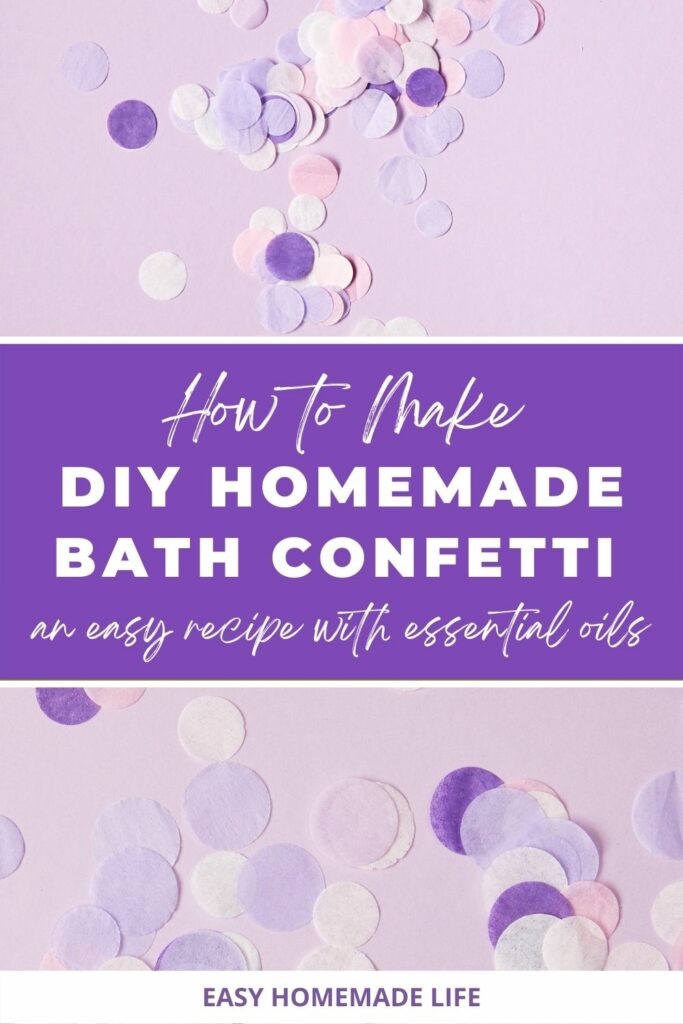 What is Bath Confetti?
Bath confetti is a purely decorative and fun addition to any bath made from small punched confetti size pieces of dissolvable paper or soap paper. It adds a splash of color and an enjoyable scent to a hot bath before melting away in the water.
Used as a popular incentive for helping children learn to enjoy bath time, this whimsical bath treat doubles as a special gift for adults too. Busy Girl Bath Bakery sells alluring scents like Strawberries and Champagne, and Coffee Mocha. I bet you would like to relax in a bath with these! However, if you're like me, the top dollar price tag is limiting. Let's explore this easy homemade version instead.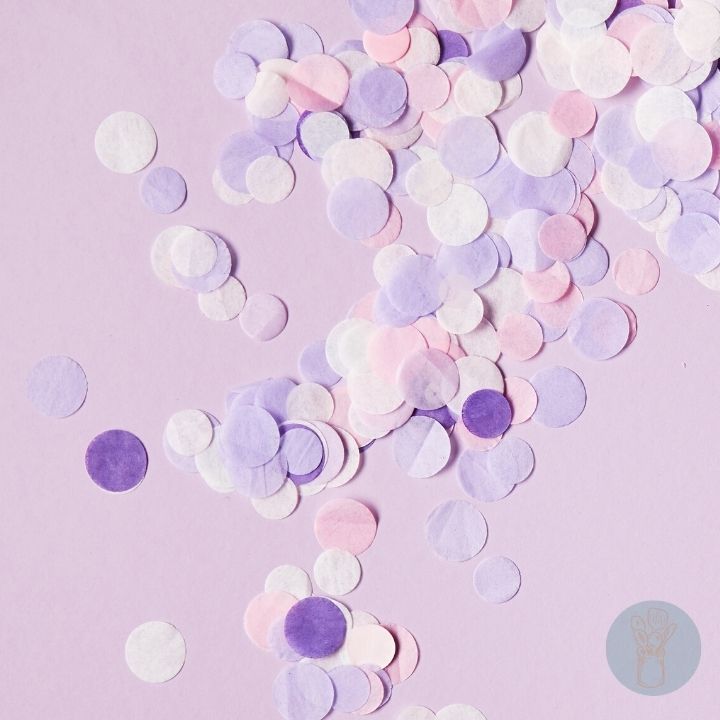 How to Make Bath Confetti
We will make a simple bath confetti recipe with just a few materials. Wafer paper and liquid Castile soap are the essential two, and if you want to add color or scent, you'll need dye and essential oil.
Let the sheets dry after you brush them, punch out the shapes, and then you're done! From start to finish, the whole process takes a few hours (that includes passive drying time), however there are only about 20 minutes of active hands-on time.
Are you ready for a new favorite homemade spa day treat? Let's start!
Materials
Depending on what you choose as confetti, there are a few different ways to make this at home. I've seen bath confetti with soap (scraps or otherwise) and with dissolving fabric stabilizer. For me, the first is too complicated, and the latter introduces some potential chemical ingredients to the bath I'd rather avoid.
On the hunt for an alternative, I found wafer paper, also called rice paper, which is thin enough and water soluble, so it melts away without a problem. Plus, this is a starch-based material made from potato or rice. Therefore it's all natural, eco, and biodegradable. Furthermore, it's even edible! So to me, rice paper seems like a good choice.
Rice paper – Pick it up from a local cake decorating supply store or order wafer paper online from ETSY and bring home. This paper is very affordable; even with shipping it's, only less than $1 per sheet!
Liquid Castille soap – Liquid soap is the medium which carries dye and essential oils. You don't need much for a single sheet of confetti. I recommend unscented liquid Castile soap.
Natural dye – A few drops of dye make the confetti bright and colorful. You can leave the paper plain white if you like, but I think the color is delightful. Natural soap dye gives the best color, so pick your favorite hue.
Essential oils – Add your favorite essential oils or skip them entirely if you want unscented confetti. I think the smells are the best part and enjoy citrus tones of lemon and orange with a few drops of rosemary. You can also add lavender, bergamot, or any blend you like most.
For a luxurious vanilla aroma while you enjoy your bath, be sure to set your diffuser with our Vanilla Diffuser Blend (Sugar Cookie Essential Oil).
Tools
Tray or cutting board – You'll lay the paper down here and brush the mixture across it. It's possible that you might get dye on it by accident, so pick something craft-worthy that you don't mind getting stained.
Small bowl – Choose a small bowl for each color you want to use. This is where you mix the soap with colorant and essential oil.
Sponge paint brush – Use a simple sponge paint brush to soak up the soap and drag it over the paper.
Wire cooling rack – Your trusty cookie rack will be perfect for the job!
Paper punch – Feel free to customize bath confetti with your favorite shape. I think this 1-inch circle punch is great for large pieces. Also, ETSY has a budget-friendly offer on shape paper punches if you don't already have some in your craft collection. Hearts are adorable, as are stars and flowers!
Jar for storage – Recycle a small glass or plastic storage jar with a lid to keep the finished confetti in until you're ready to use it.
Step-By-Step Directions
Once all your materials and ingredients are ready, squirt three tablespoons of liquid Castile soap into a bowl. Add 20 drops of essential oil and up to 4 drops of dye, depending on how deep of a color you want. Mix well!
Next, lay the wafer paper on your tray or board and paint it with this soap mixture. Dip a foam paint brush in the liquid, dab it off, and drag the tip from one side of the paper across to the other. Flip the paper over and continue on the other side. Each pass should be fairly thin; continue until the paper is saturated. Use multiple layers as needed.
Transfer the painted paper to a cooling rack and let it dry for a few hours.
Then, return to your craft station and punch out confetti shapes with a hole punch or craft paper punch in the shape of your choice! This is the part most fun part, which is great for children too. Let them stay busy and practice fine motor skills at the same time. Continue cutting until all the paper is in small pieces.
Finally, scoop up your DIY confetti and store it in an airtight container until use. Don't get a single piece wet before adding it to the bath! If you like, add a decorative label and store the jar away for later.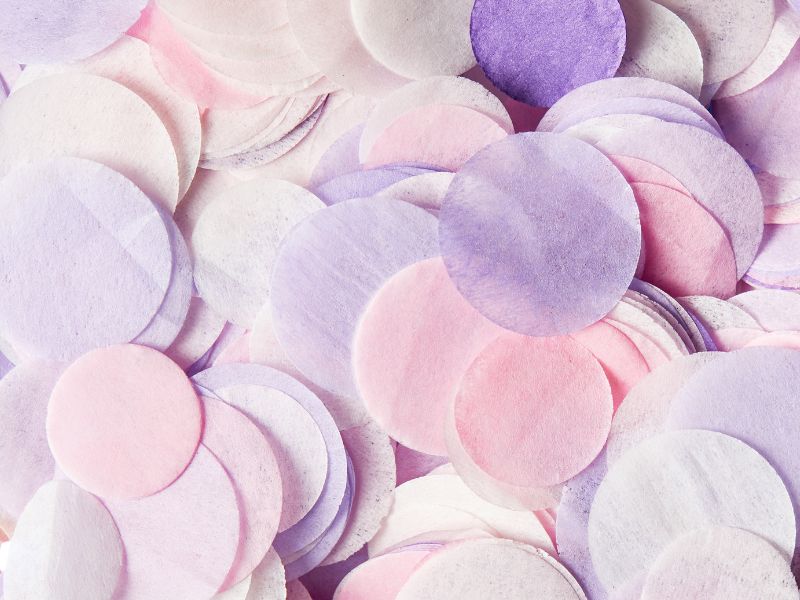 How to Use Bath Confetti
Add the bath confetti under hot water as it fills the bath and you'll get bubbles. Sprinkle it over the surface and it will dissolve slower while floating around and smelling nice. Add as much or as little as you like.
In addition to enjoying yourself, bath confetti makes an easy and affordable gift too! I'm sure anyone would like this because it's so fun and completely free from chemical dyes and synthetic fragrance oils.
Here are some occasions where bath confetti is the perfect gift:
Mother's day
Bridal shower
Baby shower
Teen girl birthday
Christmas, as a stocking stuffer (you'll have to use a snowflake craft puncher, of course!)
More DIY Spa Day Recipes