Is your little one transitioning from a baby to a toddler? That's a reason to celebrate! Make your party memorable yet simple with these easy homemade 1st Birthday Party Decorations.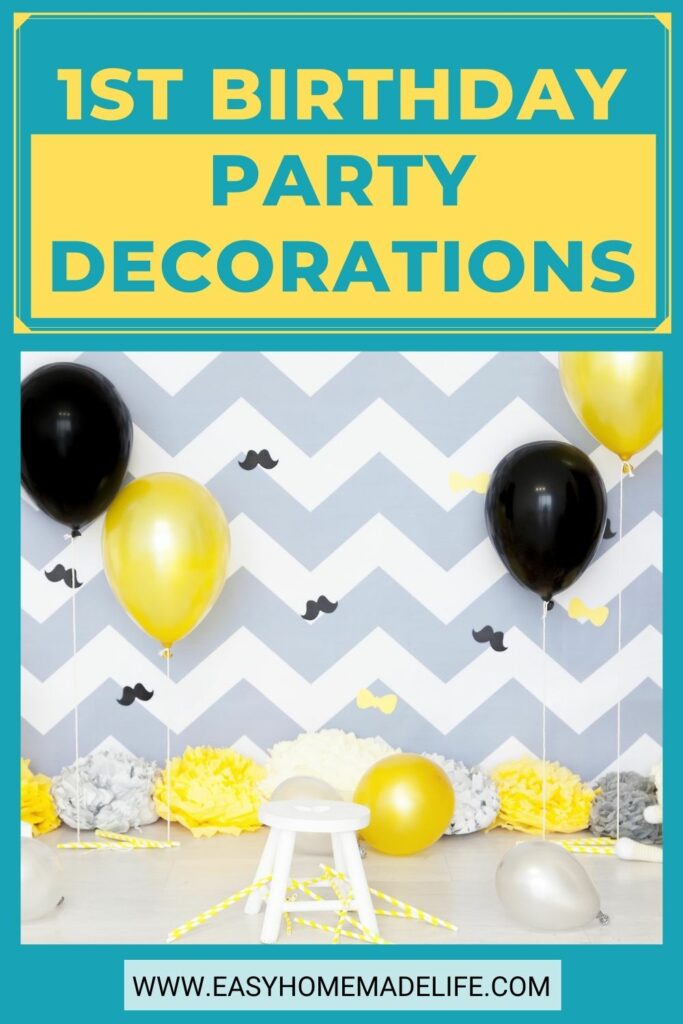 Easy DIY Birthday Party Decorations
Mama, this last year has been full-on, hasn't it? Having a baby is so precious and watching the sweet dear grow is even better.
Let's celebrate and commemorate this momentous occasion!
Decorations are pretty essential since they give a vibe to the party. But what's more important is that everyone has fun at the party, MAMAS INCLUDED.
That means prep has got to be simple for us. These easy, DIY decor ideas help us liven up the space without burning us out.
How to Decorate for a Kid's Birthday Party
Give yourself as much time as possible to prepare for the party. Start by looking around your house for supplies you already have. Free is best. Then, gather whatever other materials you need from the thrift store, craft store, or online.
Craft, cut, glue, and blow up balloons with enough time to clean up and catch your breath after.
Make your home a clean slate, as much as possible, and begin the decorating process the day before. You may want to decorate your entrance, the cake table, and the activity space. Balloon arcs are an easy project you can add anywhere!
Do what you can and enjoy the process. Remember: it's as much a party for you as it is for your baby. Ahem, one year old.
Once the party is over, pack away the best of the decor for the next baby down the line. If you have room in your garage, storing plastic bins with party gear is a great way to save things for future parties.
Easy Homemade Birthday Party Decoration Ideas
Set the stage for countless photo ops of your baby turning one! These simple birthday party decoration ideas for kids at home will make the party colorful and engaging for all. Your boy or girl will be in big-eyed wonder, and you will have done it all without the stress.
More Homemade Kids Birthday Party Ideas