This lavender sugar scrub wraps up all the delicate, floral, and earthy notes of lavender. It's quick, easy, and guaranteed to make your skin soft and supple, even if cold weather and endless dishwashing have dried your skin out. Pamper yourself or treat the women in your life with a beautiful DIY gift. You only need 4 ingredients and five minutes!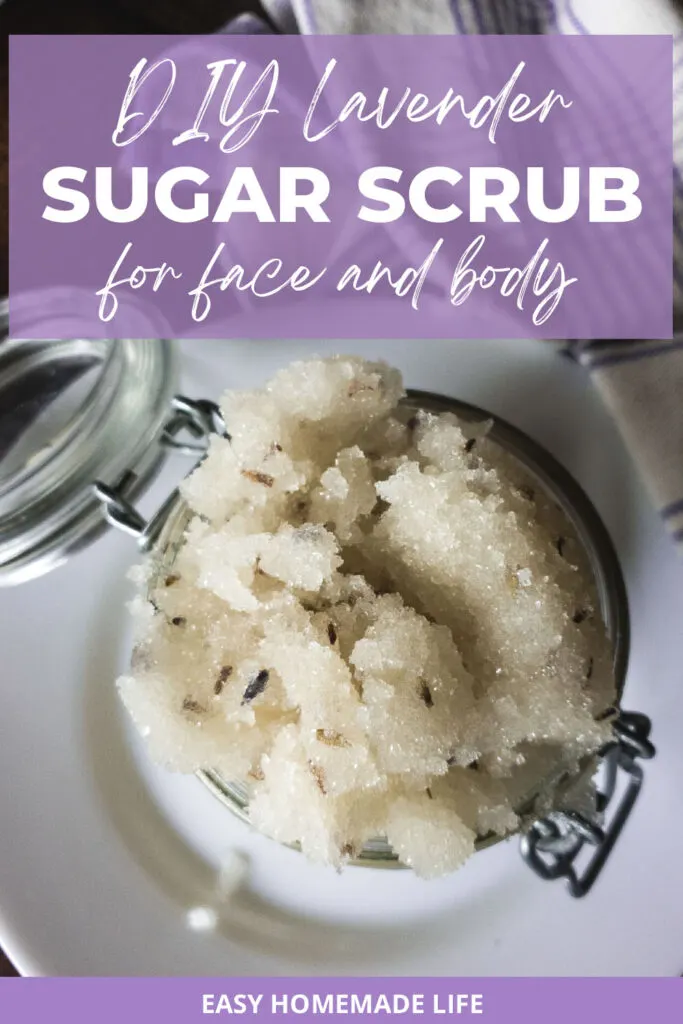 DIY Lavender Sugar Scrub
As busy moms, we deserve a break from the everyday chaos. And what's more relaxing than a relaxing lavender sugar scrub to ease your worries away? But store-bought lavender sugar scrubs can be downright expensive. As popular as tree hut lavender sugar scrub is, it's hard to justify on a budget. So why not make your own? You'll save a lot of money in the process.
You'll also avoid questionable ingredients and artificial fragrances. According to the Journal of Air Quality, Atmosphere & Health, artificial fragrances are one of the top causes of indoor air pollution. Artificial fragrances have also been linked to migraine headaches, asthma attacks, respiratory problems, skin irritation, and even neurological problems such as autism.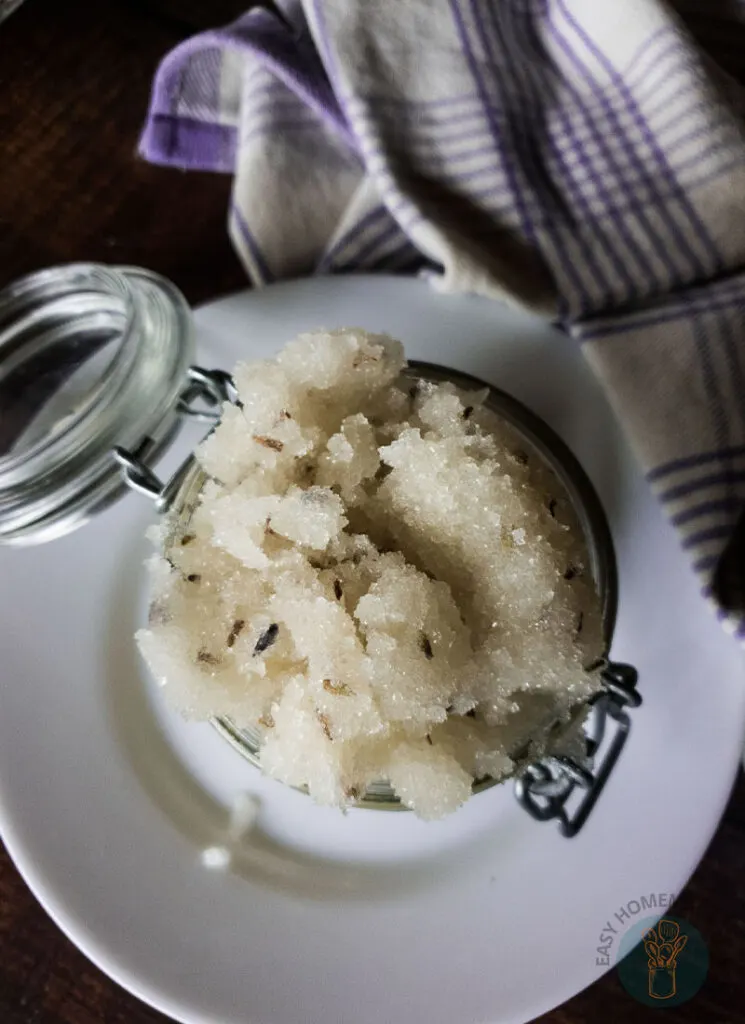 How to Make Lavender Sugar Scrub
All you need to do is gather 4 ingredients, and you're halfway to making a lavender body scrub in just 5 minutes!
With this DIY lavender sugar scrub, you'll enjoy the benefits of pampering yourself while keeping your house toxin-free, as this sugar scrub is made using all-natural ingredients from your kitchen and medicine cabinet. Best of all, it's so easy to make that you can make it in a pinch!
Another thing you can do is whip up a batch and gift it to the women in your life. You can give it to your close friends or give it to your mom on Mother's Day. You could even give it to your kids' teachers. All you need to do is put your lavender sugar scrub in a pretty Mason jar and add a twine bow. If you're feeling extra creative, you can make a printable tag, use a hole puncher to punch a hole on top, and fasten the tag with your twine bow.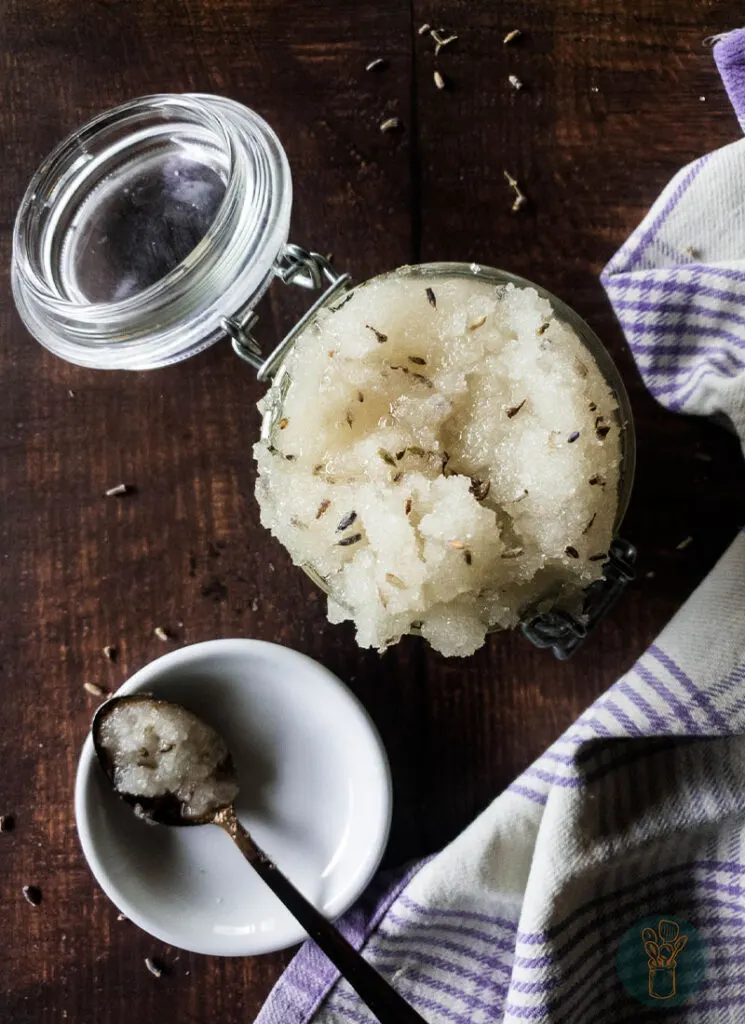 Materials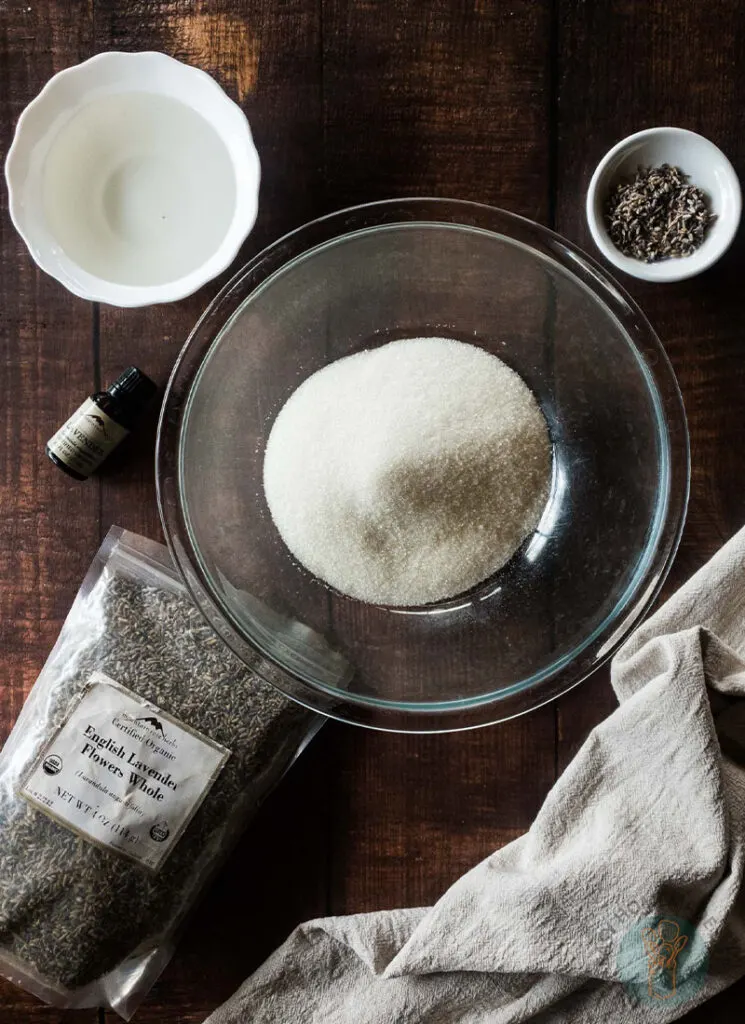 Ingredients
White sugar – White sugar acts as an exfoliant. Unlike salt, it's gentler on the skin. So aside from making an excellent lavender body scrub, this scrub is gentle enough to use on your lips and face. If you don't have white sugar on hand, you can use brown sugar instead, as it makes a great substitution. As an added bonus, brown sugar is softer on the skin than white sugar. So it's ideal for sensitive skin.
Coconut oil – Coconut oil is an incredible moisturizer that treats dry skin and eczema. And it's great for your skin. Coconut oil may kill harmful micro-organisms that cause skin infections, reduce inflammation and help treat adult acne (gotta hate that adult acne!) Since coconut oil is solid at room temperature, you'll want to melt your coconut oil first.
Lavender essential oil – Lavender essential oil is what gives this lavender body scrub its gentle, earthy notes. But aside from its lovely smell, lavender essential oil is also good for your skin. It treats dry skin and soothes eczema. So it's great for winter use when the weather tends to be drier. And it also helps even out skin tone and helps prevent wrinkles.
Besides the benefits for your skin, lavender essential oil has other important health benefits. Lavender essential oil helps you feel more relaxed, and it can help you sleep better. So you're better able to manage your busy mom life with less stress and more energy!
Dried lavender flowers – You can leave out the dried lavender flowers if you don't have any on hand; however, I highly encourage you to add some. That's because they add a beautiful splash of color and add to the scent. With the flowers, your lavender flower sugar scrub smells like a field of French lavender!
Wondering where to get the ingredients? You can find them at natural/specialty food stores, or you can shop for them online using the affiliate links I provided above for your convenience.
Step-By-Step Directions
Follow these simple directions, and you can't go wrong!
In order to make this lavender sugar scrub, start by adding your ingredients to a mixing bowl and mix thoroughly until everything is well combined. Then using a scoop, transfer your scrub to your storage jars, tighten and store it in a cool, dry place.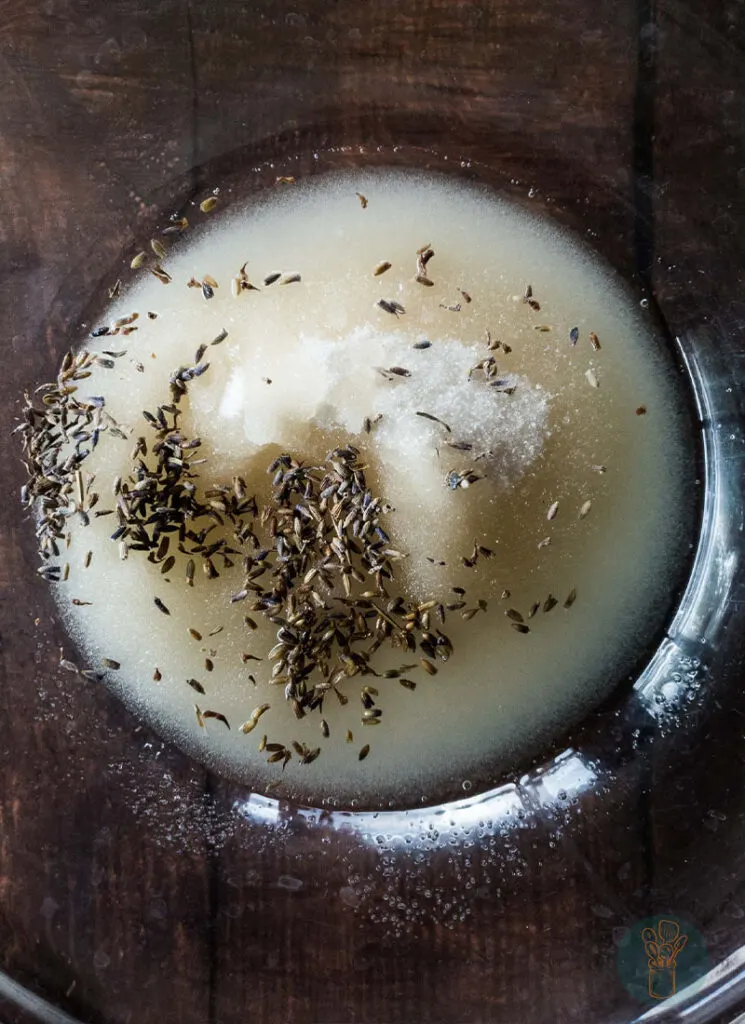 Step one: Combine sugar and oil in a medium mixing bowl. Add essential oil and dried flowers.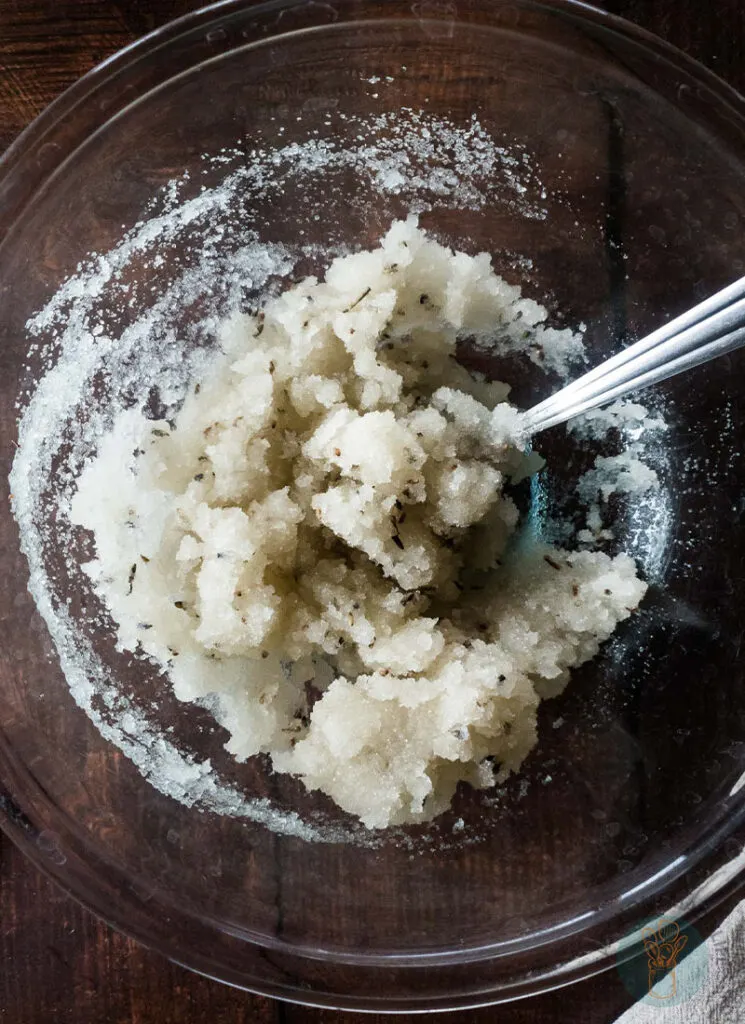 Step two: Mix well until thoroughly combined.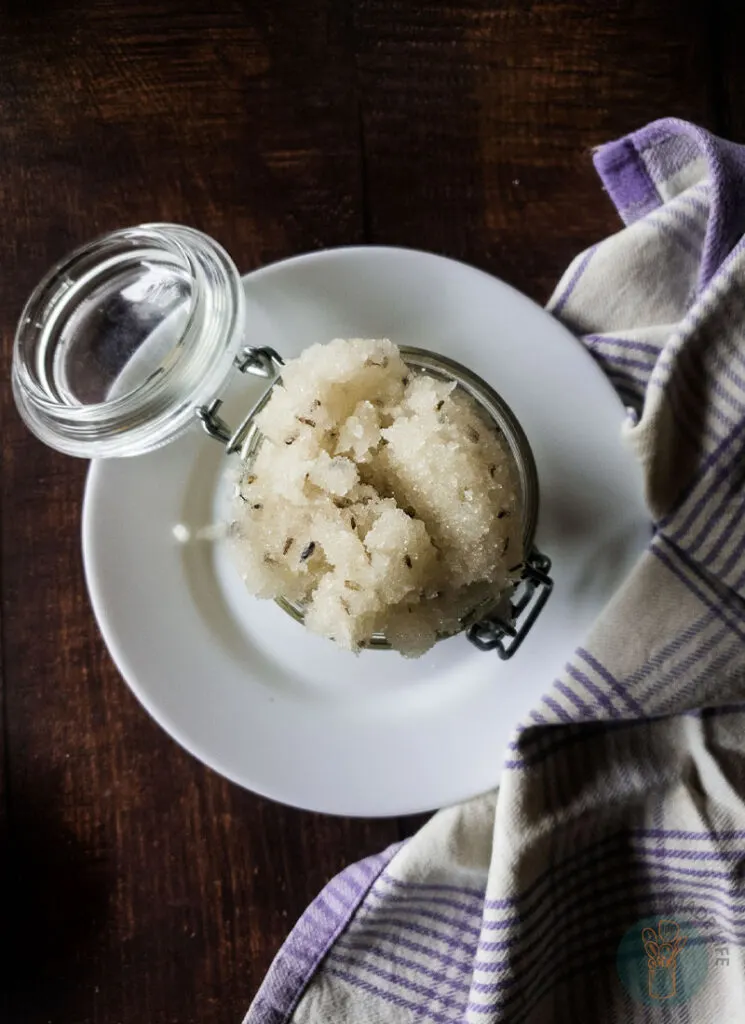 Step three: Transfer the scrub to storage jar(s) and tighten the lid so air and water can't enter. Finally, store it under the bathroom sink, in a drawer, or in the corner of the shower. You can also give it to a friend!
How do You use Lavender Sugar Scrub?
You can use lavender scrub in a variety of ways. For instance, you can use it as a lavender body scrub or as a lavender facial scrub.
If you're using it as a lavender body scrub, use a spoon to scoop out a bit of the lavender sugar scrub. Don't overdo it – a little goes a long way. Then scrub it on your feet, hands, or any other part of your body that needs some softening and extra TLC. Then let the lavender sugar scrub rest on your skin for a few minutes to soak in. Finally, rinse your skin, and use a soft towel to dry up.
If you're using the lavender sugar scrub as a lavender facial scrub, start by rinsing your face with warm water. Then using your fingers, scoop out a small amount – about the size of a quarter should be enough. Next, gently rub it in using small circular motions. Finally, rinse your face with warm water and use a soft towel to pat dry.
When using use the lavender sugar scrub on your face, it's a good idea to test a small area first. That's because facial skin is quite sensitive, so you want to make sure you don't have nasty surprises like skin irritation when you use the scrub on your face.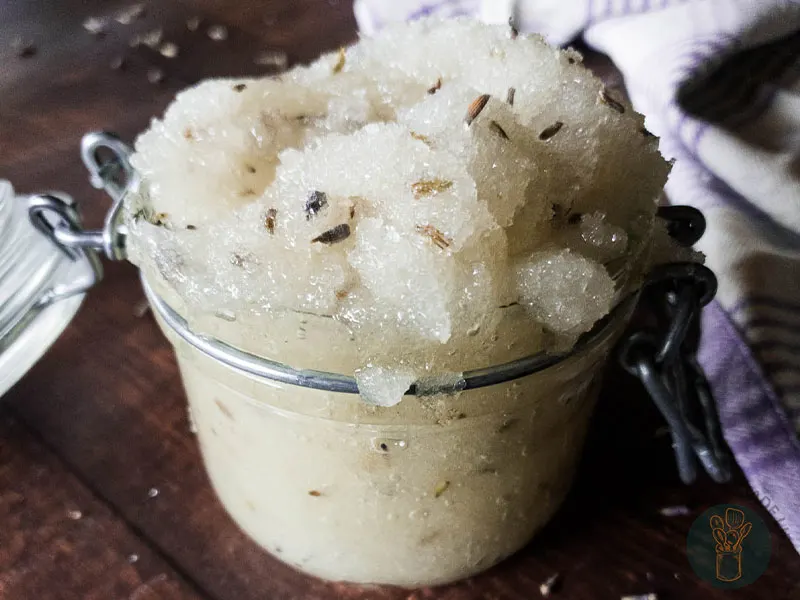 Homemade Lavender Sugar Scrub FAQ
What is lavender sugar scrub good for?
Lavender sugar scrub is good for your body and mind. The sugar helps exfoliate your skin by removing dead skin cells making your skin look brighter. If done regularly and over time, it can also prevent breakouts and increase collagen production. This helps reduce fine lines and keeps your skin looking amazing.

Meanwhile, coconut oil is a great natural moisturizer. And since it contains antioxidants, it can prevent skin aging due to free radical damage from UV rays and pollution. Lavender essential oil adds a soothing scent, calms your mind, and provides benefits for your skin, such as evening-out skin tone.

Can I add lavender buds to a sugar scrub?
Yes, you sure can! And I will show you how in this lavender flower sugar scrub recipe.

Do you have another sugar scrub recipe that you'd like to add some lavender buds to? That's fine. Simply start with 0.5 teaspoon of lavender buds per 4 ounces or one-half cup of body scrub and mix well.
How to make lavender sugar scrub without coconut oil?
There are so many alternatives to using coconut oil, the possibilities are endless! For instance, if you can't use coconut oil, due to a coconut allergy, you can use babassu oil. It has the same creamy texture as coconut oil. It's also solid at room temperature and is similar in appearance and texture. And it moisturizes the skin well, so it's great for dry skin. Best of all, it has a light nutty smell similar to coconut, so your lavender body scrub has a light coconut smell.

Alternatively, you can substitute with sweet almond oil, olive oil, or other neutral-smelling liquid oil.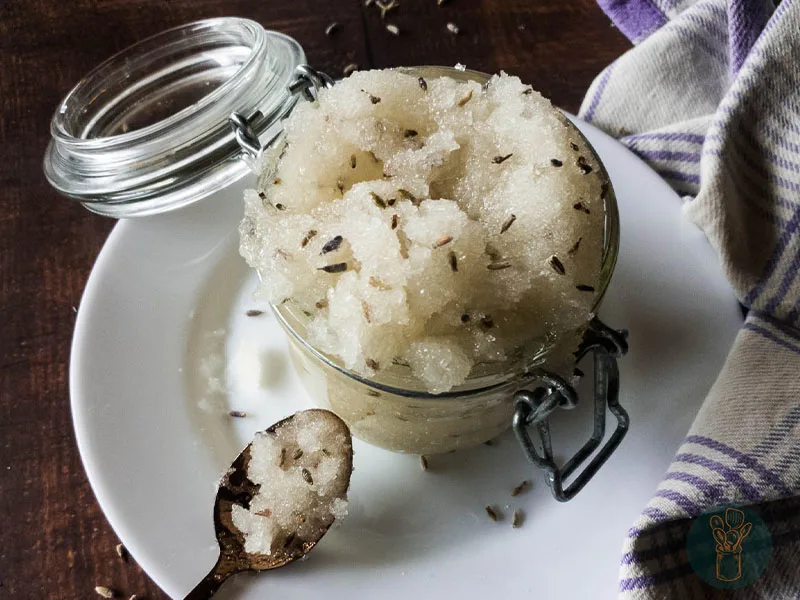 More DIY Body Scrub Recipes