This homemade Whipped Sugar Scrub Recipe will leave your skin feeling soft and supple and wondering why you did not make it sooner! This easy recipe has five natural ingredients and will whip up in minutes. Gift a jar to your loved one for any special occasion, including holiday gift-giving. A shea butter scrub made with love is always a welcome surprise!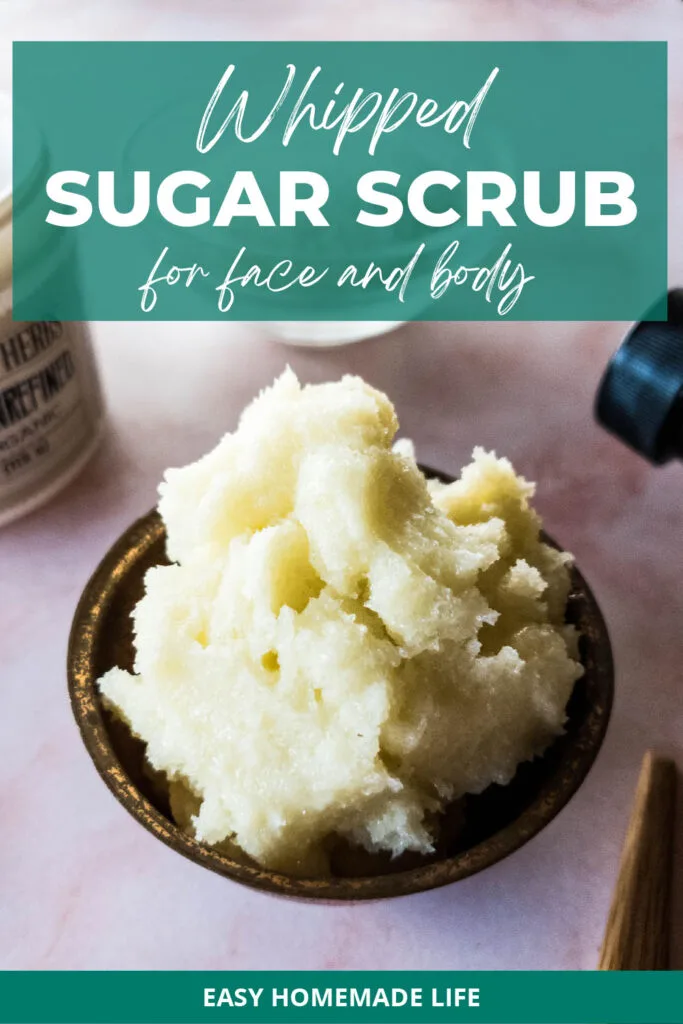 What is Whipped Body Scrub?
Whipped body scrub functions as a whipped exfoliating scrub. We whip a natural fat, in this case shea butter with olive oil and coconut oil, as the base for the recipe. The texture of these fats changes into a luscious and fluffy consistency once it's whipped. [1]
Once the butter is whipped full of air, we mix in the sugar. This process results in a thick scrub that is extremely moisturizing and great in your personal skin care routine. The sugar exfoliates the skin by removing the outer layer of dead skin cells while the oils and butter restore moisture which leaves the skin very smooth and well moisturized.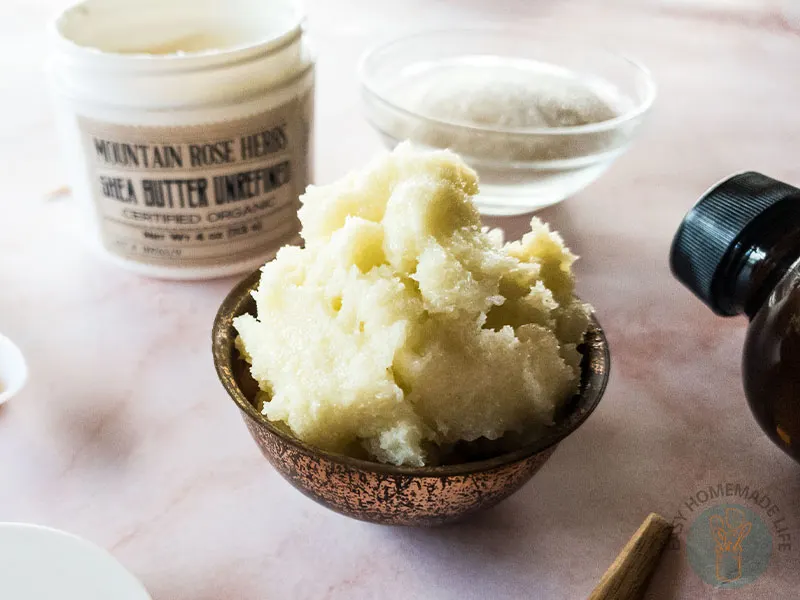 Why use a DIY whipped sugar scrub?
There are a few reasons you might enjoy this whipped body scrub recipe.
It's a great way to keep pores unclogged and prevent ingrown hair.
Did you know that moisturizers absorb more thoroughly after the skin is exfoliated? Restoring moisture gives the skin a younger appearance. And who doesn't want that?
The homemade scrub is cheaper and better for you (made with all-natural ingredients!) than store-bought scrubs. Your revitalized hands, body, and feet will thank you for the TLC!
Since it is simply too good not to share, a small shea butter body scrub jar makes the perfect homemade gift for mom, family, friends, and even teachers!
Here's a quick tidbit for those applying sunless tanner before removing dead skin cells. Basically, exfoliate first. Most brands recommend exfoliating 24 hours prior to applying the tanning solution because, if not, the tan can fade unevenly as dead skin flakes off, thereby leaving you with patchy-looking skin. Yikes! This scrub is your perfect solution for even healthy skin.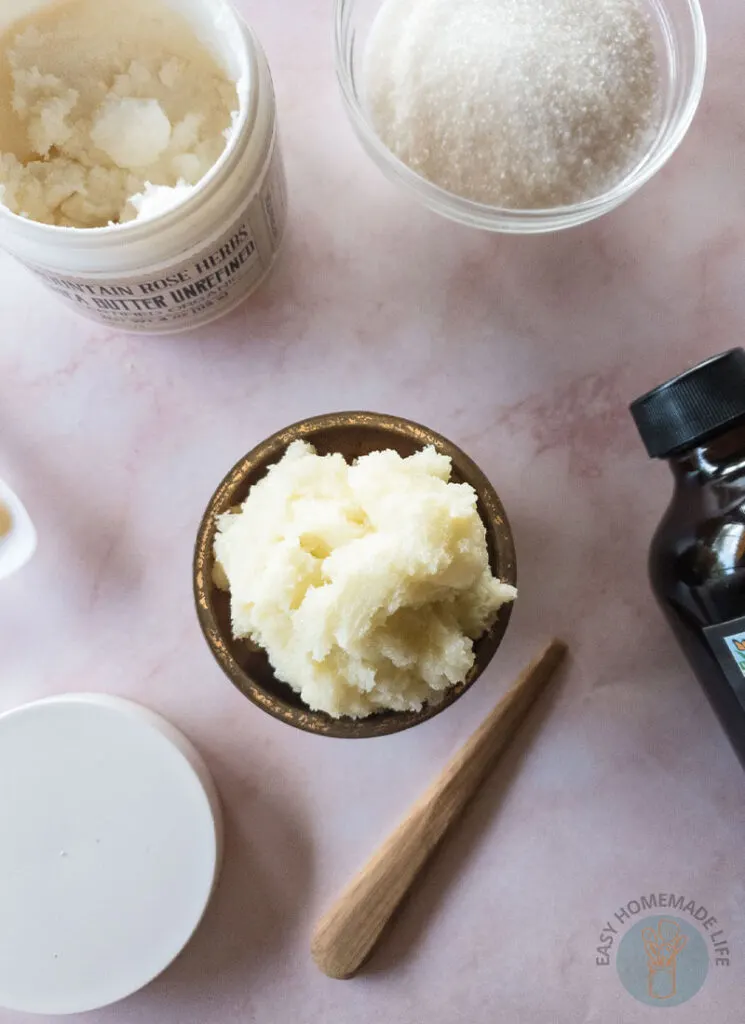 How to Make Whipped Sugar Scrub
Gather five ingredients and a few items, and you're halfway to making a moisturizing shea butter sugar scrub in minutes! You may want to make an extra batch to share!
Ready to learn how to make whipped body scrub? Let's dive in.
Materials
Measuring cups and spoons
Medium mixing bowl
Electric mixer
Spoon or rubber spatula
2 (4-oz) jars with lids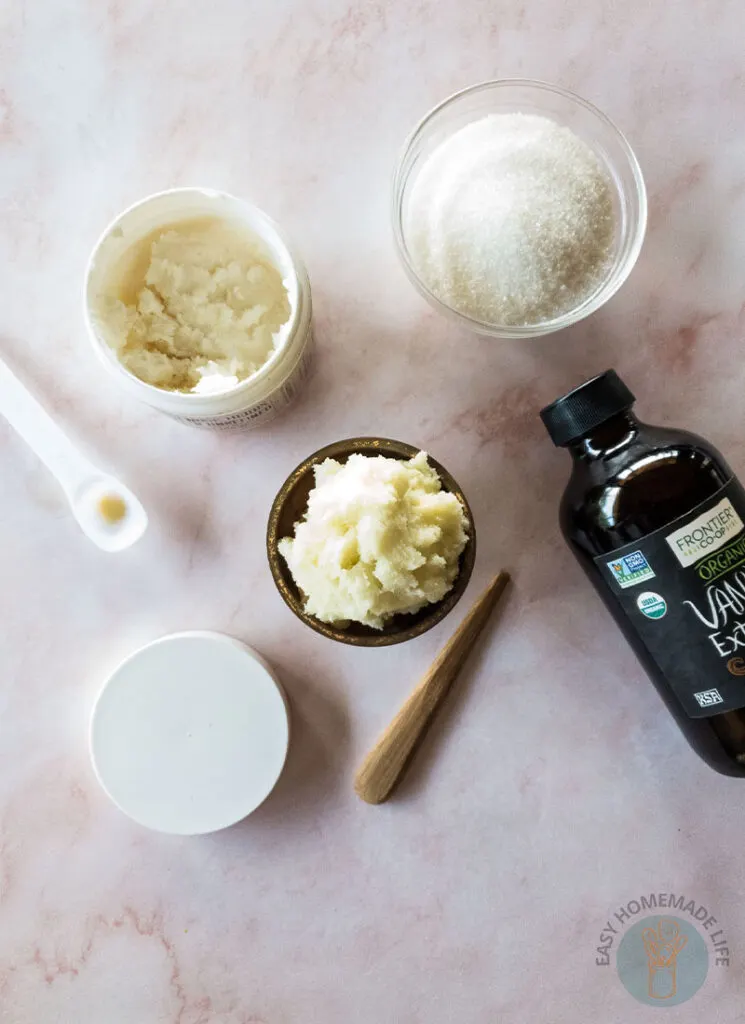 Whipped Sugar Scrub Ingredients
Shea butter – Have you ever heard of this before? It's amazing for the skin. Shea butter is fat that's extracted from the nuts of the shea tree. It's solid at warm temperatures and has an off-white or ivory color. Shea trees are native to West Africa, and most shea butter still comes from that region. [2]
I use unrefined shea butter in this recipe.
Olive oil – I'm sure you know olive oil in your kitchen. But have you used it on your skin yet? It's another great choice in DIY skin care recipes. Plus, you probably already have some on hand. In case you don't, you can purchase extra-virgin olive oil for skin care online.
Coconut oil – Here's something else you may have in your kitchen. I use coconut oil because it moisturizes skin without leaving you feeling greasy. Also, it whips nicely and helps build lighter texture than with just shea butter alone.
Vanilla extract – This is the main flavoring agent and it's very budget friendly. Vanilla extract sends the sweet scent of vanilla throughout the whole recipe without using expensive vanilla absolute or other essential oils.
White sugar – It wouldn't be a sugar scrub recipe without the sugar, would it? Granulated sugar gives the perfect grit for gently exfoliating legs, arms, feet and body.
Step-By-Step Directions
Follow these simple directions for a whipped sugar scrub recipe, and you can't go wrong!
You can prep this in five minutes. Seriously! You'll love how quick and easy it is. Measure ingredients in a bowl and whip them into a fluffy scrub.
If the butter is too hard at room temperature, soften it slightly by warming over low heat for a minute or two in a double boiler. If the shea butter is too soft, pop it in the freezer for 5-10 minutes until it's firmed up. You might need to play with the texture of your shea butter until it's just right for whipping.
Here's how we do it:
Add the shea butter, olive oil, coconut oil, and vanilla extract to a medium mixing bowl.
Beat with an electric mixer on medium until the materials are whipped well.
Add the sugar and beat on low until thoroughly mixed.
Transfer scrub with a spoon or rubber spatula to a clean jar and secure tightly with a lid.
This recipe yields 8 ounces and will fit nicely between two (4-ounce) cosmetic or mason jars.
Keep the container tightly closed to avoid moisture from getting in. Unrefrigerated scrub will last approximately 2 months. Refrigeration will keep your scrub for up to 6 months. In both cases, it's likely that you'll use it up long before it expires!
Don't feel like getting out the electric kitchen tools to make your scrub? Try our hydrating Goat Milk and Honey Body scrub recipe for a simpler and equally luxurious option.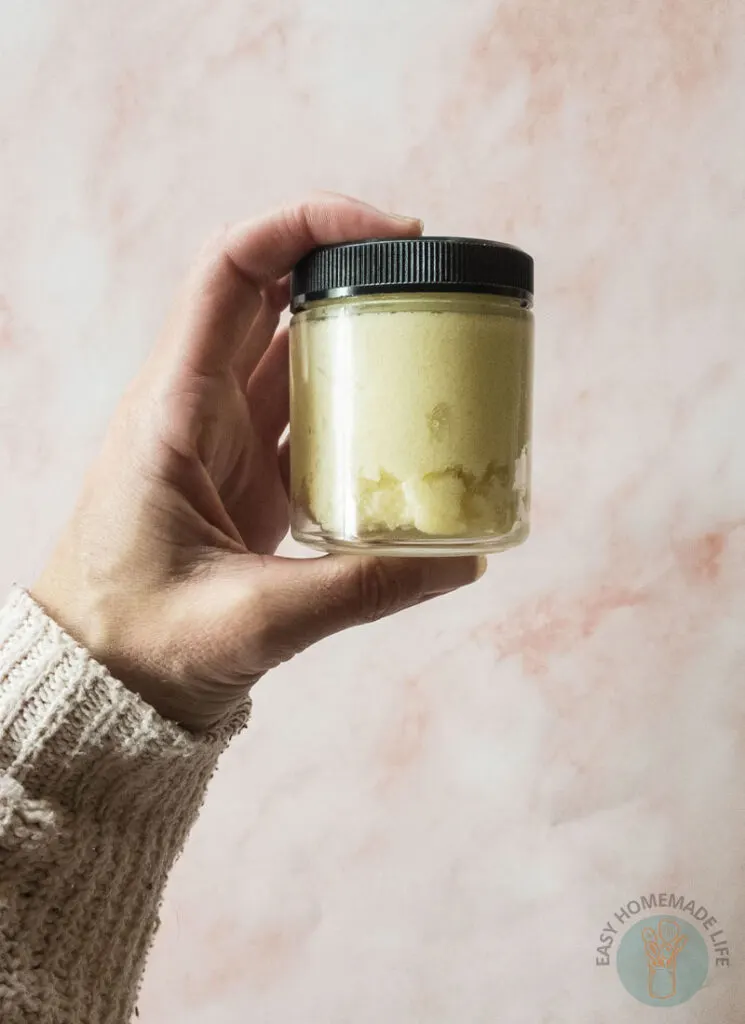 How to Use Whipped Sugar Scrub
Who is excited to dive in? I don't blame you, this is some great stuff!
Sugar scrub is easy to use and the sweet smell is amazing. This might help with your sugar cravings too, because it smells like a sugar cookie but without the calories.
If you're in a sugar addicted cycle, I deeply empathize. I've been there! I'd suggest learning more about stevia as a natural sweetener and see if it could help you. Then, perhaps consider a keto diet or other dietary intervention to get back on track.
Now, back to the scrub…
Similar to the directions in our lavender sugar scrub, we let the sugar exfoliate our skin with gently circular motions upon a target area.
Here are some tips to get you started:
Soften your skin with a hot shower.
Apply a quarter size portion of scrub to your skin.
Gently massage the scrub in small circular motions.
For extra smooth skin, let the scrub sit on your body for a couple of minutes
Rinse with warm water and pat dry.
Sugar scrubs tend to be gentle enough for facial skin, but if you have extra sensitive areas, you might want to use a trusted facial scrub instead.
Finish by applying your favorite lotion bar or moisturizer and enjoy the satin feel of your skin.