Are you looking for a non-toxic alternative to commercial dryer sheets? These essential oil dryer balls are the perfect solution! With a dryer balls essential oils recipe, you get nicely scented clothes that you can feel good about. The process is easy, quick, and guaranteed to make your laundry smell wonderful. You only need 3 basic materials and five minutes of time!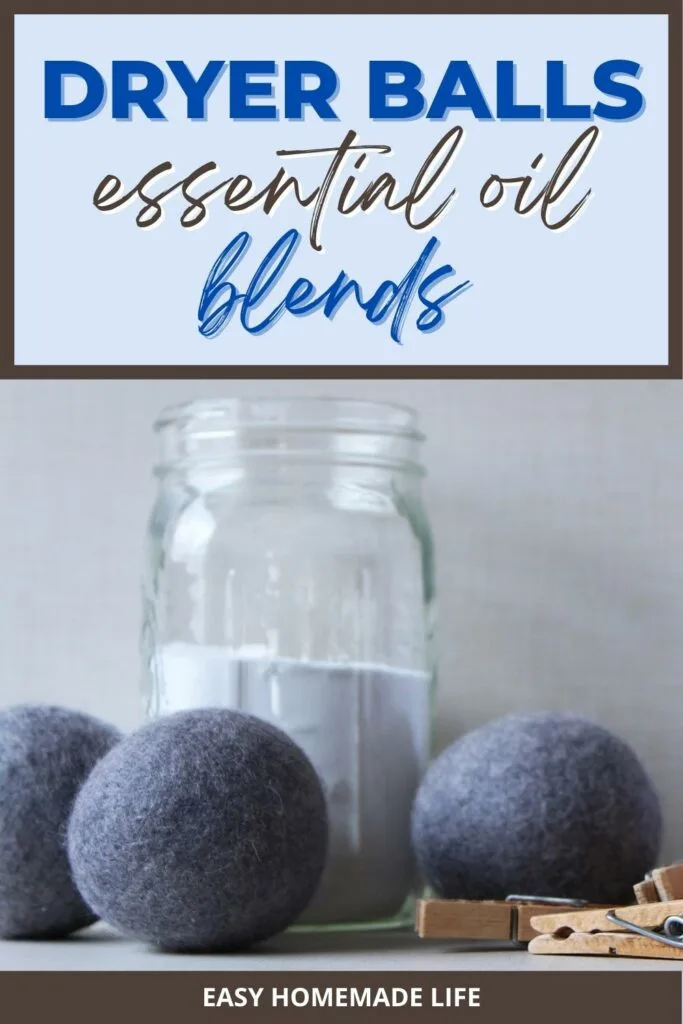 Why Use Essential Oil on Dryer Balls?
Wool dryer balls are an environmentally-friendly and cost-effective alternative to commercial dryer sheets. And unlike commercial dryer sheets, wool dryer balls are safer for your family. According to the EWG, popular commercial dryer sheets may contain chemicals and fragrances that can affect the immune and reproductive systems and cause skin irritation.
However, with wool dryer balls, you may miss the nice scent that commercial dryer sheets leave on your clothes. That's where adding essential oils to dryer balls comes in handy. Your clothes get a subtle scent that not only smells nice but is also non-toxic.
Aside from the lovely scents the essential oils impart, you're also getting aromatherapy benefits. And you get to choose which essential oils you use for your dryer balls essential oils recipe, rather than being stuck with random commercial scents you don't care for.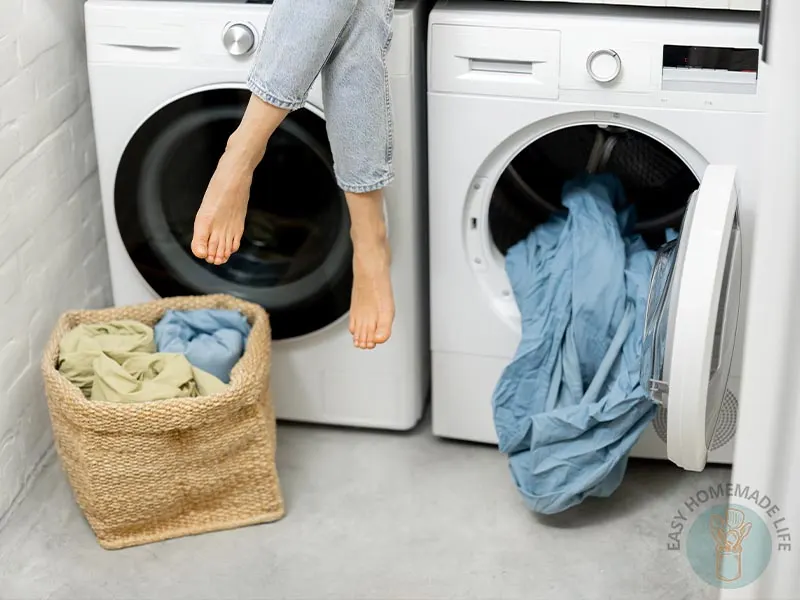 Best Essential Oils for Dryer Balls
When it comes to choosing essential oils for wool dryer balls, it's important to look not only at the scent combinations but at the flashpoints of the essential oils as well. [1, 2] That's because essential oils are combustible.
As a result, you want to ensure that the dryer balls essential oil that you choose has a flashpoint that is higher than the temperature of your dryer. For instance, if your dryer tends to get to around 135 degrees Fahrenheit (57 degrees Celsius), you'll want to use essential oil for dryer balls that has a flashpoint of above 135 degrees Fahrenheit (57 degrees Celsius).
The temperature range of dryers varies by model and cycle. But on average, a modern tumble dryer has a high heat setting of about 150 degrees Fahrenheit (66 degrees Celsius). So with that in mind, I've compiled the best essential oils for wool dryer balls below.
With a flash point above 200 degrees F (94 degrees C):
Cedarwood
Cinnamon
Clove
Gardenia
Patchouli
Sandalwood
Balsam wood
Vetiver
With a flash point above 160 degrees F (71 degrees C):
Aniseed
Basil
Citronella
Clary sage
Geranium
Jasmine absolute
Lemongrass
Neroli
Palmarosa
Rose absolute
Ylang Ylang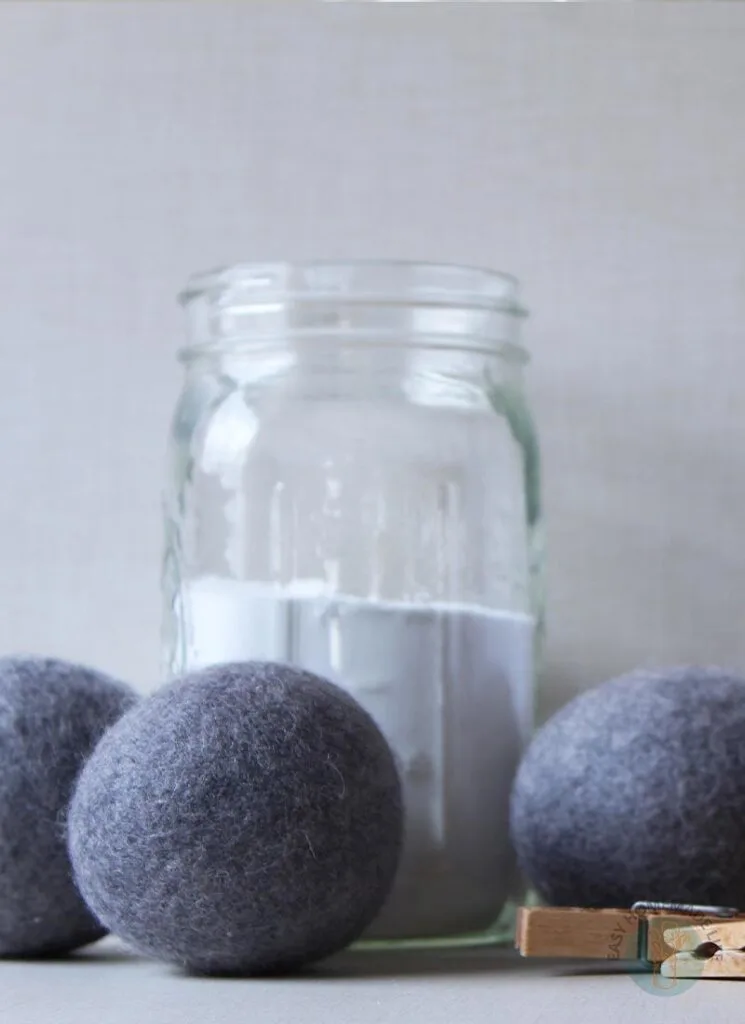 How to Scent Dryer Balls
All you need to do is gather 3 materials, and you'll be halfway to making essential oil dryer balls in just 5 minutes!
Materials
This list is short and sweet. I include tips for budget-friendly and recycled alternatives too!
Wool Dryer Balls
Wool dryer balls are a great all-natural alternative to commercial dryer sheets. Since they're made of wool which is highly absorbent, they make your clothes dry quicker helping you save money on your energy bills. Plus, they tend to last a long time and can be used for up to 1000 loads of laundry.
DIY Alternative to Wool Balls
Looking for a DIY alternative to wool dryer balls? You can make one with 100 percent wool yarn and some old pantyhose. Yup, that pantyhose with the runs in them will work! Start by wrapping the yarn around your middle and index finger a couple of times – ten should do it.
Remove the woven yarn from your fingers and wrap some yarn around the mid-section three times so that it resembles a bow. Keep wrapping your yarn lengthwise until you get a ball that is about the same size as a tennis ball. Once you're done with this ball, make three more balls.
Next, cut off one leg of the pantyhose and tie a knot at the end. Stuff the balls into the pocket of the pantyhose and tie a knot at the other end to secure the balls. Finally, place the pantyhose with the balls in the washer at the highest heat setting and wash. This will cause the yarn to fuse together forming a single ball.
5 mL Glass Bottle
This is where you store your essential oil for wool dryer balls. Buy a new bottle or recycle an empty essential oil bottle. Either way works.
Each of my dryer balls essential oils recipe will yield 45 drops and will take up a little less than half of the bottle. So even if you double the recipe, it will still fit in a 5mL jar.
You could also store your essential oil blend in a dropper bottle. However, there's a chance the rubber bulb will degrade over time and might not preserve the oils as well as a bottle with a reducer cap.
Essential Oils
For the essential oils recipes, you will be using a blend made of 3 to 4 different essential oils.
I've created four different essential oil blends: Spring Flowers, Summer Fresh, Fall Leaves, and Winter Spice. You can find the ratios listed in the recipe card below.
The idea is to make one of these dryer balls essential oils recipes every few months as the seasons change. Each recipe should last through a three month season, but if you find you're using it up faster double or 1.5x the recipe to suit your needs. It's easy!
Buying trustworthy, therapeutic-grade essential oils is important, so I highly recommend knowing your source! For me, I go to Mountain Rose Herbs LINK AFFIL because their selection never fails and their quality is top-notch. Plus, they have yummy teas and culinary herbs too! It's always a fun shopping experience.
Step-By-Step Directions
Follow these simple directions, and you can't go wrong!
To make this essential oils dryer ball recipe, simply add your ingredients to your storage jar, cover it and mix well until everything is well combined. Then, you can use it immediately or let it meld over time until you're ready later.
When you're ready to scent the dryer balls, place 2 to 3 drops of essential oil on each ball. Wait one minute in order to let the oil soak in and dry before putting them in the dryer or storing them for later use. Store scented dryer balls in a large glass jar with an airtight lid to protect and preserve the essential oils.
One batch of blended oil will last for 15-22 applications. Reapply once the scent weakens or disappears completely.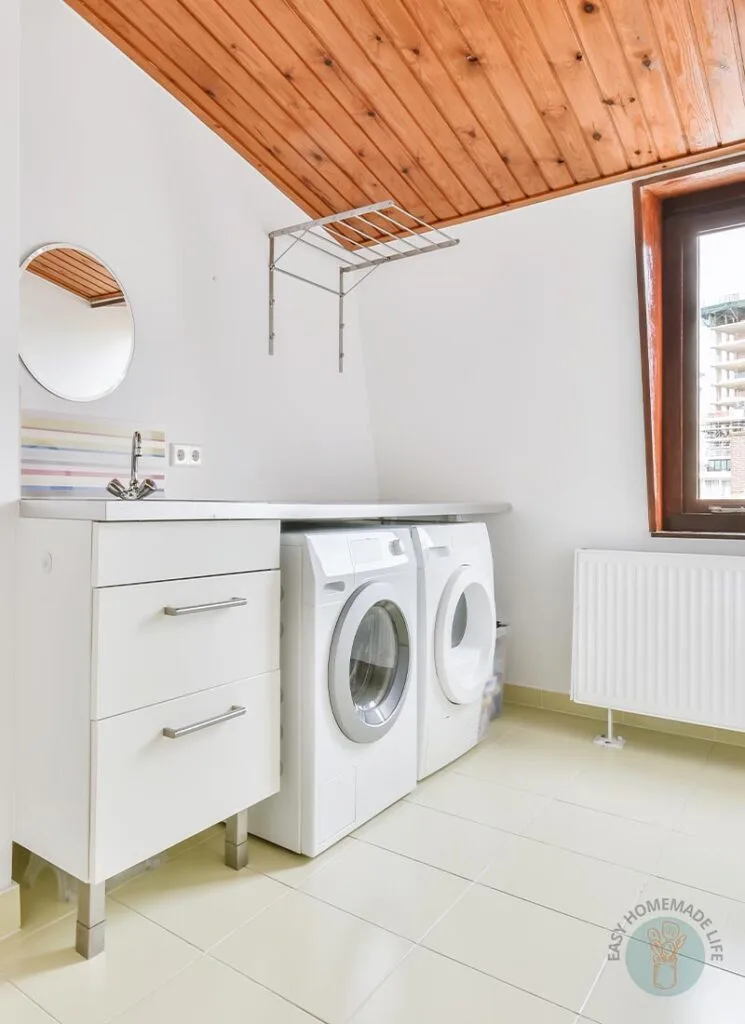 How to Use Dryer Balls
Once you're ready to use the essential oil dryer balls, add 2 to 4 dryer balls to each load of clothes in the dryer depending on the overall size of the load. For instance, for a small load, you'll need 2 balls, while for a medium load, you'll need 4 balls. And for a large load, you'll need 6 balls.
FAQ
Do essential oils damage washing machines?
As long as the washing machine is full of water, essential oils won't cause any damage. However, if you add essential oils to the washing machine without adding water, the washing machine could catch on fire because essential oils are combustible.
Will essential oils stain clothes?
In general, pure essential oils don't stain clothes. The exceptions include patchouli, tangerine, myrrh, vetiver, jasmine, and German chamomile. These essential oils leave stains because they have a natural dark or yellow color from the botanicals from which they are derived. Follow the directions and apply the oils to a wool ball, not the clothes directly.
Can you put essential oils on dryer balls?
Yes, you can put essential oils on dryer balls. Just ensure that the essential oils that you add have a flash point that's above the highest temperature setting of your dryer.
Are wool dryer balls safe?
Wool dryer balls are safe for the family even for babies. In fact, they are great for a baby's sensitive skin as they don't contain harsh chemicals.
More Ways to use Essential Oils in the Home