These DIY Bathroom Storage Ideas are as fun as they are functional. First, try a budget-friendly project you can bust out over a weekend. Then, bask in the glory of a neatly organized bathroom.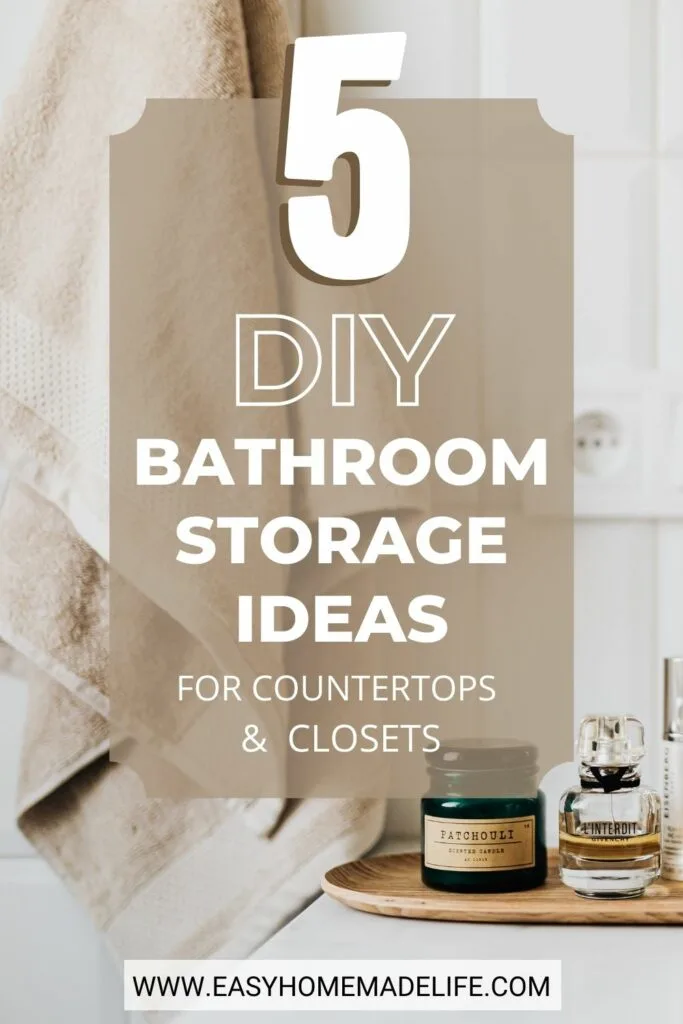 DIY Bathroom Countertop Ideas
We visit the bathroom many times throughout the day. Why not feel a sense of serenity each time we walk into that necessary space? For me, organization gives me peace when everything has its proper place.
The countertop is home to a myriad of toiletries. Decluttering is the first step to achieving a neat and tidy space. Get rid of anything expired, redundant or useless.
Bringing order in the bathroom happens best when every item has a designated spot. That's where these smart ideas come in! For example, a painted Mason jar or narrow DIY shelf provides a home for every toothbrush and tube of toothpaste.
Not only are the organization hacks listed below are super easy to do, but with minimal investment and time, you'll soon have more space on your counter and in your closets. So get started by choosing the project that speaks to you most, and have a ball!
And remember, part of feeling organized comes with cleanliness, so whip up a batch of our DIY All Purpose Cleaner without Vinegar to have all these areas sparkling.
Bathroom Cupboard Organization Ideas
My children zoom in to brush their teeth morning and night. While it's great to see attentiveness to their hygiene, I cringe every time they leave wet toothbrushes on the counter. Oh, how I disdain clutter!
Call me OCD, but I want my children to have a proper place for their toothbrushes. These ideas provide ample inspiration for that.
Additionally, the bathroom has all kinds of other items that need homes. For example, I'd love denim storage bins for not only my extra toilet paper but for my empty toilet paper rolls too. Hello, craft project supplies!
Make your mornings smoother and your evenings more relaxing when you go in to brush your teeth with these simple organization ideas. Once those cupboards are organized and tidy, make sure to store a bottle of our Homemade Shower Cleaner so even your shower feels more manageable.
More Easy Home Organization Ideas