Make a DIY all purpose cleaner without vinegar by combining three ingredients: distilled water, liquid Castile soap, and essential oil. Funnel into a spray bottle, and you're ready to clean grease and dirt from any surface. This is a cheap alternative to store-bought cleaners you can make at home in minutes.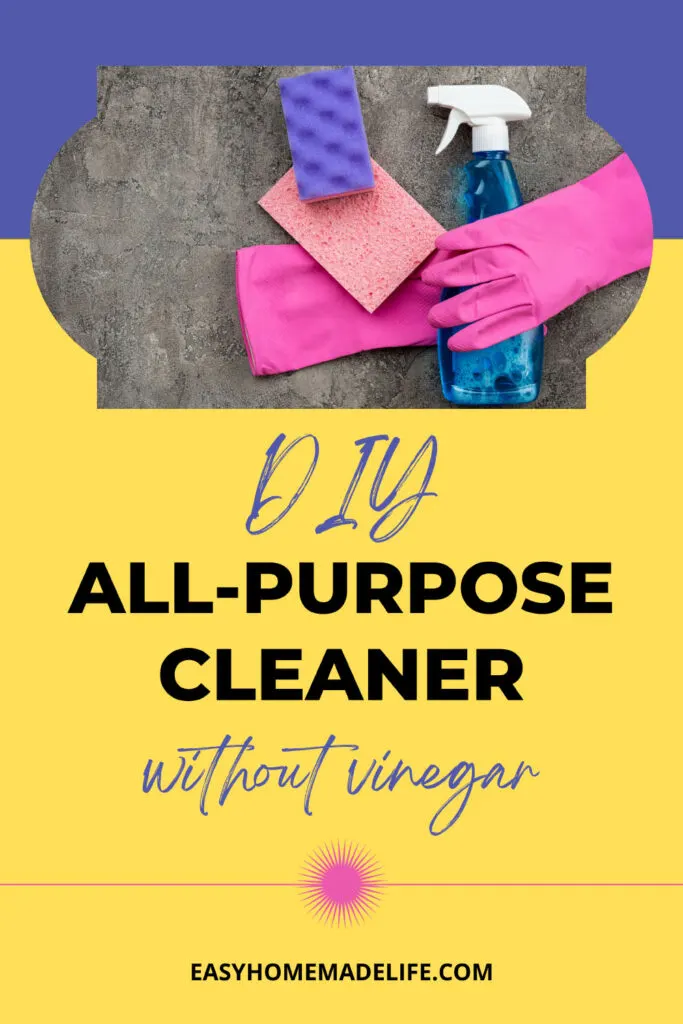 Homemade All Purpose Cleaner without Vinegar
When it comes to homemade cleaners, distilled white vinegar is one of the most commonly used ingredients. It's cheap, easy to find, and the natural acidity kills bacteria and viruses. (1)
However, even after mixing in essential oils, the stuff still smells like vinegar which can be off-putting. Even though the fumes evaporate quickly, you might be looking for an alternative that doesn't sting your nose.
Furthermore, since vinegar is so strongly acidic, it isn't recommended for sensitive surfaces like natural stone tile and marble or granite countertops.
Do not use vinegar when cleaning:
Stone floor tiles
Marble or granite
Waxed wood or hardwood floors
Cast iron
Aluminum
Irons
Flip that negative about vinegar to a positive for this homemade spray cleaner without vinegar, and you'll see exactly when to use this cleaner. Sensitive surfaces are the ideal target for a vinegar-free cleaner.
If you're looking for:
homemade wood furniture cleaner without vinegar
DIY kitchen cleaner without vinegar
homemade shower cleaner without vinegar
DIY dishwasher cleaner without vinegar
You're in the right place! This recipe is gentle yet effective and safe for multiple surfaces, rooms, and uses.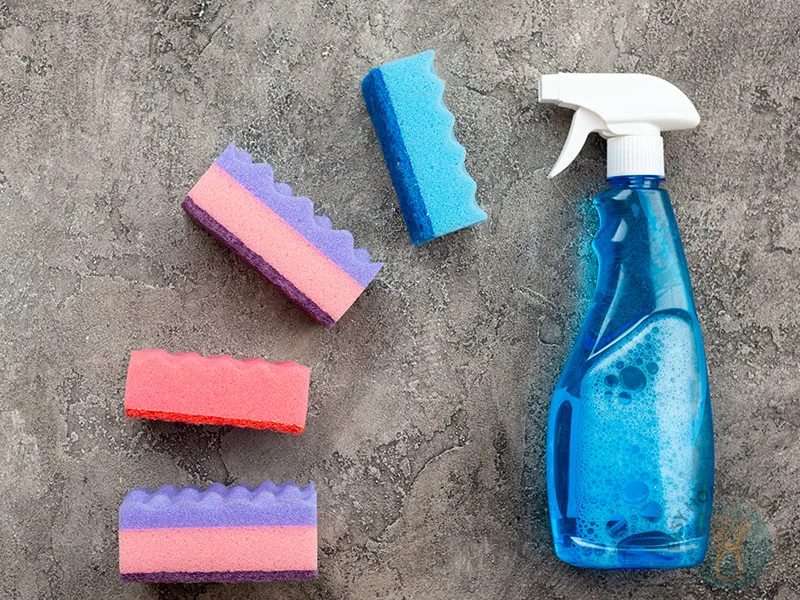 How to Make All Purpose Cleaner
Gather three ingredients and combine them in a spray bottle. That's the essence of making a homemade all purpose Castile soap cleaner in just five minutes.
Materials
16-ounce spray bottle – Buy a pretty amber glass bottle or recycle one from a store-bought cleaner.
Funnel – Recommend as a way to help the liquid go in the bottle and not spill all around it.
Label – Optional but useful, especially if you have multiple cleaners in spray bottles that all look similar. Adhesive labels or chalkboard labels both work well.
Permanent marker – Make the text big and bold, so there's no confusion! If you use a chalkboard label, you'll want a chalk pen.
Ingredients
Distilled water – A type of purified water where impurities and contaminants are removed. If you know you'll use this cleaner in a timely manner, normal tap water is fine to use. Otherwise, distilled water is preferable for avoiding unwanted water-borne pathogens that could form over a longer period of time. Best practices say to use this cleaner within one month of making it.
Liquid Castile soap – Plant-based liquid Castile soap is a very versatile soap derived from olive oil. Usually offered as unscented or naturally scented with essential oils, you can choose which option is best for you.
Essential oil – I favor lemon essential oil as a natural deodorizer and cleaner. In addition to repelling insects and pests, it's also a non-toxic antibacterial and strong anti-fungal. (1, 2, 3)
Distilled water and liquid Castile soap are available at stores like Walmart and Target. I suggest buying quality, therapeutic grade essential oils through the links above if you don't already have some. For your convince, I also link to a recommendation for Castile soap.
If you prefer a DIY all purpose cleaner without essential oil, skip the oil and use a scented Castile soap instead. Lemon, eucalyptus, or tea tree Castile soaps are great options. Similarly, you could dilute the soap with only water and have a mild yet effective, two-ingredient cleaning spray.
Step-By-Step Directions
Follow the easy 1-2-3 step process and your multi-surface cleaner will be ready in a flash.
Step 1
First, use a funnel and pour the water and Castile soap into the spray bottle. Next, drop the essential oil through the open mouth of the bottle.
Step 2
Then, tightly secure the spray nozzle and shake or swirl gently to combine all the ingredients.
Step 3
Finally, add your label and mark the name clearly. Store it in a cool, dry cupboard with other cleaning supplies. Keep out of reach from children.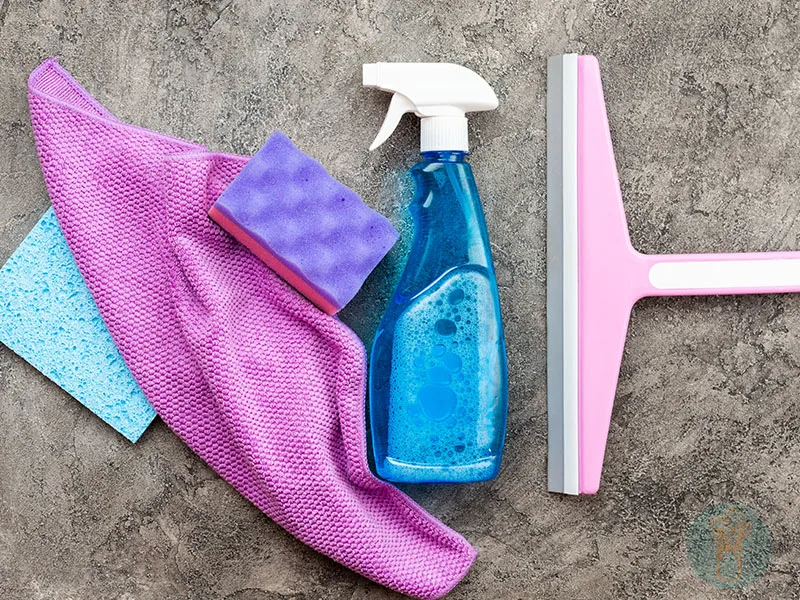 How to use Homemade Cleaner with Castile soap
As with all cleaning products, it's a good idea to spot test a smaller area when you try a new cleaning agent. Pick a small section off to the side first before wiping down the whole surface, spray, wipe and wait to make sure there aren't any unforeseen adverse effects.
Once it's all checked out, apply this spray to a cleaning cloth or spray directly on the surface.
This vinegar-free spray is compatible with a variety of cleaning supplies. I usually use an old cloth or microfiber cloth and wipe things off. Depending on the task at hand, you may also want to use rubber gloves, a cleaning brush, or a bucket of water.
Clean multiple surfaces with one all-purpose cleaner:
Bathroom ceramic, fixtures, and tile
Tub, shower, and toilet
Granite countertops
Inside and outside of the fridge or freezer
Lightswitches
Washing machine and dryer exteriors
Children's wooden and plastic toys
Computer keyboards
Plastic tool boxes
Car interiors (the hard plastic part)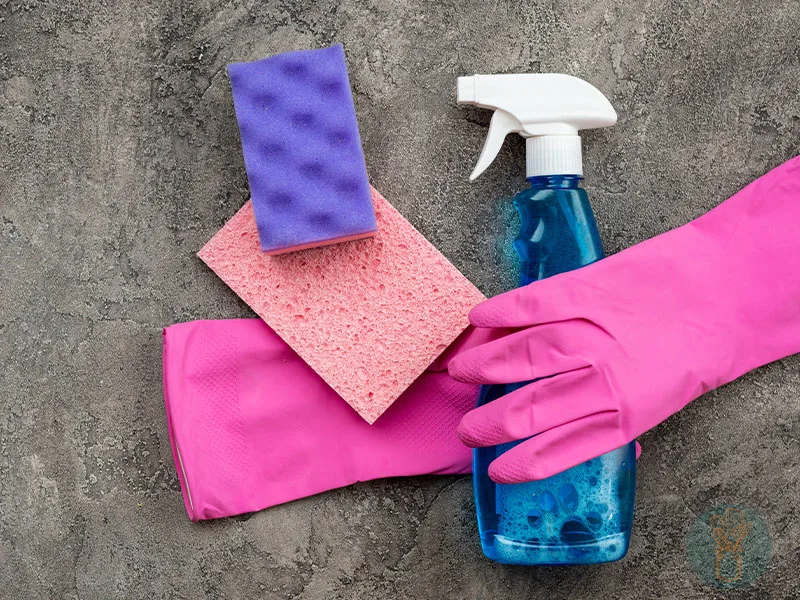 More Natural Homemade Cleaners
From vacuuming shag rugs and cleaning carpets to cleaning cast iron and building quality seasoning on it, it's important to have the know-how for keeping a home.
Use these cleaners and make your life easier when you're spraying the shower, cleaning an outdoor grill, or other home space: