Are you feeling cramped in a tight space? Why not plant an indoor herb garden and bring life, fresh flavor, and a splash of color into your home? It's as easy as gathering a pot, soil and a seedling from the local nursery or online.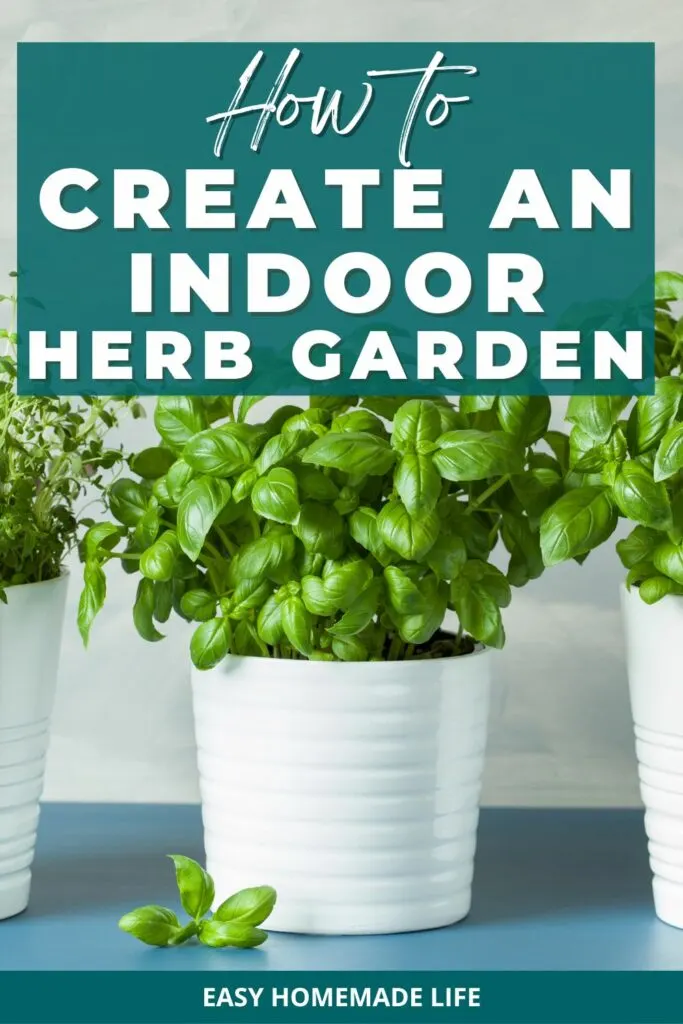 Small space, big flavor
Without a doubt, you can use our tips here and successfully create a thriving herb garden inside your home without needing a lot of space.
This strategy is ideal for those who love cooking with fresh ingredients or like growing plants but don't have the space to invest in an herb garden outside.
Limited space locations might include:
Apartment or urban dwelling
Small studio without a backyard
Tiny home
Rental home that doesn't allow or isn't worth building a more permanent garden
Climate with a long, cold winter
Furthermore, caring for a larger space can take a lot of time. So if you're short on time or have mobility issues, committing to a daily or weekly chore of managing a herb garden might not be the best choice for you right now.
Having fresh herbs in a convenient location, such as the kitchen windowsill, can bring a lot of satisfaction to a home cook. In addition, since most recipes call for small amounts of herbs at a time, small plants can suffice for culinary needs, economizing space and bringing natural beauty to the home.
Plus, saving money by no longer needing to purchase herbs from the store is a welcome benefit too.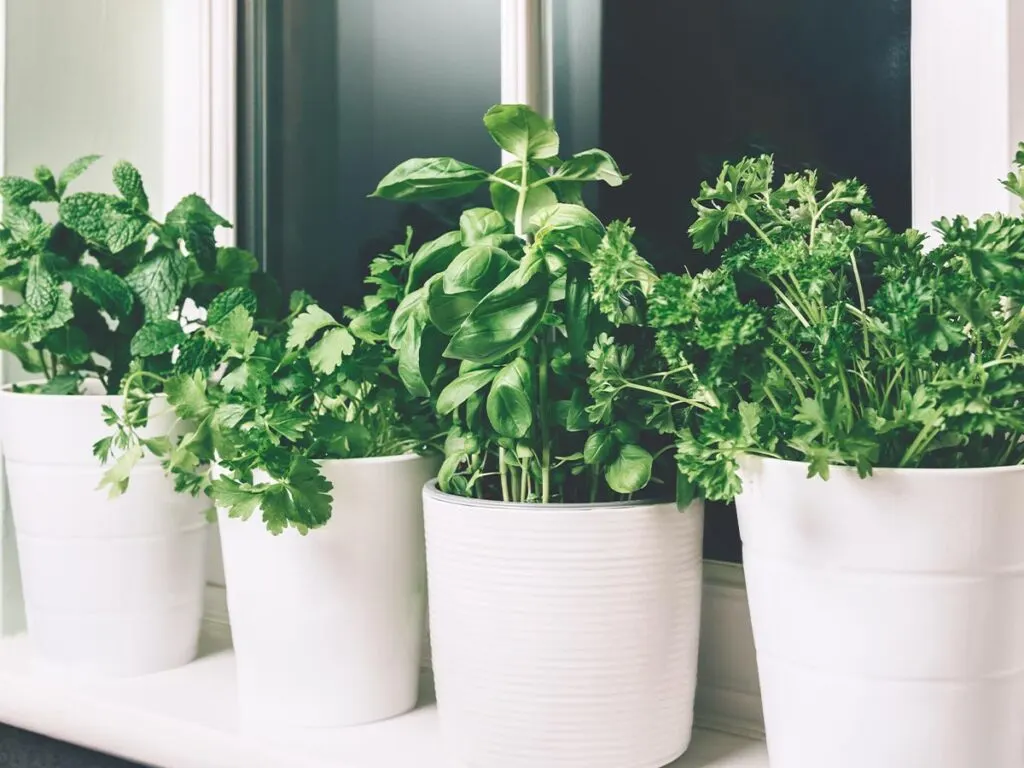 Choosing the right herbs for small spaces
Not all, but many herbs grow well in an inside environment.
When selecting herbs for your indoor space, consider the following:
Plant growth rate
Light requirements
Water needs
Suitable airflow
Ongoing maintenance
First and foremost, choose herbs you already like and enjoy in homemade recipes.
Many herbs grow well in containers or pots. Put a pot of basil or oregano on a south-facing window sill, and you'll have fresh herbs for all your favorite dishes.

Sarita Harbour, An Off Grid Life
Then, pick ones that are easy to grow and comfortable staying small within the boundaries of your containers.
These plants can thrive in small spaces:
Basil: an annual herb that lives for one season before going to seed and completing its life cycle. Best for Italian favorites like pasta dishes, homemade pizza, and lasagna.
Chives: as a perennial herb, chives live for multiple seasons. However, they do die back in the winter. A favorite garnish for chip dip.
Cilantro, also called coriander – sensitive to heat and ready to go to seed quickly, you can protect this plant and help it flourish by growing it inside. A must-have garnish for tacos!
Lemongrass: easy to grow without a lot of care and delightful for tea and Southeast Asian food
Mint: many varieties, including chocolate, lemon, peppermint and spearmint, do well, if not best, in pots. Mint is notorious for spreading quickly and can invade larger spaces.
Parsley: common and flatleaf parsley are biennial plants, meaning their life cycle lasts two seasons. A favorite in one of my best copycat recipes Ruth Chris Stuffed Chicken.
Rosemary: from big to small, rosemary is happy to grow in any size pot you have.
Thyme: like mint, there are different varieties of thyme, including common, French and lemon. Pick your favorite and enjoy.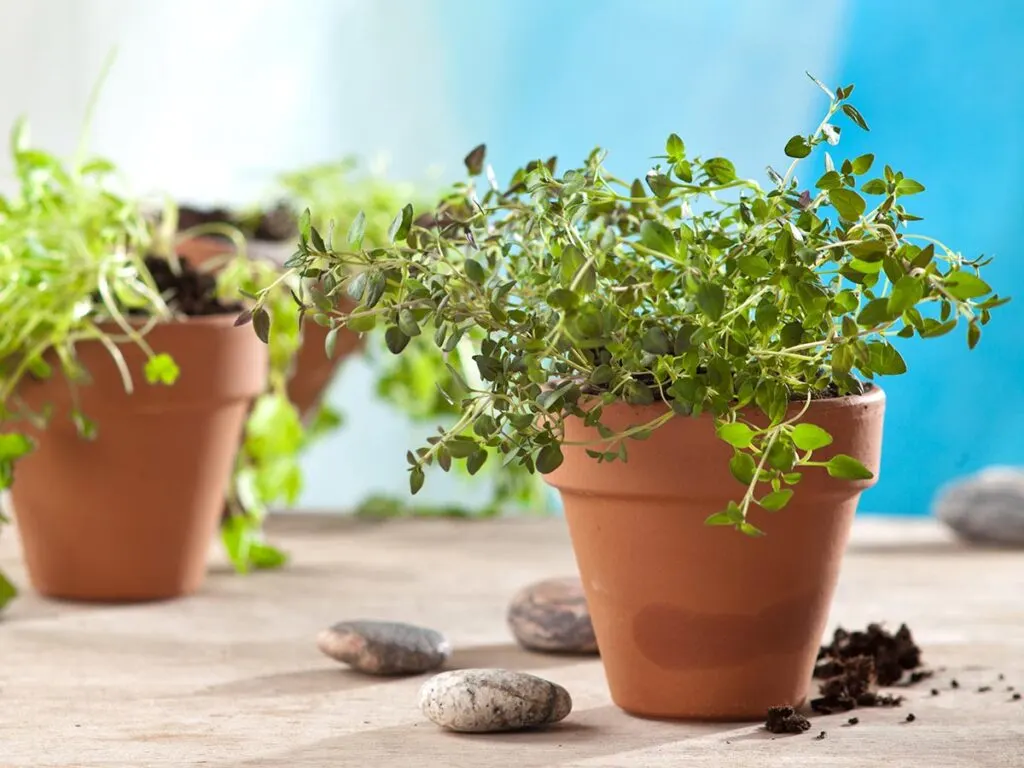 Creating an indoor herb garden in a small space
Growing herbs indoors isn't wildly different from growing them outdoors. The ideal location depends on your available space and how much time you can commit to setting it up and maintaining it long term.
You can plant an ornate display wholly customized to your style and preferences, buy an all-in-one indoor herb garden kit, or, more likely than not, do something in-between.
There are many creative options to foster a mini-garden environment successfully. Choose right, and you'll make a spectacular arrangement for maximum productivity and aesthetic appeal containing both fragrant herbs and any anxiety about overcommitting yourself to a larger project.
Renee Gardner of Renee Nicole's Kitchen encourages all beginners by saying, "If you feel intimidated, start small — a single potted basil plant on your windowsill counts."
Here are various design options:
Individual pots: grow one herb per pot
One long container: mix a selection of herbs and raise them together following companion planting guidelines
Upcycled wooden box: drill holes in the bottom for drainage, then fill with as many plants as will comfortably fit
Hanging baskets: attach hooks from the ceiling or on inner walls and hang baskets
Towers or other vertical supports: ideal for vertical growing
Shelves or a bookshelf unit: line plants in a pretty row or mix them in with cookbooks and other nick-nacks
Mason jars or tea cups: scale down to the smallest of containers and repurpose what you have on hand
Soil, lighting and temperature considerations
Herbs need well-draining soil and a sunny location with a moderate temperature. An average temperature of 65 to 70 degrees Fahrenheit works well; this is neither too hot nor too cold.
Fill a pot with potting soil and place it on a southward-facing windowsill. If the South is unavailable, look for an area with four to six hours of daily natural light for optimal results.
Herbs are forgiving and can grow nicely in suboptimal conditions or even with artificial light.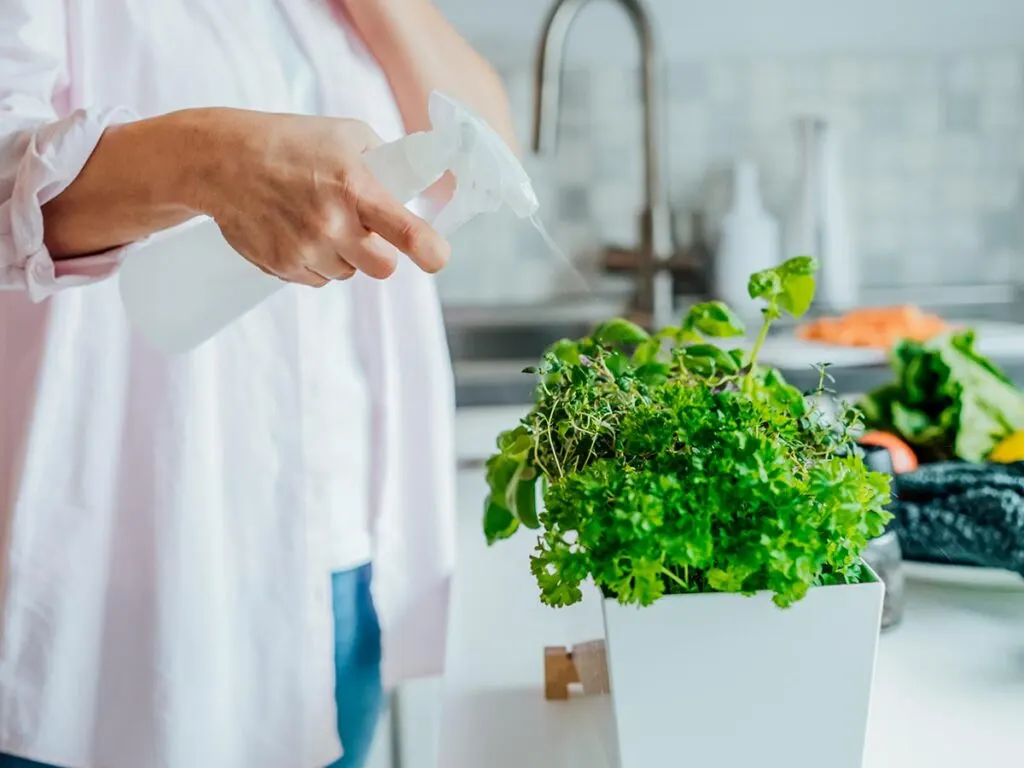 Maintenance and care
Different herbs may require slightly different care. For instance, parsley needs a lot of water, while rosemary is more hardy and does best in a hot, dry environment.
Daily check-ins on the plants will help them become established quickly, and your confidence will soar as you get to know their needs.
Get used to watering herbs regularly and learn to read their signs. For example, bright bushy growth is positive, while water puddles on the soil surface, rotting leaves and mildew are not.
Picking leaves from the tops of the plant can promote a lower-growing, bushier arrangement of branches, giving a lovely effect. Feel free to harvest regularly, using a sharp knife or kitchen scissors, rather than tearing with your fingers.
However, be mindful not to pick excessively because that can stress the plant and prevent flourishing. Best practices suggest picking less than one-third of the plant at a time.
Conclusion
An indoor herb garden can improve even the smallest of spaces. Fresh kitchen ingredients, natural beauty, fragrant smells and the money-saving benefit of producing food yourself are enough to be excited about. So, don't hesitate to start a garden today!
This article originally appeared on Food Drink Life.