This collection of homemade pizza recipes has something for everyone, from a super quick 5-minute pizza to a from-scratch, no-knead pizza dough. Your children will love the opportunity to be creative with their pizza toppings and you'll enjoy saving money on take-out while making happy memories (and pizza) at home!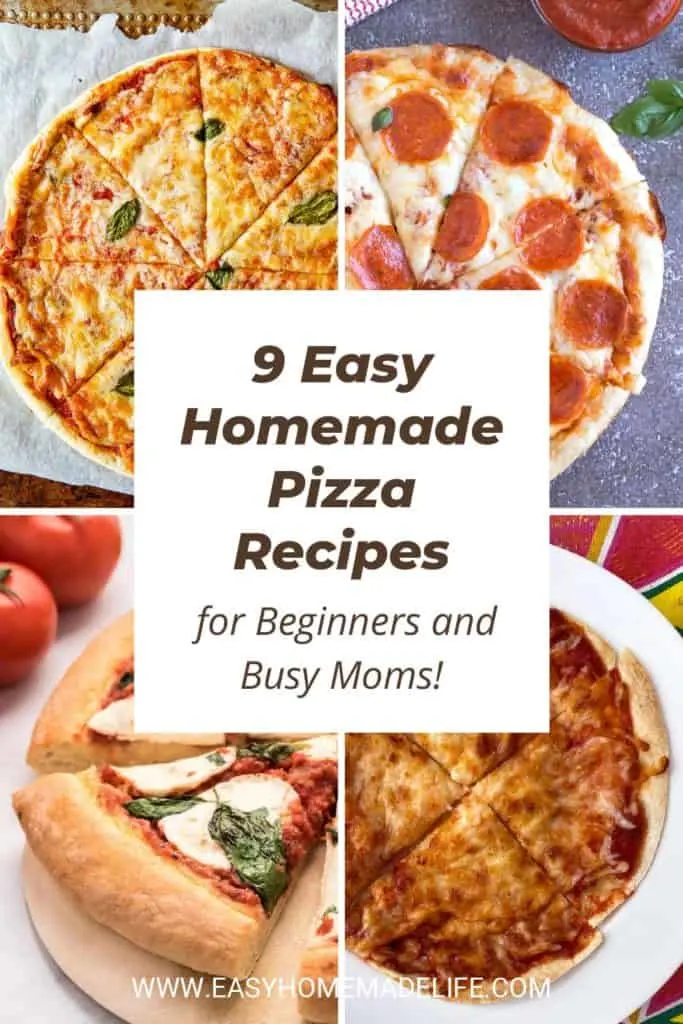 Quick Pizza Dinner Ideas
Isn't pizza everyone's favorite dinner meal? What's better than a slice of cheesy oven-fresh pizza?
Next time you crave cheesy Italian food, skip the lasagna, and try making pizza home instead of calling for take-out.
Homemade meals are usually more affordable than ordering from a restaurant and almost always heartier for you too.
With this collection of easy pizza ideas, you can pick and choose what works best for you.
Save these recipes and add them to your meal plan app today!
The Easy Way to Make Pizza At Home
Easy homemade pizza starts with an easy dough. No-knead options tend to be best because they are quick and don't require equipment or labor-intensive kneading.
If you want a dough-free pizza, there are many other crust-like alternatives. Experiment with a tortilla, biscuit, or English muffin as the base. These are such time savers!
Of course, the texture may be a little different, but if you a quick 10-minute (or less) meal, these shortcuts are unbeatable.
After establishing the crust, top your pizza with tomato or pesto sauce and a liberal sprinkling of shredded mozzarella cheese.
Then go crazy with chopped vegetables like:
Mushrooms
Bell pepper
Olives
There's room for meat too. Adding leftover pre-cooked sausage, shredded chicken, or even browned ground beef is a great way to clean out odds and ends in your fridge.
Season with herbs:
I'll send you a bonus point if these herbs come from your own outdoor herb garden. And if that sounds too challenging, start with an indoor herb garden instead. Where there's a will, there's a way.
More Easy Homemade Dinner Recipes