This banana bread without baking soda recipe takes traditional bread to a new level. With only eight basic ingredients and 10 minutes of hands-on time, you'll have a homemade treat in no time. Plus, it's the most delicious way to use up ripe bananas before they end up in your garbage. If you want to indulge in a sweet treat without spending too much time in the kitchen, try this mouth-watering banana bread today!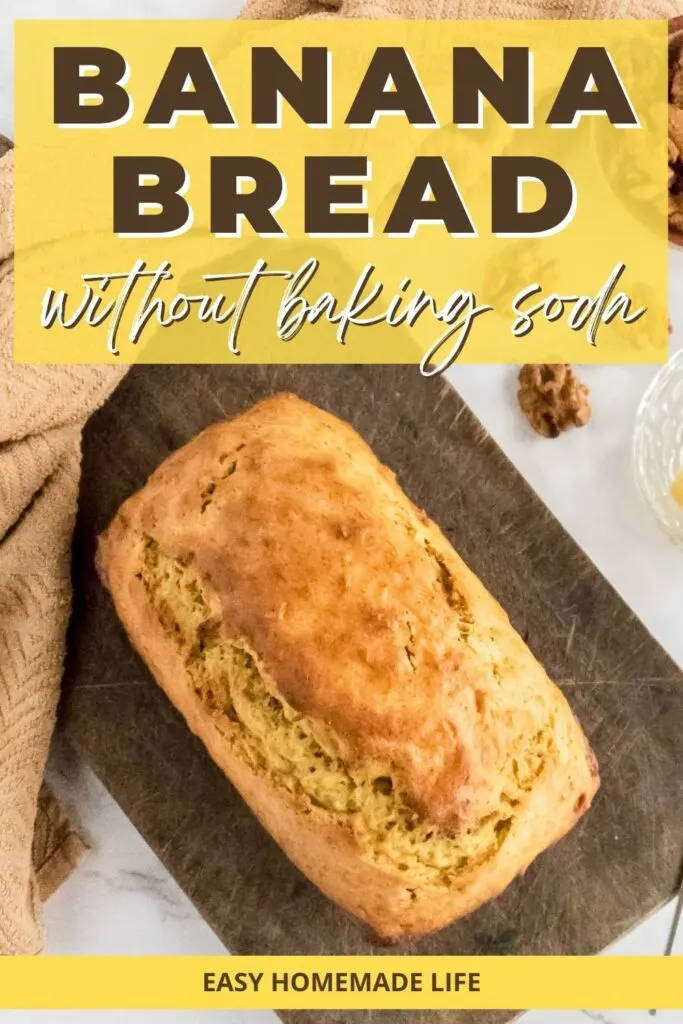 Can you Make Banana Bread without Baking Soda?
We love a good recipe challenge, and following our no-milk waffle recipe decided to put this ingredient conundrum to the test. I'm happy to report that making banana bread without baking soda is possible. And the best part is you can still achieve the same delightful results, while no special tricks or obscure ingredients are needed to make this happen.
But first, what is baking soda?
Baking soda is a leavening agent that helps baked goods rise. However, you can use other ingredients instead of baking soda, so you don't miss out on delicious treats.
If you are entirely out of baking soda – check your pantry for baking powder. It's a combination of baking soda and acid; and often, you would have to use three times the amount of baking powder as baking soda in a recipe. But the results are just as fantastic.
Out of baking soda and baking powder?
No problem! You can replace all-purpose flour with self-rising flour to help assist that rise in the bread.
Check out this simple 4-ingredient banana bread if self-rising flour is your preference.
Whether you use baking powder or self-rising flour, this homemade banana bread recipe is a simple yet delicious way to save those nagging brown bananas in your fruit bowl.
Basic ingredients such as flour, sugar, eggs, and butter to add a subtle richness. While adding walnuts provides a satisfying crunch to the bread, although you can omit them if you prefer a softer texture.
Walnuts or not, this easy banana bread recipe without baking soda will become a favorite.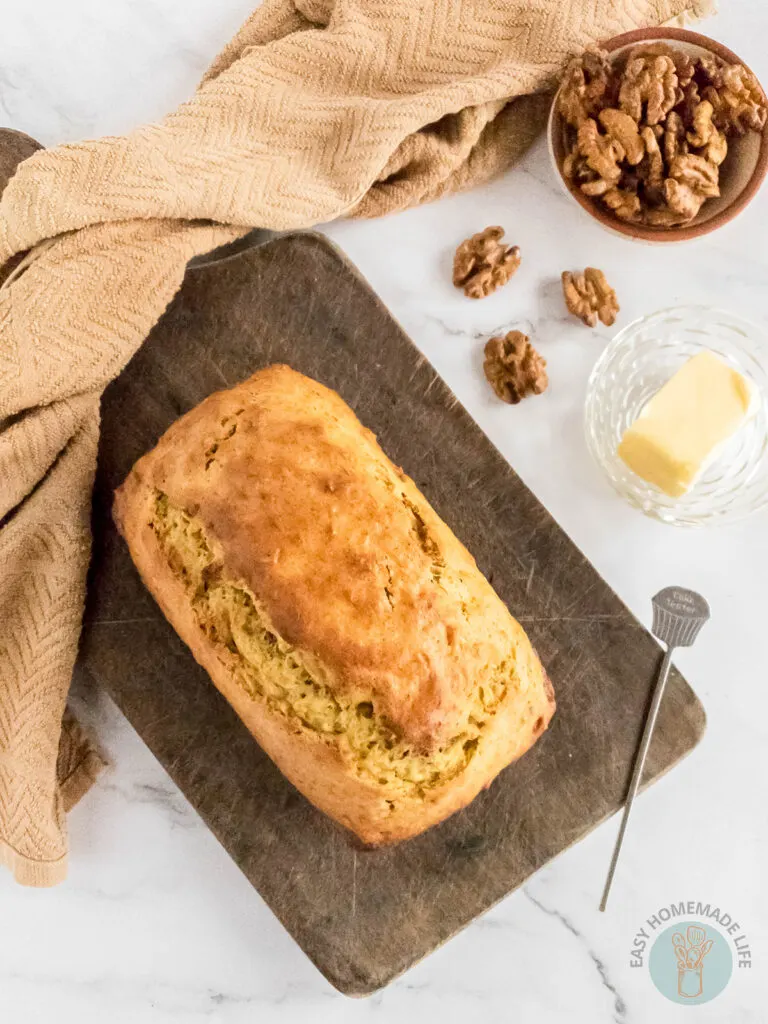 How to Make Banana Bread without Baking Soda
Grab eight simple ingredients, plus walnuts if desired, and you're on your way to an easy banana bread without baking soda.
This delicious sweet bread starts with mashing ripe bananas, mixing the wet and dry ingredients together, and baking in a greased loaf pan for about an hour. The end result is a moist and flavorful bread, perfect for a quick breakfast or mid-day snack.
Ingredients
Bananas – the star of the bread and provide moisture and natural sweetness.
Butter – softened butter adds richness and flavor.
Sugar – granulated sugar to sweeten the bread.
Eggs – these are the binding agent and add structure to the bread.
Flour – use all-purpose flour for best results; provides structure and texture to the bread.
Baking powder – helps the bread rise and makes for a great baking soda substitute; if no baking powder or baking soda, consider using self-rising flour instead of all-purpose flour to help with the rise.
Vanilla extract – enhances the flavor of the bread.
Salt – balances the sweetness and enhances the overall flavor.
Walnuts – optional, if you like them but adds a wonderful crunchy texture to the perfect banana nut bread without baking soda.
Banana Bread Variations
Banana bread is a classic sweet treat that is great the way it is. And, of course, Banana Nut Bread is another traditional spin that features favorite nuts like walnuts, almonds, and hazelnuts for extra crunch and flavor.
But there are many other delicious variations that you may want to explore.
Consider adding these tasty additions to your banana bread:
Chocolate Chip Banana Bread: add a cup of chocolate chips or chunks to the banana bread batter for a chocolate twist.
Peanut Butter Banana Bread: swirl in a half cup of peanut butter (or another nut butter of choice) on top of the batter once it's poured into the baking dish.
Blueberry Banana Bread: add a cup of fresh or frozen blueberries to the batter for a fresh and fruity burst of flavor.
Carrot Banana Bread: mix in a half cup of grated fresh carrots and a teaspoon of cinnamon into the batter for a tasty twist on traditional banana bread.
Maple Pecan Banana Bread: use maple syrup instead of sugar and chopped pecans instead of walnuts for a delicious fall-inspired flavor.
Coconut Banana Bread: mix in half a cup of shredded coconut to the batter and sprinkle another half on top of the batter for a tropical twist on banana bread.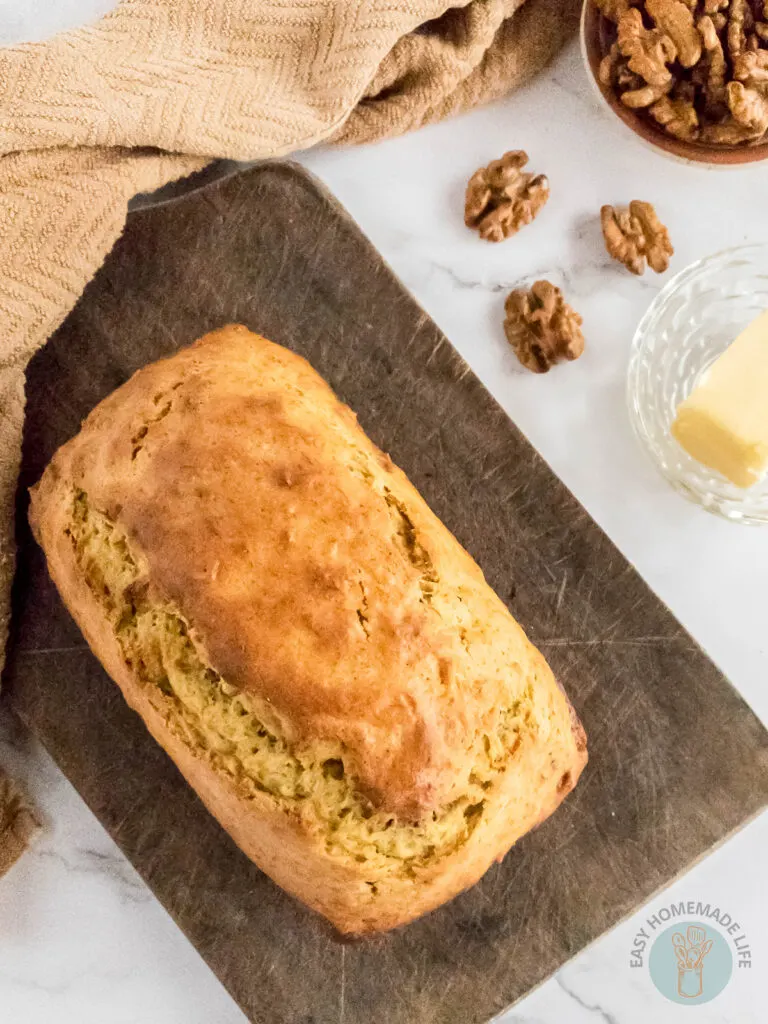 Step-By-Step Directions
Follow these simple directions, and you can't go wrong! This banana bread comes together quickly and effortlessly with only two bowls and a whisk. The hardest part will be waiting for it to cool as the delicious banana bread aroma wafts through your home.
As with most baking recipes, you want to start by preheating the oven first to 350°F (175°C). Additionally, grease your loaf pan with cooking spray or butter and set aside while working on the batter.
Step one: Whisk
In a large mixing bowl, mash the bananas until they are mostly smooth. Add the butter and sugar to the bananas and mix until well combined.
Add eggs, one at a time, beating well after each addition. Finally, stir in the vanilla extract.
Step two: Mix
In a separate bowl, mix the flour, baking powder, and salt.
Step three: Combine
Gradually mix the dry ingredients into the wet ingredients until just combined but take care not to overmix. Fold in the chopped walnuts if using.
Step four: Bake
Pour the batter into the greased loaf pan and smooth the top. Bake for 50-60 minutes in the preheated oven, or until a toothpick or cake tester inserted into the center of the bread comes out clean.
Step five: Rest
Let the banana bread cool in the pan for about 10 minutes, then remove it from the pan and let it completely cool on a wire rack before slicing and serving.
This step is essential, albeit the most difficult. The bread continues to cook using residual heat even after removing it from the oven. Therefore, if you rush to cut the banana bread while still warm, it may be undercooked, gummy, and fall apart quickly.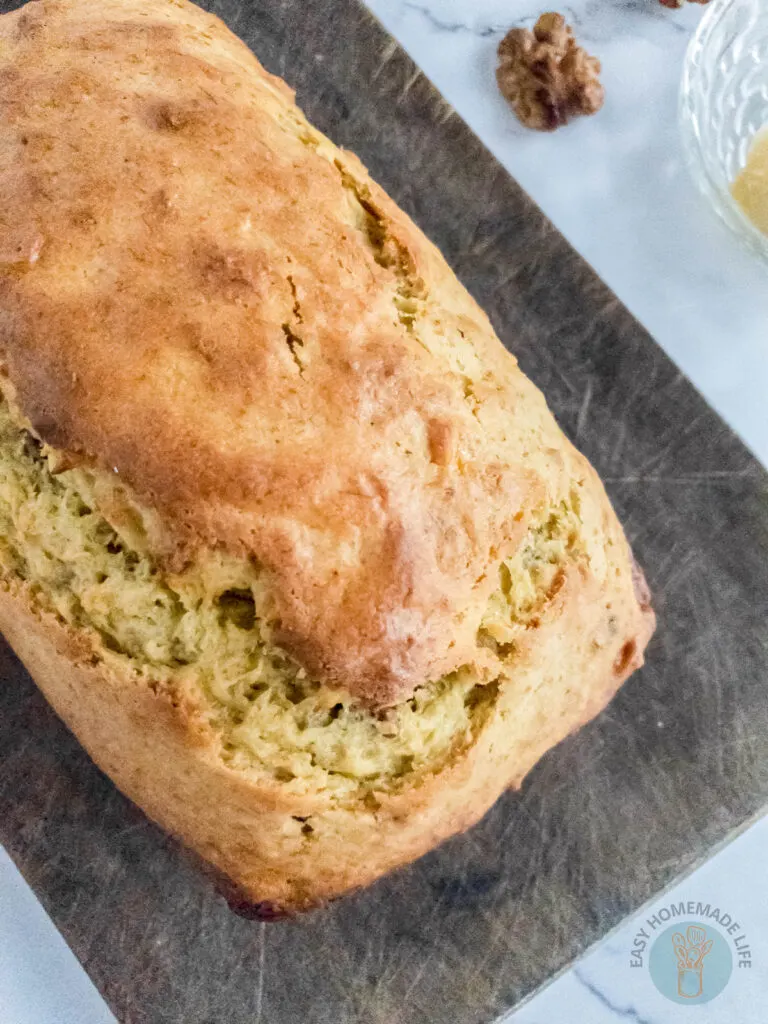 Banana Bread FAQ
How long does homemade banana bread last?
This banana bread without baking soda recipe can last four to five days when stored properly in an airtight container at room temperature. After this time, it may lose its flavor and dry out. To extend shelf life, it's best to freeze the banana bread in an airtight container or freezer bag.
How to store homemade banana bread?
To store homemade banana bread, you must first cool it completely. Then transfer it to an airtight container and keep it on your counter at room temperature for up to five days. Alternatively, you can wrap your cooled loaf of banana bread tightly with plastic wrap.
Can you freeze banana bread without baking soda?
Yes, you can freeze banana bread. First, ensure that the loaf is completely cooled. Then, wrap it tightly in plastic wrap or aluminum foil, and place it in an airtight container or freezer bag. Don't forget to label the container or bag! Thaw frozen banana bread at room temperature for a few hours or overnight in the fridge.
What do you serve with banana bread?
Banana bread is a versatile quick bread that can be served in many different ways. You can slice it and eat it as is, or spread some butter or cream cheese for added richness. It also pairs well with jam, honey, or peanut butter. Serve it as a delicious breakfast or afternoon snack. Or incorporate it into an elegant brunch spread.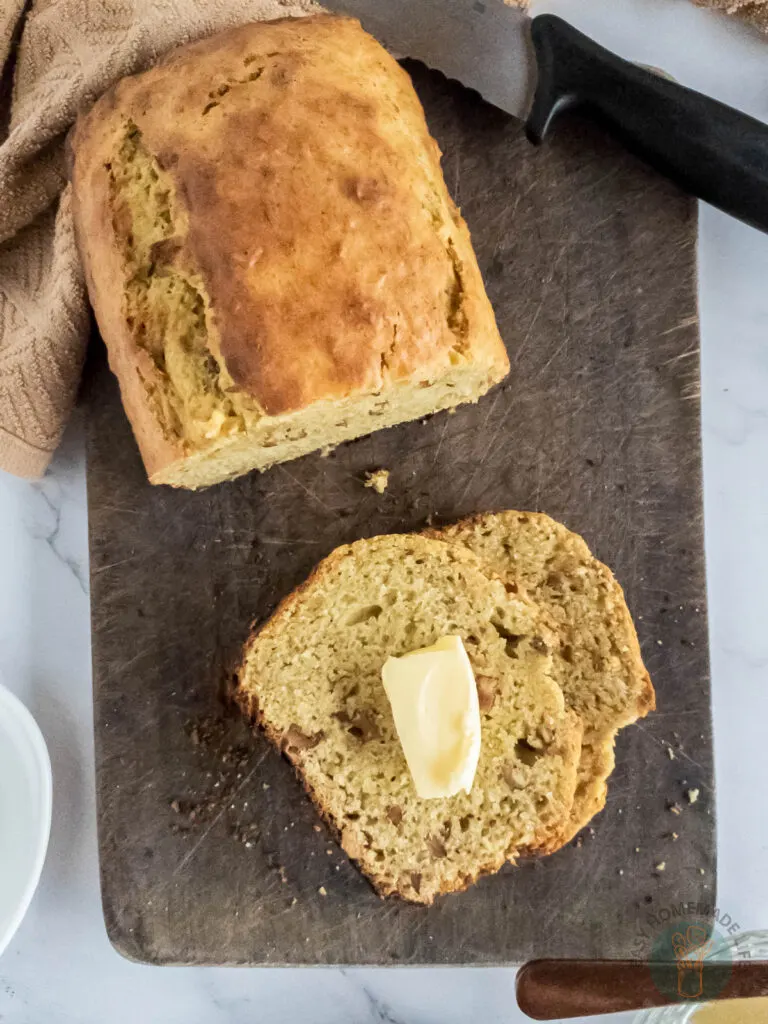 Nutritional Info
This quick bread recipe makes one loaf of banana bread, yielding nine (1-inch thick) slices.
Each serving contains:
305 calories
5 g protein
16 g fat
37 g total carbs
2 g fiber
Please note that the nutritional value will change if you substitute ingredients. Use a nutrition app of your choice to recalculate and reflect any changes.