Make homemade Christmas soap recipes as gifts for everyone on your list this year! The melt and pour bar soaps are simple and will help you have thoughtful handmade presents for everyone you know in record time. Plus, you can afford to hold a few back for yourself, too, because these recipes are so cheap to make!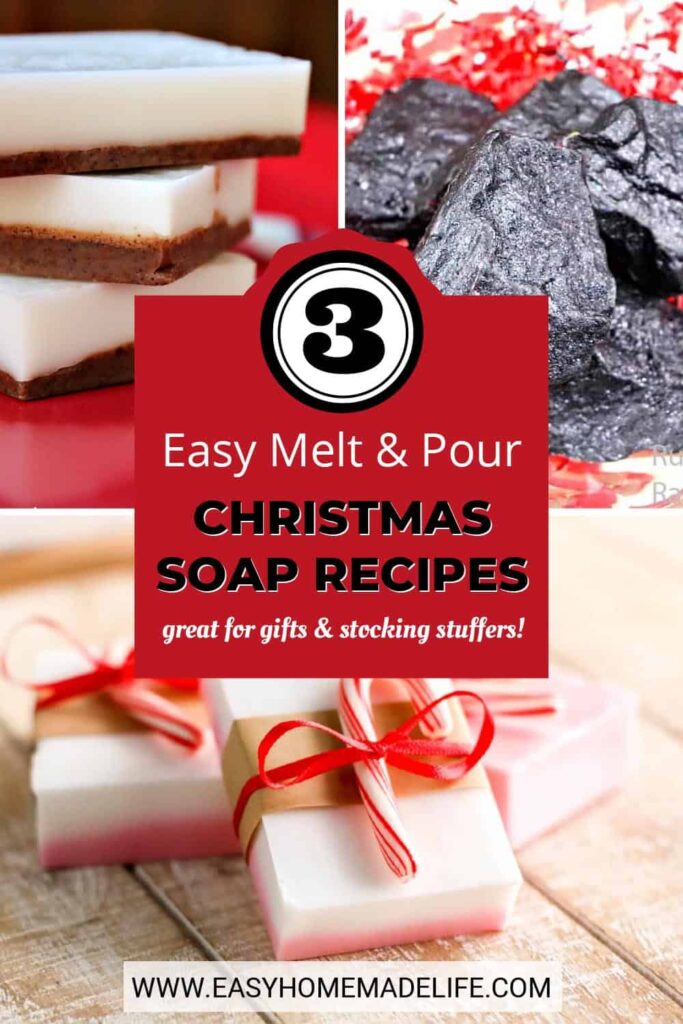 Free Melt and Pour Soap Recipes
Are you feeling stumped on what to give as gifts this Christmas? Winter soap might be what you are looking for.
These easy melt and pour soap recipes for beginners are fool-proof ideas you have to try.
The overall process is simple yet highly customizable, so you can be as creative as you like with these winter soap recipes.
Furthermore, buying all the materials won't break the bank either. Many DIY projects look cute and inspiring, but the cost and effort are way too much to make them viable options when you get down to it. You won't have that problem with these soaps!
How to Make Winter Soap?
Melt and pour soap recipes consist of a premade soap base. That means there's no need to fiddle with lye. This process is completely lye-free and chemical-free.
Bases come in an assortment of suspensions. For example, you can choose various formulas from goat milk, shea butter, glycerin and more.
When you're ready to start, cut the soap base into small cubes.
Then, melt the material in a microwave or double boiler on the stovetop.
Next, stir in colors, essential oils, chocolate powder or other fun add-ins.
Now, pour the liquid into silicone molds of your choice and let cool.
Finally, remove the hard soap from its mold and store in an airtight container.
By the time you're done, your whole house might smell like the holidays!
You may want to keep them all for yourself. However, if gift giving is your goal, there's nothing cuter than wrapping soap in parchment paper and tying it with a ribbon. It's simple yet elegant, and above all, budget-friendly.
Attaching sprigs of holly or a candy cane to the package takes the presentation to the next level. The final touch makes each one memorable. Everyone will love these!
Easy Melt and Pour Christmas Soap Recipes
Making your friends and family homemade gifts just got easier with these Christmas hand soap recipes. Your loved ones will delight in how useful, festive, or funny these winter soap ideas are.
Photo Credit: hispanaglobal.net
Warm hearts by giving this peppermint soap as a gift this holiday season. This winter soap bar recipe has only three ingredients, none of which are lye. The pretty pink color is festive and the peppermint essential oil will fill the air with a cheery smell.
Photo Credit: pinkfortitude.com
Wondering how to make peppermint bark soap? You'll be amazed at how a simple layering technique finishes in an eye-catching presentation. Although the soap smells divine and looks good enough to eat, you'll have to resist! Decide between a vegan-friendly shea butter base or a creamy goat milk base. Either way, you can't go wrong.
Photo Credit: rufflesandrainboots.com
This winter melt and pour soap recipe makes a hilarious stocking stuffer because it looks just like a lump of coal. People might be confused when they see the coal-shaped soap, but they'll love it when they realize what a great cleanser charcoal is. This recipe is a gem; it's hard to find fully functional gag gifts, but this is a hit!
More Easy Homemade Soap Recipes
Make one of these easy DIY winter centerpieces and dress up your table while you prepare the rest of the festivities!