Try these easy homemade biscuit recipes for a special Sunday dinner or holiday brunch. They are light and fluffy yet made without yeast. There is something for every occasion, from savory Cheddar Cheese Biscuits and Easy Drop Biscuits to sweet Blueberry Bisquick Biscuits and Strawberry Buttermilk Biscuits.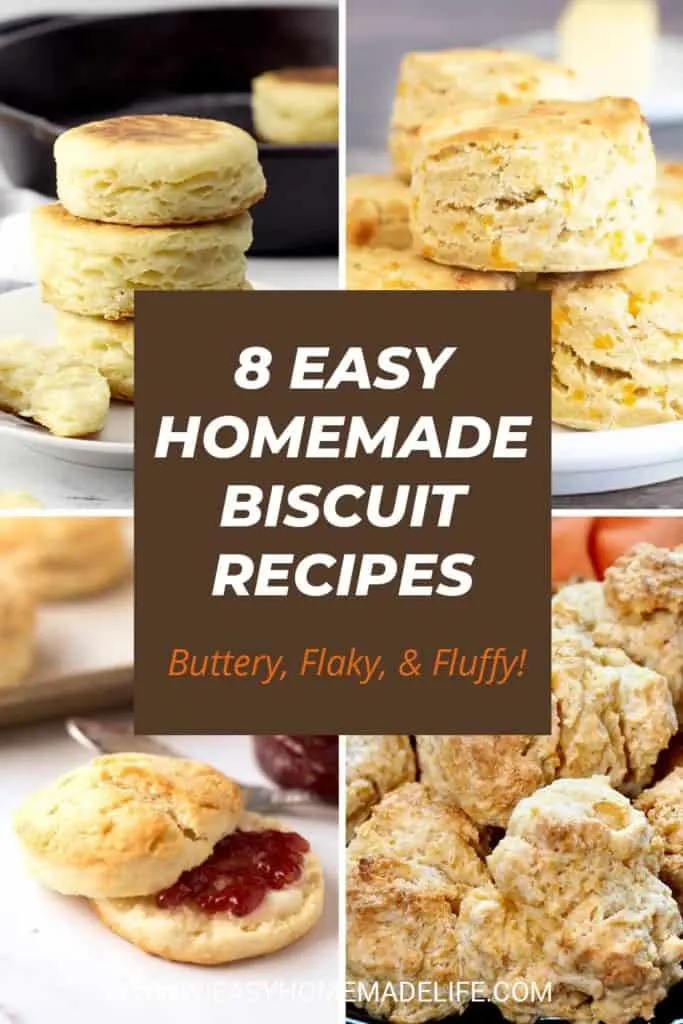 How to Make Biscuits From-Scratch at Home
Don't feel intimidated!
This collection showcases eight easy biscuit recipes you can make from scratch at home, even if you're a beginner!
Follow along to the simple step-by-step directions, and you'll smell oven-fresh bread soon enough.
Each recipe is slightly different, but there are some commonalities overall.
Many biscuit recipes include:
Flour
Baking powder
Sugar
Salt
Milk or buttermilk
Gently mix the dough and drop large spoon-sized dollops on a baking sheet or roll and cut into biscuit-sized circles.
Bake in the oven (or in some cases, cook on the stovetop) and try to patiently wait until they are done!
Serve biscuits warm or at room temperature.
Save these recipes and add them to your meal plan app today!
What to Serve with Biscuits
You really can't go wrong with soft, flaky biscuits. Enjoy them with any meal of the day!
Make a breakfast sandwich with bacon and eggs. Soak up soup for lunch or pair with fried chicken for dinner.
These homemade biscuit recipes are welcome at any holiday feast. Line a basket with a pretty cloth, fill it with the little breads and place it on the table so guests can help themselves.
Biscuits are delicious plain and with cold or soft butter and sweet jam. Of course, everyone knows about biscuits and gravy!
I highly suggest serving with Easy Slow Cooker Soup Recipes or Quick and Easy Pasta Recipes.
MORE EASY HOMEMADE BREAD RECIPES