Are you looking to pamper yourself and your loved ones this Valentine's Day? This melt and pour rose soap is the perfect Valentine's Day soap! With this handmade rose soap recipe, your skin will feel silky-smooth and luxurious. It's quick, easy, and will make your skin smell beautiful. You only need 5 ingredients and twenty minutes of active hands-on time!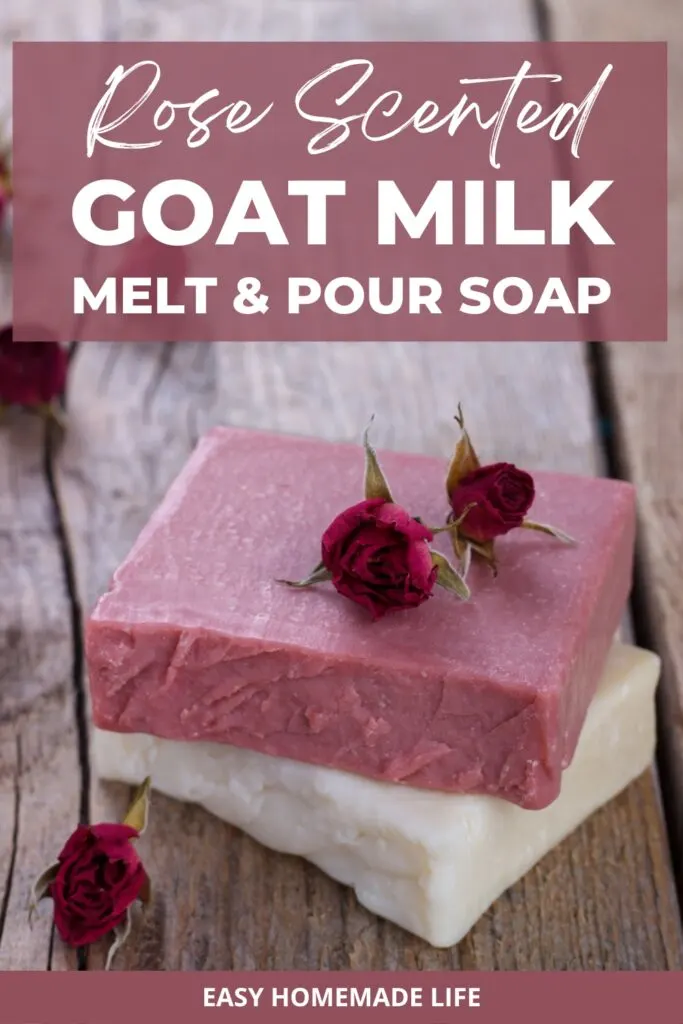 Rose Soap Benefits
There are so many benefits of rose soap. That's because this homemade rose soap recipe uses rose geranium essential oil. Rose geranium essential oil has anti-inflammatory properties that may fight eczema. It also has antibacterial and antifungal properties that protect against skin infections and diseases. Rose geranium essential oil even has antioxidants that fight aging – and what's not to love about that?
But the best part of this rose soap is that you don't have to worry about handling lye. That's because this rose soap recipe uses a melt-and-pour method. With the melt-and-pour method, you're using a premade soap base. And with the melt-and-pour method, you have a much shorter curing (drying) time.
Don't worry if you're running last minute. With such a quick process, you can make this Valentine's day melt and pour soap the day before Valentine's Day – or even on Valentine's Day itself!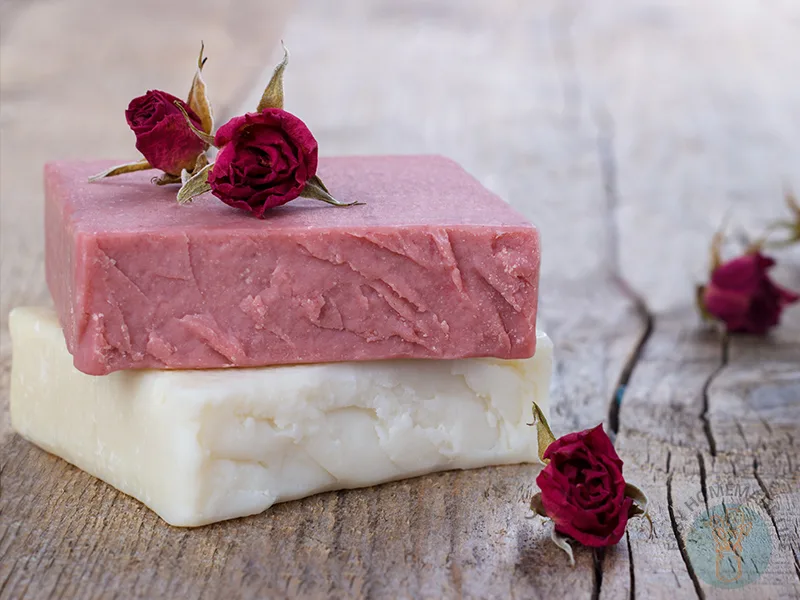 How to Make Rose Soap with Goat Milk
All you need to do is gather 5 ingredients, and you're halfway to making Valentine's Day melt and pour soap. It takes just 20 minutes of prep time. And then, let your soap dry for two hours.
Tools
Cutting board
Chef's knife
Double boiler or microwave
Bowl
Measuring spoons
Fork or whisk
Small spray bottle
High-proof vodka or rubbing alcohol, optional
Tray or baking sheet
Materials
Wondering where to find the materials? You can find them at natural health food markets. Or, to save time, you can shop for them online using the affiliate links I provided above for your convenience.
Loving the goat milk and essential oils combo? After soaping up, your skin will love you for the extra moisture provided in this Goat Milk and Honey Body Scrub!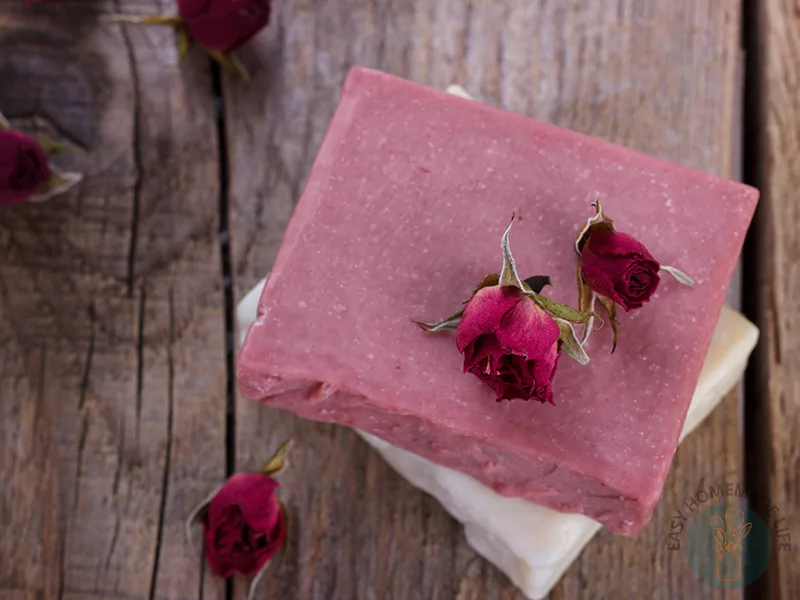 Step-By-Step Directions
Follow these simple directions, and you can't go wrong!
There are only twenty minutes of active time, but homemade melt and pour soap takes two hours to dry. Even so, if you're in a pinch, you can even make this as a gift the day before Valentine's Day or even on Valentine's Day itself!
In order to make this goat milk soap recipe, start by cutting the soap base into small blocks, and then melt them in a double boiler or in the microwave, stirring occasionally. Make sure you use just enough heat for the soap base to melt. You don't want the heat too high though, or it will burn.
Next, add the essential oils, whisking well. Then comes the fun part: adding the mica powder. Sprinkle the mica powder in an even layer over the surface of the mixture. By doing this instead of dumping all the mica powder in a single place, you'll achieve a nice, even color. Using ¼ teaspoon of the mica powder will dye the entire batch of hand soap a dark pink. Whisk gently so that air bubbles don't form on top.
Place the soap mold on a tray or baking sheet and fill it with the liquid soap. If bubbles form on top, you can spritz the top with a spray bottle that contains high-proof vodka or rubbing alcohol. This will get rid of the bubbles.
Let the soap rest and firm up for about 30 minutes, then move it to a different area away from direct sunlight and let it harden for another 1.5 hours or overnight before you remove it from the mold. If you're short on time, placing the mold in the refrigerator or freezer will speed up the process.
Pop the hand soap out and cut it with a sharp chef's knife into 2-inch bars.
Use your new rose soap immediately or enclose it within a tight layer of plastic wrap or eco-film for later use or to gift to your mom, grandma, and all your friends.
Melt and Pour Rose Soap Variations
Want to make 4 pink and 4 white soap bars instead? You can do this by separating half of the liquid base into a bowl while transferring the rest to a mold. Add ½ teaspoon of the mica powder to the bowl and mix it in. Then mold and let it harden.
You can also adjust the amount of mica powder to create different colors. Less mica produces a paler hue, while more makes a deeper, darker hue. The sky is the limit!
You can even finish the soap in different ways or combine colors with swirls. Divide the batch of soap into as many bowls as you want and adjust the amount of mica to create different hues. Use the original ratio of 1 pound of soap base to 1 tsp mica as a reference point and go from there.
One thing to note is that melt and pour soaps do act differently than cold-processed soaps. Generally, you can't texture the top of melt and pour soap with a glycerin base because it's rather thin. However, goat milk soap has more viscosity to play with as it hardens, so feel free to push it around a bit. Plus, with a goat milk base, there is more natural texture than with a non-dairy base such as glycerine.
Another way you can vary your Valentine's Day soap is to use different soap molds to create different shapes. I made this rose soap in a loaf mold, which I then allowed to set before cutting it into bars to make a rose bar soap. However, you can use other shapes like circular or oval molds to create a rose hand soap. Of course, heart-shaped ones would be perfect too!
Maybe next year, you'll be ready to try a cold processed soap recipe. In that case, there's no better recipe to suggest than the Nerdy Farm Wife's Valentine Soap with Hearts. It's a beautiful three-dimensional soap that takes at least four weeks to cure, so plan ahead!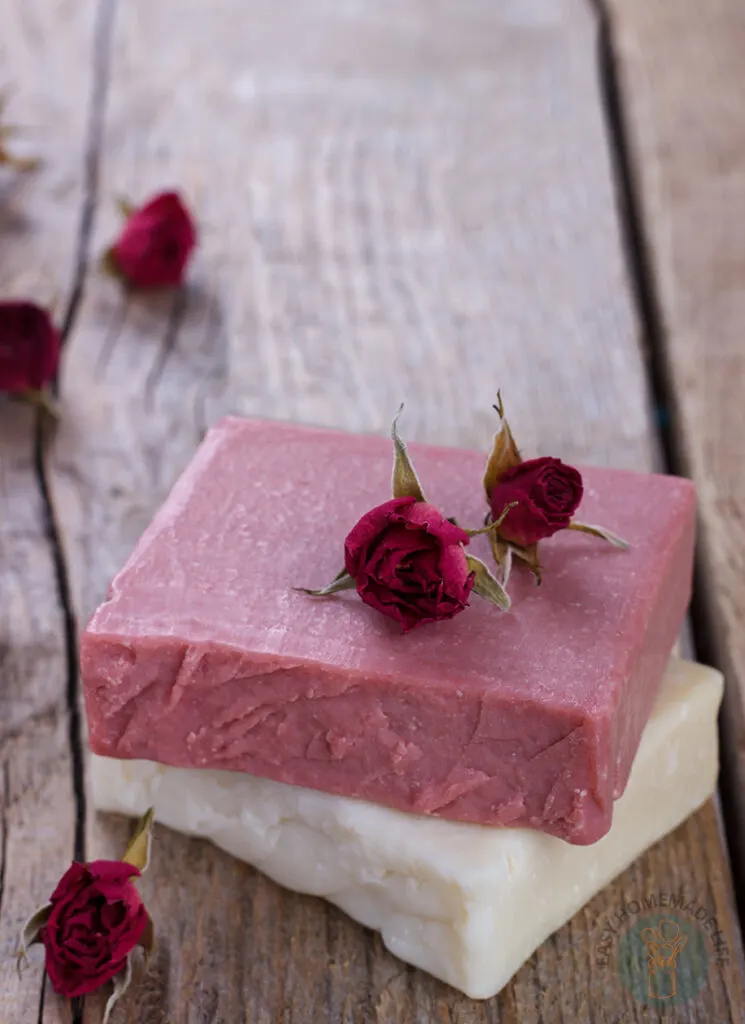 Melt and Pour Rose Soap Recipe FAQ
How to make rose scented soap?
To make rose scented soap, start by cutting your melt-and-pour soap base into pieces. Then melt the pieces and add a rose-scented essential oil stirring well. Spread the soap colorant evenly over the soap base-essential oil mixture, mixing gently. Pour the mixture into a mold, and let it cool for two hours before cutting it into bars.
What is rose soap good for?
Rose soap is good for treating eczema, moisturizing, exfoliating, and brightening skin, and fighting the effects of skin aging.
How to color melt and pour soap?
To color melt and pour soap, add a soap colorant such as mica powder. You could also use commercial soap dyes, but I prefer a safer, natural option like mica.
How long does melt and pour soap take to set?
Melt and pour soap takes only two hours to set. It's very quick!
How to store melt and pour soap?
Wrap melt and pour soap in eco film or plastic wrap. Then store in a cool, dry area.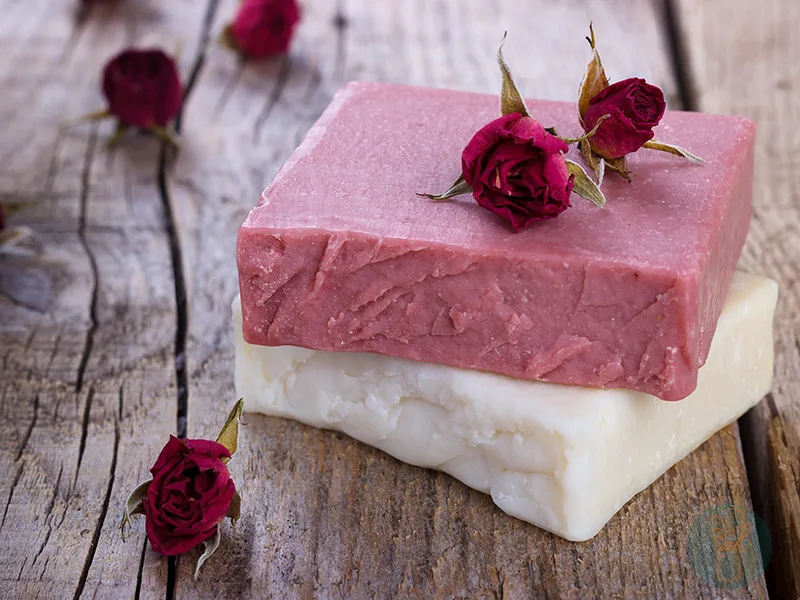 More Easy Melt and Pour Soap Recipes
Melt and Pour Christmas Soap Recipes give seasonal soap ideas for the Christmas holiday too! Make the perfect Christmas gift with festive colors and a beautiful look. The thoughtful homemade touch will make your gift recipients feel extra special!
Easy Melt and Pour Recipes for Beginners will help you successfully make soap for the first time with simple step-by-step tutorials. These melt-and-pour recipes are perfect if you're just starting to make your own handmade soaps. They take so little time and effort; they make soap making a breeze!
Essential Oil Soap Recipes for Beginners offer fool-proof choices naturally scented with essential oils. Not only do these essential oil soap recipes smell nice, but they also have wonderful therapeutic properties.