Take a shortcut in your morning routine with these easy make-ahead breakfasts! They are way better than a quick bowl of cold cereal and healthier for you too. Use these recipes to save time during the week and stay composed amidst the flurry of your morning rush.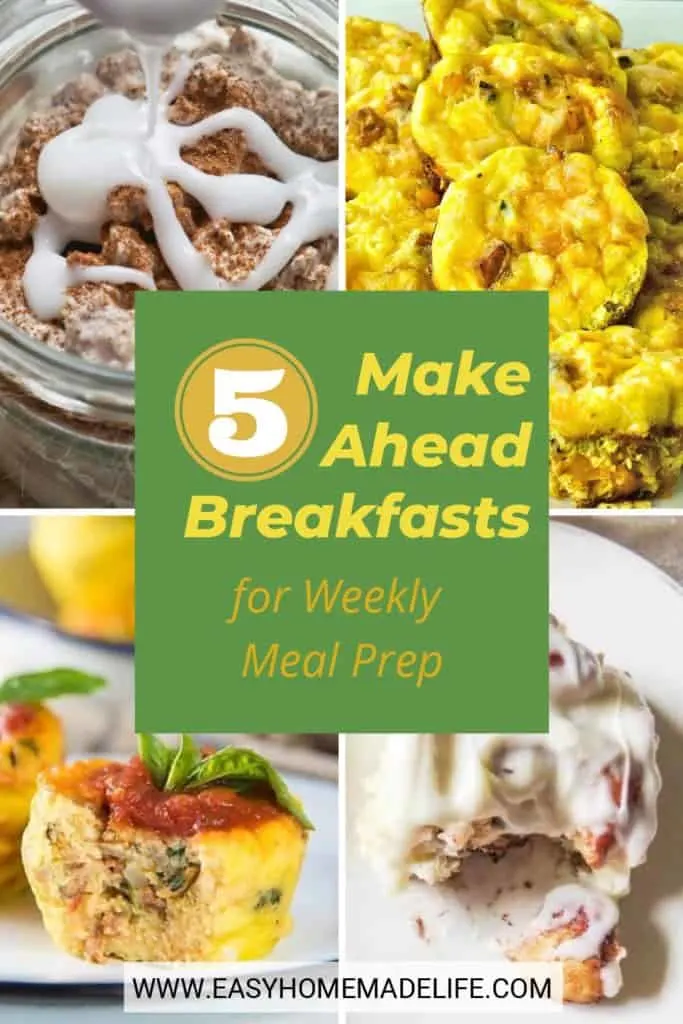 Simple Grab-and-Go Meals
Do you find yourself constantly checking the clock and rushing round in the morning?
If you can't make a quick breakfast, at least save yourself the extra time in bed by meal prepping breakfast the night before. The secret weapon of make-ahead meals might be the life-changing strategy you need in your life.
Whether you choose a more realistic spin on oatmeal, aka "overnight oats," or egg-based muffins stuffed with your favorite omelet fixings, you'll be sure to reap the rewards of simple grab-and-go meals.
If you like having food prepped in the fridge, ready to pick up before you head out the door, these recipes are for you!
Plus, the extra portions make great after-school snacks for children. I know I can always use more easy recipes for that time of the day. How about you?!
Quick and Easy Meal Prep for Stress-Free Mornings
Prepping meals the night before is a great way to minimize your workload the following morning. Also, consider that if your recipe makes multiple series, you can multiply the positive results of your efforts many times over during the week.
How cool would it be to have breakfast prepped in the fridge for you, ready to grab-and-go?!
Well, you can do it!
With so many easy meal prep breakfast ideas to try, you're sure to fall in love with this new way of cooking.
In addition to weekly prep, you can also choose any of these recipes for entertaining on the weekend. Egg muffins will easily feed a brunch crowd. Who can resist homemade cinnamon rolls? Those are sure to be a big hit too!
Add the recipes below to your meal plan app and stay on track with your plan.
Then, once you have breakfast figured out, start making lunch with minimal ingredients and meal-prepping homemade sub sandwich bread.
More Easy Breakfast Ideas