Make no roll matcha sugar cookies anytime you want a soft and chewy sugar cookie. These will fly off the plate and are so easy to make because there is no chilling time or rolling and cutting! These will be ready in minutes; just mix the dough and bake in the oven.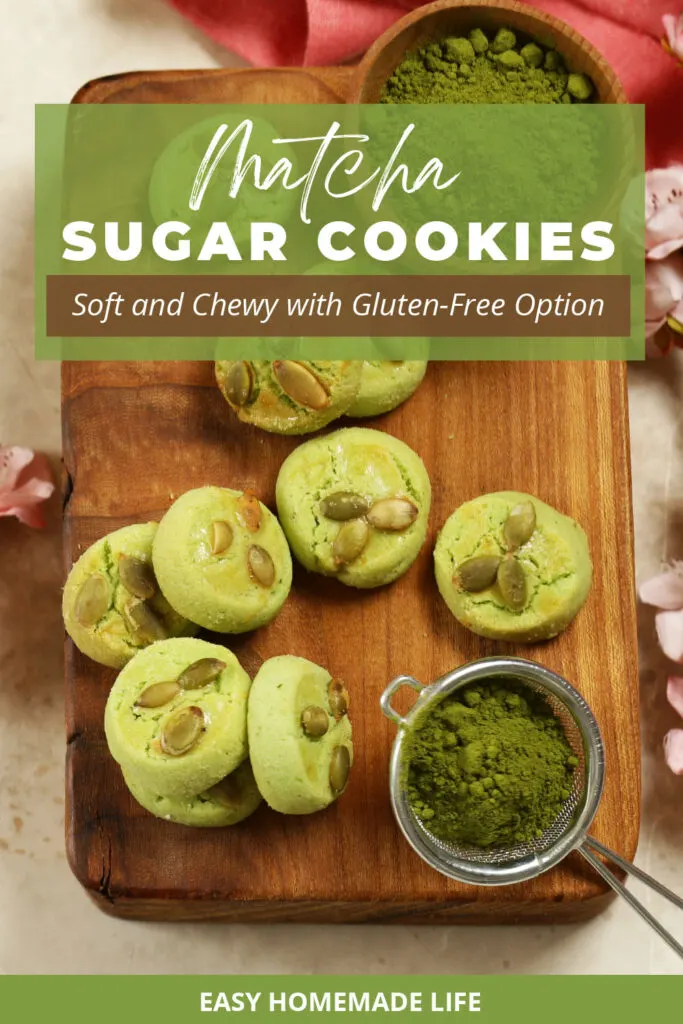 How to Make Matcha Cookies
All you need are a few everyday baking ingredients, matcha powder, and a cookie sheet before making a matcha cookie recipe in 10 minutes!
Simply mix the ingredients together and bake in the oven until done. There's no chilling the dough, no rolling, or cleaning up messy flour-covered counters!
In fact, it's so easy that if you have leftover matcha powder, you may also be up for trying these unique Matcha Brownies.
For more "tea-themed" recipes, try our Chocolate Chai Latte or Pumpkin Spice Chai Latte. They are delicious these cookies or any dessert.
Ingredients
All-purpose flour – Measure the amount correctly! You don't want to change the texture by adding too much or too little all-purpose flour. If you prefer gluten-free cookies, pick a formula like Bob Red Mill's Gluten Free 1 to 1 Baking Flour or King Arthur Gluten-Free Measure for Measure Flour and substitute in equal amounts. If you have more questions about adapting with gluten-free ingredients, read more at Lynn's Kitchen Adventure.
Matcha powder – Here's how we make these natural green sugar cookies with no food coloring! Matcha powder tastes pretty mellow and balances nicely with the sugar, so don't worry about any resulting bitterness by using tea in cookies.
Baking soda and baking powder – Use the exact measurements listed in the recipe card below to make light and puffy cookies. Without these baking agents, the cookies will go flat and spread over the baking sheet.
Butter – It's worth waiting until your butter softens to room temperature. However, don't wait too long because the cookies will spread and go flat if the butter is too warm. Leaving it on the counter for at least an hour before making this recipe should be enough time to bring it to a workable temperature.
If you don't have an hour to wait, read these tips on alternative ways to soften butter quickly.
Sugar – Normal granulated sugar is just right for these sugar cookies. If desired, you can use an extra ¼ cup for rolling the dough balls in directly before baking them.
Egg yolks – Separate the yolks from the whites by cracking the egg open and using the two egg shell halves to cut the white away and pass the yolk back and forth. Watch this video and see the technique in action.
Vanilla extract – Just one teaspoon vanilla extract adds enough flavor for the whole recipe.
Pumpkin seeds – Add three or four pumpkin seeds to each cookie for an enjoyable crunch! Seeds are optional, so if you have an allergy or don't want a crunchy texture with your chewy cookies, simply omit them.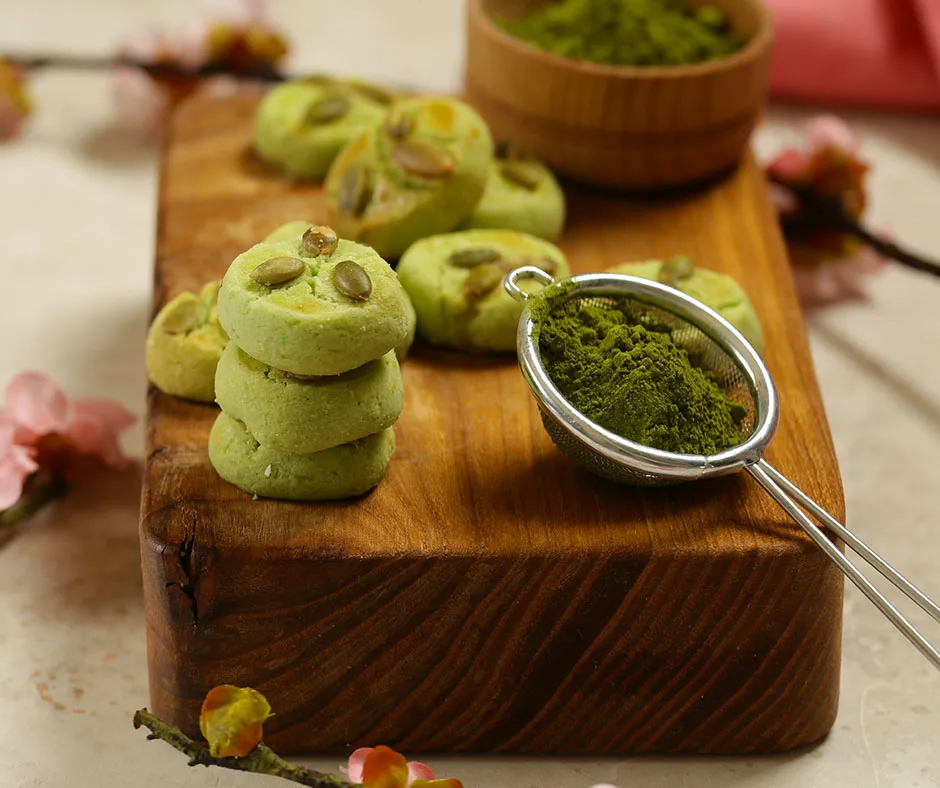 Step-By-Step Directions
Start by preheating the oven to 350 degrees F (175 degrees C). Then, line two large baking sheets with parchment paper or silicone baking mats. If you don't have either of these, a good rub with butter on the sheets should work too. Set aside.
Whisk the flour, matcha powder, baking soda, and baking powder together in a medium-size mixing bowl. Set aside.
Use an electric or stand mixer and cream the butter and sugar in a large bowl.
Add egg yolks and vanilla extract.
Add the dry flour mixture. Do not overmix. Continue blending only until just combined.
Scoop dough into balls with a 1 tablespoon cookie scoop or spoon and place on the baking sheet. Gently press three or so pumpkin seeds on the top of each cookie.
Bake for 10-15 minutes or until cracks appear on the cookies' tops. Cool for 5 minutes on the baking sheet before transferring to a wire rack and cooling completely.
Once cool, store cookies for up to 7 days in an airtight container at room temperature. You can also transfer to the freezer and store for up to 3 months.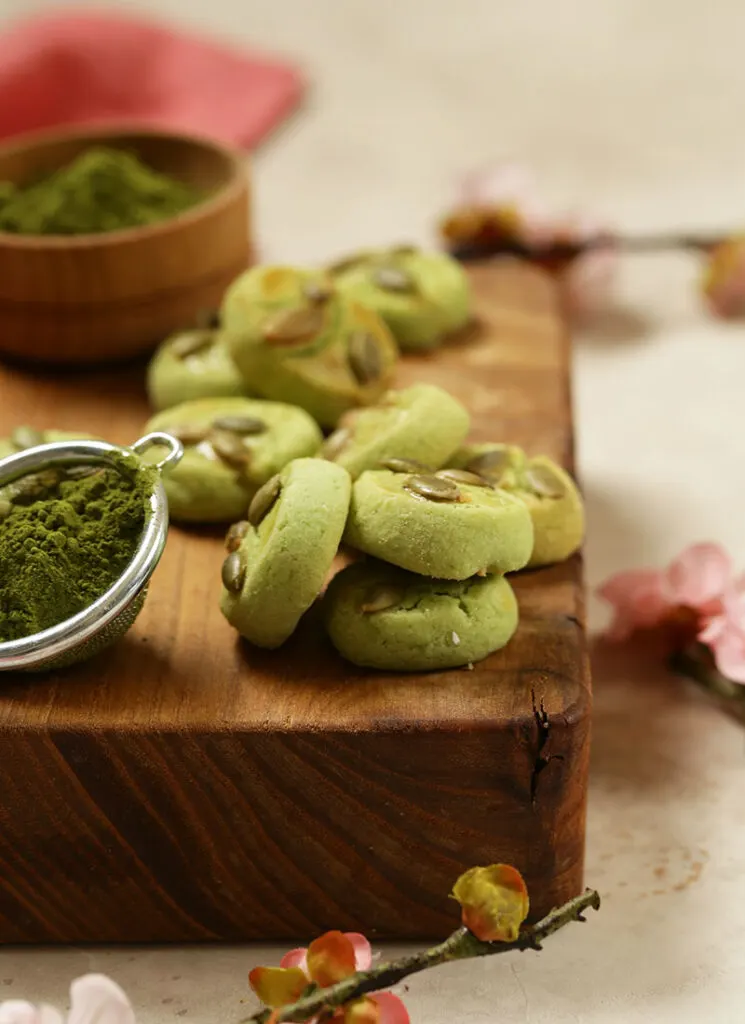 Matcha Sugar Cookie Recipe FAQ
I understand you might have some questions, particularly if cookies made with tea are new to you or if you've never worked with matcha green tea as a baking ingredient before. So let me answer some common queries and clarify the process for you.
Do matcha cookies have caffeine?
Matcha powder contains about 35mg of caffeine per ½ teaspoon serving. This recipe calls for 1 tablespoon with a yield of roughly 28 cookies. Therefore, each cookie has 7.5 mg of caffeine since caffeine does not cook out like alcohol during baking.
Can you freeze matcha cookies?
Freeze matcha cookies after they have cooled completely by placing them in a freezer bag, pressing all the air out, and sealing closed. Store in the freezer for up to three months. Thaw them anytime by placing them in the fridge overnight or leaving on the counter. Pop them in a 350 degree F oven (175 degrees C) and warm them up a bit; then they are just like a fresh-baked cookie!
How much matcha do you put in cookies?
I like one tablespoon of matcha powder in this recipe with a yield of 28 cookies. This amount gives a subtle flavor and beautiful vibrant green color in proportion to the other ingredients. Recipes with a smaller yield will use a smaller total amount of all ingredients and may only need 1 tablespoon or less of matcha powder.
Can I use matcha tea bags in cookies?
I recommend using pure matcha powder over match tea bags because tea bags often blend a high amount of regular green tea with only a small amount of matcha.

You'll notice matcha powder comes in three different grades: ceremonial, premium, and culinary. As you might think, the higher the grade, the higher the price. A premium grade is likely a nice middle ground if the specific green color is important to you. Some, but not all, culinary grades lose the bright green color and turn brown after baking. A little goes a long way, so if you invest in a higher grade, it will stretch through many recipes.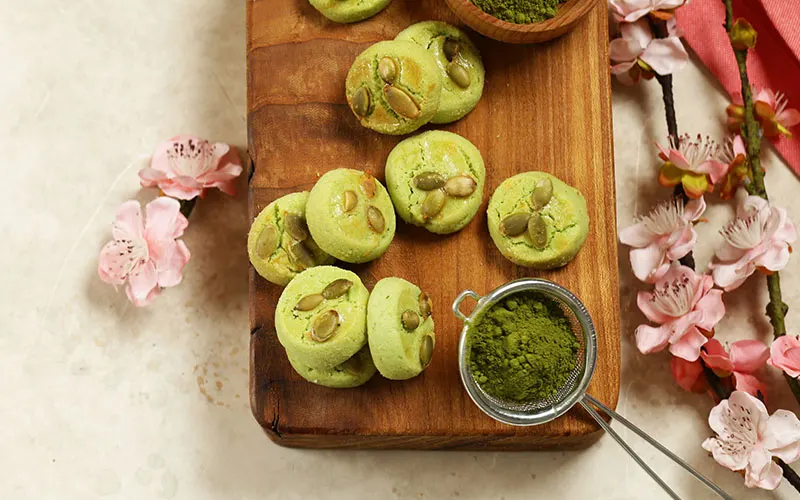 What to do with Green Sugar Cookies
Matcha powder adds a delicious green tea flavor to cookies and baked goods, plus a fun naturally green color without any food color or dye.
When are green cookies not awesome? Since these are naturally colored and have a gluten-free option, you can share a green sugar cookie with anyone interested in staying healthy while also enjoying a green-themed holiday.
You'll want green cookies for St Patrick's day for sure!
Anyone who loves Dr. Seuss will know these are also perfect green eggs and ham cookies. Why not?!
When the Christmas season rolls around, you can call these grinch sugar cookies! No one can resist these on a holiday cookie plate next to Grinch Oreo Balls and Dirty Chai Earthquake Cookies.
Follow the directions for freezing the baked cookies. You can make them ahead of time and pull them out when your favorite green holiday comes around. The applications are endless, and you can enjoy them all year long.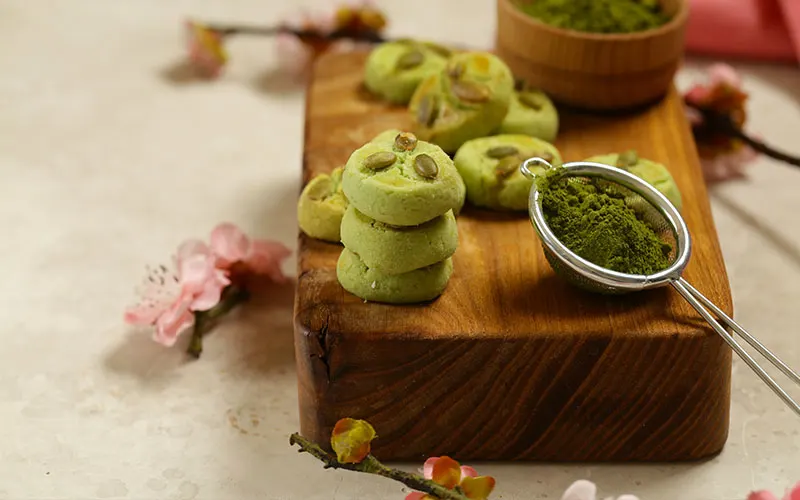 More Easy Cookie Recipes
Looking for more unique flavors in your desserts, try our Chocolate Sage Ice Cream Recipe!