We've got you covered with foaming and classic liquid hand soap recipes. Whether you make soap at home to save money or avoid chemicals, you can start today with simple, fool-proof recipes.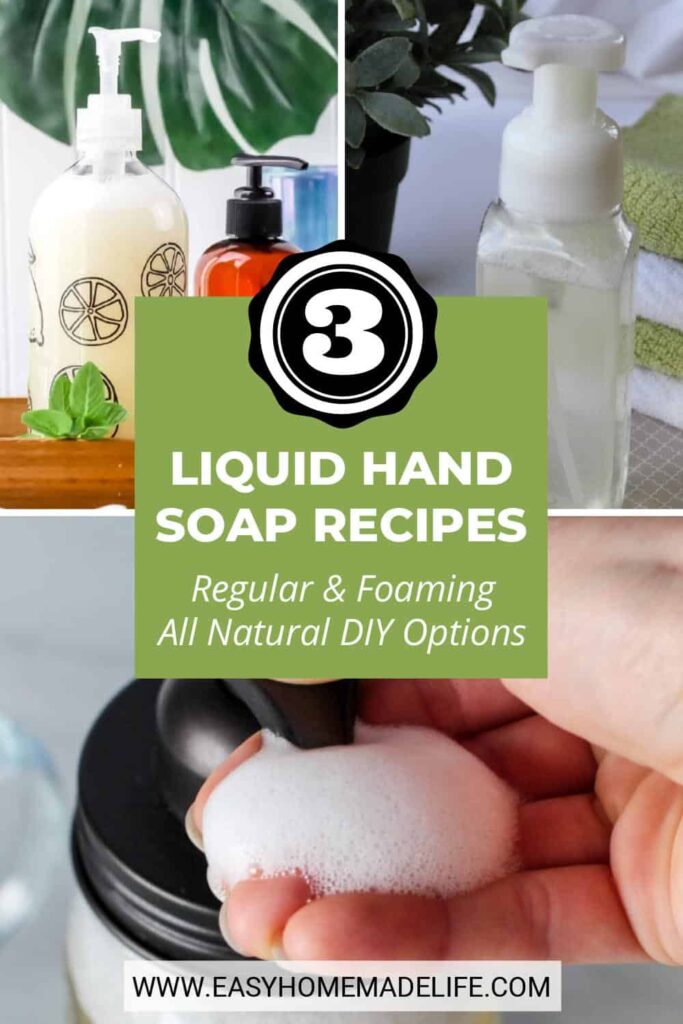 Easy Liquid Hand Soap Recipes
Make homemade hand soap with gentle, non-toxic ingredients, and treat your skin right.
Your wallet will thank you, too. DIY hand soap is much cheaper than chemical-filled, commercial stuff you find on the shelves at most stores. If you can't pronounce an ingredient, you might not want to be putting it on your skin.
I don't know what it is about liquid soap, but children sure do love it! If your kids tend to shortcut their cleaning routine, swap out ordinary bar soap for liquid instead.
I bet they will take to washing better, and you'll rest easy knowing you provided a frugal, all-natural soap for them to use. Sounds like a win-win!
How to Make Homemade Liquid Hand Soap From-Scratch
Any DIY liquid soap recipe is as easy as reusing an old hand soap bottle and filling it with a few ingredients.
First, you'll need a soap base.
Then, you might want to add soothing oils or scent with essential oils. Follow the specific recipe and explore your options.
Next, mix everything together and bottle it up.
Finally, display on your bathroom or kitchen skin and give yourself a pat on the back for adding a subtle, yet important, homemade touch to the room.
Natural Liquid Hand Soap Recipes
Hand soap, we all need it. Now, we can all make it. Start rubbing your hands together with excitement because each recipe calls for just a couple of everyday ingredients. You have room for creativity and can customize with your favorite essential oils.
Photo Credit: funhappyhome.com
Save money by stretching that beloved bottle of Dr. Bronner's castile soap. Add almond oil and a few drops of lemon and tea tree essential oils to the liquid base. Be sure to follow the specific tips on exactly how to make Dr. Bronner's liquid soap foamy. Then, you're ready to lather up.
Photo Credit: www.livingbeyondallergies.com
This soap is allergen-free and hypoallergenic, just what sensitive skin needs. With only two ingredients: pure olive oil castile soap and borax, you can have a non-toxic, gentle non-foaming hand soap anytime you want.
Photo Credit: wholesomefamilyliving.com
Foaming hand soap is all about using the correct dispenser. Upcycle one you already have, or buy a single piece that screws onto mason jars. Try it yourself with this DIY recipe.
More Easy Homemade Soap Recipes