Melt and pour soap recipes remove all the intimidating aspects of soapmaking and leave you with just the fun and easy parts. With minimal time, effort, and money, these recipes welcome beginners through the door of the fascinating world of homemade soap.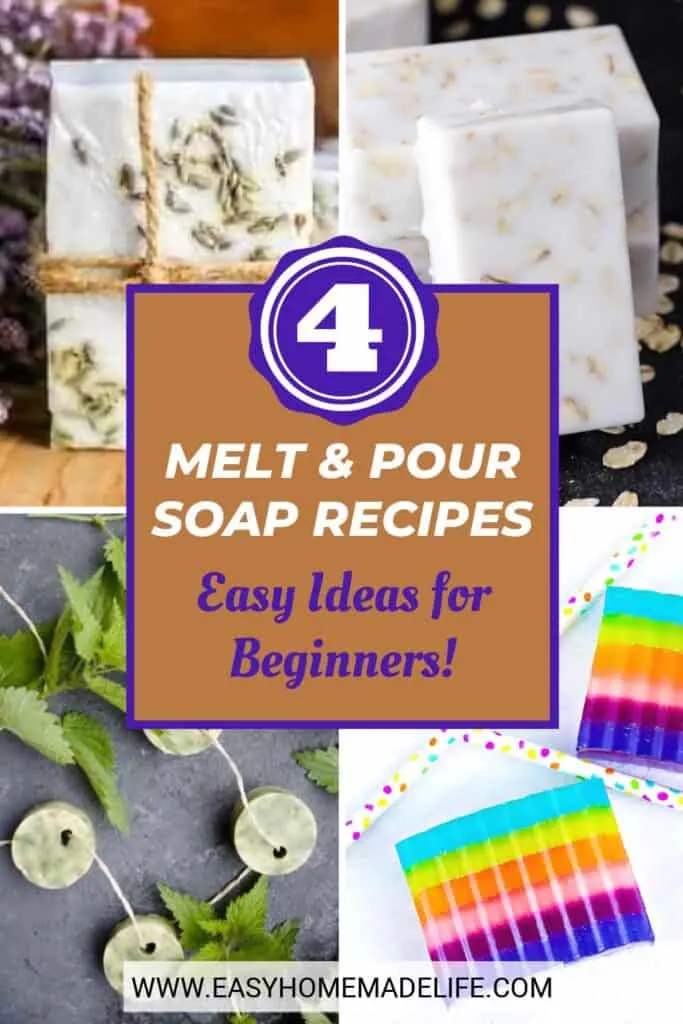 Melt and Pour Soap Base Recipes
I bet these easy homemade soap recipes without lye will take you by surprise.
That's right, these are 100% lye-free!
Melt and pour soap has already gone through the process of saponification; therefore, there's no need for you to deal with any chemicals.
The melt and pour process is as easy as melting and pouring.
The hardest part might be deciding which recipe to start with. So go ahead and take a look at the free recipes below. They are all tried and true recipes without pdfs to download or products to buy.
How Do You Make Simple Melt and Pour Soap?
There's no doubt, this is the easiest way to make soap.
The base of every melt and pour soap recipe is a premade soap base.
Begin by cutting your base material into small cubes.
Next, melt it either in a double boiler on the stovetop or in the microwave.
Once it is liquid, stir in your essential oils, herbs, colors or whatever else makes the soap special.
After this, pour your soap base into silicone soap molds.
Then, allow your soap to set for about 45 minutes.
You're finished when the soap has hardened. It's so quick! There's no long curing process to track or need to flip them over for a few days. It only takes one hour until these soaps are done and ready for use.
I also suggest wrapping a few pieces in parchment paper and securing with ribbon. Save these to share as thoughtful handmade gifts throughout the year.
It's so easy to get the hang of the melt and pour technique. These are great recipes for beginners!
More Easy Homemade Soap Recipes
For a gift or occasion, impress that special someone with our melt and pour Rose Soap Recipe (Valentine's Day Soap). Its luxurious scent is sure to be a favorite.