Do you love the smell of freshly baked Christmas cookies? This vanilla diffuser blend is exactly what Santa ordered! My essential oil Christmas blend recipe smells like sugar, spice, and everything nice. It's simple, quick, and guaranteed to fill your home with the smells of Christmas, so you can keep the holiday spirit going all winter long. You only need 3 ingredients and five minutes!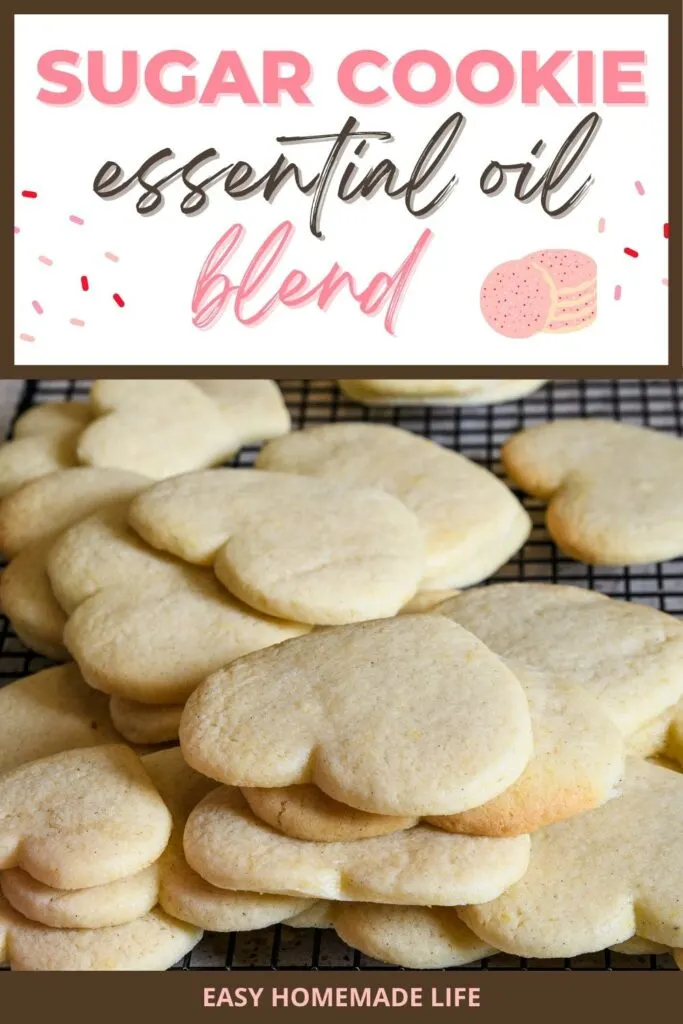 Vanilla Diffuser Blend
This vanilla diffuser blend, with its warm, sweet, and spicy notes, is sure to remind you of sugar cookies. But unlike sugar cookies, you won't have to slave in the kitchen making them. In just five minutes, the sugar cookie scent will make your house smell like a bakery.
And since you get the bakery smell without all the cookies, you can stick to your healthy eating plan – and not be on Santa's naughty list. In fact, you actually may lose weight with this vanilla diffuser blend. That's because research shows that the scent of vanilla can reduce your cravings for sweets.
A sweet smelling essential oil blend is one simple way to overcome a pesky sugar addiction, while natural sugar alternatives like stevia are another. Little by little, you can change your life.
Also, unlike synthetic fragrances, this vanilla diffuser blend is made with all-natural ingredients. So you don't have to worry about dangerous chemicals being released into the air. This vanilla diffuser blend also makes the perfect Christmas gift for your friends and family – you'll definitely earn some brownie points!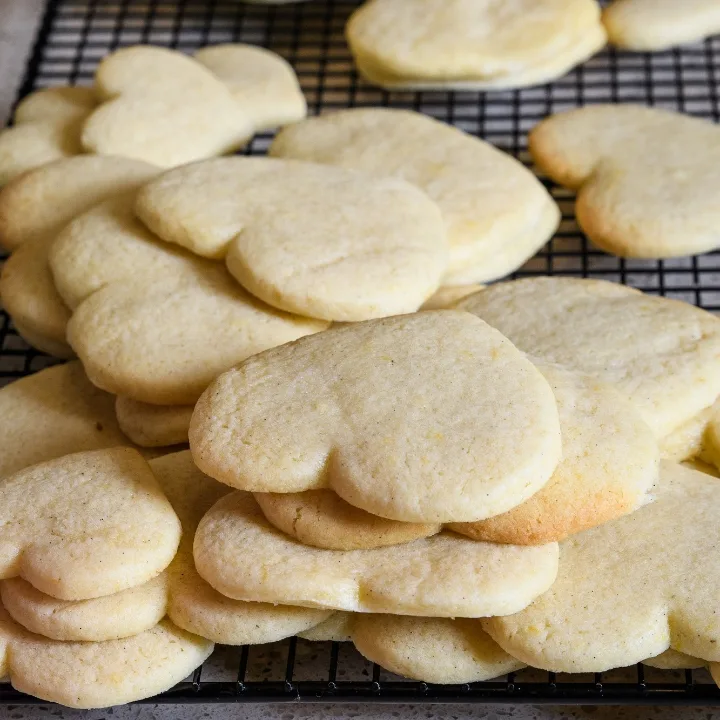 How to Make Vanilla Diffuser Blend
All you need to do is gather 3 ingredients, and you're halfway to making a vanilla diffuser blend in just 5 minutes!
Tools
Materials
Vanilla absolute – This is the key ingredient for this essential oil Christmas blend recipe. Vanilla absolute gives a sweet, rich, vanilla sugar cookie scent. If you're looking for a cheaper alternative to vanilla absolute, you can use Peru balsam essential oil. It has a sweet vanilla-like scent, as well as antibacterial properties.
Sweet orange essential oil – Sweet orange essential oil gives a sweet, citrusy scent to the vanilla diffuser blend. It also has antibacterial and antifungal properties. If you don't have sweet orange essential oil, you use tangerine essential oil instead.
Cinnamon essential oil – Cinnamon essential oil adds warm, spicy notes to the vanilla diffuser blend. Additionally, it has antioxidant and antibacterial properties. Research also shows that cinnamon essential oil can be used as a preservative. If you don't have cinnamon essential oil, you can use cassia essential oil instead.
Wondering where to buy essential oils? I recommend getting them from Mountain Rose Herbs. They carry high-quality organic essential oils sourced ethically and responsibly and have good business practices.
Step-By-Step Directions
Follow these simple directions, and you can't go wrong!
In order to make this diffuser blend with vanilla, start by removing the dropper cap from a clean essential oil bottle. Then using a mini funnel, add the essential oils to the clean essential oil bottle, swirling the bottle after each addition.
One quick note: Vanilla absolute essential oil and its budget-friendly substitutes are thick. So they may not pour easily. If this happens to you, simply heat the bottle gently under warm running water to make it less viscous and thick.
Once you're done adding all the essential oils, put the dropper top back on the bottle, screw the lid and mix well.
Your diffuser blend with vanilla is now ready to be used immediately or gifted. You'll notice that over the next couple of weeks, the fragrance will develop even more as the essential oils meld.
Store out of direct sunlight.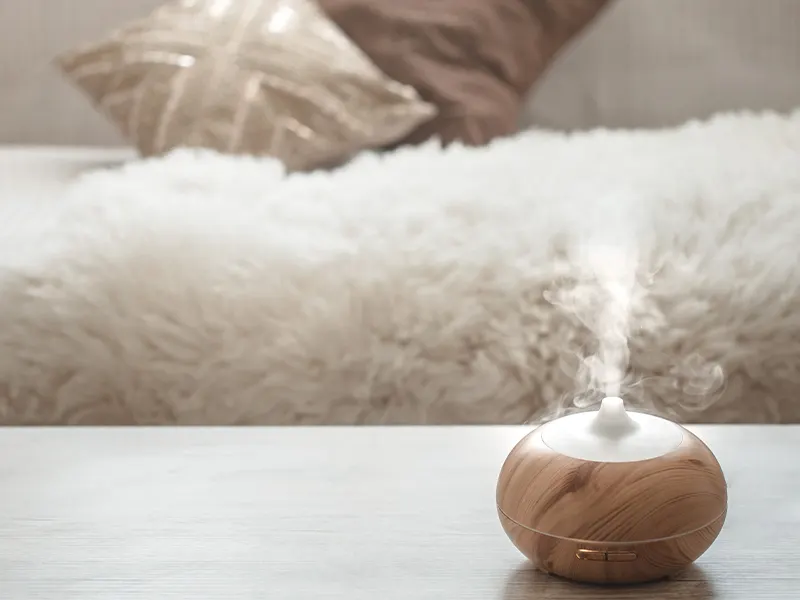 Vanilla Diffuser Blend Variations
There are so many ways you can change up this sugar cookie diffuser blend.
For instance, you can add a couple of drops of lemon oil to create a lemon sugar cookie diffuser blend.
If you'd like your scent warmer, you can add ginger or clove to make a gingerbread essential oil diffuser blend with vanilla.
Love the smell of chocolate? Add a few drops of chocolate essential oil and you'll have a chocolate chip sugar cookie scent!
How to Use Vanilla Essential Oil for Diffuser
To use vanilla essential oil for a diffuser, add water and vanilla essential oil to the diffuser according to the manufacturer's directions. Then, turn it on, and sit back to smell the wonderful aroma of sugar cookies wafting through the air.
You can also add vanilla essential oil to bath and body products like bath confetti, body butter, or melt-and-pour soap. Just make sure you dilute the vanilla essential oil first, with a maximum concentration of 2 to 4 percent, so that your skin doesn't get irritated.
In addition to diffusing, another way you can use this vanilla essential oil blend is as a natural fragrance oil in perfumes, candles, and room sprays.
Can You Put Vanilla Extract in a Diffuser?
I know it might be tempting to put vanilla extract in a diffuser because, first of all, you probably already have it in your pantry, and secondly, it smells so dang good.
What's the deal, can you diffuse vanilla extract? Some people say yes, while others say no. Overall it seems yes, you can technically diffuse vanilla extract, but you need to take some precautionary measures and, even so, still run a small risk of degrading the diffuser's quality.
First, if you choose to put vanilla extract in a diffuser, you use a lot more quantity than you would need if it was essential oil because the scent is much more diluted. Secondly, it's important to dilute the extract with water, so that it doesn't clog up your diffuser. Even so, it's possible that once the alcohol evaporates out, the leftover sticky residue could damage the diffuser.
In summary, it's better to avoid using vanilla extract in a diffuser unless you have no other alternatives. And only then, if you dilute it with water first.
More Homemade Essential Oil Blend Recipes