Choose any of these DIY winter centerpieces to complete the Christmas vibe in your home. Make them in minutes and enjoy them throughout the whole holiday season. There's no excuse not to give these projects a try when they are so fun and easy to create!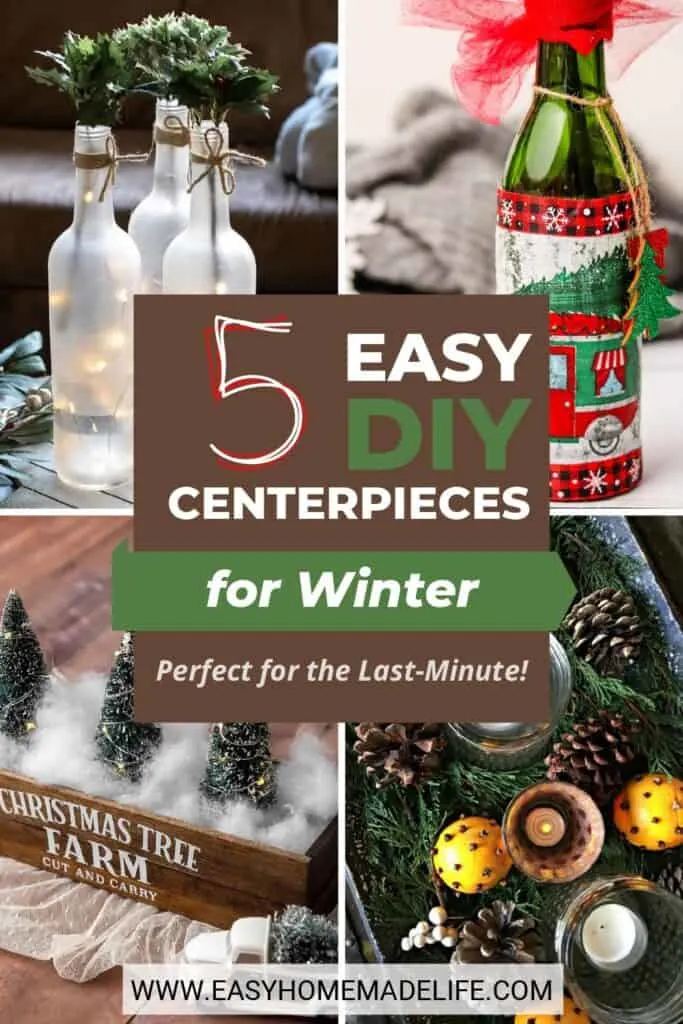 DIY Table Decor for Winter
The holiday season has many of us pressed for time, but that doesn't mean we can't dress up our house with a thoughtful handmade centerpiece.
We all want to make the season memorable for our families, but who has the time for a big project? When it's as simple as these DIY table centerpieces, we actually can.
Even if you make them at the last-minute, they will keep through January and beyond.
With cheap everyday materials you can find just about anywhere, adding a fancy and festive flair has never been easier. Homemade winter centerpieces are an easy win without a lot of effort!
To add even more winter ambience to your home this season, try our 15 Winter Essential Oil Blends.
How Do You Make a Winter Centerpiece?
Make a beautiful statement piece with items from your kitchen, yard, and neighborhood thrift store. With wine bottles, pieces of wood, sprigs of evergreens, and fairy lights, you can make magic happen right on your table.
Give yourself a reason to go to the craft store and pick up modge podge, hot glue, or frosted spray paint – whatever your specific project requires.
From there, the process of making a centerpiece is simple, just the way we like it.
Finish up by yourself or invite friends and family to join in on the fun. Either way, everyone will bond around the gorgeous result.
Display the final product on your entry table and greet friends in style as they come to your house for festivities. What an easy way to adorn any table all winter long.
Handmade centerpieces also make memorable gifts! Bring one to work or give it to a friend and spread the seasonal joy.
More Easy Home Decor Ideas
Be sure to put out melt and pour Christmas soap in all your bathrooms and get ready for your party with these tips for hosting a stress-free holiday party.
It's winter and you know what that means…Cookie season is here! Why not bake a batch of green sugar cookies and embrace the holiday cheer.