Thanksgiving is the climax celebration of everybody's favorite season, fall. These DIY Thanksgiving Banners are simple enough to create but won't cause you to neglect all the details of meal prep and family life. So, it's time to pump out the pies and decorate the fireplace with thankful banners!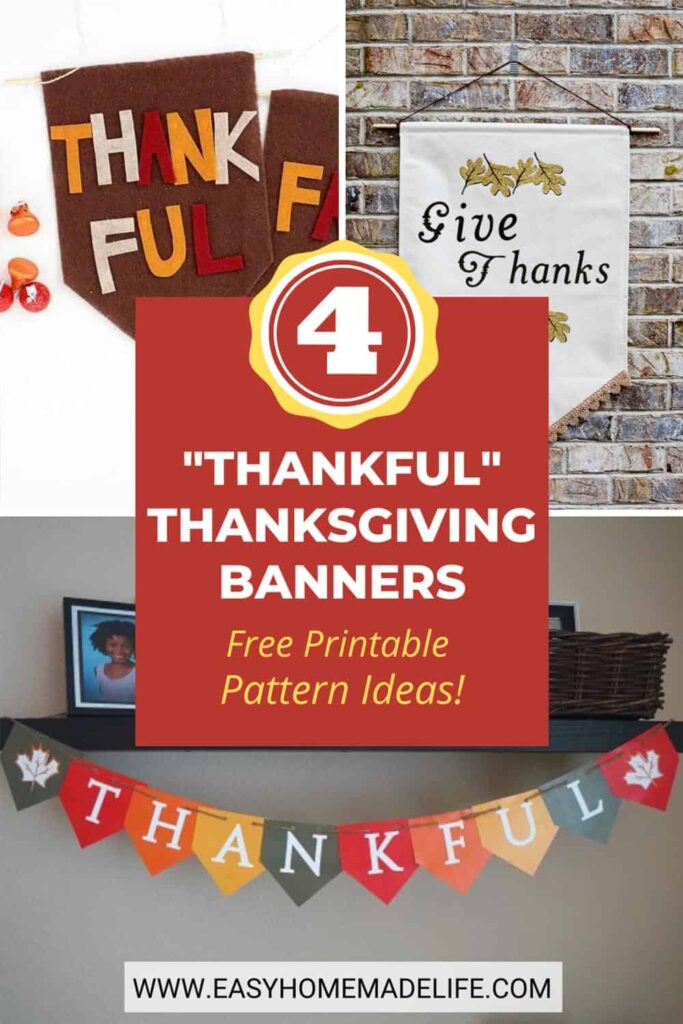 Cheap Thanksgiving Decorations
There's turkey to stuff, potatoes to mash, and cream to whip, but you still want to add at least one more seasonal decoration to the scene.
Yikes! What's a girl to do?
Don't worry! These easy Thanksgiving banner ideas are the perfect way to add a thoughtful homemade touch to your decor, even at the last minute.
Plus, this project is super affordable because each tutorial comes with a FREE printable template.
The most important part of the day is bringing people together and giving thanks. Of course, nothing gets people to be more grateful than spelling it out for them in bold letters. But seriously, Thanksgiving banners are a simple way to set the mood for a truly special occasion.
How to Make a Thanksgiving Banner
Making a banner is as easy as cutting and pasting.
If you have scissors, glue, and twine, that almost covers it all.
If you have a color printer or Cricut machine, the world of thanksgiving banners really opens up for you. Otherwise, find some felt pieces and you are in the game.
Create a festive feel in less than an hour. You can bust a banner out while the turkey is in the oven!
These decorations are so simple, even so, please allow enough time to spell the word THANKFUL correctly.
Once you're done, hang a thanksgiving banner on the fireplace or above the doorway in your home. Your friends or family will know it's time to give thanks and celebrate.
Creative and Unique Thanksgiving Banners
Make the day even more memorable with an easy homemade thanksgiving banner. Hanging one on your wall is a sweet and simple touch you can totally handle even on such a busy holiday. Your thoughtfulness will touch your guests as they gaze upon your fresh thankful banner and watch you pull sweet potatoes from your crockpot. They'll wonder how you "do it all" so well.
Easy Thanksgiving Recipes
The big day is almost here. Add these simple recipes to your meal plan and wow everyone around!
You might also like 5 Last-Minute Thanksgiving Centerpieces.