Make your own easy DIY cold process soap recipes and save money while treating yourself with beautiful, non-toxic homemade body soap!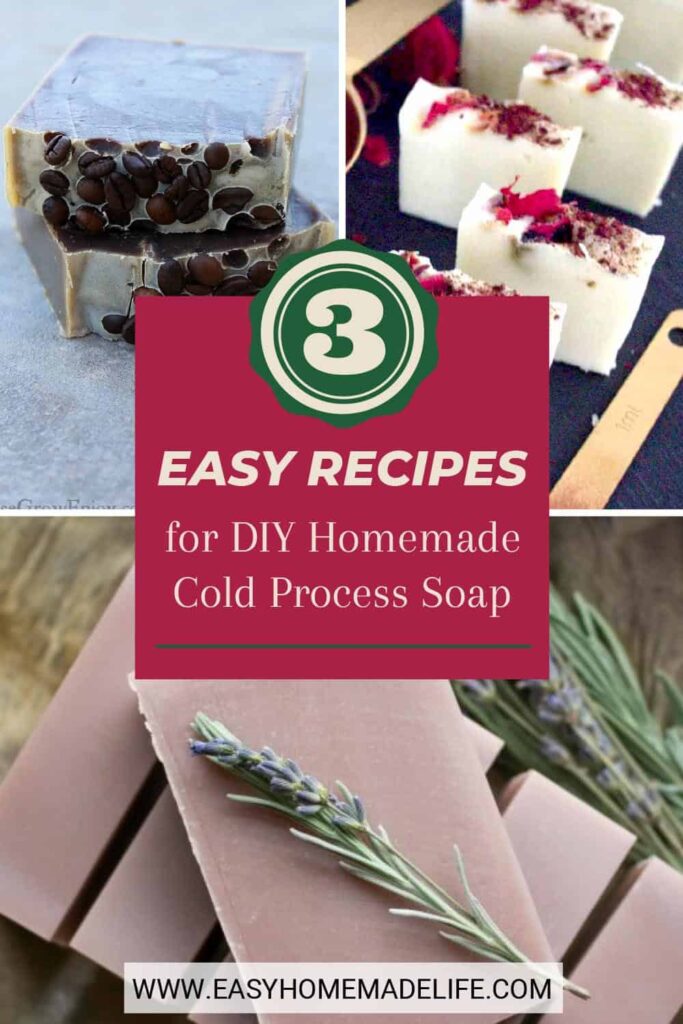 What Ingredients Do You Need for Cold Process Soap
Cold process soap is a specific soap-making technique that combines plant or animal fats with sodium hydroxide (lye). The combination produces a chemical reaction called saponification, which is how the fat transforms into soap and the lye becomes neutralized. (1, 2)
Basic ingredients for homemade cold process soap include:
Plant or animal fat – olive oil, coconut oil, goat milk, lard, tallow, and others, in combination with other oils or as a single ingredient
Lye
Fragrance or essential oils – optional scents like lemon, lavender, rosemary, peppermint, and others
Colorants – optional
Add-ins – optional additions like clay, flower petals, coffee grounds, salt, and others
To prevent you from feeling overwhelmed with this project, I picked out just three easy homemade cold processed soap recipes you can start with.
Follow along, and you'll learn the basic process and become comfortable with the safety procedures.
How to Make Cold Processed Soap at Home
There is a specific, although not difficult, process for making cold processed soap at home.
First, gather all your ingredients, equipment, and safety gear.
Second, weigh and measure the ingredients and have everything to mix ahead of time. A good kitchen scale is essential because all ingredients are measured by weight, not volume.
Third, always pour the lye into the water (never water into lye unless you want a volcano in your kitchen!).
Next, monitor the temperature of your ingredients and combine by blending until "trace."
Then, pour the soap batter into the mold and cover and insulate.
Finally, unsold, slice, and leave to cure until done!
Homemade soap might sound intimidating, but it's ACTUALLY easy to make!
If I can do it, you can too!
Easy DIY Cold Process Soap Recipes
By making DIY soap, you avoid potentially toxic and unnecessary ingredients from touching your skin. Instead, you can nourish your skin with all-natural oils and fats.
Photo Credit: learningandyearning.com
This is a beautiful, naturally colored soap scented with lavender essential oil. Reminiscent of a romantic Victorian-era walk down a French lane lined with lavender, you'll love using this creamy soap!
Photo Credit: simplybeyondherbs.com
Treat yourself to this luxurious soap with rose petals! Pamper your senses and nourish your skin with moisturizing homemade soap. The final soap might like a thousand bucks but only costs a few!
Photo Credit: reusegrowenjoy.com
If you are a coffee lover, this soap is for you! Plus, there's a hint of cocoa added too. You'll love waking up to use such an easy to make DIY soap.
More Easy Homemade Soap Recipes