Are you ready for the best apple desserts for fall? These are the perfect recipes when you want an apple pie without the fuss of making it from scratch. They are all quick and easy, tossed together with minimal ingredients you probably already have in your pantry!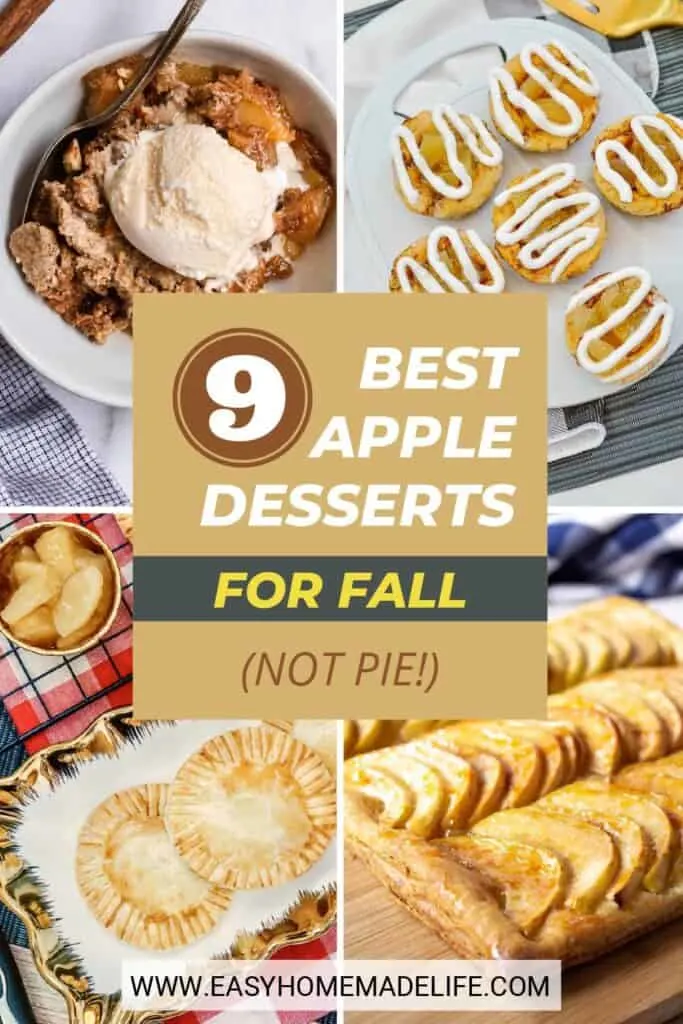 What Desserts Can Be Made From Apples?
Did you immediately think of pie?
When you have a lot of apples you'll probably be busy with applesauce, apple butter, and apple pie. But there are other apple desserts to try too.
I found some classic apple desserts you can enjoy this fall when you want something super tasty but prefer the "quick and easy" route.
Let's be honest, we're trying to get food on the table, not win any culinary awards.
Getting the same great taste as apple pie but not investing the time or effort is alright with me! I love simple recipes that make you look like a superstar in the kitchen.
In addition to after a meal, many of these apple recipes can also double as breakfast (although there's high competition with apple pancakes) or an after-school snack.
Check out the directions linked below, and you'll see how easy they are to make with only a few pantry ingredients.
Most ideas are served hot or cold. You choose!
Each recipe is excellent with a dollop of whipped cream or a scoop of vanilla ice cream. Feel free to warm up with a mug of Chocolate Chai Latte or Pumpkin Spice Chai Latte.
Basic ingredients you need for apple desserts:
Add the recipes below to your meal plan app and stay on track with your plan!
What are the Best Dessert Apples?
Red, green, yellow, sweet, sour… there are so many different types of apples! So how do you know which ones are the best apples for baking?
The Washington Apple Commission reviews each type of apple and notes if it is suitable for salads, pie, sauce, baking, or freezing. This is a very helpful chart and full of practical information.
These are the best apples for desserts and pies:
Gala
Fuji
Granny Smith
Honeycrisp
Pink Lady
Golden Delicious
When in doubt, choose one of these apples over other types for your dessert recipe.
Don't be afraid to use sour, tart apples. You'll balance the flavor out with brown sugar and spices. Apples also become sweeter as they bake and soften in the oven. The sweet, sour combination is delicious!
Plus, sour apples tend to hold their shape together better, so you'll have the pleasure of seeing clearly defined apple slices (not mush) in your dish.
Cover any worrisome sourness or take your dessert to the next level with a drizzle of chai syrup on top. Yum!
More Easy Fall Recipes
Looking for more Fall inspiration? Check out our DIY beauty section and indulge in this warm and spicy Pumpkin Spice Facial Scrub.