Enjoy these holiday coffee ideas as you kick off the festive season with a jolt of joy. From cozy classics to dazzling holiday blends, we're about to embark on a caffeinated journey that will make your holidays brew-tiful! Whether you're a coffee connoisseur or just love a good cup of cheer, this blog post is your ultimate guide to infusing your holiday season with the warmth and magic of a perfect cup.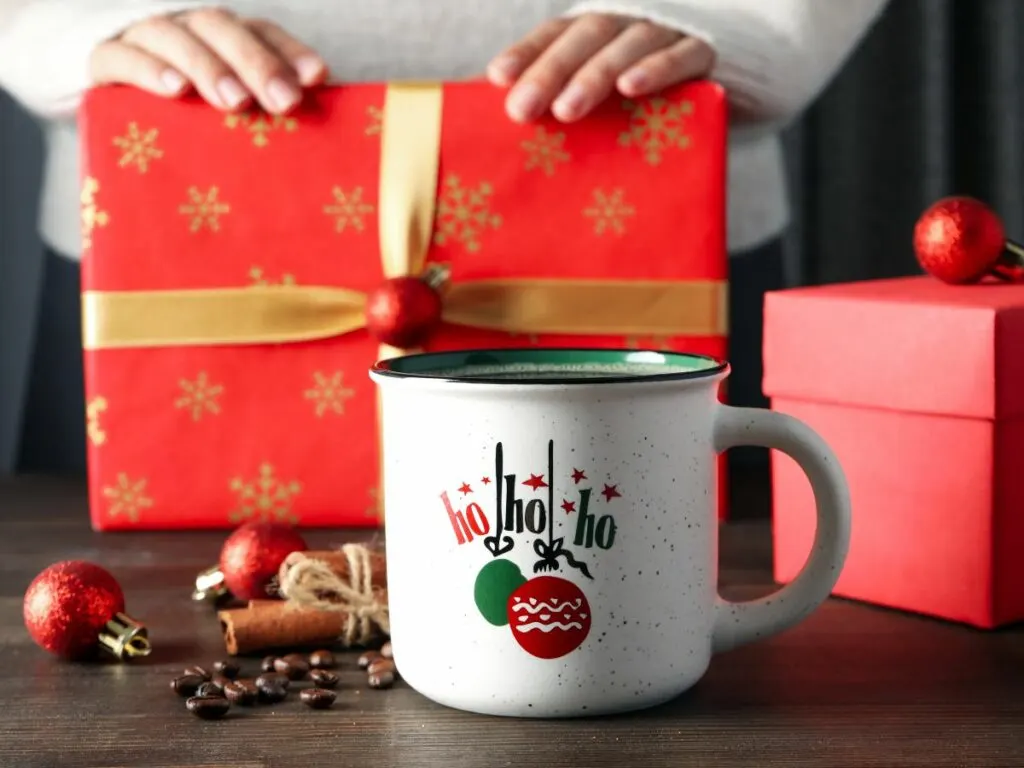 This post may contain affiliate link(s). As an Amazon Associate, I earn from qualifying purchases. See Disclosures.
Say goodbye to good old cider, as you'll definitely find your new favorite Christmas drink in this list of Christmas coffee drink names. Keep reading the article for the coziest drinks to comfort and fuel you during the holidays.
12 Coffees of Christmas
Once our favorite fall coffee recipes start to wane, there are many festive Christmas coffee drinks to take the stage. The following holiday drinks take the cake as the most festive, tasty, and easy to make.
Being a busy mom of three, the thought of making a fancy coffee every day is a bit overwhelming. But having a seasonally flavored latte leading up to Christmas really gets me in the holiday spirit. It reminds me to be present, enjoy the simple things (like new flavors!) and of course, gain some energy. Definitely worth the extra effort.

Shelby, Fit as a Mama Bear
Gingerbread Latte
When I think of Christmas, gingerbread comes to mind immediately. Imagine the bliss of merging that festive spice with the rich warmth of coffee. This latte is Christmas in a cup, and one sip will fill your body with holiday cheer.
The best part is that it takes just minutes to make. You can use any coffee blend you like and your milk of choice, so don't worry if you have dietary restrictions.
All you have to do is add your steamed milk to the coffee, as you usually would when making a latte. Then, add a teaspoon of gingerbread simple syrup, which you can purchase or make at home.
Peppermint Mocha
Thousands of people eagerly wait for Starbucks to release their best holiday coffee drinks every year, specifically the cozy peppermint mocha. Luckily, there is no need for you to wait for the holiday season. If you can get your hands on peppermint syrup or extract, you can make this drink any time of the year.
This tasty coffee drink can be made with a ready-made mocha powder or your own mixture. Then, melt peppermint candy, add peppermint extract, or drizzle peppermint syrup into the brew. Don't forget to top the coffee with whipped cream and garnish with plenty of crushed candy cane.
You could also give yourself a holiday treat and buy ready-made Starbucks K-cup peppermint mocha pods as a shortcut. There's no doubt that peppermint is a seasonal star; I also feature it in my list of easy melt and pour Christmas soaps.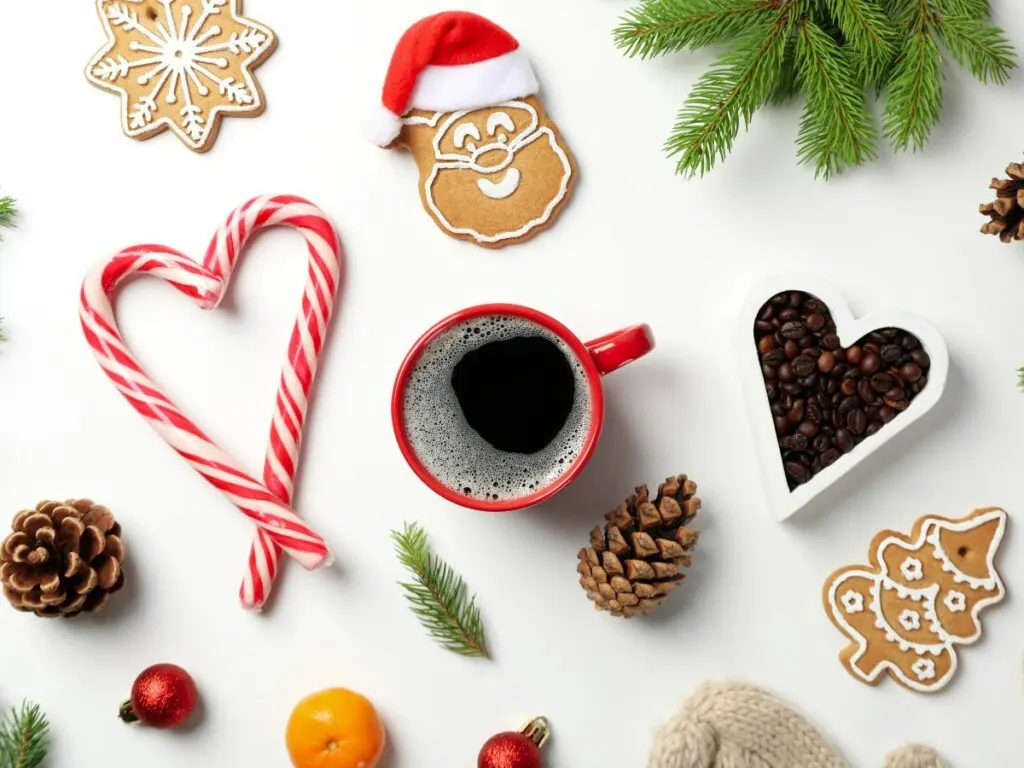 Toasted White Chocolate Mocha
Another holiday classic drink from Starbucks is the toasted white chocolate mocha. This isn't your ordinary hot white mocha, though. This Christmas coffee recipe is nutty, sweet, and salty, reminding you of your favorite winter wonderland vibes.
It might take a while to make a cup of toasted white chocolate mocha, but believe me, it's worth it. Use any coffee, caramel sauce, white chocolate, dulce de leche, and a pinch of sea salt for an unparalleled coffee experience.
After getting all your ingredients, heat them in a saucepan until combined and smooth. Then, pour the caramelized chocolate milk into a shot of espresso and enjoy.
Candy Cane Latte
Ever thought candy cane and coffee were an odd duo? Prepare to be pleasantly surprised. These two flavors come together in perfect harmony, especially when blended into a refreshing frappe.
There isn't a better way to bring on holiday cheer than sharing this with loved ones. It's the perfect Christmas coffee drink to turn a simple gathering into a cozy holiday party.
Make a candy cane latte by melting a couple of candy canes into milk in a small saucepot over medium-low heat, sweeten it with cranberry sugar, and then pour the mixture into a shot of espresso. Alternatively, you can also blend the mixture in a blender and drizzle cranberry syrup over to make a tasty frappe.
Ginger Praline Coffee Float
It's commonly said that the eyes eat first. For the most visually festive and unique best Christmas coffee drinks, set your sights on the Ginger Praline Coffee Float—where appearance meets delicious seasonal flair!
Though this isn't a hot drink, the cold coffee beverage makes for a perfect treat after dinner. It can easily transport you into a holiday mood. I love that it's made with simple, everyday ingredients.
The ginger praline float is all about the toppings. Pour your coffee over a scoop of vanilla or chai ice cream, then top with ginger cookies and crumbled nuts. Amazing, isn't it? Take this drink one step further using hazelnut-flavored coffee.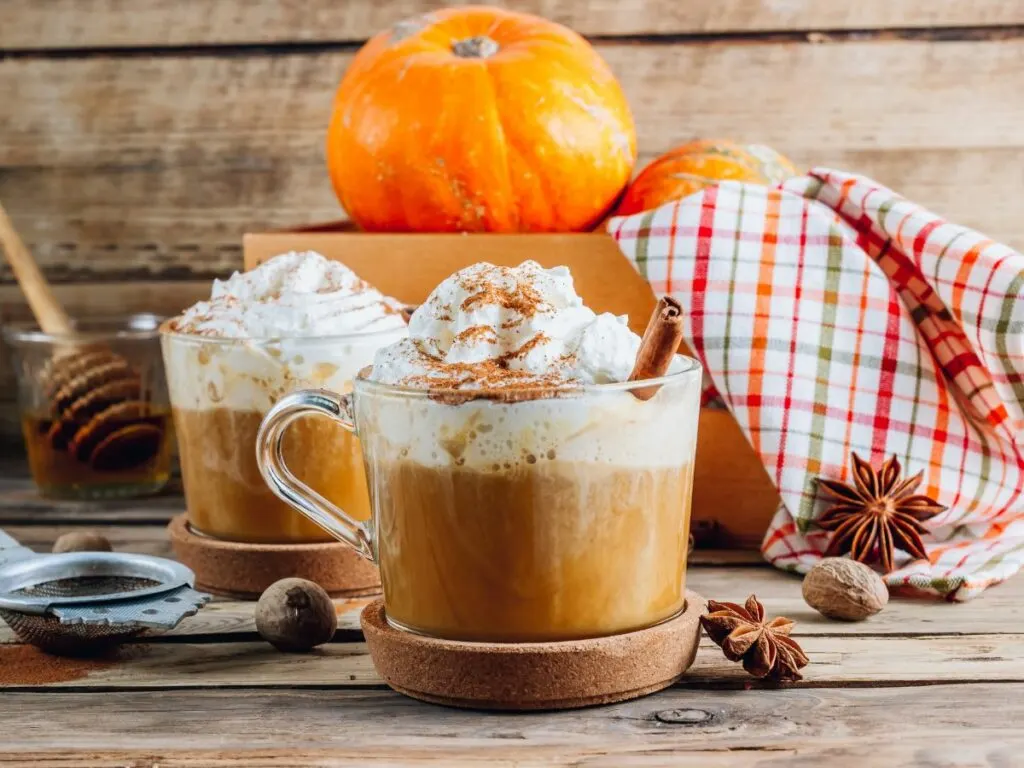 Pumpkin Spice Latte
You probably don't need this list to remind you of the fan-favorite pumpkin spice latte. Chances are, you've already learned how to make this tasty coffee drink at home, but if you haven't, try my pumpkin spice chai latte for a spicy twist.
Fortunately, you can get a pumpkin spice latte blend directly from coffee shops like Starbucks or use the pumpkin spice blend in your pantry.
Pumpkin spice is essentially ginger, cinnamon, nutmeg, and cloves. Since one latte only requires a pinch of this blend, you can use the rest to make an appetizing pumpkin pie or pumpkin spice facial scrub.
S'mores Mocha
Nothing says cozy quite like s'mores and hot chocolate, does it? Well, why not mix the two winter staples into an unforgettable Christmas coffee drink?
Tossing some mini marshmallows on top of your mocha would be enough to make this drink. However, Christmas is the time of year to whip out all your fancy ingredients.
So, let's go all out and suggest S'mores simple syrup as the best treat you can get for Christmas. A drizzle of this syrup into a cup of coffee is enough to get you into the holiday spirit. For a sophisticated touch, top with whipped cream, marshmallows, and chocolate syrup.
Vanilla Snowflake Coffee
If you want to taste winter, all you need to do is make this delicious vanilla snowflake coffee. This is the ideal cup with a side of Christmas cookies, like chai earthquake cookies or green matcha sugar cookies, while opening gifts.
It's one of the winter coffee recipes that is as straightforward as can be. If you're a coffee lover, you probably already have all the ingredients to make vanilla snowflake coffee.
That's because this drink is a simple latte with a drizzle of vanilla and peppermint syrup. Then, add a splash of milk or coconut creamer for extra flavor.
Apple Dirty Chai Latte
You might already love chai latte twists like chocolate chai latte, so why not level up your drink and try the apple chai latte? Here's another must-drink Starbucks drink featuring holiday flavors.
If you have this cozy drink once, you might want to go back for more every day. But who can afford such a habit?
Luckily, an apple chai latte is one of the simplest holiday coffee drinks you can make at home. After all, it's a mixture of apple cider, chai tea, and steamed milk. Feel free to sweeten it with chai syrup.
While a chai latte isn't technically a coffee drink, adding a shot of espresso can transform it into an equally delectable dirty chai latte. Now, you can get a kick of caffeine and sweet apple flavor.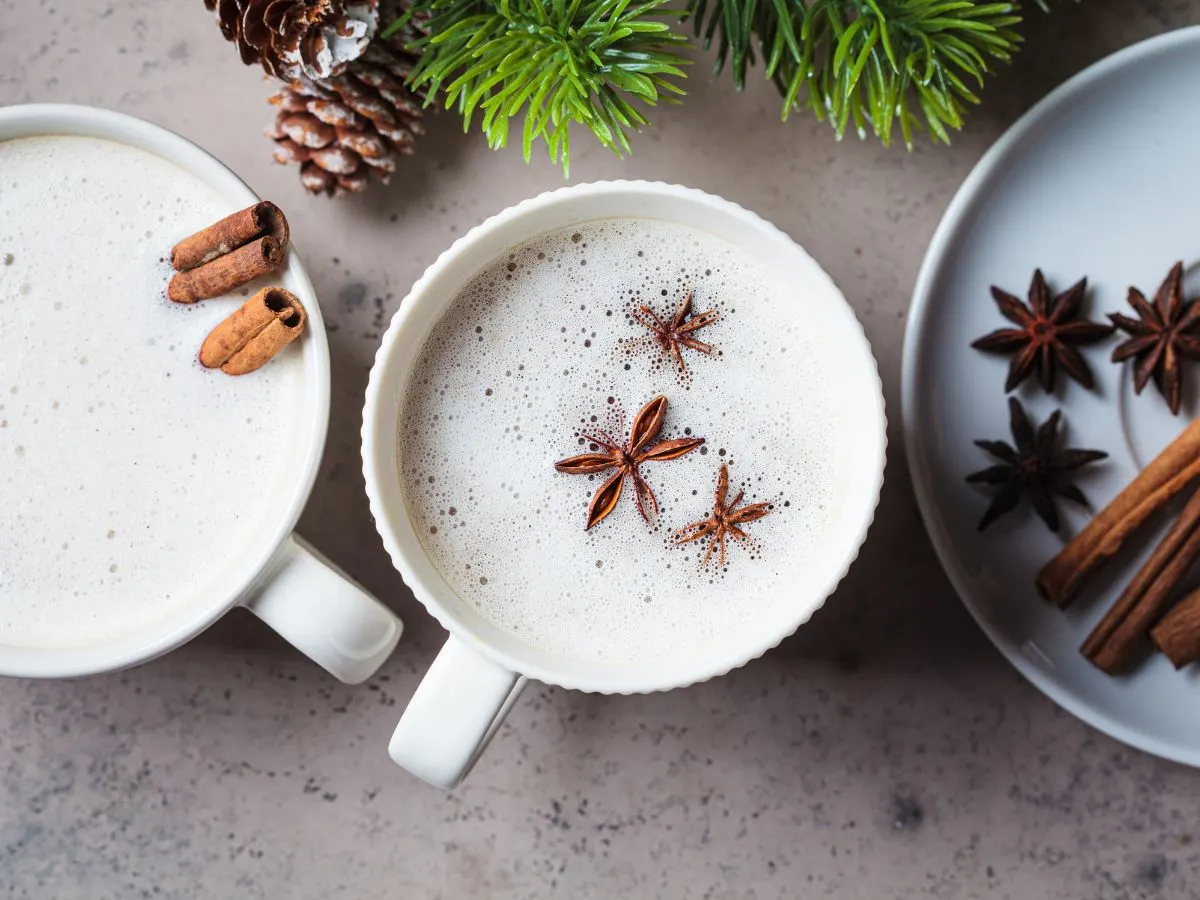 Snickerdoodle Coffee
Get ready to spice up your Christmas with another top-notch drink—Snickerdoodle Coffee. It's the perfect blend to cozy up to during the holiday season.
If you don't want to buy spice blends or spend time mastering the perfect ratio for pumpkin spice, Snickerdoodle coffee is the simple drink of your dreams to enjoy on a Christmas morning.
Add a quarter teaspoon of cinnamon and nutmeg to an empty coffee cup, then pour in a small amount of hot coffee and mix well. Next, add the remaining coffee along with hot milk. Use brown sugar and sweeten to taste. Voila, you'll have spiced coffee in only a minute.
Eggnog Frappe
When it comes to Christmas, my go-to festive drink has to be eggnog—it's a tradition I can't let the season pass without. And guess what? I recently discovered a game-changer: eggnog coffee. Trust me; it's the holiday sip you never knew you needed.
If you know how to make a classic latte, you'll easily make this recipe. That's because instead of adding frothed milk to your espresso, you add the eggnog! This should give you a tasty eggnog latte that's perfect for the festive season.
If you have a special family recipe for eggnog, all the better. If not, you can get by just fine using store-bought eggnog. Once the eggnog is added, blend the mixture with ice and vanilla syrup to get the most appetizing eggnog frappe all coffee lovers are sure to love.
Cookie Butter Latte
Butter, cookies, caramel, and cream sound like what we need on our list of ultimate Christmas flavors. Why not take it up a notch by infusing a bit of caffeine into the mix?
The cookie butter latte is mouth-watering while also being quick and easy to make with simple ingredients. Our tasty drink gets all its flavors from the Biscoff cookie spread, which makes it perfect for Christmas celebrations with family and friends.
You can also use Trader Joe's cookie spread or even peanut butter. Just simmer the milk and the spread together until they form a smooth mixture, and pour over the coffee. Top with whipped cream, caramel drizzle, and cookie crumbs for a festive presentation.
Best Festive Holiday Coffee Ideas
If there's one thing this list of holiday coffee proves, you can't have Christmas without some staple flavors. For example, just a little caramel, cinnamon, chocolate, or peppermint can transform any drink into something perfect for the Christmas season.
There is no need to wait for your favorite coffee shop to offer your best-loved seasonal drinks. You can make these Christmas coffee drinks at home and please your taste buds whenever you like.