Here's an easy 4-ingredient Chocolate Chai Latte recipe that combines your love for chai and chocolate together in one mug. It's a simple spice-flavored drink that you can easily make at home with chai tea, milk, honey, and chocolate powder. It's as easy as steeping the tea, mixing the other ingredients in, and serving hot!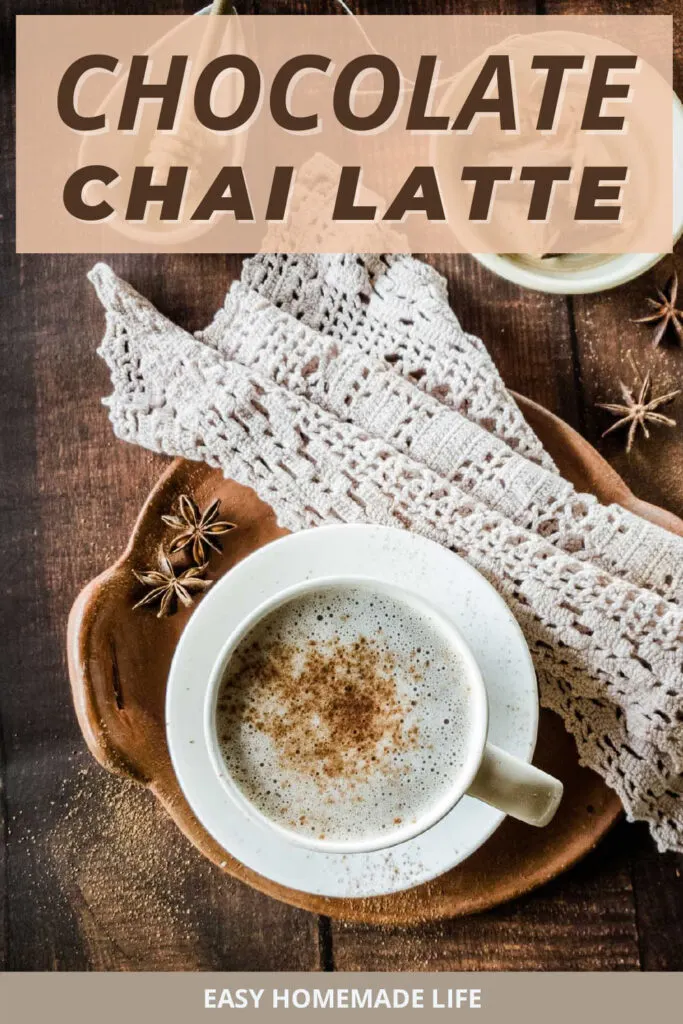 Why Chai and Chocolate?
If you love chai and chocolate, you will love this delicious combination of the two superstar ingredients.
But first, let's talk about chai. Chai is a tea blend from India with spices like cinnamon, ginger, cloves, and cardamom. These spices are commonly steeped with black tea to create what we know as chai tea. In Hindi, the word chai translates to "tea." For them, it's not a flavor profile or specific type of tea like in America. They would hear chai tea as "tea tea," a seemingly redundant phrase because, in Indian culture, chai is the standard way of making tea.
Chai latte is a beverage made with these spices plus added sweetener and frothy milk. It's a delicious and smooth drink with just the right balance between spicy and sweet.
Now, add another level of flavor with chocolate, and it's out-of-this-world delicious. When chai and chocolate are paired together in a warm mug of comfort, it's absolutely delightful!
Think of this warm drink as hot chocolate with a spicy chai spin. The best part is that it takes little effort or time to whip up a batch.
This chai flavored chocolate drink is subtly sweetened with honey and blended with frothed milk. It comes together in under 10 minutes and is an excellent drink to share with friends and family.
Speaking of friends and family, a chocolate chai latte mix would make a fantastic DIY gift for your loved ones.
Warm up to this latte during the cold winter months or when you want a simple treat. It thoroughly satisfies that chocolate craving and is incredibly warming. You can also make it with our Dirty Chai Earthquake Cookies for the total package!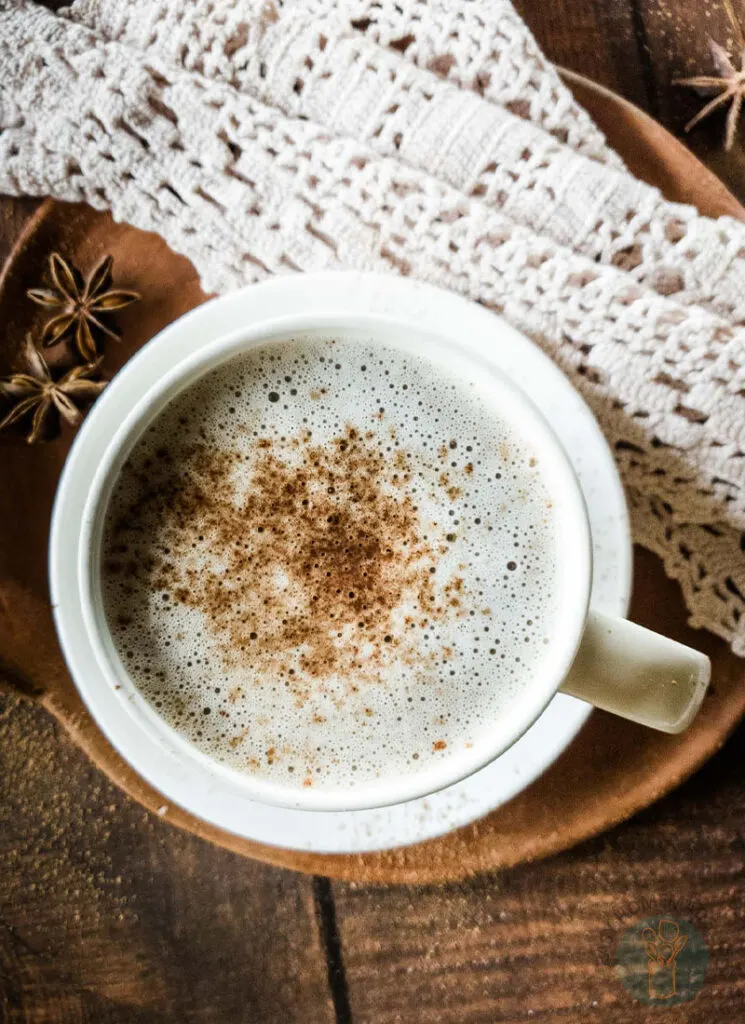 How to Make a Chocolate Chai Tea Latte
Gather 4 simple ingredients, and you're halfway to making a chocolate chai in just 10 minutes!
To ensure the chai flavors shine, we'll brew extra strong chai by using several tea bags. Then the hot chocolate chai comes together quickly from there.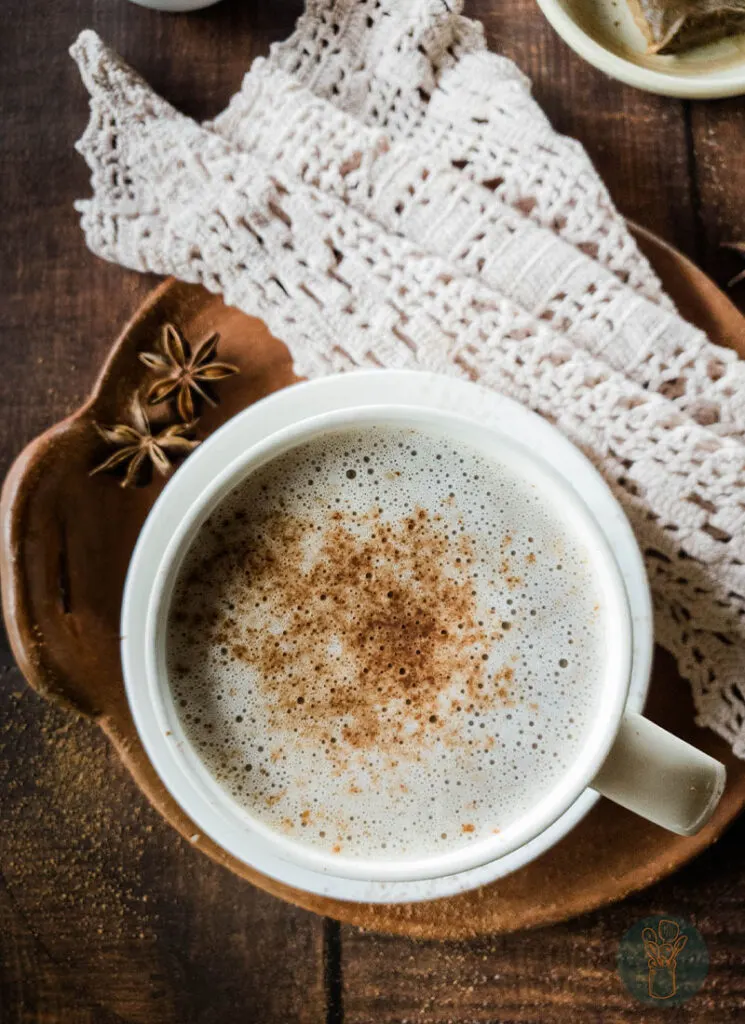 Ingredients
Hot water
Chai tea bags – your favorite store-bought tea brand, like Tazo chai or substitute with loose leaf tea and steep 2 teaspoons in a mesh tea ball.
Milk
Honey – can be substituted in equal parts with maple syrup or another sweetener of choice. Choose raw honey for the best flavor and quality. You can also use stevia as a sugar-free alternative.
Cocoa powder – or cacao powder, any unsweetened chocolate powder will do the job
Step-By-Step Directions
Follow these simple directions, and you can't go wrong! This chai hot chocolate recipe comes together in 4 easy steps.
Step one: Steep tea
Bring the water to a boil in a small saucepan or tea kettle. Steep the tea bags for 5 minutes.
Step two: Froth milk
Prepare the frothed milk by steaming it and whisking briskly by hand or using an electric frother or the milk frothing attachment on an espresso machine. Alternatively, warm the milk and pour it into the tea (in step 4) without frothing.
Step three: Sweeten and add chocolate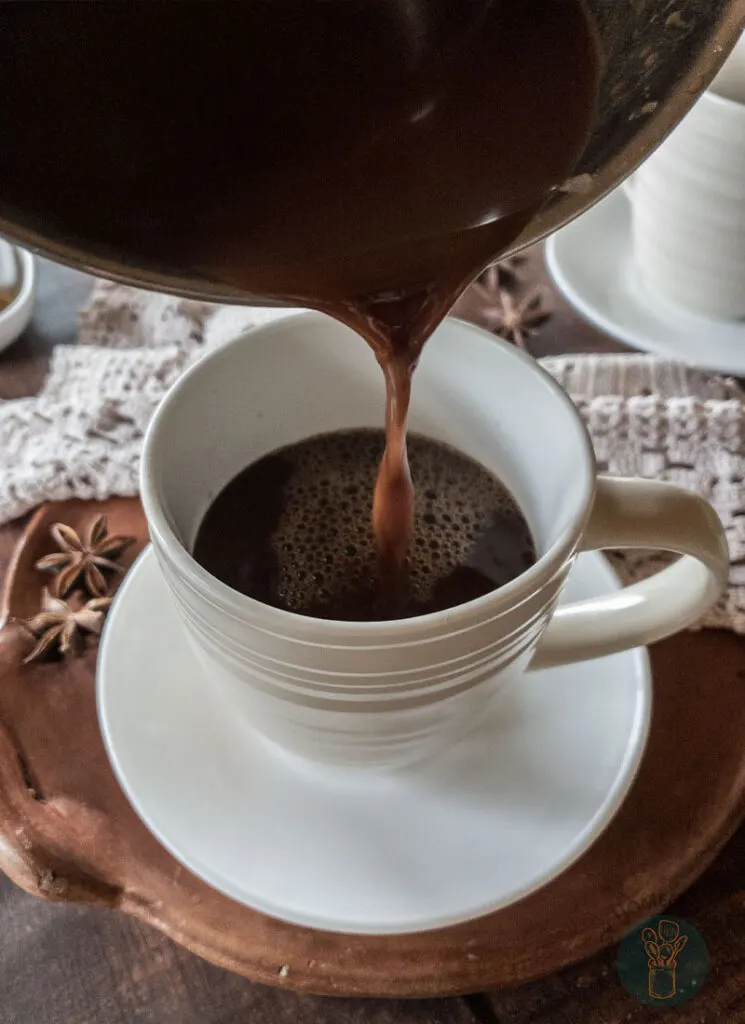 Remove the tea bags and discard them. Add the sweetener and cocoa powder. Mix well to combine. Divide between two mugs.
Step four: Finishing touches
Divide the milk between the two cups and fill to the brim. Garnish with cinnamon if desired.
Serve hot. Maybe with a slice of banana bread. Yum.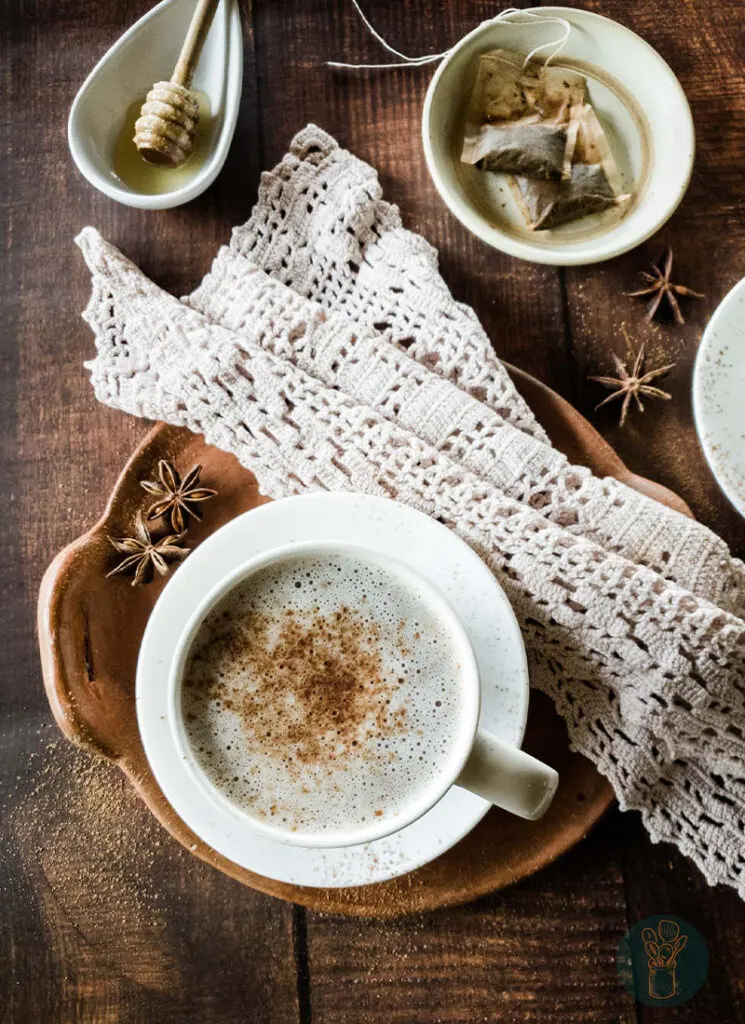 Nutritional Info for Chocolate Chai Latte
There are two servings in this chocolate latte recipe.
Each serving contains:
150 calories
5 g protein
3 g fat
28 g total carbs
1 g fiber
Please note that the nutritional value will change if you substitute ingredients. Use a nutrition app to recalculate and reflect your changes.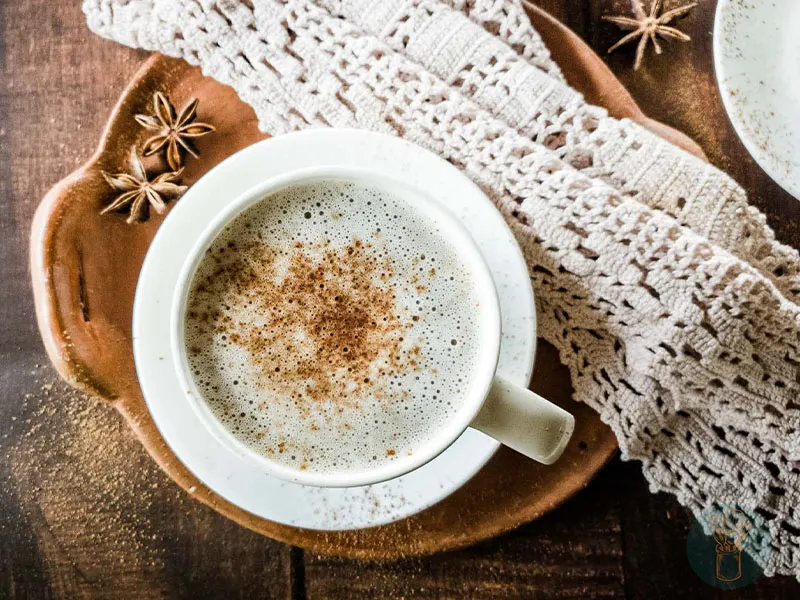 Just want a Chocolate tea recipe?
Skip the milk and make a warm mug of chocolate tea instead. Milk is the star ingredient in a latte, so technically, omitting milk would make this drink a chocolate chai tea. Which, it is still a very delicious option.
In fact, without the milk, the flavor is more concentrated and darker, with a hint of sweetness and a spicy aroma. Chocolate tea is also an excellent option for those who have to be dairy-free but still want to enjoy the flavor of chocolate and chai.
Plus, a chocolate chai recipe is much simpler to make. There's no frothing needed or extra tools to wash. And the process couldn't be any easier. All you need to do is steep the tea and add the sweetener and chocolate. Pour into mugs and enjoy. That's all there is to it!
More Recipes with Tea and Chocolate