There are many 3-Ingredient Cookies Without Flour to choose from, from meringues to oatmeal and peanut butter, plus so many more! So look no further if you're avoiding grains and on the hunt for a quick and easy cookie recipe.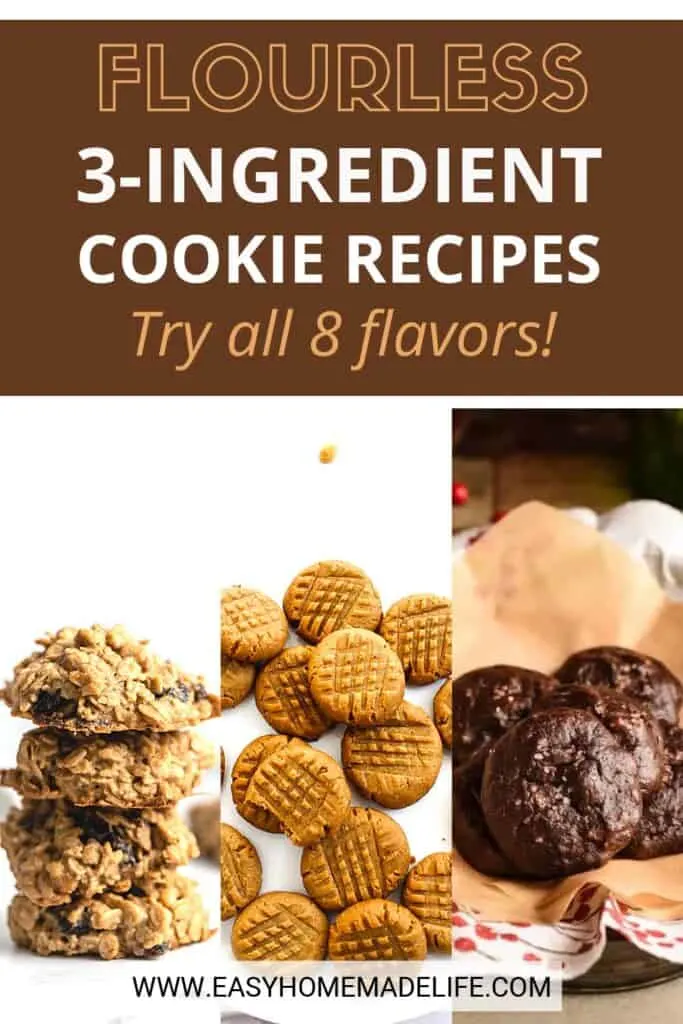 Easy Dessert Recipes to Make at Home
Making homemade flourless cookies does not need to be complicated.
These easy dessert recipes only call for three ingredients!
You will be pleased to see that each recipe uses basic pantry ingredients. Plus, the prep time is about 10 to 15 minutes for each recipe.
How easy is that?
Forget about buying expensive, so-called "healthy" packaged cookies from the store. Instead, save money and be the queen of the kitchen by baking healthy snacks for the family on the fly. Better yet, make it even more fun by baking these simple recipes with children together!
How to Make Flourless Cookies
Begin by measuring all three ingredients.
Mix everything in a large bowl.
Then, scoop out spoonfuls of the cookie batter onto a baking sheet. You may want to line it with parchment paper first.
Next, bake your prospective cookies in the oven for the appropriate time.
Allow the cookies to cool before eating them up (this may be the most difficult step).
Serve them with milk. Mmmmm.
They are best enjoyed right out of the oven. Although, you can store cookies in an airtight container in the fridge for 3 to 5 days or keep them longer in the freezer.
Have fun customizing the cookies with your favorite add-ins if you want to. For example, any cookie can handle chocolate chips. Furthermore, adding spices, orange zest, dried fruit, or nuts takes these up another notch!
Save these recipes and add them to your meal plan app today, so you can stay on track!
More 3-Ingredient Dessert Recipes