These slow cooker oatmeal recipes are as easy as they are tasty! Breakfast becomes almost effortless when your crockpot makes the meal for you. Fill your home with a delicious aroma of homemade cooking without needing to stand by in the kitchen – what a great way to wake up and start the day.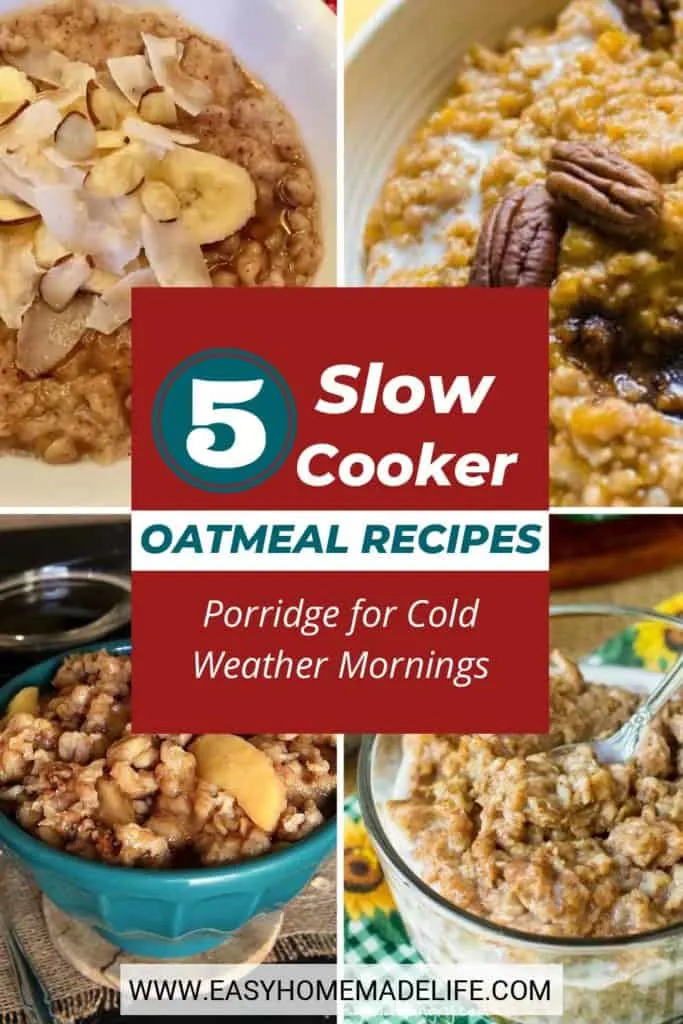 Meal Prep Easy Comfort Food in the Morning
For many, oatmeal is the ultimate comfort cereal in the morning. What better time to enjoy it once the weather turns cold?
These recipes are perfect fall or winter breakfast ideas that will make the house smell so nice. Waking up to a hot breakfast, ready as soon as you roll out of bed, is a very welcome experience.
Transitioning from summer to fall can be hard sometimes, but with these recipes and favorite fall coffee drinks, you're sure to adapt.
Meal prep your slow cooker oatmeal the night before and serve hot in the morning. It's so easy! Slow cooking is an essential strategy in my meal prep. I wouldn't want to cook so much with out this method.
Save breakfast leftovers in the fridge, packed in single-serve containers. Then you can grab one each day during the week to grab quickly throughout the week.
Reheat the pre-made porridge with a splash of milk or water over medium heat in a small saucepan. Chow down, and you're done!
This is a very suitable alternative for cold cereal that doesn't take any special skills to make, a lot of prep time, or attention. There is a minimal number of ingredients too. I know you can do it!
How to Make Slow Cooker Oatmeal
Skip the mess in the morning and scoop your hot breakfast straight from the slow cooker!
Crockpot oatmeal is so easy; even children can make it. Many younger ones are also able to reheat leftovers and serve themselves. What a great way to foster independence in the kitchen as well as a sense of self-responsibility.
What you need:
Milk (coconut or nut milk also works)
Water
Use these ingredients as a base for homemade oatmeal.
Once the meal finishes cooking, mix and match dried fruit, nuts, shredded coconut, as a garnish on top.
Then, stirring a generous spoon of peanut butter or other nut butter doesn't hurt either!
If you want to highlight the best fall flavors, dust the top of your breakfast bowl with ground nutmeg or allspice. YUM!
You can crank out so many variations from the same basic recipe over and over again.
Add these recipes to your meal plan app and stay on track with your planning!
More Easy Breakfast Ideas for Fall