There's nothing better than a good cup of joe to keep you warm on a chill autumn day. So, if you're looking for fall coffee recipes, you've come to the right place.
In this article, we'll journey through a few java drinks perfect for the autumn chill. Swap your regular coffee for a seasonal treat. From simple beverages to exotic concoctions, there's an option for all coffee lovers.
Pumpkin Cinnamon Blend
When you think of the fall season, I bet a few favorite flavors for this time of year instantly come to mind. Are you thinking of maple syrup, sweet potatoes, or ginger? No? Well, probably not at first.
There's one ingredient that screams fall above all others. It's no secret that autumn is the season of pumpkin.
From pumpkin chai latte to pumpkin spice facial scrub, there are many ways to embrace the
It wouldn't be a fall coffee drink collection without this ingredient. Try a pumpkin-cinnamon blend as your next fall flavored cup of joe.
Not only is it delicious, but it's also one of the easiest fall coffee drinks to prepare.
Here's what you'll need for this drink:
1 cup of milk
1 cup of coffee
½ cup of pumpkin puree
½ teaspoon of vanilla extract
¼ teaspoon of cinnamon
Sugar or simple syrup to taste
Gather all ingredients and add them to a small sauce pot. Then, heat the mixture on the stove for a few minutes until it simmers.
After that, pour it into a cup and sprinkle a little cinnamon on top.
Use simple chai syrup for a big burst of spicy fall flavor.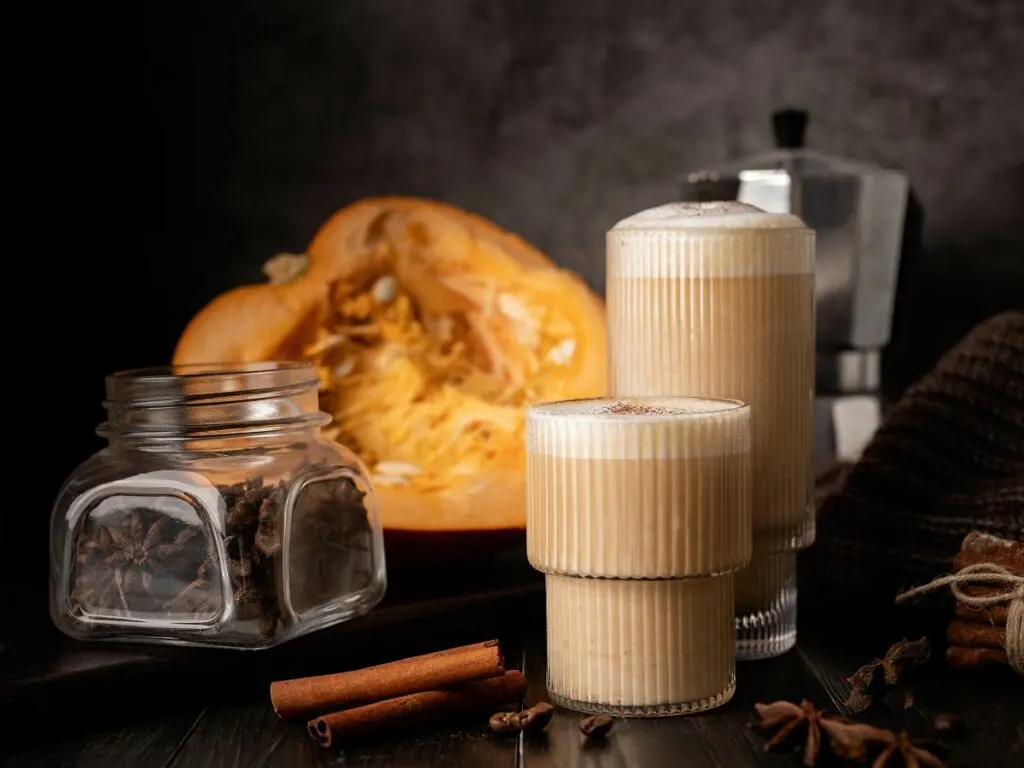 Maple Cinnamon Latte
If you're looking for the perfect fall drink, try this cinnamon maple latte once the colder months come around.
With a splash of milk and a sweet spicy taste, it'll warm you up in no time, and you should be able to find all the ingredients right at home in your kitchen.
For this recipe, you'll need:
1 cup of milk
½ cup of strong brewed coffee
2 tablespoons of pure maple syrup
2 teaspoons of cinnamon
First, warm your milk. Pour it into a small saucepan and heat over medium heat on the stove.
As soon as the milk starts simmering, grab a fork and lightly whisk the milk. Or better yet, use a milk frother. This will add air to the liquid and give you a lighter, fluffier texture.
Next, grab your favorite mug off the shelf. Then, pour in your maple syrup. You may want to swirl your cup around a few times to distribute it evenly around the mug walls.
After that, pour your hot coffee directly on top of the maple syrup. Next, add a generous amount of your frothy milk.
Finally, top off your drink with a sprinkling of cinnamon.
You can also use maple to sweeten a delicious chocolate chai latte.
Salted Caramel Latte
Skip the crowded coffee shop and the cold weather while enjoying this perfect drink in the comfort of your own home.
Salted caramel is a classic combination that blends sweet and salty flavors seamlessly. The caramel adds a buttery twist with an almost bitter aftertaste.
This perfectly complements the hearty coffee beans and makes for a mouth-watering drink.
Here's what you'll need for this recipe:
1 cup of strong brewed coffee
½ cup of milk
1 tablespoon of Dulce de leche
1 tablespoon of vanilla
Pinch of sea salt
To kick things off, grab a glass mug and drizzle the Dulce de leche all over the sides. If you don't have Dulce de leche, use caramel sauce instead.
Next, heat the milk in a small saucepan over medium heat on the stovetop and froth it with a milk frother.
Alternatively, use microwave-safe container like a mason jar and microwave the milk for about 30 to 40 seconds or until it's warm to the touch. After that, put the lid on securely and shake it for a minute. This will give you foamy milk.
Once that's done, stir the vanilla into your hot coffee and pour it into the glass mug you prepared earlier. Lastly, add the milk and a sprinkle of salt on top.
S'mores Latte
Are you a coffee addict? Or a dedicated foodie who loves fall desserts? If you don't mind spending a little time in the kitchen and love decadently creamy drinks, the s'more latte is the way to go.
This beverage requires a bit of elbow grease and quite a few ingredients. However, you'll agree that the effort is well worth it as soon as you take your first sip.
To make this drink, you'll need:
1 cup of milk
½ cup of strong brewed coffee
2 tablespoons of chocolate syrup
2 tablespoons of crushed Graham crackers
Honey to taste
Mini marshmallows
First, it's a good idea to start garnishing your mug. So, grab your cup and cover the rim in honey.
Then, roll it in the crushed Graham cracker. This is a super fun and easy way to decorate your mug. You can even make a family activity out of it and ask your kids to join in on the fun.
After that, head over to your stove. In a small pot, pour in your milk and chocolate sauce. Then, heat up the mixture until it starts to bubble.
Pour the hot coffee into the rimmed mug and top it off with your chocolate milk. Finally, drop a few mini marshmallows into your drink and enjoy the delicious coffee beverage.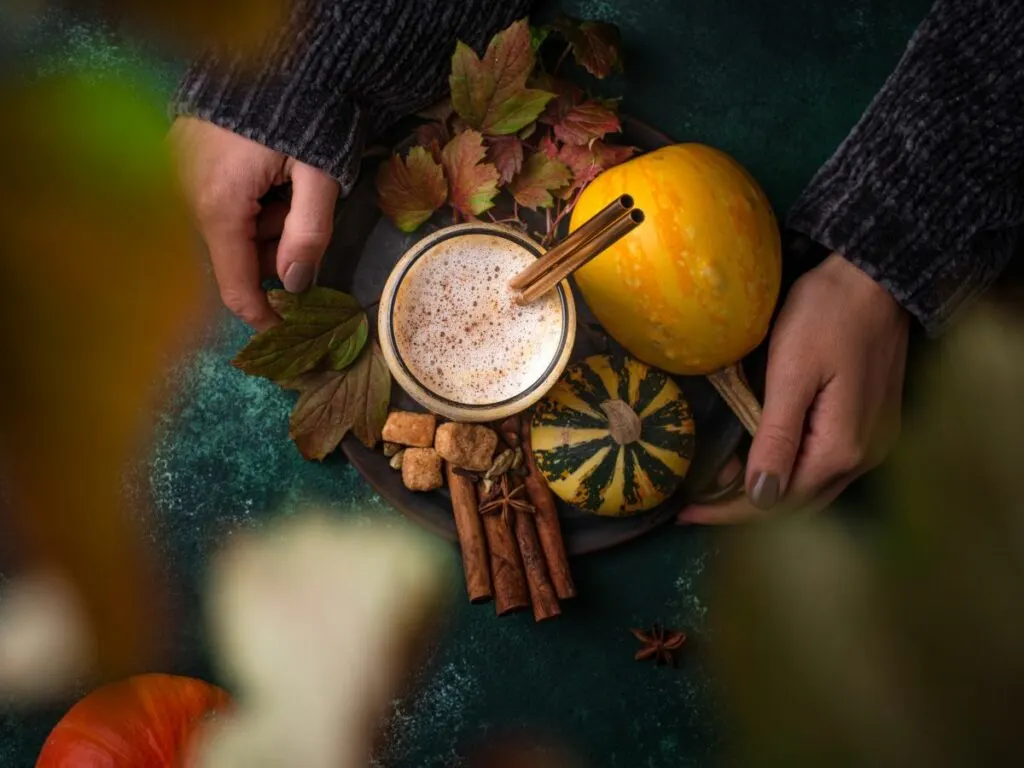 Keto Pumpkin Spice Latte
If you want to enjoy the fall flavors while maintaining a keto diet, you're in for a treat. This pumpkin spice latte is heavenly and won't ruin your diet. Making your own coffee drinks from scratch is a guarantee for staying low-carb and sugar-free.
Here's what you'll need for this fall coffee drink recipe:
1 cup of strong brewed coffee
¼ cup of almond milk
2 tablespoons of pumpkin puree
2 tablespoons of heavy cream
½ teaspoon of pumpkin pie spice
Any keto sweetener to taste
This recipe may contain a lot of ingredients, but it couldn't be simpler to make. All you need to do is add the ingredients to a saucepan and heat it until it boils.
Then, pour it into your favorite mug and relax on your porch while watching the leaves change.
The Best Ways to Get Fall Flavor
When fall time rolls in, and colder temperatures set the stage, it's the perfect opportunity to indulge your taste buds in delicious drink experiences and comforting breakfasts. Countless autumn coffee recipes can warm you up on chilly days.
I hope you enjoy my top five favorite fall drinks and discover a new collection of delicious recipes that strike the perfect balance between your favorite coffee and the inviting warmth of fall spices.
Using classic fall ingredients like pumpkin, cinnamon, maple, and caramel is one of the easiest ways to dive into fall and deliver delicious drink transformations that bring out the essence of the season.
Browse these additional ideas for more of the best fall coffee recipes from my favorite blogger friends around the web. Then, grab a good book and a pair of thick socks and snuggle in a nook for a few hours.
Will a printable recipe card help you? Let me share one here so you can print the recipes out at home. Save them in your kitchen and enjoy!