Ready to wow your dinner guests with these easy Thanksgiving pies? From chocolate pudding pie to traditional pumpkin pie, there are many flavors to choose. Make them mini or full-size, bake them in the oven, or chill a no-bake pie in the fridge. Whatever you like, there's a simple homemade version for you.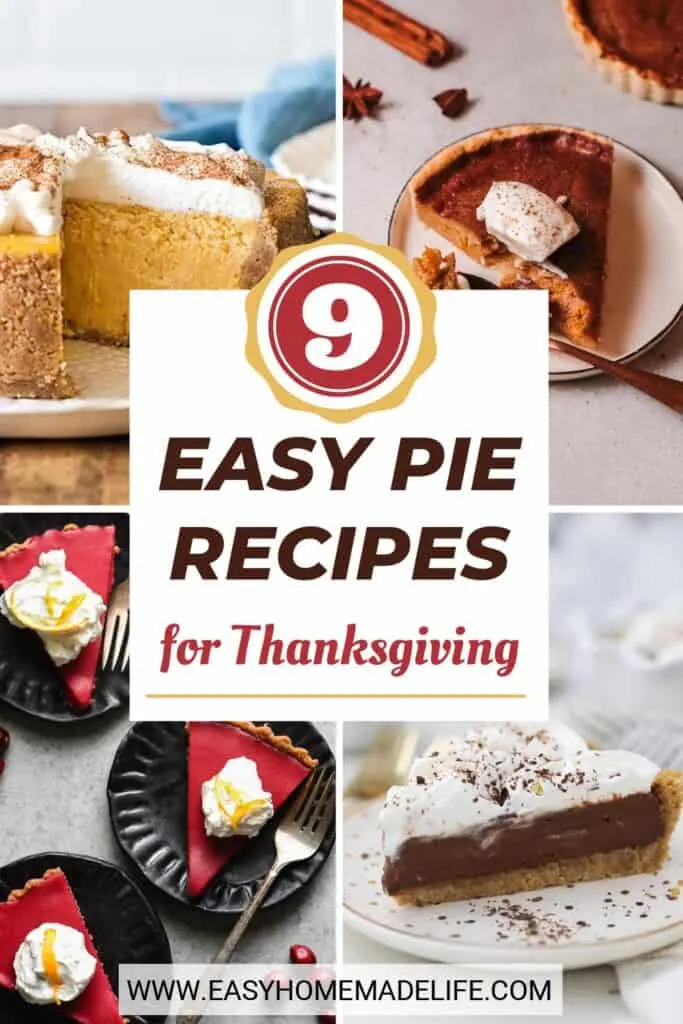 Traditional Homemade Pie Recipes
A Thanksgiving feast isn't complete without pie, is it? Same for Christmas dinner for that matter!
Baking a holiday pie can be intimidating, but you'll get a delicious homemade dessert on the table without any problems by using these easy pie recipes.
Your grandma's legacy might be pretty epic, but you'll follow behind with grace and amazing pies no one can resist!
Even if you're a beginning baker, these recipes will make you look like a pro.
Flavorful – There's a lot of pizzazz with creamy combinations of pumpkin, chocolate, cream, and all the classic fall spices like cinnamon, clove, and allspice!
Pantry staples – I bet all the essential ingredients you need for homemade pie recipes are already on your pantry shelves.
Budget-friendly – Nothing fancy or expensive here, just good old-fashioned from-scratch ingredients and kitchen equipment. These recipes are very inexpensive.
How to Store Store a Finished Pie
In many ways, pies are the perfect dish to make ahead and store in the fridge or at room temperature before serving.
Most pies firm up and set while they sit and cool. Depending on the recipe, you can rest the pie on the counter or chill it in the refrigerator. Then, once cool, you can decorate it with whipped cream and set it aside until serving time.
Some pies need to be stored, covered in the fridge. Check the individual recipe you choose for specific directions on exactly how to store a finished pie.
Scheduling all the holiday prep and cooking is enough to make anyone's head spin. Even non-holiday weeks get packed full this time of the year. I highly recommend using a meal plan app so you can stay on top of your busy schedule.
If you need some extra pampering for all the hard work that comes with holiday planning, head over to our DIY beauty posts and indulge in a Pumpkin Spice Facial Scrub Recipe!
More Easy Fall Recipes