These 3-ingredient bread recipes make baking bread so easy! Blow your family away with biscuits, flatbread, bagels, and more. You'll love the simple process, and I bet most of the ingredients are already in your pantry!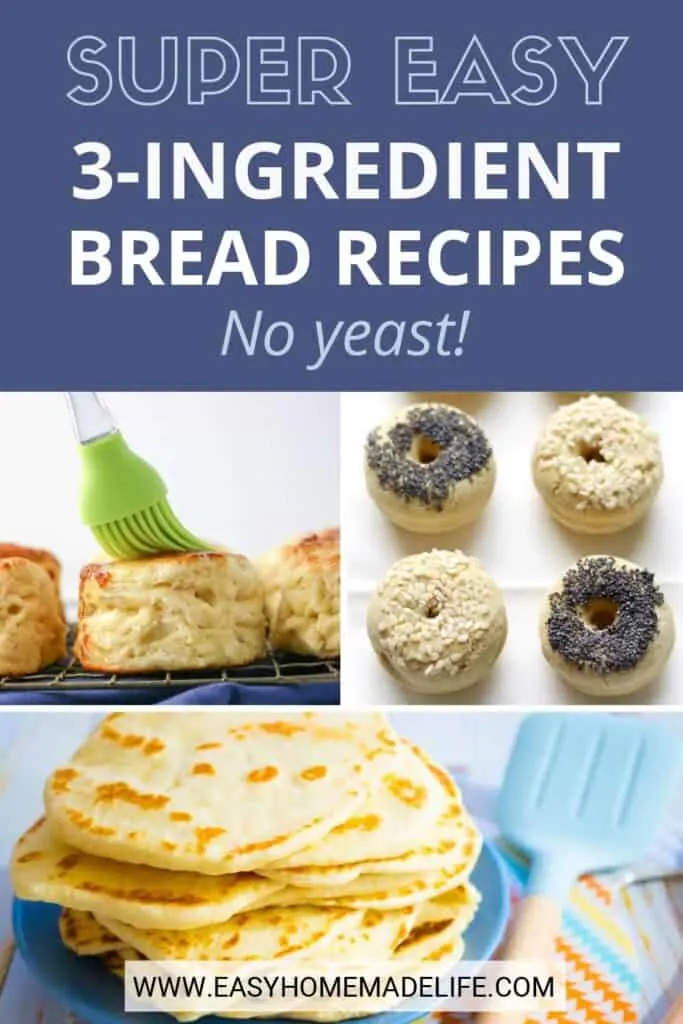 Oven Fresh Homemade Bread Recipes
Can we admit that bread makes everything better? It adds a delicious, satiating element to any meal.
However, as yummy as bread is, many of us have resisted digging our hands into our own dough because it seems so complicated.
I get the dilemma! So rest assured, these recipes are both practical and accessible. Delicious homemade bread is attainable!
All the recipes here only have three ingredients but no yeast, so there's no bother with rising time.
How to Make Bread with Three Ingredients
First, choose which simple bread recipe you want to make.
Second, gather three essential ingredients. You might already have them in your kitchen!
Then, preheat your oven unless you are making the flatbread which cooks in a frying pan.
Next, mix your ingredients together in a bowl. If you are making biscuits, it's nice to have a pastry blender, although a fork will do.
Depending on the specific recipe, you might bake with a cookie sheet, mini doughnut pan, baking dish, or loaf pan.
The total prep time varies from 5 to 15 minutes, so it's very quick no matter what you do. Likewise, the baking time also depends on the particular recipe. Always follow the instructions!
Finally, enjoy homemade bread straight out of the oven or store it in the fridge in an airtight container. I like to pre-slice mine so children can come and get what they want when they need to.
Save these recipes and add them to your meal plan app today, so you can stay on track!
MORE EASY HOMEMADE BREAD RECIPES