All the sweet and spicy flavors of fall are wrapped up in this pumpkin pie spice facial scrub with brown sugar. It's easy, quick, and guaranteed to moisturize your skin even if the weather threatens to dry it out. Make this for yourself or pass it around as a DIY fall gift idea. You only need four ingredients and five minutes!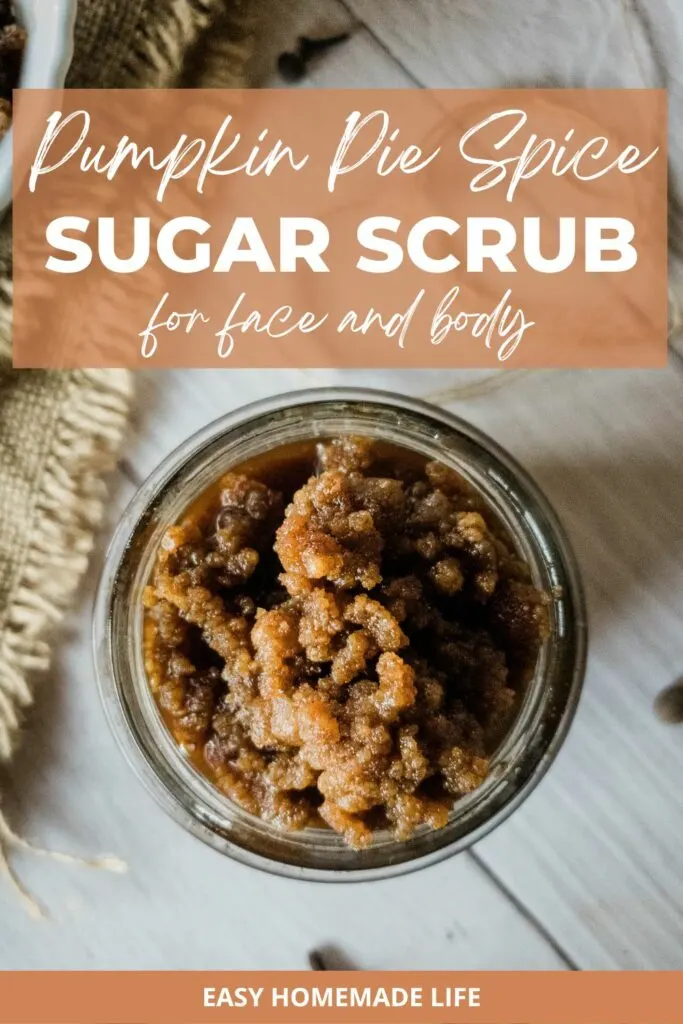 What is Face Scrub?
Simply put, a face scrub is a skincare product formulated with specific ingredients that are gentle enough to be rubbed into the sensitive facial skin and exfoliate without causing irritation.
Exfoliating skin has a number of practical benefits. Rubbing an abrasive ingredient like sugar over the top layer of skin helps peel off dead skin as well as built-up dirt or oil. This, in turn, reduces the frequency of clogged pours and minimizes acne breakouts.
Many people report smoother, softer, and supple skin after regularly exfoliating.
I'm sure you want to get these benefits yourself! Sounds good, right?
The deal's even sweeter with a homemade sugar scrub that's completely non-toxic and made with organic ingredients that nourish your skin. Plus, it's ready to go in five minutes and will spell like pumpkin pie.
I love this recipe as part of a simple fall beauty routine. And even more so because it's a great DIY gift idea to share with friends, at school craft fairs, or church bazaars. Pair it with our DIY Brown Sugar Lip Scrub for a truly "sweet" and luxurious gift!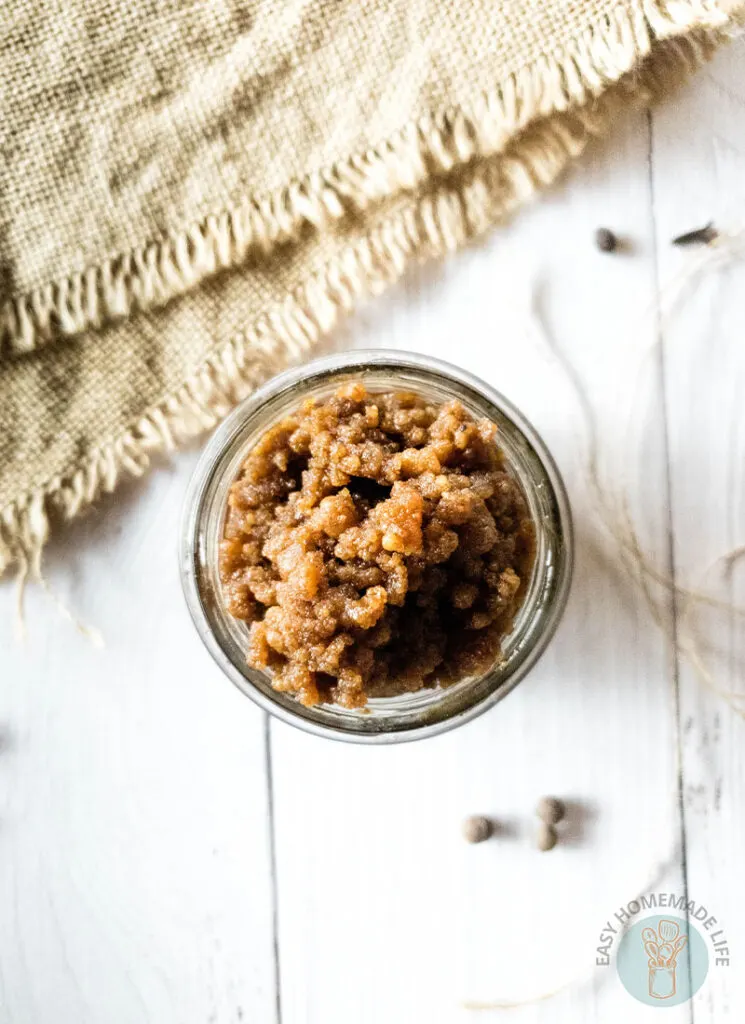 How to Make a Pumpkin Spice Scrub
Wait to get started until your essential oil diffuser is pumping out woodsy essential oil blends or spicy ginger essential oil diffuser blends that are sure to put you in the mood for this fall DIY beauty project.
Then, gather four basic ingredients, a bowl, and a spoon. Clear your workspace and mix up a pumpkin spice scrub in just five minutes!
Materials
Brown sugar – Sugar is the exfoliate that helps scrub away dead skin cells.
Sweet almond oil – You can substitute almond oil with olive oil, coconut oil, or another natural oil. I suggest melting the oil first if you use something that is normally solid or semi-solid at room temperature. Liquid oil is much easier to blend.
Pumpkin pie spice – For more than just culinary purposes, this blend of cinnamon, ginger, nutmeg, cloves, and allspice is warming and as comforting as a pumpkin spice latte. Use a store-bought blend or make your own DIY pumpkin pie spice.
Vanilla extract – You can't leave this out! Vanilla extract adds an irresistible sweet scent. It smells so good you might be tempted to eat it, but don't unless you use an edible oil.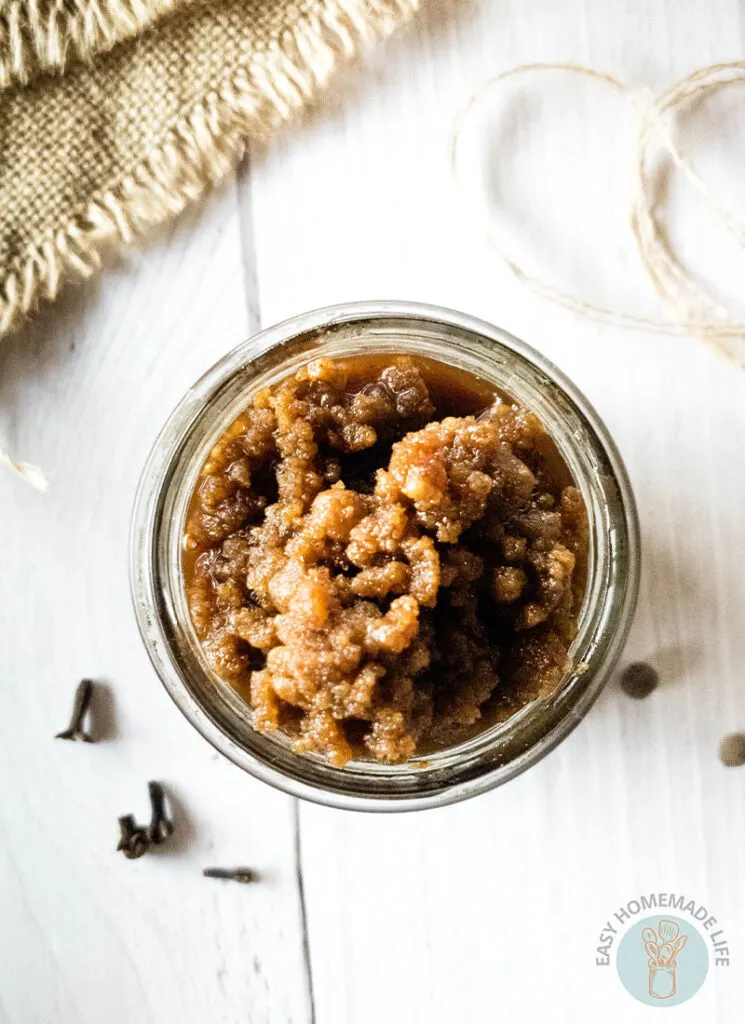 Step-By-Step Directions
Add all ingredients to a medium mixing bowl and stir to combine well.
Adjust as needed. I prefer my scrub on the dry side, but if it's too dry for you, add ½ tbsp oil at a time, stirring between additions, until you get the texture you like. Conversely, if yours is too wet, add more sugar, 1 tbsp at a time, stirring in between, until you achieve the right balance.
Store in an airtight container(s). Keep it in a cool, dry place when not in use. Best if used in 4-6 weeks.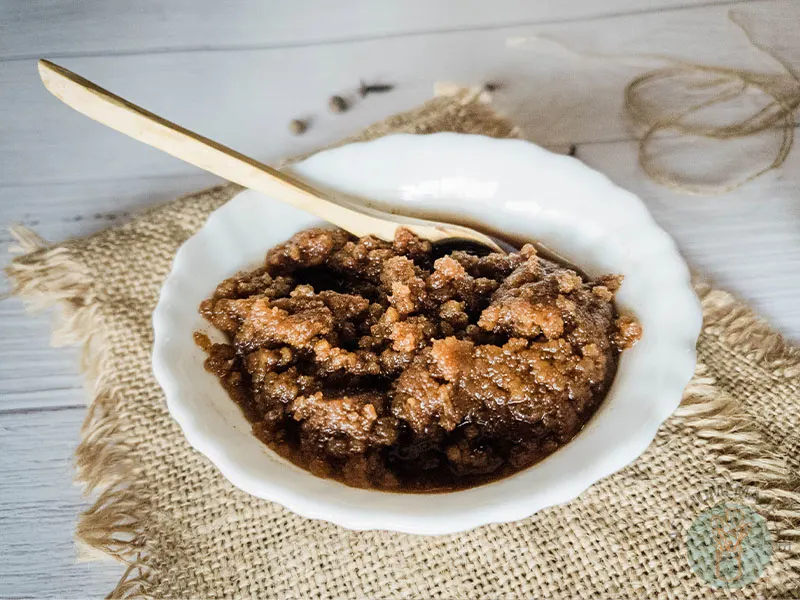 How to Use Face Scrub
I'm sure you'll be all a twitter to use homemade face scrub as soon as it's ready.
It's a pretty simple process, but there are a few nuances to know about ahead of time.
Here are some tips to get you off on the right track:
Rinse your face with warm water.
Scoop a quarter size amount of scrub with your fingertips.
Rub it gently in small circular motions.
Rinse off under warm water.
Pat dry.
Maintain a light pressure because the sugar will do all the work for you. Facial skin is the most sensitive skin on our body, so test in a small place first. Then, broaden your range until you cover the whole face. Always avoid the eyes, nose, and mouth!
If you need more detail, Deanne Mraz Robinson, MD, FAAD, president and co-founder of Modern Dermatology in Connecticut, USA shares her best practices over on Healthline.
You can use this as a pumpkin spice body scrub too. Follow the same approach as when you use it on your face, but rub the scrub on your arms, legs, chest, and back instead.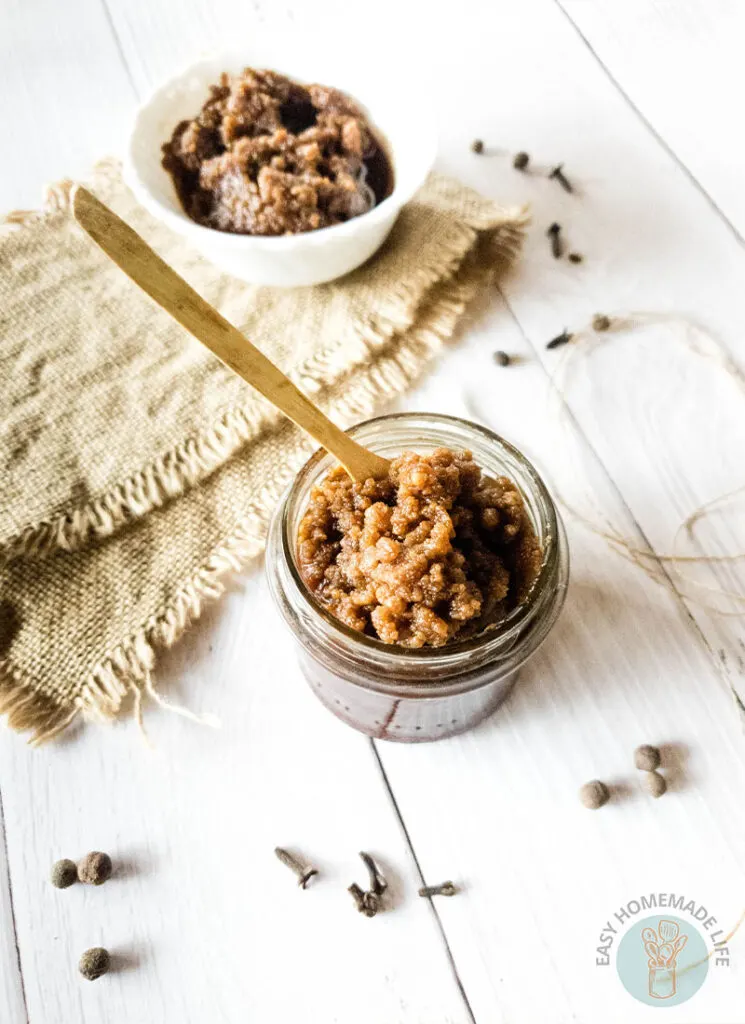 How Long Does Sugar Scrub Last?
I hear you, do sugar scrubs expire? We need to know this because the last thing we want is our scrub going off before we can use it all.
If you don't store sugar scrub correctly, if can spoil sooner.
Here is how to store homemade sugar scrub:
Store scrub in an airtight container
Use dry hands or a spoon to scoop it from the container.
Keep it in a cool, dry place when not in use. Better yet, store in the refrigerator.
Given optimal conditions (including being in the fridge), homemade sugar scrub may last up to 6 months. However, given real-life conditions like using wet hands and leaving it in the shower, it will be best if used within 4-6 weeks.
This recipe does not add any preservatives. If you want to add preservatives to sugar scrub, there are few options that could help prevent mold growth. I typically use the scrub up before it spoils and don't have problems.
Many people report smoother, softer, and supple skin after regularly exfoliating.
More DIY Body Scrub Recipes