Do your lips get dry and chapped, especially during the winter? This brown sugar lip scrub is here to the rescue! This sugar lip scrub recipe will leave your lips soft and smooth – and sweet too. It's simple, quick, and uses basic pantry ingredients that you probably already have on hand. You only need 3 ingredients and 5 minutes!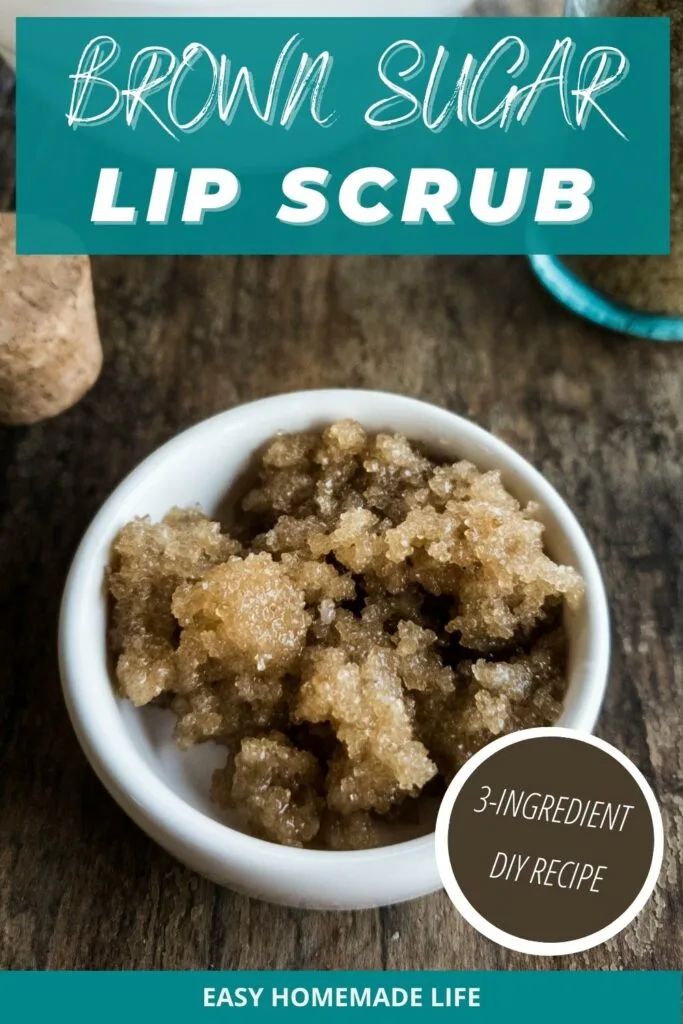 Benefits of Brown Sugar and Honey Lip Scrub
Using a brown sugar and honey lip scrub to exfoliate your lips provides many benefits. Some of the benefits include adding smoothness and moisture to your lips. Using a brown sugar and honey lip scrub also minimizes the amount of dead skin on your lips and removes dark spots.
Commercial lip scrubs do the trick but they can get quite pricey. With this homemade sugar lip scrub recipe, you can make a scrub that doesn't cost you an arm and a leg. As an added bonus, the DIY sugar lip scrub uses all-natural ingredients. So you don't need to worry about toxic chemicals, and you can even use this sugar scrub on your kids' lips as it's totally edible – and delicious.
You also don't have to worry when your brown sugar lip sugar scrub runs out as this DIY lip scrub recipe uses basic pantry ingredients that you can whip together in 5 minutes flat. How is that for convenience?
And while you're at it, why not make a couple of extra batches as gifts? This DIY sugar scrub for lips is a great homemade gift idea for your teenage daughters. You could also make some for Mother's Day, a bachelorette shower, or Christmas. Or you can gift some to your girlfriends. They'll be so thankful!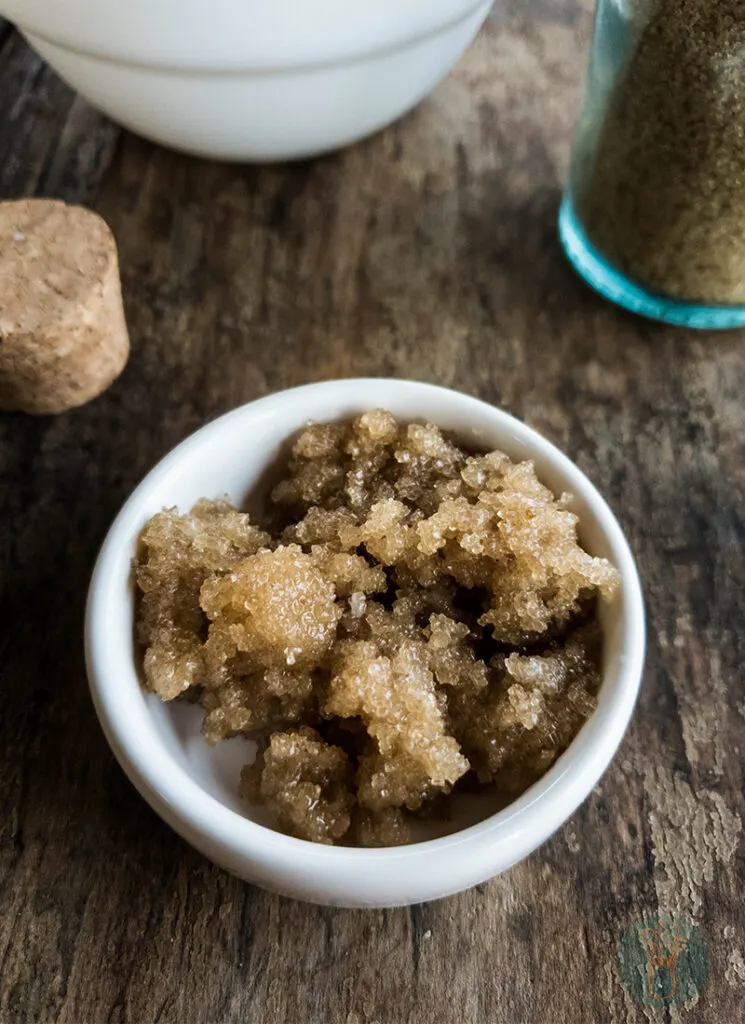 How to Make Brown Sugar Lip Scrub
All you need to do is gather 3 ingredients, and you're halfway to making brown sugar lip scrub in just 5 minutes!
Materials
Spoon
Mixing bowl
1 (2-oz) white plastic screw top jar
Sugar Lip Scrub Ingredients
Brown Sugar – Brown sugar is a natural exfoliant as it softens your lips and gets rid of skin discoloration and dead skin on your lips. If you don't have brown sugar, you can use white sugar in a pinch. However, white sugar is a bit more abrasive.
Coconut Oil or Olive Oil– These oils act as emollients as they moisturize and soften dry, rough lips so that they feel and look better. You can use either of these oils in this brown sugar and honey scrub for lips. Other oils that you can use include almond oil or avocado oil as they're also quite moisturizing.
NOTE ON OIL: If you use coconut oil, you'll end up with a brown sugar and coconut oil lip scrub that smells and tastes like coconut. However, if you don't care for coconut, you can use olive oil, and end up with an olive oil lip scrub that is more neutral in smell and taste. It's all a matter of preference, in case you want a DIY lip scrub without coconut oil. The olive oil and sugar lip scrub is just as quick and easy as the original recipe but gives you a choice of customizing for your preferred ingredients.
Honey– When you mix together sugar and oil, you'll end up with a brown sugar lip scrub that is gritty and coarse. Adding honey makes the texture softer, and it results in a brown sugar lip scrub that is gentler on your lips. I personally prefer to include honey, but you can leave it out if you wish. Leaving the honey out will make this at home lip scrub recipe even simpler. Just do what works best for you.
What about adding essential oils?
You've probably noticed that I didn't add essential oils to this sugar lip scrub recipe. That's because our lips are quite sensitive and can get easily irritated. I also prefer not to ingest essential oils so I follow the general practices of keeping them away from my mouth, eyes, nose, and ears. Doing this also makes the scrub safer for your kids, so this is one of the best lip scrub recipes for your entire family.
Where to buy ingredients?
Wondering where to find the ingredients for this brown sugar and honey lip scrub recipe? That can be as simple as raiding your pantry! However, if you're missing the ingredients, you can go to your local grocery store. Or to save time, you can shop for them online using the affiliate links I provided above for your convenience.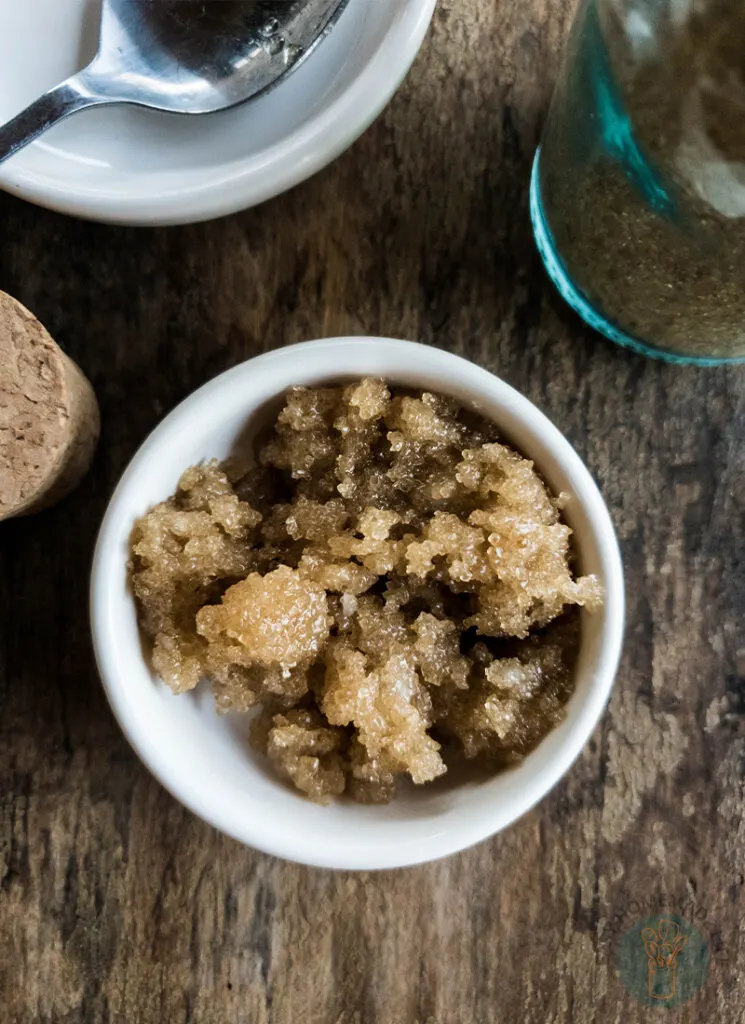 Step-By-Step Directions
Follow these simple directions, and you can't go wrong!
In order to make this homemade sugar scrub for lips, just add your ingredients to a small mixing bowl, and mix well until everything is well combined.
You want your end product to be a spreadable paste. If you end up with a runny mixture, it means you've added too much oil. On the other hand, if it's gritty like wet sand, it means you've added too little oil.
Next place your brown sugar lip scrub in an airtight storage container, tapping down to get rid of any air bubbles.
Finally, store it in a cabinet or drawer out of direct sunlight for up to one month. If you have extra ingredients to use up, take a look at our Milk and Honey Body Scrub recipe and take that spa experience all the way down to your toes!
How to Use Homemade Brown Sugar Lip Scrub
To use the brown sugar lip scrub, get a cotton swab to apply a tiny amount of the scrub to your lips. You don't need a whole lot – just a little per application will do.
Next, use your fingertips, and rub the brown sugar lip scrub onto your lips in circular motions for about a minute. Make sure you don't over-scrub as your lips have delicate, sensitive skin.
Then wipe your lips with a washcloth that has been moistened with warm water.
Finally, finish off with some lip butter or lip balm.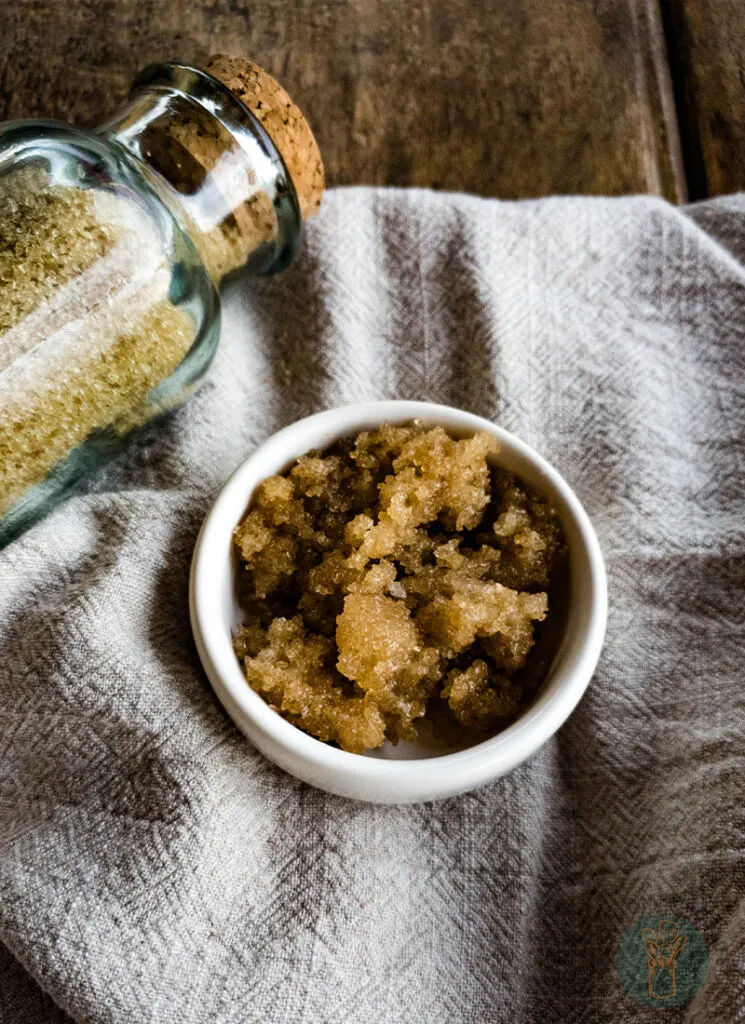 More DIY Sugar Scrub Recipes
I have a great round-up of some of the best homemade brown sugar scrub recipes. You'll see this recipe featured there too.
Additionally, you might like these white sugar scrubs and salt body scrub recipes.